6) Acoustic guitar lessons – Learn To Finger Pick
Finger picking is a great way of adding texture and dynamics to your playing.
Let's look at some basic finger picking techniques.
When you finger pick, make sure that:
Your picking hand is above the sound hole.
Your thumb is pointing towards the head stock, with your fingers towards the floor.
Where do I place my fingers?
The main fingers that you will use when finger picking are:
Thumb.
1st finger.
2nd finger.
When you finger pick, assign your thumb to the E (6th string), A (5th string), and D string. (4th string.)
Your 1st and 2nd finger will cover the G (3rd string), B (2nd string) and E string. (1st string.)
What about the rest of my fingers?
The fingers you have left are the 3rd and 4th fingers in your picking hand. You can use these fingers to help balance your picking hand.
Often, some players will anchor their fingers on the body of the acoustic guitar. Like this:
However, this doesn't work for everyone. Some guitarists will hover their fingers above the body of the guitar. Like this: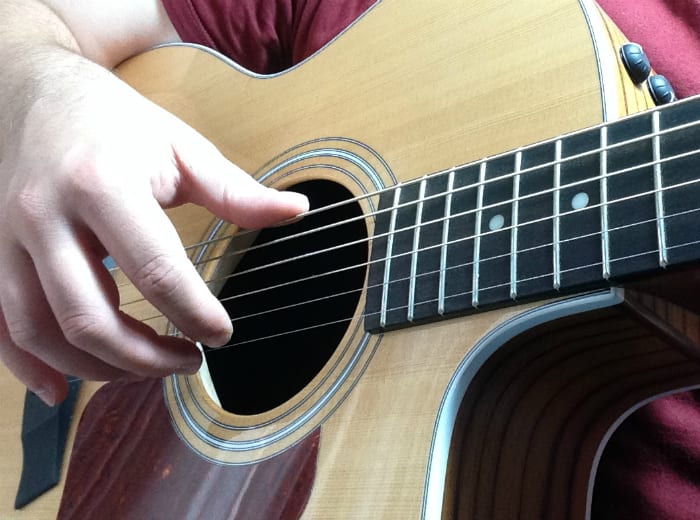 To learn more about finger picknig, go here: Fingerstyle Guitar Lessons 5 Easy Ways To Sound Amazing
7) Acoustic Guitar Lessons – Learn Guitar Scales
A scale is a group of musical notes. Scales are important to know as they help you to improvise or create melodies.
In music we have two groups of scales, these are:
Major scales.
Minor scales.
Let's learn them.
The Major Scale
(If you don't understand the above image please read our article "How To Read Guitar Chordboxes In 60 Seconds". It will make everything clear!)
The Minor Scale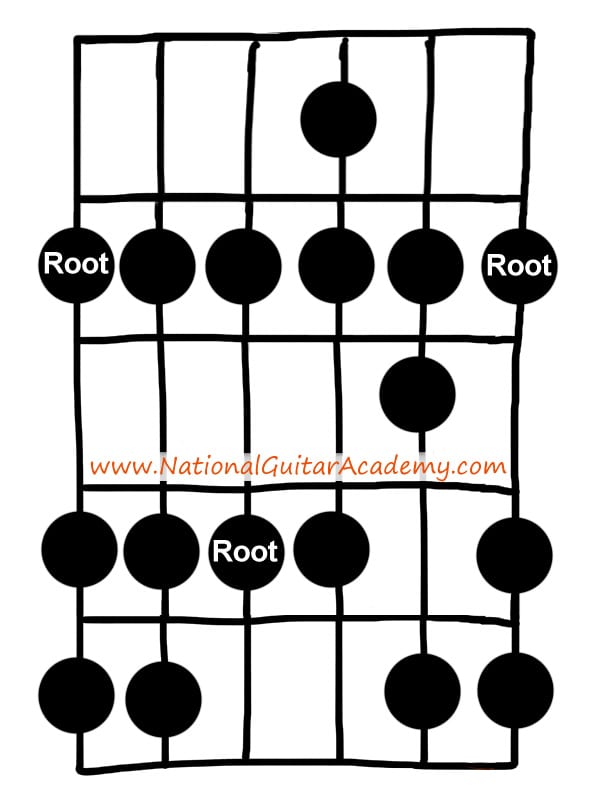 Each of these scales contain 7 notes, however we don't have to play all 7 notes of these scales. We can play a 5 note version of these scales. This is known as a 'pentatonic' scale.
Let's learn them!
The Major Pentatonic Scale
Can you see how this contains LESS notes than the major scale?
Minor Pentatonic Scale
Download our lead guitar cheat-sheet to make things easier
It can be disorientating for guitarists to understand which scales work with which keys.
With this in mind, we created a cheat-sheet; a key and scale-finder that you can use again and again.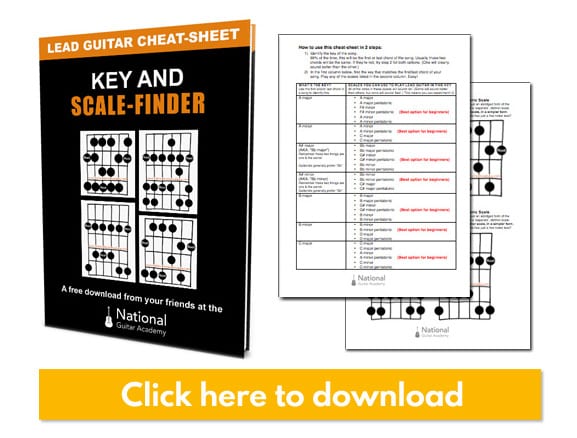 How do I use these scales?
Both of these scales work over specific keys. Think of it like this:
Major scales work over major keys.
Minor scales work over minor keys. 
For example:
If something is in the key of C major, we can use the C major scale or a C major pentatonic.
If something is in the key of A minor, we can use the A minor scale or a A minor pentatonic.
Can you see how the scale relates to the key you're using?
To learn more about guitar scales, go here: Learn Guitar Scales In 8 Easy Steps
8) Acoustic Guitar Lessons – Play Music That You Love
The most important acoustic guitar lessons you can learn is that:
Learning music that you love is the easiest way to boost your guitar progress.
Doing this will keep your practice fresh and exciting and puts the emphasis on making guitar playing fun.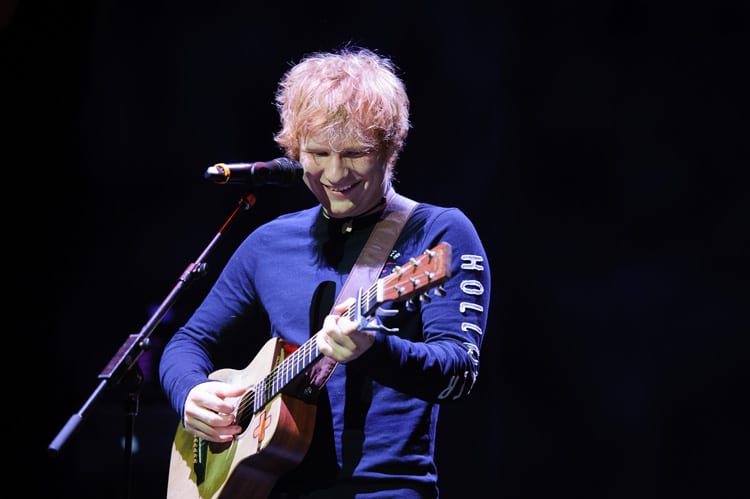 Here are a few quick tips which will help you learn music that you love:
Find 5 acoustic artists which you love.
Pick a tune from each artist.
Make sure that each tune that you pick is achievable.
Get learning.
By picking a tune which is at the right level for you, it stops practicing from being boring.
There's nothing worse than picking a song you love, and then becoming frustrated when you realise it's too hard.
To learn easy songs go here: 10 Easy Songs On Guitar
9) Acoustic Guitar Lessons – Be Smart About Your Practice
Many guitarists find practicing difficult. However practicing the guitar is SO important.
If we don't practice, we don't make progress.
Here are 3 tips and tricks which will help boost your gutiar progress.
1) Have A Set Time To Practice Each Day
Dedicate a specific time each day to practice. This could be any time of the day, just make sure that when you set this time. You keep to it!
This is YOUR time to practice, don't let anyone stop you.
2) Be Realistic With Your Time
When you practice, you must be realistic with your time.
It's pointless saying you're going to practice for 3 hours every day, when you don't have the time to do that.
It's much better to practice for 5 minutes a day, than for 3 hours one day and none the next.
Practicing consistently allows you to maximise your progress.
3) Turn Off Your Phone!
Even though the modern day allows us to use technology such as apps to practice, try and turn them off. They're distracting and stop you from practicing.
Turning your phone off allows you to concentrate on practicing. If you can't turn your phone off to practice, try putting it into aeroplane mode. This allows you to use all of your practice tools without any disturbances.
You can learn more about how to practice here: The Fastest Way To Learn Guitar: A 1-Month Program For Rapid Progress
10) Acoustic Guitar Lessons – Play Music With Your Friends
Even though playing guitar on your own is essential, learning the guitar really comes alive when you play music with other people.
Playing music with your friends is SO beneficial to your guitar playing.
Playing guitar on your own allows you to go at your own pace. However, when you play in a band you have to be aware of what everyone else is doing.
Not only does it help you musically, it also improves your social life. Through music you can build solid relationships with like minded people who share the same interests and goals as you.
Here are a few tips and tricks which will help you make music with your friends:
Find a group of friends who play instruments and share similar interests.
Pick 3 tunes that you can all play comfortably.
Learn these tunes.
Get together and rehearse them!
Have fun!
What Type of Guitarist Are You?
Take our 60-second quiz & get your results: Take The Quiz
Want free guitar tips and video lessons delivered to your inbox?
Join over 100,000 other guitar learners and subscribe to our guitar-tips-by-email service. (It's free.)
We'll send you a series of lessons that will move you to the next level of your guitar journey.
Learn how everything fits together quickly, easily and effectively. We share ninja tips (for instant fun!) but also timeless fundamentals that will deepen your understanding.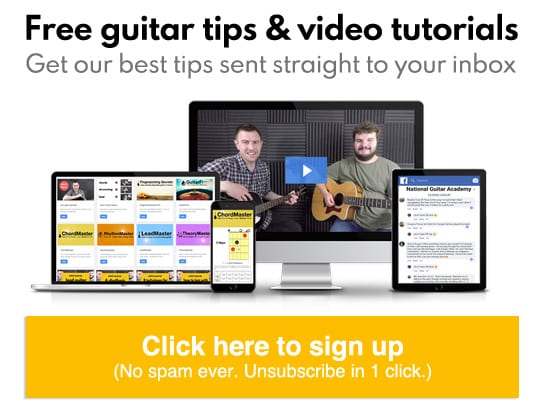 Popular Lessons
How To Learn Guitar: An 11-Step Programme For Beginners
How To Choose The Perfect Beginner Guitar
Guitar Notes Explained: A Guide For Beginners
More Cool Guitar Stuff
Learn about the National Guitar Academy: About Us
Visit our YouTube channel for fun guitar videos.
Join us on Facebook for daily guitar tips.
Listen to our Learn Guitar Podcast for rapid guitar progress.
Check out our free chord lessons.
Continue reading on page 2:
Page 1
Page 2