We're living in the future of guitar tone! Let's look at the best multi effects pedal for live performance!
Over 250,000 guitar-learners get our world-class guitar tips & tutorials sent straight to their inbox: Click here to join them
If you want to be a better guitarist click here for our guitar courses
In this free lesson you will learn…
Our Top 7 picks for best profilers and multi effects units
Why amp modelling is so helpful
Why amps are optional now
Some honorable mentions
Why you should try before you buy!
What's The Best Multi Effects Pedal For Live Performance?
The year is 2019, and we now have the ability to simulate tube amps from within a box with a computer inside of it.
Effects no longer need to be purchased individually, and we have access to more sounds than we ever need inside of a single multi-effects unit.
What a time to be alive, right?
Even if you're a bedroom guitarist, you can sound like you're playing to a stadium right inside your headphones!
When it comes to live performance however, we need to narrow our scope a bit and find the most reliable unit for our needs.
The options are seemingly endless when it comes to finding the best multi effects pedal for live performance.
When looking for the best multi effects pedal for live performance, we should look at every unit on the market and analyze what we need it for exactly.
Are you a live looper? A session guitarist? Do you tour a lot and want to avoid handling and transporting big live rigs?
If you're any of the above, you're going to love some of the recommendations we have for you.
These units are durable and easy to use, with a variety of sounds, effects, models and price points.
Let's jump in and find the best multi effects pedal for live performance below.
Why Multi-Effects Pedals Over Pedalboards?
The best multi effects pedal for live performance is an all-in unit that features amp simulation, a variety of effects, and all the tonal control we could possibly ask for.
Building a pedalboard is a fun process, but it's often time-consuming and can continue to eat up our finances.
The problem with building a pedalboard from scratch is that there will most certainly always be another problem to handle or manage.
Cables can break, leading to a dead signal within your pedalboard. When this happens, we are left sifting through our board to find a dead cable.
This can result in hours of lost time trying to rewire our board to run properly again.
Multi effects pedals come with everything inside, meaning that there are no cables that you need to connect to other pedals.
Pro Tip: Everything you need may be in the box, but some of the best multi effects pedal for live performance come with an FX loop that you can plug your stompboxes into.
If you've got a signature part of your sound in a stompbox but you're switching to a multi effects pedal, consider trying one with an FX loop.
This way, you don't lose your favourite tone!
Bonus Pro Tip: If you're a live looper, many of these multi effects units will have a built-in looper for you to use.
You may have a looper that you prefer, however. In this instance, plug your looper into the FX loop and place the signal for the pedal at the end of your digital signal chain.
If your multi effects unit does not have an FX loop, simply place the looper between the unit and the amp!
Speaking of amps…
Download our lead guitar cheat-sheet to make things easier
It can be disorientating for guitarists to understand which scales work with which keys.
With this in mind, we created a cheat-sheet; a key and scale-finder that you can use again and again.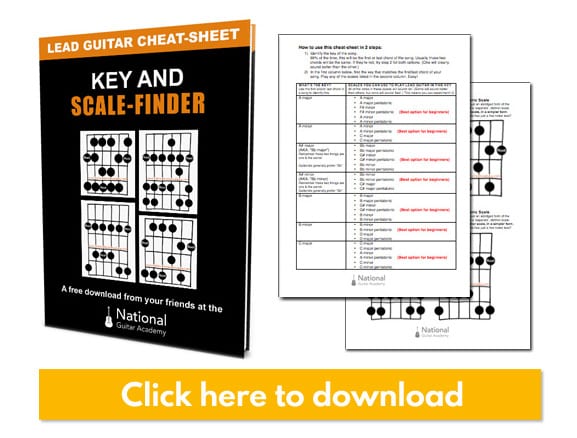 Our Guitar Courses
Become a better guitarist: Click here for our guitar courses
The Advantages Of Modern Amp Modelling
If you're familiar with amp modelling technology, you know it hasn't always been amazing.
The progress that the multi effects world has made in the past few years has been insanely substantial, and the quality of sound has increased just as much into 2019.
With better amp modelling comes more convincing sounds that are closer to the tube amp sounds that we're used to hearing. It also brings more portability for our guitar tones.
Sure, playing through a gigantic pedalboard through an Orange head into two cabinets sounds awesome, but would you want to carry that around if you could fit it in a multi effects unit?
The advantages of this kind of technology are endless, but mostly they help save our backs from breaking!
Pro Tip: Many models of the best multi effects pedal for live performance have incorporated the use of Impulse Response (IR) technology to create snapshots of other cabinets, heads, speakers and room tones. This gives us a whole new rabbit hole to jump down in terms of customizable guitar tones.
Not only are these units well-suited for live performance, they also handle themselves extremely well in-home and at the studio.
From headphones to studio monitors and speaker cabinets, the best multi effects pedal for live performance can run through just about anything with the right gear!
Now, let's get on to the list!
Best Multi Effects Pedal For Live Performance: BOSS GT1000
Roland Boss have always been frontrunners in the guitar tone world, and their new GT1000 pedal holds up nicely in the tone war.
This swiss army knife unit also comes with software for BOSS Tone Studio, which allows you to edit your tones from the computer.
You can also use an app to construct your tones via Bluetooth directly from your phone!
The GT1000 comes stacked with tonal capability.
With a variety of selections for everything from clean twang all the way up to high-gain distortion, this definitely ranks high on our list for the best multi effects pedal for live performance.
Check out Ola Englund's demo here.
Best Multi Effects Pedal For Live Performance: Fractal Audio AX8
Fractal Audio established themselves immediately as a force to be reckoned with in the tone war with their initial Axe FX unit.
Although the Axe FX could be used in the studio and live, it was only available as a rack-mountable unit for many years and versions.
The launch of the AX8 saw Fractal Audio take their famed Axe FX design to the front of the stage, and it established itself as the best multi effects pedal for live performance in its class (or at least one of them).
Much like the GT1000, the AX8 is an all-in modelling unit that does everything from amps to cabinets and effects with ease.
Users are able to customize their presets from the ground up with a wide selection of tweakable amps, cabinets, impulse responses, EQs and effects.
Pro Tip: Unless otherwise specified, all of these units on our list of the best multi effects pedal for live performance come stock with amps, cabinets, EQs and a variety of effects.
Every unit in this article is aimed at full guitar rig capability, making them optimal for users that want to do away with their oversized amps and pedalboards.
To see a full demo of the Fractal Audio Ax8 from Premier Guitar, click here.
Best Multi Effects Pedal For Live Performance: Line 6 Helix (WRITER'S PICK)
Line 6 has been making amp simulation and multi effects units for years, but the launch of the Helix signified a massive jump in the company's product line.
The Helix functions in a similar fashion to the AX8, with a fully-fledged lineup of amps, cabs and effects to choose from.
The Helix comes available in three main styles – HX Stomp, Helix LT and Helix Floor.
The HX Stomp serves as a smaller, much more portable version of the Helix with most of the same capabilities as it's larger cousins with less than half the pedalboard real estate.
The Helix LT is similar to the Helix Floor, but the Floor model includes the addition of small screens over each switch – called 'Scribble Strips' for naming presets and patches.
Line 6 have also created the HX Multi Effects, which serves to replace only the pedalboard portion of your guitar rig.
Although the options might seem endless, Line 6 have done a great job of creating one product that appeals to the needs of several different types of guitarist.
For the studio musician who wants to keep their effects pedals off the floor, the Helix Rack is also an option – especially if you already have a dedicated rack with space for another unit.
For a full rundown on the various Helix models available, click here for an article from Andertons UK.
For more on the Helix, visit the Line 6 website here.
Check out a demo of the Helix by Pete Thorn here.
Best Multi Effects Pedal For Live Performance: Kemper Stage
One of the latest entries to stage-level multi effects units is the Kemper Stage.
Kemper has become known for their Kemper Profiler's supreme capabilities, and the Stage model is no different.
With the ability to capture unique tones and replicate them, as well as a great user interface, the Kemper Stage holds ground with the likes of the Helix, the GT1000 and the Ax8 for the title of best multi effects pedal for live performance.
You will find that many of these floor-style multi effects units are of a similar shape and size, making it more difficult to decide which one is right for you.
Check out the Andertons unboxing and demo of the Kemper Stage here.
Pro Tip: Try before you buy whenever possible!
Many music stores may have these multi effects pedals for rent, giving you the opportunity to demo the unit before making an investment.
If you're at the stage where you need a multi effects unit like the Kemper Stage or the Line 6 Helix, odds are you need it for a good reason and specific purpose. Do your research and treat it like the investment it is.
Reliable gear is important to have as a live performer, and any of these units will serve the purposes you need them to.
However, it does beg the question:
What do you need it for?
Making smart purchases is important where gear is concerned.
Be diligent and look thoroughly for the right unit that suits your needs as a musician.
Best Multi Effects Pedal For Live Performance: Headrush
The Headrush Gigboard and Headrush Pedalboard are intended to replace full guitar rigs much like the AX8 and Helix models.
The Headrush Pedalboard boasts the extra feature of touchscreen control, making it super simple to create tones right on the board itself rather than through a computer.
This multi effects unit makes it super easy for users to create their own presets in minutes, rather than spending hours on end tweaking tones to get something they can use.
Headrush's Pedalboard model includes a powerful looper to help you track your ideas.
This unit boasts a variety of routing options as well.
Check out a review of the Headrush Pedalboard by Ola Englund here.
Pro Tip: Routing options are important to have when looking for the best multi effects pedal for live performance.
All of the options that we have discussed up until this section boast incredible routing capabilities for pedal integration as well as routing and playing through different live rigs (speakers, cabinets, power amps and PA systems).
When you buy a multi effects unit, don't throw out your old gear!
These units integrate well into virtually any recording or live setup, so get a little crazy and experiment to see what works best!
Learn the 12 EASIEST beginner chords with our famous FREE guide
✓  Stop struggling. Start making music.
✓  Learn 12 beginner-friendly versions of every chord.
✓  This is our most popular guide and it will improve your chord ability quickly.
Our Guitar Courses
Become a better guitarist: Click here to check out our guitar courses
Best Multi Effects Pedal For Live Performance: ZOOM G3Xn
The Zoom G3X and G3Xn multi effects pedals are a fantastic addition to any guitar rig, and can be routed through a variety of different means.
This is a bit smaller in size and price than the models we have mentioned above, and is meant to play well with amplifiers as a pedalboard replacement.
This unit is not a profiling unit like the GT1000 or Helix, but it is meant to generate a wide variety of lush effects and create custom effects patches.
This unit is meant for the guitarist who has an amp that they enjoy, but wants more versatility from their pedalboard on stage.
If you prefer an expression pedal on your board, you can grab the Zoom G3X.
If you're fine without on, the G3Xn will do you just fine.
Pro Tip: Don't just look at high-end profiler-style multi effects units like the AX8 and Headrush. Check out the smaller offerings as well!
The G3X series offers a beautiful variety of effects that can integrate extremely well with pre-existing setups.
Check out the Anderton's review here.
Best Multi Effects Pedal For Live Performance: BOSS GT-1
Using the same engine as BOSS' flagship GT100 (the younger brother to the GT1000), the GT-1 is a dedicated effects unit with a bunch of great details.
The expression pedal on the GT-1 can be used to control effects such as delay and even pitch shifting, making it ideal for the user who wants a wide variety of effects and accessibility with a smaller footprint.
Much like Line 6, BOSS has made it so that they have a unit for every type of guitarist, and that's what makes the GT series so great.
If you have a dedicated rig already (amp and head, etc) and you want something versatile at the front of the stage, the BOSS GT1 will definitely be your best multi effects pedal for live performance.
There's More Where That Came From!
The multi effects and profiling world is stuffed with products that function incredibly well from a variety of different companies.
Here are some honorable mentions below with links to demos:
Recommended Resources
Did you enjoy this free guide to multi effects pedals? Check out some more of our content below!
What Type of Guitarist Are You?
Take our 60-second quiz & get your results: Take The Quiz
Our guitar courses
How do you want to improve as a guitarist? Click here to check out our guitar courses
Cool Guitar T-shirts
Look cooler! Check out our merch: Click here to see our merch store
Want free guitar tips and video lessons delivered to your inbox?
Join over 250,000 other guitar learners and subscribe to our guitar-tips-by-email service. (It's free.)
We'll send you a series of lessons that will move you to the next level of your guitar journey.
Learn how everything fits together quickly, easily and effectively. We share ninja tips (for instant fun!) but also timeless fundamentals that will deepen your understanding.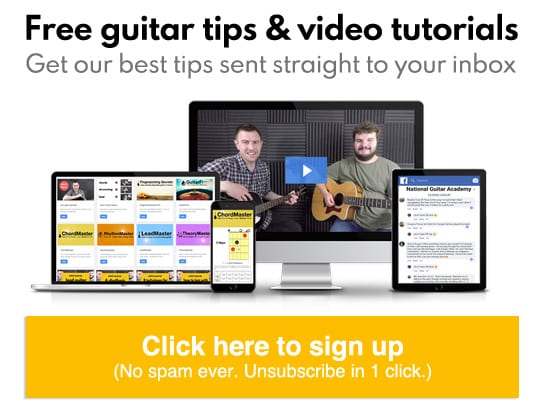 Popular Lessons
How To Learn Guitar: An 11-Step Programme For Beginners
How To Choose The Perfect Beginner Guitar
Guitar Notes Explained: A Guide For Beginners
Our guitar courses
Become a better guitarist: Click here to check out our guitar courses
More Cool Guitar Stuff
Learn about the National Guitar Academy: About Us
Visit our YouTube channel for fun guitar videos.
Join us on Facebook for daily guitar tips.
Listen to our Learn Guitar Podcast for rapid guitar progress.
Check out our free chord lessons.
Get our best guitar tips & videos
Get our best guitar tips & videos