Moveable Shapes
You can move the E barre chord shape ANYWHERE along the fret board.
For now, concentrate on moving it to the:
3rd fret. (G note.)
5th fret. (A note.)
7th fret. (B note.)
On the 3rd fret, this chord becomes a 'G major chord'.
The 5th, 'the A major chord'.
The 7th, 'the B major chord'.
If you can't remember each note name, just remember 'GAB'.
D Shape Guitar Chord
The 'D' in CAGED guitar system refers to the open 'D chord'. Here it is: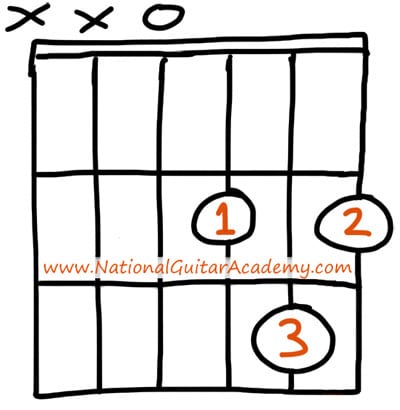 Learn to play this chord here: 3 Easy Ways To Play The D Chord On Guitar
To move this shape around the fret board, we have to make a slight tweak. Here is a C major chord which uses the D shape.
Download our lead guitar cheat-sheet to make things easier
It can be disorientating for guitarists to understand which scales work with which keys.

With this in mind, we created a cheat-sheet; a key and scale-finder that you can use again and again.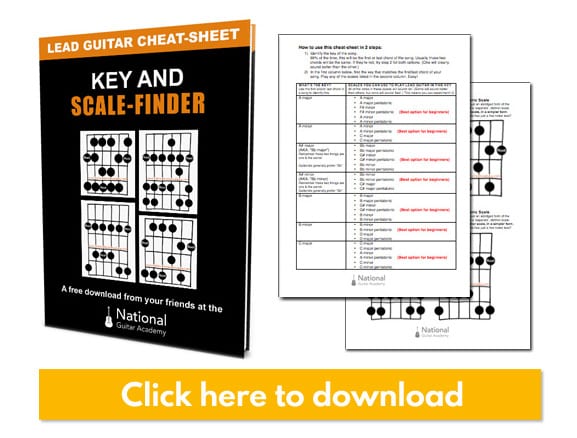 Changing The Key Of This Chord
To change the key of this chord, we're going to apply the same concept. We must move it to a different fret.
This time, the root note can be found on the D string. (4th string.)
Here are the root notes for the D string:
For example, if you wanted to play a G major chord using the D shape, move this chord to the 5th fret.
CAGED Guitar System Scales And Arpeggios
As well as learning chords through the CAGED guitar system, you can also learn scales and arpeggios.
For this example, we're going to learn each scale and arpeggio in the key of C major.
Each of these scales fit around there respective chord shapes.
C Shape Scale And Arpeggio
A Shape Scale And Arpeggio
G Shape Scale And Arpeggio
Learn to play guitar scales here: Learn Guitar Scales In 8 Easy Steps
E Shape Scale And Arpeggio
D Shape Scale And Arpeggio
What Type of Guitarist Are You?
Take our 60-second quiz & get your results: Take The Quiz
Want free guitar tips and video lessons delivered to your inbox?
Join over 100,000 other guitar learners and subscribe to our guitar-tips-by-email service. (It's free.)

We'll send you a series of lessons that will move you to the next level of your guitar journey.

Learn how everything fits together quickly, easily and effectively. We share ninja tips (for instant fun!) but also timeless fundamentals that will deepen your understanding.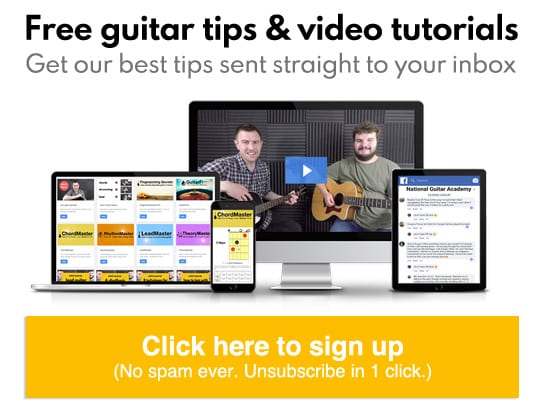 Popular Lessons
How To Learn Guitar: An 11-Step Programme For Beginners

How To Choose The Perfect Beginner Guitar

Guitar Notes Explained: A Guide For Beginners
More Cool Guitar Stuff
Learn about the National Guitar Academy: About Us

Visit our YouTube channel for fun guitar videos.

Join us on Facebook for daily guitar tips.

Listen to our Learn Guitar Podcast for rapid guitar progress.

Check out our free chord lessons.

 
Continue reading on page 2:
Page 1
Page 2