Are you looking to learn easy beginner guitar songs? Then look no further. You're in the right place!
In this free guitar lesson you will learn:
8 quick and easy beginner guitar songs that people will adore!
The secret to mastering guitar chords.
5 essential strumming patterns that will make you sound amazing.
How to learn guitar songs FAST!
Over 250,000 guitar-learners get our world-class guitar tips & tutorials sent straight to their inbox: Click here to join them
If you want to be a better guitarist click here for our guitar courses
We often see beginner students struggling to find songs to learn on guitar, usually a song is too hard and is out of reach.
In this guitar lesson, we're going to walk you through 8 easy beginner guitar songs.
Easy beginner guitar songs #1 'Stand By Me' by Ben E. King
Here's an oldie but a goodie, from 1960s songsmith, Ben E. King.
This song is awesome for beginner guitar players because:
It's a feel good tune, everybody loves it.
It's SUPER easy to play.
You only need to use two fingers to play each chord.
The strumming pattern is dead simple.
Have a listen to this great song:
What chords do you need to know?
The chords in this song are G, E minor, C and D!
If you're a complete beginner those chords may be a bit of a stretch for you. But don't worry! We have a solution.
We're going to play some SUPER easy beginner guitar chords.
These are 'stepping stone' chords, a stepping stone chord is an easier version of a standard open chord.
Let's run through a few of these.
The 'G' Chord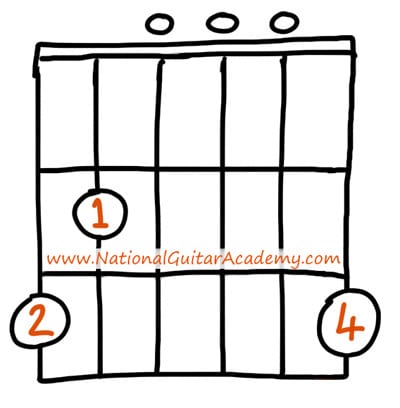 (If you don't understand the above image please read our article "How To Read Guitar Chordboxes In 60 Seconds". It will make everything clear!)
Our new, easier G chord looks like this :
G6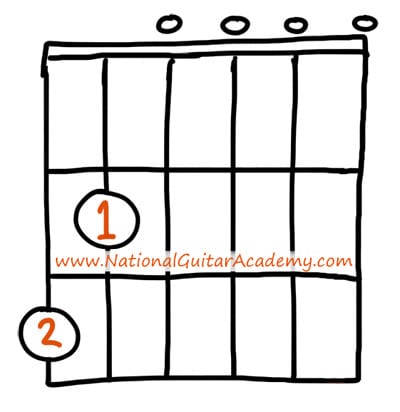 To play a G6 Chord you :
Place your 2nd finger on the 3rd fret of the low E string.
Place your 1st finger on the 2nd fret of the A string.
Strum all the strings!
If you'd like to know how to play even easier versions of this chord, go here: 4 Easy Ways To Play The G Chord On Guitar
E Minor
Luckily for us, the standard E minor voicing is easy anyway! So we don't have to change this one.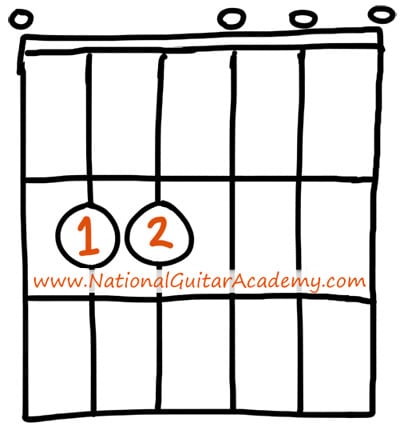 To play this chord you :
Place your 1st finger on the 2nd fret of the A string.
Place your 2nd finger on the 2nd fret of the D string.
Strum all the strings!
Get our best guitar tips & videos
Continue reading on page 2:
Page 1
Page 2