We've got a roundup of 9 easy classical guitar songs to help you elevate your playing – let's dive in!
Over 250,000 guitar-learners get our world-class guitar tips & tutorials sent straight to their inbox: Click here to join them
Join the world's best online guitar school 🌎
Get your own personalised guitar learning plan (customised just for YOU).
World-class online guitar courses. Learn at your own pace.
Community Campus & Learning Forum -  A friendly community of guitarists! Connect with our team & students. 😊
Beginner Song library with chordsheets, tabs and tips. (Songs suitable for all levels!)
Regular live streams, seminars and Q&A sessions - Learn from world-class guitar educators. Get all your questions answered!
Click here to learn more about National Guitar Academy membership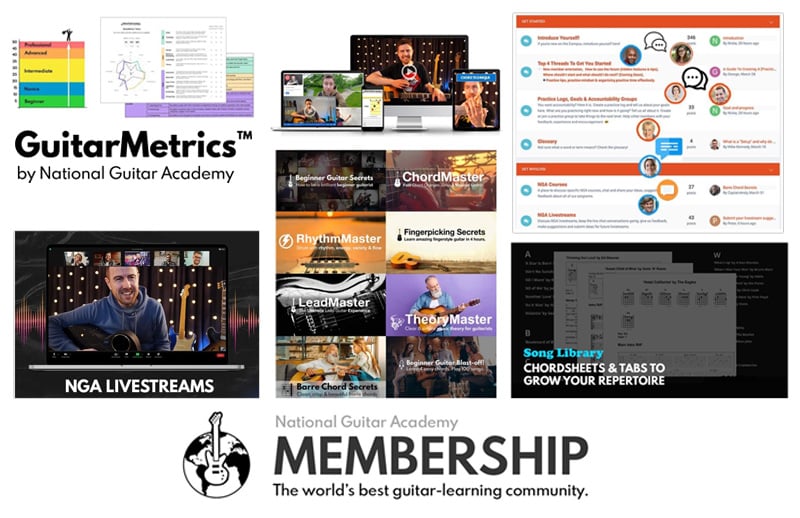 In this free lesson you will learn…
9 easy classical guitar songs
Tips for each of these tunes
Why any style of music can be played on a classical guitar
An introduction to Spanish music on classical guitar
Let's Learn Some Easy Classical Guitar Songs!
What defines 'classical guitar'?
Is it the sound? The build of the guitar? Both?
Often, classical guitar gets mistaken for an outdated instrument with no relevance. It's quite the opposite, in fact!
'Classical guitar' is both a build of guitar (often dubbed nylon string) and a style of playing.
Nylon string guitars have a beautiful sound with a wide variety of uses.
They bring a soft and pleasant sound to the ears, and make for wonderful arranging tools.
Classical guitar has several meanings, and whichever one you choose to pursue, there are easy classical guitar songs below for you to learn and enjoy.
Classical Guitar: The Instrument
Many guitar players have regular steel-stringed acoustic guitars.
Classical guitars use nylon strings, a different headstock and bridge to convey a different tonality than their acoustic counterparts.
The strings wrap around and attach to the tuning machines in the cutouts in the middle of the headstock.
On the other end, they string through and wrap around the bridge.
Additionally, the neck of the classical guitar is wider than a steel-stringed acoustic guitar.
For a more detailed discussion of the different kinds of guitar, and those suitable for starting out, take a look at this lesson on the best beginner guitar here.
Classical Guitar: Time Period
"Classical music" in general refers to music that was created to conform to certain standards and forms.
When people talk about classical music, they are usually talking about music written between three time periods:
Between 1600 and 1750, referred to as baroque and represented by Bach
Between 1750 and 1810, referred to as classical and represented by Beethoven
Between 1810 and 1910 or so, referred to as romantic and represented by Chopin.
To be clear, classical music can be played on whatever guitar you own.
There are aspects of the nylon-stringed guitar (like the wide neck) that make it slightly easier to navigate, but people play classical music on steel-stringed guitars all the time.
These easy classical guitar songs don't just descend from the time periods above – some of the tunes on this list are pretty current!
Classical Guitar: The Genre
"Classical guitar" is also a term used to refer to the type of music most commonly associated with the nylon-stringed instrument.
This includes flamenco, classical, and Spanish classical music. Classical guitar is generally played fingerstyle no matter which time period or genre of music is being played because of the nylon strings' suitability for fingerstyle playing.
You can play any kind of music on a classical guitar, and you can play classical guitar music on any kind of guitar.

Now that we've cleared that up, here is a list of easy classical guitar songs with a little of everything!
Find something that you like and master it!
Learn the 12 EASIEST beginner chords with our famous FREE guide
✓  Stop struggling. Start making music.
✓  Learn 12 beginner-friendly versions of every chord.
✓  This is our most popular guide and it will improve your chord ability quickly. 
Get your own personalised guitar-learning plan 🎸
Get a custom guitar-learning plan here: Click here for GuitarMetrics™
Traditional Classical Music For Guitar
The first place we want to look for easy classical guitar songs is in the "traditional" aisle, so let's take a deep dive!
Easy Classical Guitar Songs I – Beethoven – "Ode To Joy"
This is a simple melody that's part of a complicated symphony.
To get started, check out this YouTube video!
"Ode to Joy" is a poem written by Friedrich Schiller in 1785, but as they say, Beethoven's version was the hit, in the fourth movement of his ninth symphony.
The melody was made the anthem of Europe and the European Union.
It is also one of the first easy classical guitar songs anyone learns, because of its beautiful simplicity and easy-to-follow linear motion.
Here is another version of "Ode to Joy," in tablature form by Ultimate-Guitar.com.
If you would like more help learning how to read tablature, stop off at this lesson on how to read guitar tabs.
Easy Classical Guitar Songs II – Bach – "Minuet In G, Petzold" ("Bach's Minuet in G")
This ultra-famous minuet is part of any repertoire of easy classical songs and is frequently a first "challenge piece" for pianists and guitarists learning all types of music.
It is commonly referred to as Bach's Minuet in G.
It's a minuet, which is a dance song that has three beats to the measure like a waltz.
It's in G, but it turns out that it was composed by Christian Petzold for the Notebook for Anna Magdalena Bach.
This minuet is a great beginning classical piece that shows you how to do two things at once on the guitar.
You're playing two lines of notes: the melody on top, and a counter melody line on the bottom.
This tab is at a level that as a beginner, you'll find a bit challenging, but keep it slow and steady and you'll have it down – even if it's a challenge, it still makes the list of easy classical guitar songs!.
Easy Classical Guitar Songs III – Bach – Jesu, Joy of Man's Desiring
Here's another familiar tune that's great fun to play on the guitar, played by amazing spider-fingered guitar master Steve Morse!
Morse isn't lying about how beautiful this song is. Bach wrote the cantata containing this melody in 1723.
It was arranged by Dame Myra Hess for piano in 1926.
This one of our easy classical guitar songs in particular was a hit on the radio by Apollo 100, under the title "Joy," in 1972, which means that it was getting radio play right next to "Down By the Lazy River" by the Osmond Family.
Here is the Ultimate-Guitar.com tablature for Jesu, Joy of Man's Desiring.
It looks very long, but it is also very repetitive, so take it one piece at a time and look for the places that the tab starts to look familiar.
This is such a great piece to have in your back pocket. It's a good warmup, it's a nice way to play a new guitar, and it's one of those easy classical guitar songs that makes everyone happy to hear.
Easy Classical Guitar Songs: Spanish Guitar
While Beethoven was in Vienna studying under Haydn and composing the soundtrack to the Bugs Bunny cartoons on the piano; his contemporaries in Spain, like Vicente Martin y Soler and Mateo Albéniz were busy writing what would become the canon of classical guitar.
Many of these pieces are either exercises or long, complicated songs, so we have found some Spanish style easy classical guitar pieces for you to start out with.
Easy Classical Guitar Songs IV – Spanish Romance
Nobody really knows who wrote "Spanish Romance" for certain.
Here it is, played by Marija Agic:
"Spanish Romance" has been attributed to any number of the Spanish classical composers, so it is safe to call it traditional.
It has been performed by Andy Williams, My Chemical Romance, and Eddie Vedder. Now you can play it too!
Here is the Ultimate-Guitar.com tab for Spanish Romance, one of the more intricate easy classical guitar songs on this list..
This beautiful piece is usually played, in the tradition of romantic classical music, with very stretchy time. That can be an advantage to us as beginning classical guitarists because while working out the notes, we can listen for the meaning of the notes that are held longer.
Pro-Tip: While time in some music seems stretchy, without a strictly regulated beat, here's a rule to follow at all times:
Only slow down when you WANT to, not when you HAVE to.
If a part of the music is too difficult for you to play at whatever tempo you've selected, you have technical issues to work on, usually that your fingers don't know that part yet.
That's how you diagnose areas that need further repetition!
Easy Classical Guitar Songs V – Ernesto Lecuona – "Malagueña"
This Spanish classical guitar standard is played by all instrumentalists everywhere and has an interesting history.
Here it is, played by Andrés Segovia, a man deeply associated with a whole century's worth of Spanish classical guitar music.
Lecuona composed this piece on the piano as part of his Suite Andalucia in 1933.
It has become a general performance staple for all sorts of people and groups, including Stan Kenton, Roy Clark, marching bands and the Madison Scouts drum and bugle corps, and Carlos Montoya, who adapted it for classical guitar.
Now you can add this piece to your collection of easy classical guitar songs! Here is Ultimate-Guitar.com's tab for Malagueña.
Download our lead guitar cheat-sheet to make things easier
It can be disorientating for guitarists to understand which scales work with which keys.
With this in mind, we created a cheat-sheet; a key and scale-finder that you can use again and again.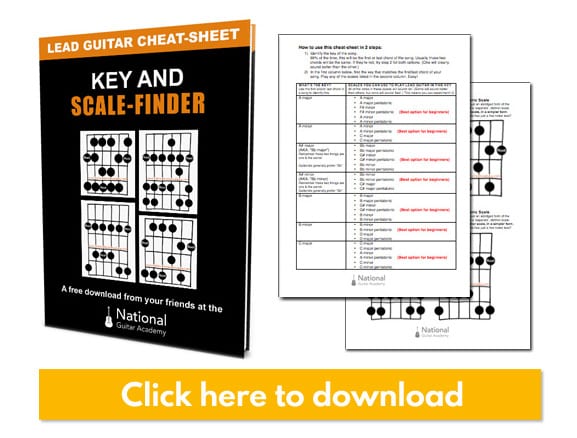 Easy Classical Guitar Songs VI – Maurice Ravel – "Bolero"
This is another of the easy classical guitar songs that was not composed specifically for the guitar. Here is Luciano Renan's great arrangement.
Maurice Ravel was a real "my way or the highway" kind of composer, although he freely borrowed from the different styles that he liked. He reportedly refused to give George Gershwin piano lessons! "Bolero" is a slow burn of a song that has lots of room for interpretation.
Here is Ultimate-Guitar.com's tab for Bolero, one of the more beautiful of the easy classical guitar songs on this list.
Like all of the easy classical guitar songs, it contains some challenges, but it's worth having in your back pocket!
Pop Songs On Classical Guitars
Apart from classical music on classical guitars, there is plenty of music that has been recorded on classical guitar, from Jerry Reed's amazing Jerry Reed Explores Guitar Country album to all of Brazilian jazz.
Here are a couple of recent gems for you to dig into:
Easy Classical Guitar Songs VII – Luis Fonsi – "Despacito"
Of course, we're going to kick it off with this one, a current addition to your easy classical guitar songs.
This lovely crossover hit is the first Latin pop song to reach the Billboard Hot 100 since the Macarena!
It's also a brilliant illustration of the concept of word painting, where the music is composed or played to match the lyrics of the song. At the beginning of the chorus, "Despacito," the song slows down.
Let'splayguitar has posted this tab on Ultimate-Guitar.com for "Despacito."

Have fun with this one! It's not too hard to learn and it's a huge hit on this list of easy classical guitar songs.
Easy Classical Guitar Songs VIII – Jose Feliciano – "Light My Fire"
This amazing arrangement of the Doors' classic "Light My Fire" is among the easy classical guitar songs for people who can play a couple of barre chords.
Here is Ultimate-Guitar.com's tab for "Light My Fire."
One of the beautiful things about classical guitars is that their nylon strings make playing barre chords a little bit less difficult for beginners because you don't need quite as much hand strength to get them to sound.
Give it a try and expand your repertoire of easy classical guitar songs!
Easy Classical Guitar Songs IX – Leonard Cohen – "Sisters Of Mercy"
It's still a bit difficult to talk about Leonard Cohen in the past tense, because his impact was so massive.
That solo is played by Javier Mas on the archilaud – so now we all know what one of those looks like – but check out Cohen's guitar! It's a nylon string electric guitar that we're going to bet was made by Godin, electric acoustic guitar manufacturers from Cohen's native Canada.
Here's Ultimate-Guitar.com's tab for "Sisters of Mercy."
Play it in good health! Cohen's catalogue is full of easy classical guitar songs.
When you get a chance, also check out the work of Nick Drake and Sun Kil Moon.
You will find some modern easy classical guitar songs to love!
Taking Easy Classical Guitar Songs Further
Learning classical guitar in the sense of learning classical music frequently involves studying with a teacher.
If pursuing this lovely instrument in that way is what pleases you, make sure you pick a teacher who is familiar with the technical skills and unique features involved in classical music.
Don't let the name "classical" limit you!
Any sort of music can be played on any sort of guitar!
Recommended Resources
If you enjoyed this free guide to playing easy classical guitar songs, you'll love our other content below!
What Type of Guitarist Are You?
Take our 60-second quiz & get your results: Take The Quiz
Our guitar courses
Become a better guitarist: Click here for our guitar courses
Get your own personalised guitar-learning plan 🎸
Get a custom guitar-learning plan here: Click here for GuitarMetrics™
Cool Guitar T-shirts 😎
Look cooler! Check out our merch: Click here to see our merch store
Want free guitar tips and video lessons delivered to your inbox?
Join over 250,000 other guitar learners and subscribe to our guitar-tips-by-email service. (It's free.)
We'll send you a series of lessons that will move you to the next level of your guitar journey.
Learn how everything fits together quickly, easily and effectively. We share ninja tips (for instant fun!) but also timeless fundamentals that will deepen your understanding.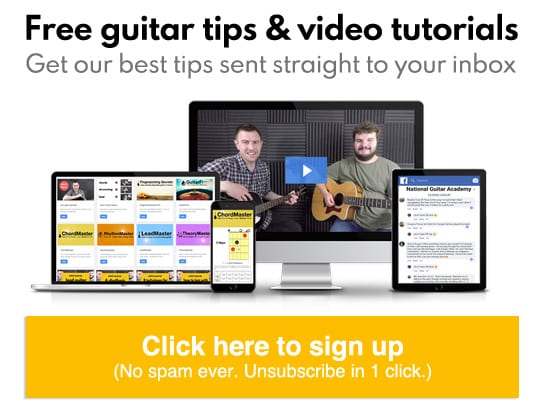 Get our best guitar tips & videos
Get our best guitar tips & videos