Fingerpicking is an amazing technique to have in our toolkit – Let's learn with these 9 easy fingerpicking songs!
Over 200,000 guitar-learners get our world-class guitar tips & tutorials sent straight to their inbox: Click here to join them
In this free lesson you will learn…
9 easy fingerpicking songs
9 different patterns that you can use anywhere
How to get your thumb to move between strings
How to apply fingerpicking patterns anywhere!
Want To Learn Some Easy Fingerpicking Songs?
Question: Why did you start learning to play the guitar?
Maybe you picked it up in the first place because you wanted to sound like this guy:
Even players like Richard Thompson and Leo Kottke had to start with easy fingerpicking songs before they became who they were as guitar players.
Fingerpicking is more than just one style of playing guitar, but the fundamental idea is that the chords you would ordinarily strum are arpeggiated or separated.
Instead of all at once, we play one or a few notes at a time, with our fingers.
If you're completely new to fingerpicking and want a fresh start on this cool technique, then check out this cool fingerstyle guitar lesson.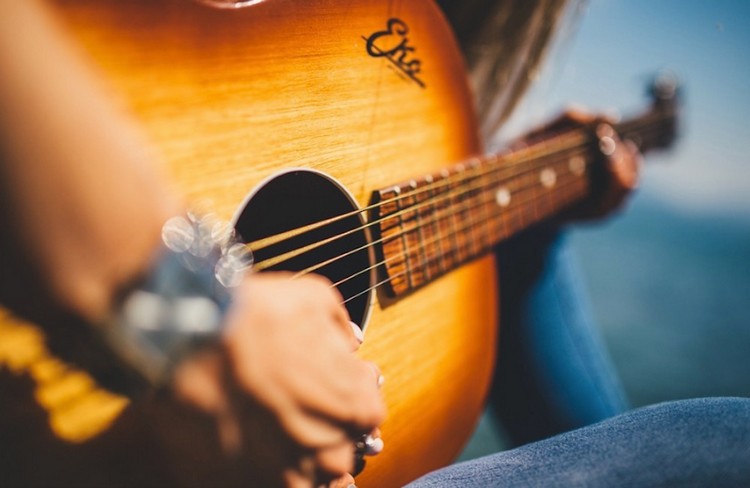 Easy Fingerpicking Songs #1 – The White Stripes – "We Are Going To Be Friends"
This song is a perfect introduction for learning to play a variety of easy fingerpicking songs. 
Check it out below:
Jack White is a master of the guitar, and it shows in this classic track.
His fingerpicking tracks are fun to play and also great for everyone to sing along to.
When learning any variety of easy fingerpicking songs your thumb has two jobs.
These are:
Playing the root or bass note of the chord.
Holding down the beat of the song.
For "We Are Going To Be Friends," your thumb and first finger are just going to take turns picking strings – that's the entire arrangement.
Here are the chords for the song:
(If you don't understand the above image please read our article "How To Read Guitar Chordboxes In 60 Seconds". It will make everything clear!)
Here is the fingerpicking pattern. Your thumb is assigned to the low sounding string, and your first finger is assigned to the high-sounding string.
Keep a steady beat and pay attention to the flow of the notes. In very little time, you will have the entire song down.
Learn the 12 EASIEST beginner chords with our famous FREE guide
✓  Stop struggling. Start making music.
✓  Learn 12 beginner-friendly versions of every chord.
✓  This is our most popular guide and it will improve your chord ability quickly.
Easy Fingerpicking Songs #2 – Simon & Garfunkel – "59th Street Bridge Song"
You had to know we weren't going to get very far in this list of easy fingerpicking songs before running into Paul Simon.
"59th Street Bridge Song" gives you an amazing start with fingerpicking, because you do not need to chase after Paul Simon's fancy style to have a great arrangement of this song.
"59th Street Bridge Song" cycles through the same four chords – C, G/B, Am7, and G.
Repeat those chords over and over from "Slow down" to "Da da da da."
In learning any of these easy fingerpicking songs, it helps a lot to first get a handle on the chord changes by strumming them.
Once your fretting hand is accustomed to the changes, you are free to deal with the picking hand without having to chase after the chords.
The chord changes in this song are quick; there are only two beats per chord.
For that reason, you can begin learning the fingerpicking pattern very slowly.
As you get more comfortable with the picking and the changes, you can gradually increase the tempo. This song cooks!
Here are the chords, with the fingerpicking pattern below:
To play along with the recording, place your capo at the third fret.
Pro-Tip: When learning any of these easy fingerpicking songs, start with the thumb!
From there, add in the other finger or fingers as you get more comfortable.
Easy Fingerpicking Songs #3 – Rolling Stones – "As Tears Go By"
Keith Richards uses a flatpick to play "As Tears Go By", but that does not mean you can't play it as one of your easy fingerpicking songs!
The chords are simple: G, A, C, D, and Em, listed below:
The pattern is a simple arpeggio down the strings.
Remember to assign one finger to each string in order to make the most of your fingerpicking hand.
Start with a quarter note pattern: T, 1, 2, 3 (Thumb, Index, Middle, Ring).
That's a good way to begin working the picking and changes together.
After you get used to picking the strings in that order, speed up your picking to play the pattern twice per chord.
Remember that the picking patterns and tempo are subjective while you're learning how to play any of these easy fingerstyle songs.
The point of this lesson is not to play along to the track right away, but to build dexterity in our fingers to tackle them in full.
You will build up to an eighth note pattern, so that you are using your thumb on beats 1 and 3.
A quicker fingerpicking pattern fills the time in a slow song!
Easy Fingerpicking Songs #4 – Bill Withers – "Ain't No Sunshine"
Soul music is not generally associated with easy fingerpicking songs, but Bill Withers proves the exception to the rule here:
"Ain't No Sunshine" is a great performance song that is simple to work up and sing and play at the same time. (Hint: he says "I know" 26 times.)
This is a blues in A minor. The chords are Am, Em, G, and Dm.
In the video above, you can see Bill Withers playing it with moveable shapes, but you can play it beautifully without those shapes.
The song is extremely satisfying to play and sing.
The simplicity of the arrangement leaves a lot of room for expressive singing, and it's in a pretty universally easy key to sing.
If you are going to take one of your easy fingerpicking songs to an open mic, this is the one!
Pro Tip: Note that you can play either the G chord, or the Em/G displayed in the tabs of this section.
Check out the fingerpicking pattern below.
Use your thumb on the bass notes and pluck the other three strings with your first, second, and third fingers.
Easy Fingerpicking Songs #5 – Fleetwood Mac – "Landslide"
This universal favorite in the world of easy fingerpicking songs features some surprisingly simple picking from master fingerstyle guitarist, Lindsey Buckingham.
This song was covered beautifully by the Dixie Chicks and also by Smashing Pumpkins, but everyone likes to sing like Stevie Nicks.
"Landslide" is the song to play if you want to see other people singing along!
Here are the chords you'll need:
This is the first instance of Travis picking so far in the list of easy fingerpicking songs.
Travis picking, named after Merle Travis, involves the thumb bouncing between two or three strings on the beat with the other fingers embellishing between the beats.
Check out the tab below to get the fingerpicking pattern under your hands, and then play along to the chords above when you have the pattern down.
Travis picking is usually an eighth note pattern, so you'll play the pattern twice per chord.
Begin slowly on one chord and as you get used to it, incorporate the chord changes.
In time, as your picking hand gets better at sustaining the pattern, you will be able to play faster and get the song up to tempo!
Pro-Tip: You can practice easy fingerpicking songs without a guitar! Get your fingers used to the fingerpicking pattern by tapping them in order on a table or other flat surface
Easy Fingerpicking Songs #6 – Simon & Garfunkel – "Homeward Bound"
If you have practiced "We're Going To Be Friends" and "Landslide," you are ready to mix up your patterns for some easy fingerpicking songs like this one!
Paul Simon built his fingerstyle guitar career on thoroughly learning Martin Carthy's beautiful fingerpicking arrangement of "Scarborough Fair," which is not on our list of easy fingerpicking songs. You'll know why when you listen to it.
"Homeward Bound" has a nice descending bass line in the verse and builds up from the verse to the chorus. Check out the chords below:
You can follow Paul Simon's guitar arrangement by using three different rhythms in different sections of the song.
To begin the verse, bounce the thumb back and forth between the sixth and fourth string.
In the second half of the verse, add in the fingers as in the "Landslide" pattern, T, 1, T, 2, making sure to keep track of the string that the root (or bass) note sits on
When you get to the chorus, go ahead and strum.
Here is the fingerpicking pattern that you'll need. We've included an Em instead of the E7 for some variety. Use the one that feels right to your ears!
Adding a little rhythmic complexity to any of these easy fingerpicking songs is a great way to build different arrangements.
The entire song could be played with any of the three rhythms you are using. Place your capo at the third fret to play with the recording!
Easy Fingerpicking Songs #7 – Pink Floyd – "Brain Damage"
Every rock band needs a tune with some fingerpicking, and Pink Floyd is no exception.
You can play "Brain Damage" without its ending, which is an entirely different song, "Eclipse."
Some versions of "Brain Damage" use alternate tunings, but the version you are learning has simple chord shapes and a lovely repetitive Travis picking pattern.
Here are the chords you will need:
This fingerpicking pattern is a common one in many easy fingerpicking songs.
It is a Travis picking pattern with a pinch between the thumb and the second finger on the downbeat.
This song is even more fun to play than it is to listen to!
Check out the outline of the fingerpicking pattern you'll be using below:
When you get to the B minor at the end of the chorus, just strum whatever B minor chord you are able to play.
For some simple B minor chords, check out this lesson!
Download our lead guitar cheat-sheet to make things easier
It can be disorientating for guitarists to understand which scales work with which keys.
With this in mind, we created a cheat-sheet; a key and scale-finder that you can use again and again.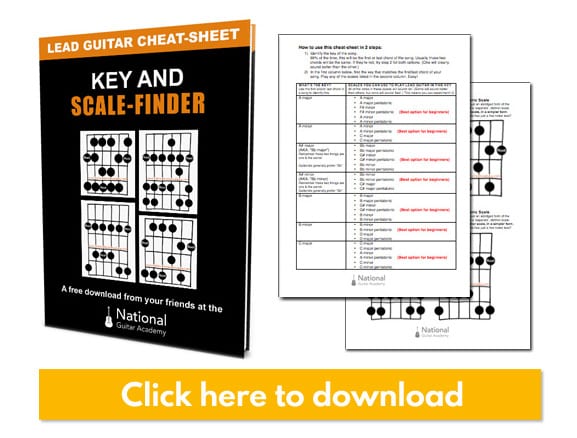 Easy Fingerpicking Songs #8 – Elvis Presley – "I Can't Help Falling In Love With You"
Elvis made plenty of impact over his long and prosperous career in music.
This classic from Elvis evolved over the years that he sang it, but it works as one of your easy fingerpicking songs.
That version involves a little more speed than you may be able to muster when you are first learning. Take the time to play slowly and learn the ins and outs of the pattern first.
The bright side is that this song is so timeless and beautiful that once you learn it, you will almost certainly be asked to play it at your friend's wedding.
Here are the chords you will need. There are a lot of them, but you can play at your own pace!
To fingerpick this song, you will use a simple arpeggio running down and back up the strings. This song is in 12/8 time, which means that each beat is divided into triplets.
To make things easier to start with, try counting in 3/4 to slow things down.
Using this pattern over any of these easy fingerpicking songs will create a swaying feel, with the strong (or accented) beats at the bottom and top notes of the arpeggio.
As with all new patterns in this list, practice the pattern on one chord until your picking hand becomes comfortable, and then add in the other chords one-by-one.
It's also helpful to practice songs in pieces, four measures or chords in a row. When you have a few pieces of the song down, start to string them together.
This makes mastering an entire song much more manageable!
Use These Fingerpicking Patterns Over Your Favourite Songs!
Fingerpicking is a category of rhythmic style more than a specific genre of music.
You can apply your skills from these easy fingerpicking songs to any song you already know and come up with your own arrangements.
Not every pattern "works" with every song, but over time you will develop not only your own style but also a sense of what works with what type of song.
Beyond these easy fingerpicking songs, there are some slightly more advanced fingerpicking hits that will soon deserve your attention:
Recommended Resources
If you enjoyed this guide to learning easy fingerpicking songs, you'll love some of the other content we have for you below:
What Type of Guitarist Are You?
Take our 60-second quiz & get your results: Take The Quiz
Want free guitar tips and video lessons delivered to your inbox?
Join over 200,000 other guitar learners and subscribe to our guitar-tips-by-email service. (It's free.)
We'll send you a series of lessons that will move you to the next level of your guitar journey.
Learn how everything fits together quickly, easily and effectively. We share ninja tips (for instant fun!) but also timeless fundamentals that will deepen your understanding.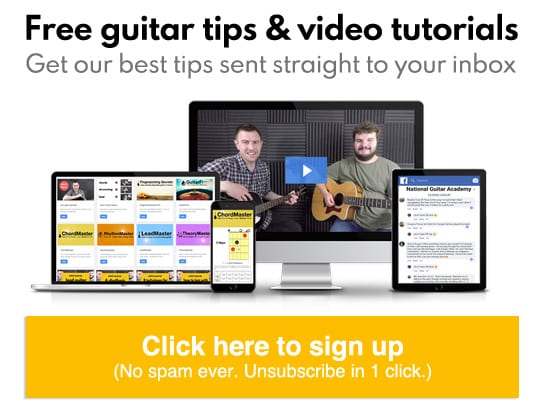 Popular Lessons
How To Learn Guitar: An 11-Step Programme For Beginners
How To Choose The Perfect Beginner Guitar
Guitar Notes Explained: A Guide For Beginners
More Cool Guitar Stuff
Learn about the National Guitar Academy: About Us
Visit our YouTube channel for fun guitar videos.
Join us on Facebook for daily guitar tips.
Listen to our Learn Guitar Podcast for rapid guitar progress.
Check out our free chord lessons.
Get our best guitar tips & videos
Get our best guitar tips & videos