So you're looking for some fun songs to play on guitar? Then you're in the right place! We're going to show you 9 of our favourite songs to play on guitar.
Over 250,000 guitar-learners get our world-class guitar tips & tutorials sent straight to their inbox: Click here to join them
If you want to be a better guitarist click here for our guitar courses
In this free lesson you will learn:
9 fun songs to play on guitar that your audience will love.
4 essential chord and strumming hacks that will turbo-charge your playing.
The top-secret tip that will allow you to learn songs quickly and easily.
So you want some fun songs to play on guitar…
If you are like most guitarists, at some point you go through your entire collection of songs to find nothing that seems gratifying.
Maybe you've mastered everything in your song pile, or maybe you're just looking for something different.
Plateauing, struggling, and getting sick of everything you are playing is a natural part of progressing on the guitar, but you can snap out of it with one of these fun songs to play on guitar.
Fun Songs To Play On Guitar #1 – 'Up Around the Bend' by Creedence Clearwater Revival
If you're looking for fun songs to play on guitar then this happy little tune from Creedence Clearwater Revival is going to make your day.
The song is in the key of D and the chords are simple.
D chord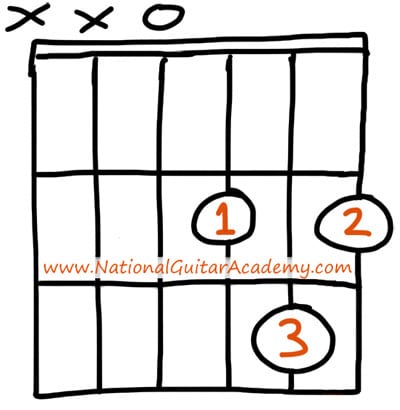 (If you don't understand the above image please read our article "How To Read Guitar Chordboxes In 60 Seconds". It will make everything clear!)
A chord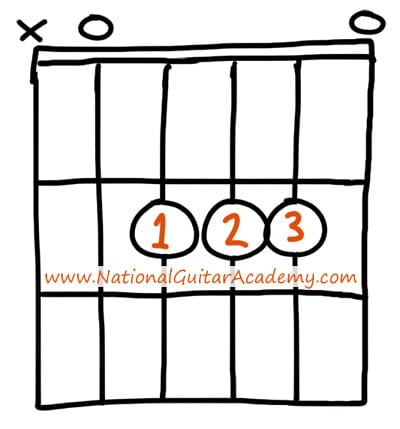 G chord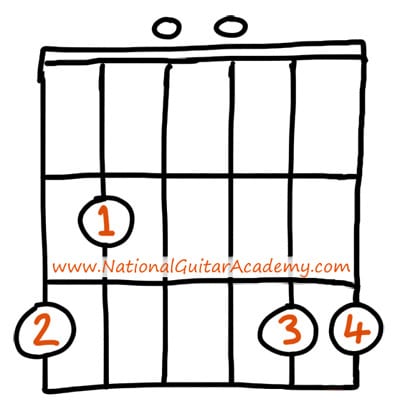 To play the intro riff, just follow the easy tab. When you pick the open string, try to let it ring. Then slide your middle finger from a few frets back to the destination fret to get that great sound!
The rhythm in this song is part of CCR's signature sound. To get it, keep a consistent down-up strum going and mute the strings on beats 2 and 4.
Need help getting your strumming game going? Check out this handy lesson: How To Strum A Guitar
Learn the 12 EASIEST beginner chords with our famous FREE guide
✓  Stop struggling. Start making music.
✓  Learn 12 beginner-friendly versions of every chord.
✓  This is our most popular guide and it will improve your chord ability quickly.
Our Guitar Courses
Become a better guitarist: Click here to check out our guitar courses
Fun Songs To Play On Guitar #2 'Runnin' Down a Dream' by Tom Petty
For another easy but satisfying intro riff, check out Tom Petty's "Runnin' Down a Dream."
"Runnin' Down a Dream" was the second single from Full Moon Fever. Petty's 1989 album is packed with fun songs to play on guitar.
He wrote this one with Jeff Lynne of Electric Light Orchestra.
This song is in E, and the chords in the verse and chorus are pretty simple:
E chord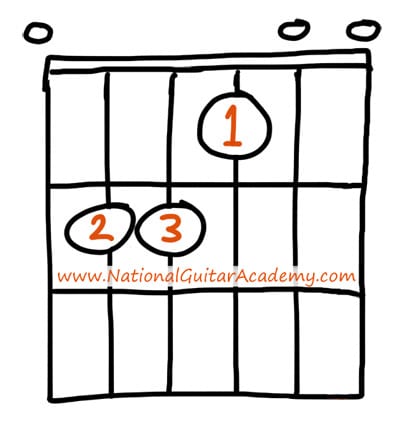 Dsus2 chord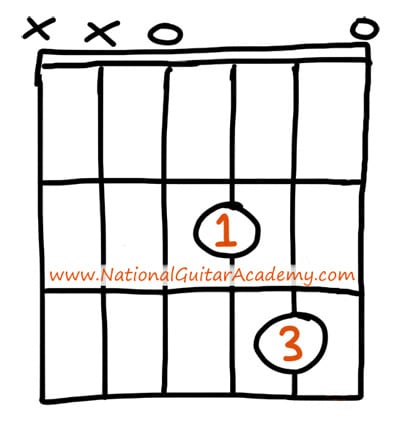 G chord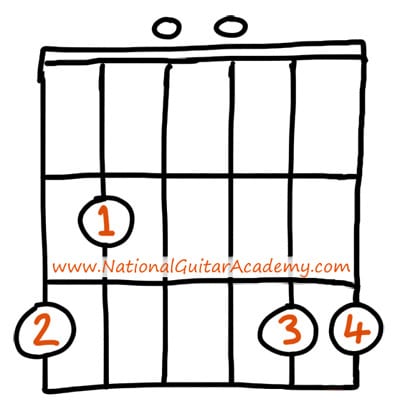 A chord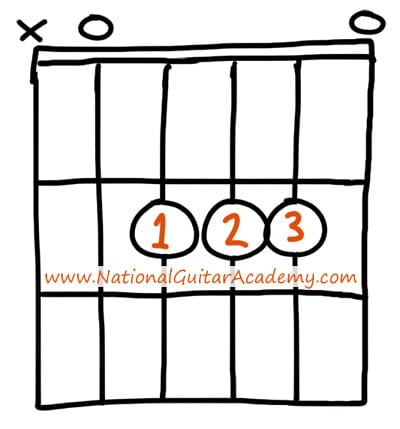 The chords in the break and the outro are a little more interesting. But all you have to do here is keep the same chord shape and move up the neck from C to D to E:
Cmaj7 chord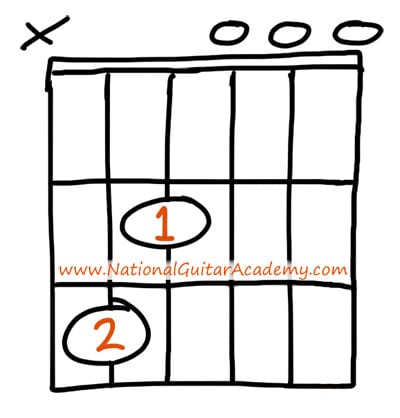 D6/9 chord
E chord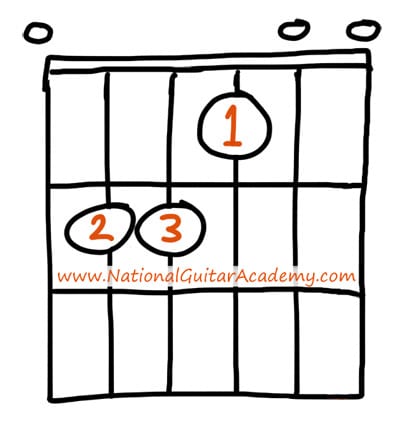 Those up-the-neck chords make "Runnin' Down a Dream" fun to play, especially if you have someone who can play the solo whilst you play the chords.
However, one of the best parts of this is the intro riff. Here's the tab:
Pro-tip: When you are picking single notes quickly, at first it may seem easier to pick downward. Try picking the "Running Down a Dream" riff up-down-up-down.  That's called alternate picking and it will help you to develop speed without sacrificing accuracy!
Fun Songs To Play On Guitar #3 'Mamas Don't Let Your Babies Grow Up to Be Cowboys' by Waylon Jennings and Willie Nelson
Sometimes the best fun songs to play on guitar are the ones that you can lay back and just play and sing, especially with a guy like Willie Nelson.
Here he is singing with Waylon Jennings.
The song was written by Ed and Patsy Bruce, but when Waylon and Willie sang it, it went to the top of the country charts in 1978.
This is a great one to add to your setlist of fun songs to play on guitar.
The song begins in the key of D and then changes key to E halfway through, to keep things interesting.
D chord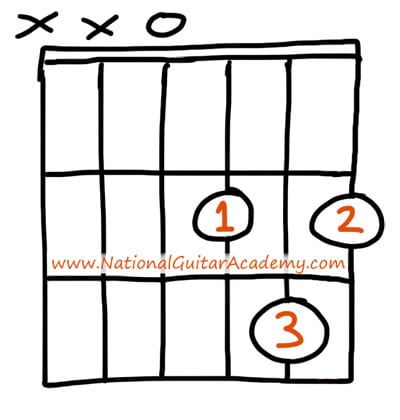 G chord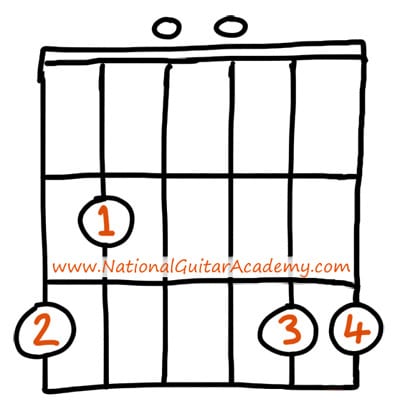 A chord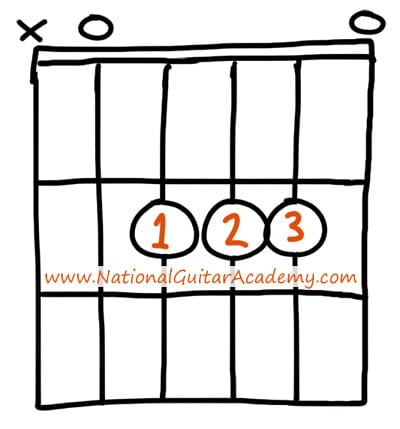 E chord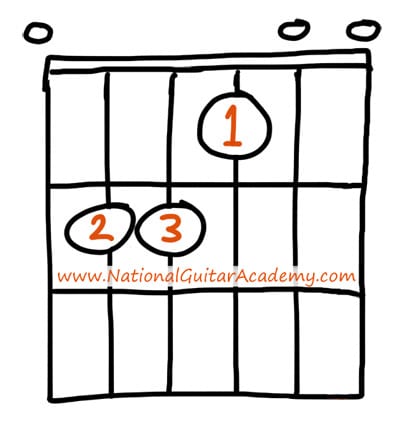 B7 chord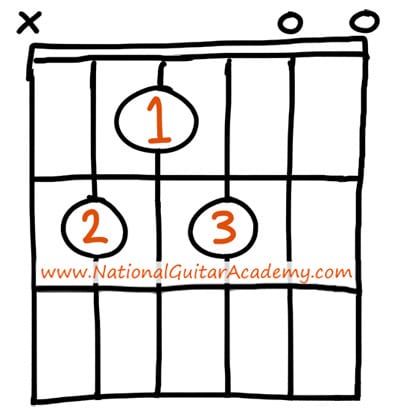 This is a country waltz in 3/4. Pay close attention to the rhythm in the song and do your best to play along with Waylon and Willie.
Fun Songs To Play On Guitar #4 'Highway to Hell' by AC/DC
If you are a beginner to intermediate guitar player, you'll want to add this satisfying guitar riff to your pile of fun songs to play on guitar.
Although Bon Scott passed away soon after the song's release, sparking speculation about the meaning of the song "Highway to Hell" refers to the relentless touring schedule AC/DC maintained to promote their first few albums.
"Highway to Hell" is in the key of A, but everything is tuned down a half-step, however don't worry about this for now. Let's get right to the important part: the riff!
There is something magical about Angus Young's guitar tone, but you don't need to run out and buy an SG and a Marshall stack.
This is one of AC/DC's most fun songs to play on guitar, even on an acoustic.
The chords are standard-issue rock chords. Honestly, it's a mystery what makes this song so satisfying to play, but it is magic.
A chord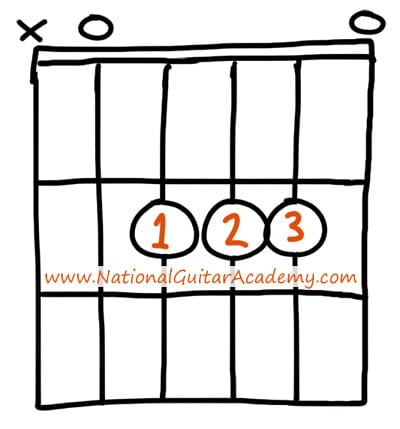 G chord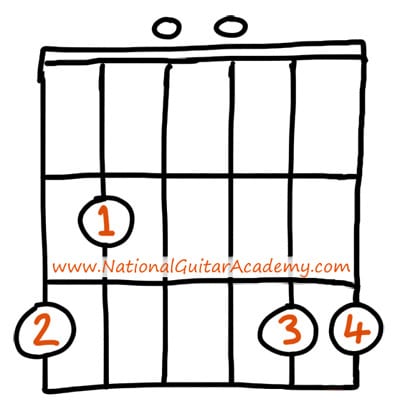 D chord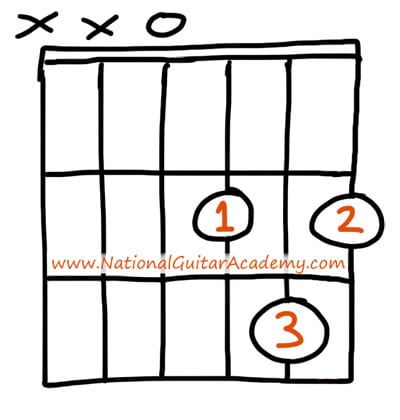 E chord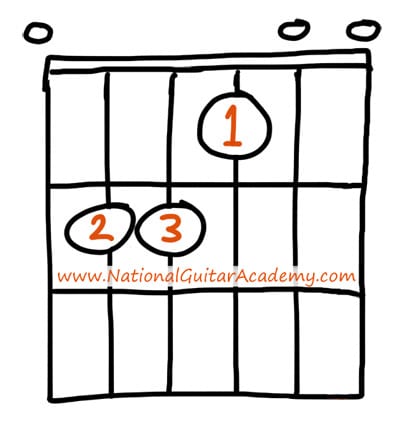 Listen carefully to the riff, although it sounds simple at first. The timing is tricky, so listen to the gaps and you'll be strumming along with Angus and coin no time!
In the video, Angus is famously marching around the stage in a school uniform. What he is really doing is keeping time with his body.
You can do the same to make sure your rhythm is tight. If you don't have a stage to march around on, tap your foot or nod your head.
Find some way to keep the beat with your body to help your rhythm stay steady.
Get our best guitar tips & videos
Continue reading on page 2:
Page 1
Page 2