Let's talk about how to optimize our practice and learning with guitar lessons at home and online.
Over 250,000 guitar-learners get our world-class guitar tips & tutorials sent straight to their inbox: Click here to join them
If you want to be a better guitarist click here for our guitar courses
In this free lesson you will learn…
Where to find some amazing (and free) guitar lesson content
Why you should keep a binder or digital folder of your guitar lessons
How to stay organized to make the most of your practice time
What a practice journal is & why you need one
Let's Look At Some Of The Ways We Can Take Guitar Lessons At Home
The internet is a beautiful place with an unimaginable amount of information within it, and it's only ever getting bigger.
It only makes sense that we should use it to our fullest advantage when it comes to learning not just music, but anything.
At-home learning has taken hold of our education in a big way in recent years, and more and more guitarists are opting to take guitar lessons at home and online rather than shell out the gas or bus fare to take weekly trips to a music school.
Perhaps you're in the same boat! If so, this is the lesson for you.
The Internet is full of opportunities to learn, but we need to do a bit more digging if we're going to find the right method for learning that appeals most to us.
Everyone is different when it comes to learning something new, and so in today's lesson we're going to look at guitar lessons at home from every angle to help you find the best places (and the best ways) to learn to play.
We're also going to look at the best practices to get into early on in your musical journey to ensure your path to success.
Ready to dive into today's lesson? Let's go!
What Are The Benefits Of Taking Guitar Lessons At Home?
Although many of us may be used to the tried-and-true music school/in-person private teacher methods of yesteryear, learning from home has a variety of perks (aside from staying in your pajamas).
With a good enough internet connection, you can easily connect with a private instructor over your favourite web chat platform or enlist yourself in a variety of different guitar lessons at home.
The major benefit of this learning method is that we get to remain comfortable, which helps our brain tick a bit more easily.
It also means that we can take the time immediately after a lesson to group our thoughts together and study for longer, which can help our overall learning process immensely.
As learners, our stream of thought and understanding is important.
Often however, it gets interrupted. This is especially true when we take lessons at a traditional musical classroom. All it takes to interrupt that learning stream is the drive home after the lesson – then the guitar goes back on its stand and gets forgotten about that much more easily.
When we take guitar lessons at home however, we don't run into this problem as easily.
This is because as soon as our lesson or program is concluded, we can take the time immediately after to develop a better understanding of what we just learned.
Essentially, taking guitar lessons at home means that your stream of consciousness doesn't get interrupted as easily following a lesson.
But where do we look for these lessons? 
Learn the 12 EASIEST beginner chords with our famous FREE guide
✓  Stop struggling. Start making music.
✓  Learn 12 beginner-friendly versions of every chord.
✓  This is our most popular guide and it will improve your chord ability quickly.
Our Guitar Courses
Become a better guitarist: Click here to check out our guitar courses
Guitar Lessons At Home: Finding The Right Learning Platform
In this section, we're going to look at some of the different learning platforms that might be best-suited to your needs as a beginner guitarist, especially if you're looking to learn independently.
Here are some of the best places to start if you're looking for online guitar lessons at home:
YouTube:
YouTube is an amazing platform for creators to teach on and introduce viewers to their platform of education. You will find that many veteran YouTube educators will have courses that they sell on various other platforms.
Click here for some free YouTube guitar lessons from your friends at the National Guitar Academy.
Our Website Lesson Library
If you found us a search engine, chances are you might not know about the hundreds of other lessons we have on our website.
We've got a huge library of lessons that are geared toward helping beginner guitarists start their guitar lessons at home on the right foot. Why not join us?
Click here to visit our homepage and see what we've got for you.
Mailing List Content
Many educational creators like ourselves out on the Internet have mailing lists that you can subscribe to for free educational content. Many of these newsletters (ours included) will alert you when full courses go live for registration as well, giving you a first-shot at the registration window for course-based guitar lessons at home.
Over 250,000 guitar-learners get our world-class guitar tips & tutorials sent straight to their inbox: Click here to join them
If you want to be a better guitarist click here for our guitar courses
Guitar Lessons At Home: How To Self-Educate Effectively
Self-education takes commitment, and there are a number of ways we can go about keeping ourselves organized in order to make the most of not only our learning time, but our practice time as well.
Many of us lead hectic, busy lives and as such have only so many hours (or minutes) in the day to devote to our passions. That's okay, because it's how we manage this time that's important!
If you're making time to self-educate without the aid of a personal in-person or online instructor, make sure to stay organized!
Lack of organization is the #1 cause of students not getting as much out of guitar lessons at home as they should. Let's talk about how to stay organized!
No matter whether you're a beginner guitarist or an expert player, using a practice journal can help you track your progress with ease.
You can fill your journal with points such as:
Most recent chords that you've learned
Progress on songs that you're learning (section by section)
Progress in guitar courses that you're taking
Up and down indicators for various strumming patterns you're learning
And more!
We'll talk more about this below.
If you find yourself subscribing to various mailing lists that offer downloadable guitar lesson content, make a folder on your computer or mobile device to store everything for easy access.
Remember: The more time you spend struggling to find the information you're looking for, the less time you're spending practicing!
Guitar Lessons At Home: Why You May Want A Personal Teacher
It's worth mentioning at length that independent online learning is not for everyone, and there's nothing wrong with that.
This lesson is not meant to say that you should abandon your teacher or not seek one out at all, rather that there are a variety of options for you should you wish to take guitar lessons at home.
Online instructors work wonders for many students however, and bring a wonderful outside perspective to the guitar that is a bit more difficult to find without one-to-one interaction.
Many online guitar teachers have taken to creating their own digital content to go along with the private lessons that they offer, creating an easier review and homework process for their students.
When searching for a private, one-to-one instructor online, there are a variety of factors to look out for, especially in your first lesson:
Does the instructor understand your skill level and are they providing you with skill-specific material?
Is the instructor respectful of your time and do they structure the time paid for effectively?
Do they provide you with adequate materials to study in between lessons?
Do they make you feel comfortable and encouraged?
Does the instructor get you excited about learning guitar?
These questions are extremely important to ask yourself, as your teachers will shape the way you approach the guitar through your guitar lessons at home.
Guitar Lessons At Home: Blocking Off Time For Practice
Whether you're opting for lessons with a teacher or venturing out on your own in search of independent knowledge, your practice time is the most important thing to consider.
But how do we organize our practice time?
Simple: We break it up into small segments, especially in the beginning stages.
A half an hour to an hour a day is a lot of time (even though it may not seem like it), and the more effectively we organize that time, the more we can accomplish!
Remember: We all have the same amount of time in a day – it's what we do with it that matters!
Now let's discuss how we should practice when taking guitar lessons at home.
Pro Tip: If you have a printer at home, print out your lessons that you download and keep them in a binder next to your practice journal. The more put-together your resources are, the less time you have to spend fishing for them.
Guitar Lessons At Home: How To Practice Using A Routine
By this point, we've found ourselves a few spots on the internet where we can get some awesome free guitar lessons, but what's the best way to review all of this material?
Under the assumption that you've gotten your materials organized from some lesson creators that you're comfortable with, we're going to construct a practice routine that will take roughly thirty minutes and will give you a well-rounded and fulfilling practice session.
If you're a beginner, check out the practice routine below.
If you want a more detailed routine for your guitar lessons at home, click here.
Beginner Practice Routine (30 minutes)
Pick two chords per day for this routine (one main chord, one secondary).
These can either be a stepping-stone version or full chords depending on your comfort level. 
Ideally, the main chord you focus on should support the main chord you learn the following day. 
5 minutes: Stretching to avoid hand cramping or discomfort. 
15 minutes: Hand positioning, focusing on hand and finger placement as well as overall comfort in the chord. Take this time to pick each string in the chord individually and focus on letting it resonate.
10 minutes: Combine the main chord you're focusing on with a secondary chord you're already familiar with, and practice transitioning between the two. 
Pro Tip: This practice routine doesn't sound like much, but what makes it effective is the use of a primary and secondary chord.
By recycling the main chord from the day before into the secondary chord the next day, you always make sure to learn something new and practice what you learned previously.
For more practice inspiration to support your guitar lessons at home, click here.
Download our lead guitar cheat-sheet to make things easier
It can be disorientating for guitarists to understand which scales work with which keys.
With this in mind, we created a cheat-sheet; a key and scale-finder that you can use again and again.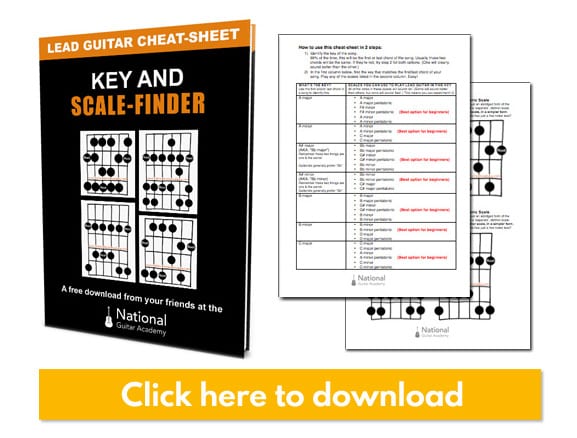 Our Guitar Courses
Become a better guitarist: Click here for our guitar courses
Guitar Lessons At Home: How To Track Your Progress Effectively (At Any Level)
We've mentioned practice journals already, but there are hundreds of things we can fill them up with to keep us on track. Let's discuss!
This little tool is one of the most important things that you will use as a guitarist.
It makes sense to practice from day to day, but relying on memory alone doesn't cut it for some of us.
A practice journal keeps us accountable to ourselves, and that's incredibly important if we want to see real progress with our guitar playing.
Let's see what the smartest options are for tracking our independent guitar lessons at home in the section below.
Practice Journal Guidelines: 
Date your entries so you can timeline your practice
Clock the amount of time spent on different areas to optimize your routine
Make sure to bookmark the lesson that you are working on and reference it in your journal
If you're practicing strumming patterns, indicate them in your journal
If you're using a metronome to practice rhythm, write down the tempo you're practicing at
Write down the picking patterns and arpeggios that you learn for easy reference
Pro Tip: Your practice journal for your guitar lessons at home doesn't need to be neat and tidy, it just needs to work for you in order to keep your routine on the right track.
Guitar Lessons At Home: Why We Need To Take Our Time
Learning from home on our own is an undertaking in itself, so we need to approach it intelligently.
They say patience is a virtue, and that's especially true when it comes to taking guitar lessons at home by ourselves.
Our brains possess this wonderful little mechanism called muscle memory, which allows us to retain and repeat physical actions from memory.
Muscle memory is a function that can be honed like a skill – all it takes is repetition!
The big key with guitar lessons at home (and learning guitar in general) is repeat practice.
Although repeating the same thing over and over again sounds boring to some, it's the best way to engrain musical patterns and chords into your hands and brain that much quicker.
But that's not all of it.
When we learn new musical principles like chords and scales, it's important to try to mix them in with what we already know.
When you're taking guitar lessons at home, take it one concept at a time.
Pro Tip: Remember that all things in music are connected. Even if you're just starting out and only know one chord, the next chord you learn can easily be paired with it in some way. That's the beauty of music!
Want 10 beginner principles to work on right away? Click here.
More Tips & Resources For Guitar Lessons At Home
We've got a lot of resources around the web on other social platforms that you might benefit from checking out.
Click the links below to be taken to our social channels!
What Type of Guitarist Are You?
Take our 60-second quiz & get your results: Take The Quiz
Our guitar courses
How do you want to improve as a guitarist? Click here to check out our guitar courses
Cool Guitar T-shirts
Look cooler! Check out our merch: Click here to see our merch store
Want free guitar tips and video lessons delivered to your inbox?
Join over 250,000 other guitar learners and subscribe to our guitar-tips-by-email service. (It's free.)
We'll send you a series of lessons that will move you to the next level of your guitar journey.
Learn how everything fits together quickly, easily and effectively. We share ninja tips (for instant fun!) but also timeless fundamentals that will deepen your understanding.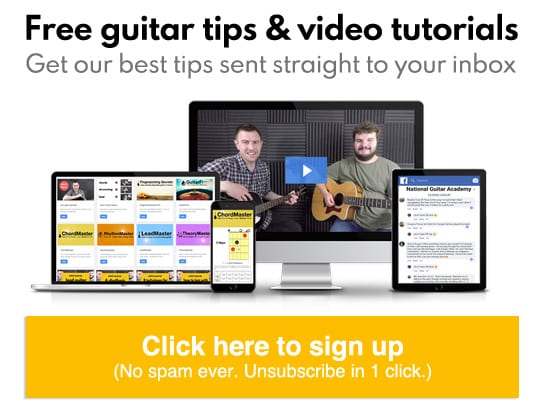 Popular Lessons
How To Learn Guitar: An 11-Step Programme For Beginners
How To Choose The Perfect Beginner Guitar
Guitar Notes Explained: A Guide For Beginners
Our guitar courses
Become a better guitarist: Click here to check out our guitar courses
More Cool Guitar Stuff
Learn about the National Guitar Academy: About Us
Visit our YouTube channel for fun guitar videos.
Join us on Facebook for daily guitar tips.
Listen to our Learn Guitar Podcast for rapid guitar progress.
Check out our free chord lessons.
Get our best guitar tips & videos
Get our best guitar tips & videos
Get our best guitar tips & videos