Dive into our index of free guitar lessons for beginners to help you grow as a guitarist and as a musician.
Over 100,000 guitar-learners get our world-class guitar tips & tutorials sent straight to their inbox: Click here to join them
In this free lesson you will learn…
How to find free guitar lessons online
How to use search engines to find the best lessons
How to search this index to find the exact lesson that you're looking for
The difference between guitar lessons and mini-courses on our website
Who Wants A Bunch For Guitar Lessons Free For Beginners?
If you're just starting out on guitar, chances are you're looking for some free guitar lessons to get you started.
Lucky for you, you've come to the right place!
The internet has got tonnes and tonnes of valuable information for those looking to find guitar lessons free for beginners, but we're going to have to do some detective work if we're to navigate the whole internet for the information we need.
Thankfully, some places on the internet are chock-full of valuable and useful info – like right here!
In this lesson, we're going to break down how to find guitar lessons free for beginners online.
We're also going to link you to a wealth of beginner material from our website and YouTube channel that will set you on a path to musical enlightenment in less time than you might think.
The first and only thing you'll need besides a guitar is patience. The guitar takes time and dedication to learn, but with a little bit of commitment we can go a long way.
With that being said, let's dive into it and start by determining the best ways to find accurate and learnable information online.
How To Find Good Information Online
With so much info on the internet, it can feel overwhelming to find what you're looking for without spending hours on Google or any other search engine.
The good news is, there are a bunch of things you can do to minimize search time and maximize practice time.
Check out our pointers for finding great guitar lessons free for beginners online:
Use the top search results – Most search engines will find the most hyper-relevant and most highly-clicked links and put them at the top of your search results to give you the best info first.
Talk to other guitarists on social to find out where they get their lesson content from – people are passionate about the things that benefit them.
Make a list of the websites you find that give you the best guitar lessons free for beginners that suit your learning style. You don't have to use the same material as everyone else if it doesn't benefit your education in the same way it does theirs.
Use your browser's bookmark feature and create a folder for easy access.
There are a multitude of ways to sift through the internet and find guitar lessons free for beginners, but you can find a whole lot of lessons right here at the National Guitar Academy.
We've got a huge list of links in this article to lessons from our website that will provide you a great launching pad on guitar. Let's go through them in categories below, starting with beginner fundamentals.
Learn the 12 EASIEST beginner chords with our famous FREE guide
✓  Stop struggling. Start making music.
✓  Learn 12 beginner-friendly versions of every chord.
✓  This is our most popular guide and it will improve your chord ability quickly.
Guitar Lessons Free For Beginners: Fundamentals
Before we get into playing the guitar, there are a number of things we have to consider.
From the guitar we purchase to things like posture and playing style, there's plenty of ground to cover.
Before we get to the guitar lessons free for beginners that actually require you to play your instrument, we should take a look at some lessons that teach us about the gear we use and how best to use them.
What you play on your guitar is just as important as how you play it and what guitar you play it on.
Building your musical foundation is crucial, and that starts with posture and a good instrument.
Let's look at some guitar lessons free for beginners on our website that help with fundamentals below:
Pro Tip: It's a good idea to go through as many of these lessons as you can if you're just starting out. Start yourself out not just with good posture and knowledge, but also with a guitar you can grow with.
Now, what about chords?
Guitar Lessons Free For Beginners: Chords
Chords are one of the first things we learn about as guitarists, and for good reason. 
Chords provide a foundation for our playing in a big way, so it makes sense to start here when we're looking for guitar lessons free for beginners.
It's common to use smaller versions of large chords when we begin playing guitar so that our hands have time to get used to their new respective duties on guitar.
We like to call these "stepping stone chords," and you'll see versions of chords like this all over our website.
These smaller chord shapes will help you by splitting up a larger chord into digestible pieces that you can work on.
C MAJOR STEPPING STONE CHORD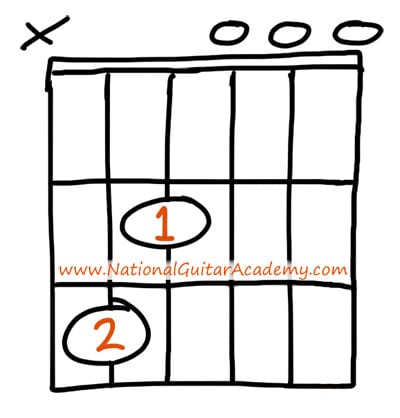 (If you don't understand the above image please read our article "How To Read Guitar Chordboxes In 60 Seconds". It will make everything clear!)
If you're looking for guitar lessons free for beginners that will teach you everything you need to know about chords, then click the links below and explore some of our best lessons at the National Guitar Academy:
Guitar Lessons Free For Beginners: Song Lessons
Once we've learned our way through a good variety of chords, we're obviously going to want to put them to use on some popular songs.
Songs serve as a wonderful playground not only for chords we've already learned, but for chords we want to learn also.
No matter what genre you're playing, you're bound to find something you didn't know before in someone else's music. That's the beauty of it!
When it comes to guitar lessons free for beginners that teach you how to play songs, you've got to be a bit careful – not all song lessons are created equal.
It's important to look out for the teaching style of whoever is teaching you and see if it appeals to your learning style.
If you're looking for guitar lessons free for beginners that will teach you some stellar songs, take a list at our collection of lesson offerings below and start putting those chords to good use:
Guitar Lessons Free For Beginners: Technique
If you're following along, you'll have no doubt learned some awesome chords and a few songs by this point.
The next logical step on your guitar journey is to start investigating guitar technique and apply it to your playing.
The guitar has a wide range of play styles, techniques and approaches. There are a few that you're absolutely going to want to know about, regardless of the genre of music you want to play.
If you're looking for guitar lessons free for beginners that hone in on guitar technique and teach you how to apply it, we've got a killer list of in-house lessons for you below.
Want to boost your technique? Take some time to have a look at some of these guitar lessons free for beginners:
Pro Tip: There are a lot of guitar lessons free for beginners here, so keep track of your progress with a practice journal! This way, you always know exactly where you left off.
Guitar Lessons Free For Beginners: Rhythm & Strumming
You could be the best guitarist in the world when it comes to shredding, but you haven't got much if you don't have rhythm.
With that in mind, rhythm is no joke and it's important to focus on.
Rhythm is the innermost foundation of music. It's where everything gets put together.
Without rhythm, all you have are chords and notes. Although that sounds like plenty, it isn't enough without a groove.
So let's keep scrolling and find some guitar lessons free for beginners that will help you get your feet tapping with all of this material you've learned so far today.
Ready to groove? Check out the rhythm & strumming lessons below:
Pro Tip: Although we've included a lesson on speed in this section, we don't encourage fast learning by any means.
Taking your time to learn the instrument inside and out is important, so don't rush the process!
Now, on to everyone's favourite musical topic:
Theory and scales!
Guitar Lessons Free For Beginners: Music Theory & Scales
We know that not as many of you are looking forward to this section, but it's a necessary evil.
Theory is the component that strings all of the little parts of music that we learn together into one consistent and cohesive language.
We're firm believers that it shouldn't be overlooked on your guitar journey by any means.
We're going to take this section to expose you to some awesome guitar lessons free for beginners that will explain music theory and scales to you in the least threatening way possible (we promise).
Ready to get into some scale and music theory lessons? Get started with our list below:
Pro Tip: Bookmark this page so you can keep coming back for new lesson content.
If you come back looking for a particular section of our guitar lessons free for beginners, use the Find function (CTRL or CMD + F on your keyboard) to search by keyword!
Download our lead guitar cheat-sheet to make things easier
It can be disorientating for guitarists to understand which scales work with which keys.
With this in mind, we created a cheat-sheet; a key and scale-finder that you can use again and again.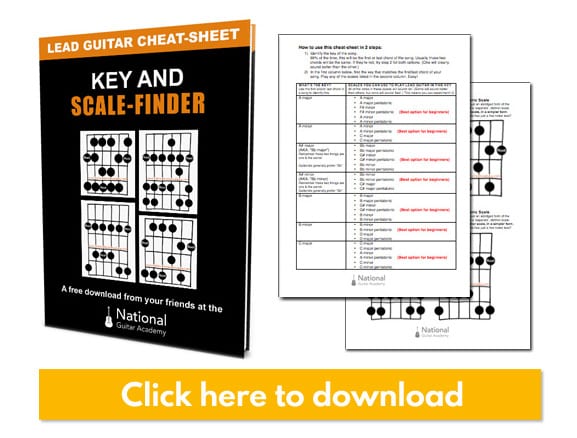 Guitar Lessons Free For Beginners: Mini-Courses
Amidst all of the information on individual topics online, there are some spots where you can find miniature courses designed to teach you a stretch of information in a processed manner.
This is definitely one of those places.
We like to package things up for our students as much as we can, so it's important that we put a few step-by-step programs together for the category of guitar lessons free for beginners.
In this section, you'll check out the free progress-based systems we've designed that have helped countless people looking for guitar lessons free for beginners get ahead.
Have a look at some of our free guitar systems below:
Pro Tip: Although some of these mini-courses cover slightly similar material, there's a lesson designed for each beginner guitarist's needs and learning style.
Sift through the links above and find the mini-course that's right for you.
More Places To Find Guitar Lessons Free For Beginners Online
Looking for more free lessons to guide you in the right musical direction?
Check out our YouTube channel – we've got over 70 free videos to teach you everything from chords to songs, technique and much more.
If you're looking for guitar lessons free for beginners in a video format to help you tune up your approach to guitar, click here and join us on YouTube!
Make sure to keep a bookmark of this page so that you can come back often for more free guitar lessons.
Recommended Resources
If you're looking for more specific guitar lessons, we've included a few more for you below.
Enjoy, and happy practising! 
What Type of Guitarist Are You?
Take our 60-second quiz & get your results: Take The Quiz
Want free guitar tips and video lessons delivered to your inbox?
Join over 100,000 other guitar learners and subscribe to our guitar-tips-by-email service. (It's free.)
We'll send you a series of lessons that will move you to the next level of your guitar journey.
Learn how everything fits together quickly, easily and effectively. We share ninja tips (for instant fun!) but also timeless fundamentals that will deepen your understanding.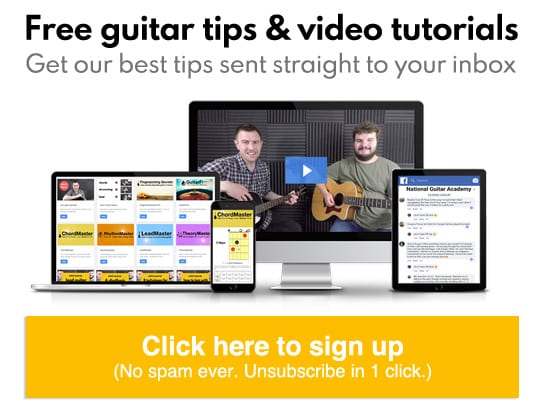 Popular Lessons
How To Learn Guitar: An 11-Step Programme For Beginners
How To Choose The Perfect Beginner Guitar
Guitar Notes Explained: A Guide For Beginners
More Cool Guitar Stuff
Learn about the National Guitar Academy: About Us
Visit our YouTube channel for fun guitar videos.
Join us on Facebook for daily guitar tips.
Listen to our Learn Guitar Podcast for rapid guitar progress.
Check out our free chord lessons.