What is an appropriate cost for guitar lessons? Let us break down your average guitar lessons price for you.
Over 250,000 guitar-learners get our world-class guitar tips & tutorials sent straight to their inbox: Click here to join them
In this free lesson you will learn…
The average cost of guitar lessons
What makes a good guitar teacher
The different types of guitar lessons available
Why online guitar lessons are almost as good as in-person lessons
A Fair Guitar Lessons Price Doesn't Have To Be Expensive
There are loads of apps and websites you can use to learn to play the guitar, including our own!
Free apps in particular are very attractive, for obvious reasons: cost, pace, and convenience.
It's possible to learn a fair bit as a beginner from these apps and sites, and some of them even give you a bit of feedback so you can measure your progress.
For some examples of free guitar lessons that you can take online, we've got some  breakdowns below:
The Best Online Guitar Lessons
The Best YouTube Guitar Lessons
Additionally, we've got loads of free course material right here on our website for you!
Check out our guitar lessons index here.
At some point however, your progress as a musician will absolutely depend on finding a human being to give you guidance and feedback.
Guitar lessons are amazing. You become part of a lineage of guitar lessons – learning from your teacher, who learned from their teacher, who learned from their teacher and so on.
Guitar lessons give you a game plan for practicing and achieving small musical goals in the service of bigger musical goals.
Needless to say, good guitar lessons are worth every penny – but how many pennies are we talking about, exactly?
Types Of Lessons & The Impact On The Guitar Lessons Price
When we are talking about guitar lessons in this context, we're talking about having a live teacher.
There are different types of lessons that can impact the guitar lessons price, based on how many people are in the lesson.
You could have a private, one-on-one lesson. You and your progress are the entire focus of this type of lesson.
You could have a semi-private lesson, where you and one or two other students are with a teacher. The teacher provides help to each of you individually, but you are both learning the same concepts at the same pace.
You could be part of a guitar class, where you are in a room with anywhere from three to ten other students. These classes provide some individual attention, but that may not happen in every class. Each student is provided with the same learning material.
Learn 12 EASY beginner chords with our popular guide
✅  Stop struggling. Start making music.
✅  Learn beginner-friendly versions of every chord.
This is our most popular guide and it will improve your chord ability quickly! 😎
Get your own personalised guitar-learning plan 🎸
Get a custom guitar-learning plan here: Click here for GuitarMetrics™
Guitar lessons are typically scheduled weekly.
Where private lessons are concerned, your teacher may let you schedule more per week upon request.
The private guitar lessons price ranges between $20 and $80 – depending on duration, location, and the quality or teacher's credentials.
The semi-private guitar lessons price tends to be a bit less expensive per person, and there is a bit more flexibility in pricing.
You and a friend could take lessons together and share costs, which can run anywhere between $30 and $100.
Guitar classes generally happen at community centers, music schools, or local colleges, with the price ranging between $15 and $25 per class.
It's important to note that group guitar classes also give us the benefit of having a collection of people to study and make friends with.

The people in your class are all as excited as you to be learning guitar, so don't hesitate to put a study group together!
How Do I Know How Much I Should Be Paying?
If you are looking at a list of guitar lessons price quotes and you're unsure how to evaluate the prices and lessons, you are not alone.
It's a little difficult to figure out how lessons should be priced, especially if you are a beginner or are unfamiliar with your teacher in question.
Setting expectations for ourselves and our lessons can help us solve this problem efficiently.
It's best to be as clear as you can on your goals, budget, and commitment level when you set out to sign up for guitar lessons, even if your goal is just wanting to fit the guitar into your life.
Here are some factors that you can consider, and questions that you can ask to help you determine whether the teacher and/or guitar lessons price is a good fit for you.
The advantages of guitar classes:
Everyone is in there helping each other and asking questions.
They tend to be less expensive than private guitar lessons.
Good guitar classes are wonderful places to go if you are a beginning to intermediate student. They are loads of fun.
The advantages of semi-private lessons:
Because you have a fellow student, you also have a practice buddy.
You and your fellow student can work on the type of music that interests you.
Having a fellow student takes a bit of the pressure of individualized attention off of you.
The advantages of private lessons:
Your curriculum and the music you learn is tailored to your tastes, for the most part.
Your teacher's time and attention are devoted entirely to you during your lesson.
Your progress is only limited by the amount of time you have to practice between lessons.
Pro-Tip: When researching guitar lessons price ranges, be sure to ask about the cancellation policy. 
Good teachers are busy and do not always have a lot of scheduling flexibility if you have to cancel a lesson, but every professional teacher has a consistent and well-conceived cancellation policy. You should know what it is ahead of time.
Location & Guitar Lessons Price
When you are looking at guitar lessons price ranges, consider how and where your lessons will fit into your life and what that's worth in terms of how much you can invest.
Schools can be the least expensive, and music schools have everything you need for a lesson: tuning and string changing services, stands, and playback devices.
Sometimes there are jamming spaces and extra jamming events during the course of the week that you can attend for zero (or minimal) extra charge.
Lessons in the teacher's home or studio tend to be less expensive than lessons in your home, because a teacher's commuting time and expenses are always built into the guitar lessons price.
Your geographic location impacts your guitar lessons price in terms of teacher availability as well.
If you're living in a remote location, it may be difficult to find a reasonably well-qualified and compatible teacher near you, whether or not that teacher can come to your home.
This may make it more expensive to find a teacher to travel to for regular lessons, but you can always discuss the possibility of scheduling less frequent and longer lessons.
On the other side of the coin, online lessons are wonderful!
Many teachers of all different levels and genres teach via Skype and Zoom, making it easy to connect provided you have a strong internet connection.
An additional advantage to online guitar lessons is digital lesson packs.
Many online guitar instructors will send copies of your homework to you digitally following your lesson, sometimes in a PDF and other times in the form of a playable TAB that you can jam along to!
Another factor with a major impact on guitar lessons price is your current level of skill.
Here is a breakdown of general expectations for guitar lessons by level.
Guitar Lessons Price for Children
If you're pricing guitar lessons for a child, the lessons may or may not be less expensive than teen/adult lessons.
The same factors apply – duration, location, number of students in the lesson – and there are the added considerations of developmental level and skill level.
A good children's guitar teacher knows that kids' developmental progress is a highly individualized thing, and you can work with your potential teacher to create a lesson and practice schedule that best suits the child student.
Children's guitar lessons are 30 to 45 minutes in length, and can cost $20 to $50.
Children's group classes are generally 45 to 60 minutes in length and can cost $15 to $25.
Guitar Lessons Price for Beginner Students
As inexpensive and convenient as online guitar lessons can seem for beginning students, the best time to invest in a teacher who is paying attention to you personally is when you are just starting out.
A 30-minute private guitar lesson for a beginner will likely be priced at between $20 and $35.
In a series of beginning guitar lessons, you can expect your teacher to cover the following subjects:
Seated and standing posture
The parts of the guitar: strings, frets, note names and directions
Basic chord shapes
Hand alignment and finger positioning
Picking
Fundamentals of rhythm, counting & strumming
Simple melodies and songs
Changing between chords without losing the beat
Elementary music theory
Guitar Lessons Price for Intermediate Students
At the intermediate level, your guitar lessons may feel too short at 30 minutes, as there are more skills to work on and different techniques to pursue.
The average intermediate guitar lessons price range is $20 to $40 for a half hour, and $25 to $50 for 45 minutes.
In a series of intermediate guitar lessons, you can expect your teacher to reinforce the concepts you know already, and to cover topics like:
Barre chords and moveable shapes
The notes on the E and A strings
The notes in the chords and some different ways to play basic chords
Scale patterns and finding melodies on the guitar
Ear training and learning songs from recordings
Understanding the interplay between melodies and chords
Basic improvisation
More intricate rhythmic skills
Guitar Lessons Price for Advanced Students
Advanced students, you've got goals! You can dig much deeper into the questions about who your guitar teacher should be and what you would like to learn.
For this reason, the advanced guitar lessons price range is a lot wider.
Lessons of 60 minutes can range from $60 to $150, depending on your curriculum and the frequency of your lessons.
You can take a single lesson from someone who is a professional at what you would like to do either live or via Skype.
Alternatively, you can set yourself up with an expert in your area for regular lessons to help you achieve your guitar goals.
Advanced guitar lessons can cover such concepts as:
Song arrangement
New chord progressions
Interlocking scale forms
Jazz chord colorations
Composition
Download our lead guitar cheat-sheet to make things easier
It's hard to understand which scales work with which keys.
So we created a cheat-sheet! A key and scale-finder that you can use again and again.
Get your personalised guitar-learning plan 🎸
Get a custom guitar-learning plan here: Click here for GuitarMetrics™
Selecting a Guitar Teacher
No matter where you are, there is a guitar teacher available for you.
It's important to remember that not every guitar teacher is right for every student.
In many cases, you can look up a guitar teacher's bio online and find out whether the teacher's style and tastes seem compatible with yours.
You can also check out your regular social media outlets and neighborhood discussion boards to see who other people recommend.
Most independent guitar teachers find many of their students through word-of-mouth.
Your first couple of lessons with any teacher will be partly taken up by getting to know each other and figuring out how best to learn together.
While it's not a marriage, you may want to give it two or three lessons to figure out whether it's likely to be a good teacher-student relationship.
Where Do I Go From Here?
When it comes to guitar lessons, the appropriate price comes down to how you want to invest in your progress as a musician.
It's true that you get what you pay for, but signing up for a $100 lesson with a big name does not guarantee that the big name is also a great teacher.
When you find a teacher who is interested in your progress, who explains things in a way that you can understand, and who inspires you, the guitar lessons price will be right!
Recommended Resources
If you enjoyed this article on the cost of guitar lessons, you'll love these other free guides we have for you below:
What Type of Guitarist Are You?
Take our 60-second quiz & get your results: Take The Quiz
Join the world's best online guitar school 🌎
Get your own personalised guitar learning plan (customised just for YOU).
World-class online guitar courses. Learn at your own pace.
Community Campus & Learning Forum -  A friendly community! Connect with our team & students. 😊
Beginner Song library with chordsheets, tabs and tips. (Songs suitable for all levels!)
Regular live streams, seminars and Q&A sessions - Learn from world-class guitar educators. Get all your questions answered!
Click here to learn more about National Guitar Academy membership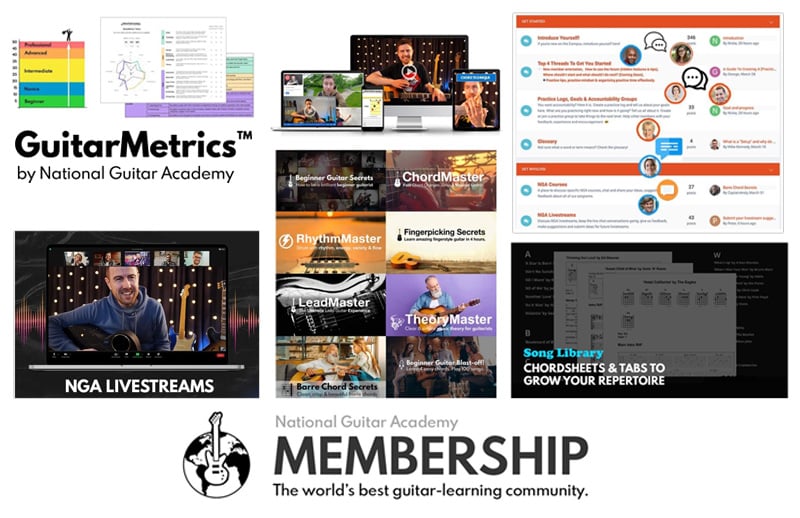 Cool Guitar T-shirts 😎
Look cooler! Check out our merch: Click here to see our merch store
Want free guitar tips and video lessons delivered to your inbox?
Join over 250,000 other guitar learners and subscribe to our guitar-tips-by-email service. (It's free.)
We'll send you a series of lessons that will move you to the next level of your guitar journey.
Learn how everything fits together quickly, easily and effectively. We share ninja tips (for instant fun!) but also timeless fundamentals that will deepen your understanding.
Get our best guitar tips & videos
Get our best guitar tips & videos