Guitar Pick Size: When Genre Matters
The overall principle of guitar pick size is that as your pick gets thicker, the sound it will produce on your guitar gets heavier and warmer.
As it gets thinner, the sound it will produce on your guitar gets thinner and brighter.
Certain genres of music gravitate toward using a particular guitar pick size to emphasize features of the genre.
There are picks specifically designed for gypsy jazz, the type popularized by Django Reinhardt, that accompany the petit-bouche and grand-bouche guitars as well as the strumming and picking style of gypsy jazz.
The picks commonly used in this style are 3-millimeter or 5-millimeter, and at first they feel like trying to strum a guitar with a rock.
When properly deployed however, they perfectly capture the sound of gypsy jazz!
Another genre of guitar music that tends to use a specific range of thickness is folk.
Thinner picks and the brighter tone they produce are an ideal combination for people who are accompanying themselves singing.
Because it is easy to glide the pick across the strings, folk players can strum with rhythmic precision without much effort.
This clears up brain space for expressing lyrics, engaging in stage banter, or getting everyone to sing along.
Having said that, all sorts of players have all sorts of picks, and there is no set of instructions or expectations about which pick size to use for which genre.
Pro-Tip: Playing through a sound system? You can help to optimize the sound in the room through the pick you choose. Some rooms "fill with sound" quickly and require the brighter tone of a thinner pick.
Download our lead guitar cheat-sheet to make things easier
It can be disorientating for guitarists to understand which scales work with which keys.
With this in mind, we created a cheat-sheet; a key and scale-finder that you can use again and again.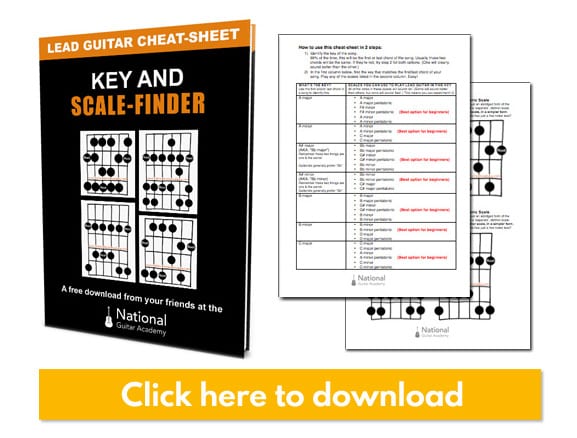 Guitar Pick Size: Dimensions!
Guitar picks come not only in different thicknesses but also in different dimensions!
When we think of a guitar pick, we tend to think of a rounded triangle, but there are many other shapes of picks!
One popular guitar pick is a bit smaller than a standard-looking pick, and the business end of the pick is a bit more pointy. This is for picking, not so much for strumming.
Other picks are quite a bit larger than a standard-looking pick, sometimes triangular, sometimes with even more sides.
The different guitar pick size also involves a different "business end" of the pick itself, and the different sides can be used for different purposes.
Generally speaking, attacking the strings with the pointiest side of the pick gives you the sharpest and brightest sound.
This stragey is useful for playing lead, where you want your sound to cut through whatever else is happening so people can hear what you have to say on the guitar.
Preferences for different pick shapes is strictly comfort-based. The smaller picks help you play with smaller motion and more precision, and the larger picks put more pick area into your fingers so you can better grip and control the pick.
The Absolute Beginner's Guide to Guitar Pick Size
At some point, every guitar player on earth was once a beginning guitarist trying to figure out which of this dazzling array of guitar pick sizes and dimensions would fit best.
Having that pick tray come out from under the music shop counter can be a bit intimidating, but it does not have to be!
Fortunately, of all the guitar accessories we are pressured into purchasing and trying out, picks are the cheapest.
There is absolutely nothing wrong with sampling a variety of different pick shapes and sizes to see which one suits you the best.
Consider the Dunlop Tortex line of picks.
Tortoiseshell picks waned in popularity after enough people finally decided it was a bad idea to kill tortoises just to play the guitar that they were outlawed in the early 1970s.
These are not the only wonderful brand of guitar picks, but they are conveniently color-coded for thickness, so you can open your container of guitar picks or rifle around in your pocket and instantly pull out the one you want.
As the numbers go up, the thickness increases, so the red pick is the thinnest in this assortment and the purple is the thickest.
The red pick will therefore "give" more against the strings.
If you are a beginner, it's as easy as waiting until tomorrow to have a bag of assorted picks delivered to your door.
Guitar Pick Size and the Interdependence of All Things
There really is no "wrong" guitar pick size.
You have the guitar or guitars that you have, the strings that you have, the style that you have or are trying to develop, and that's all good!
The main consideration in selecting guitar pick size is whether it makes the job you are trying to do easier or harder.
After a while, you may find yourself adapting your strumming or picking style to the different picks you have, and that is just as much a part of developing as a musician as the practice exercises you do.
Recommended Resources
If you loved this free lesson on the wide world of guitar pick size, you'll love our other free content below:
What Type of Guitarist Are You?
Take our 60-second quiz & get your results: Take The Quiz
Want free guitar tips and video lessons delivered to your inbox?
Join over 100,000 other guitar learners and subscribe to our guitar-tips-by-email service. (It's free.)
We'll send you a series of lessons that will move you to the next level of your guitar journey.
Learn how everything fits together quickly, easily and effectively. We share ninja tips (for instant fun!) but also timeless fundamentals that will deepen your understanding.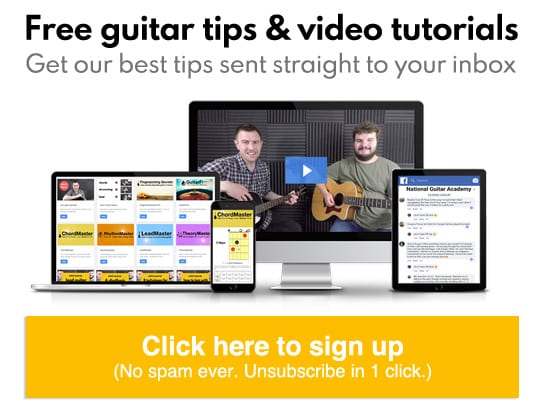 Popular Lessons
How To Learn Guitar: An 11-Step Programme For Beginners
How To Choose The Perfect Beginner Guitar
Guitar Notes Explained: A Guide For Beginners
More Cool Guitar Stuff
Learn about the National Guitar Academy: About Us
Visit our YouTube channel for fun guitar videos.
Join us on Facebook for daily guitar tips.
Listen to our Learn Guitar Podcast for rapid guitar progress.
Check out our free chord lessons.
Continue reading on page 2:
Page 1
Page 2