Guitar riffs are one of the most fun things about playing guitar. Here's 30 of our favourites from the likes of Eric Clapton, Guns and Roses and Radiohead. Let's do it!
Over 200,000 guitar-learners get our world-class guitar tips & tutorials sent straight to their inbox: Click here to join them
In this free guitar lesson you will learn:
30 amazing guitar riffs that make you sound like a Guitar God.
How to play guitar riffs from different genres such as Classic Rock, Metal, Blues and Indie.
4 essential tips that will turbo-charge your lead guitar technique.
Before we dive into the epic list, let's cover off some basics…
What is a 'guitar riff'?
Guitar riffs are melodic phrases that are played on guitar and are catchy and memorable. They are musical 'hooks' and the best ones are instantly recognisable (sometimes from the very first note).
Why guitar riffs are so cool (and useful) to learn
Learning guitar riffs should be a part of every guitarist's journey. Here are some of the benefits of learning guitar riffs:
1- It massively benefits your technique.
Often, guitar riffs can be technically demanding, so learning them will instantly improve your dexterity and technique as a guitarist. Not only do they improve your technique, but learning guitar riffs also helps with your timing.
2- Guitar riffs are a huge part of guitar culture. 
Throughout history, guitar riffs have played a major role in forming guitar culture in popular music, so it's a right of passage for you as a guitarist.
3- They're so much fun to play! 
One of the best things about learning guitar riffs is that they are awesome to play. What's better than learning your favourite guitar riffs on your guitar? Literally nothing!
Ok, strap in and buckle up, it's Guitar-Riff-Blast-Off time!
If you want to learn guitar riffs, you MUST be able to read guitar tabs. Check out our guide to learn fast: How To Read Guitar Tabs
Guitar Riffs #1 – 'Seven Nation Army' by The White Stripes
This is one of the best guitar riffs of all time. It's easy to play, sounds great and can be played on one string. Here's the tab: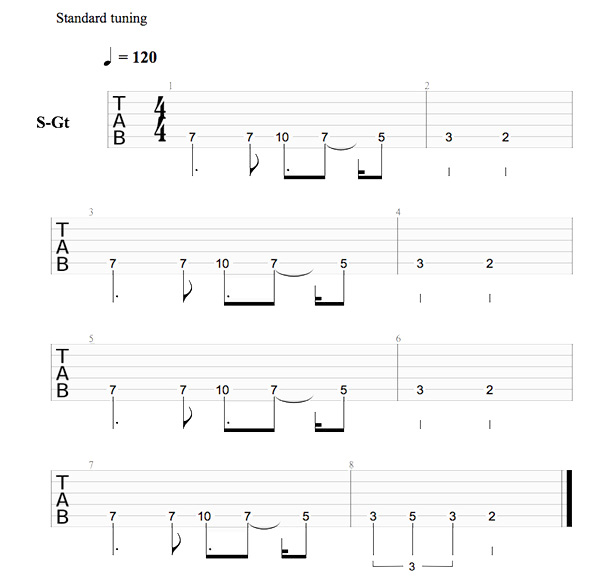 Tone matters
One of the most important elements in playing guitar riffs is about getting your tone right.
This song needs a decent amount of distortion with cranked mids and bass. Once you get that tone singing you'll want to play this riff all night long because it loops really well.
Technique Tip!
This riff can be played in a number of different ways. If you're a beginner you may be tempted to play this with one finger.
However, it will be beneficial for your guitar technique if you try and use different fingers for different notes.
When playing this riff, start playing with your first finger on the 7th fret then move to the 10th with your pinky.
Then in the last section when you jump between frets 3 and 5. Try and use your 1st finger on the 3rd fret and 3rd finger on the 5th fret.
This is known as the '1-finger per fret method' and you can learn more about this technique in our guide: Guitar Techniques: 18 Guitar Tricks Which Make You Sound Amazing

Guitar Riffs #2 – 'Beat It' by Michael Jackson
This is one of the best examples of using guitar riffs in pop music. It's slick and fun.
The guitar solo on this record was played by none other than Eddie Van Halen, a shred legend!
Here's the tab for this epic track:

Guitar Riffs #3 – 'Smoke On The Water' – Deep Purple
Now, if you're a beginner guitarist this is one of the first guitar riffs that you will learn. Here are a few reasons why it's perfect for beginners to learn:
It allows you to move between frets 0-6.
It teaches you how to use your first finger to barre over more than one string.
It embodies 'classic rock'.
Here's the tab:

Technique Tip
One of the hardest parts about playing this guitar riff is barring over two of the strings at the same time. This can be tricky for most beginners. If you struggle with this you can play the main riff on just one string without barring at all.
If you'd like to learn more about barring technique click here to read our barre chord guide
Download our lead guitar cheat-sheet to make things easier
It can be disorientating for guitarists to understand which scales work with which keys.
With this in mind, we created a cheat-sheet; a key and scale-finder that you can use again and again.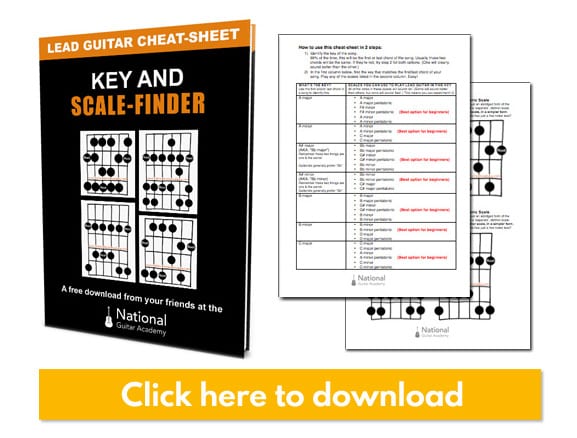 Guitar Riffs #4 – 'Satisfaction' by The Rolling Stones
This epic rock riff from The Rolling Stones was one of the first records to feature a fuzz pedal.
The intro riff has such an iconic sound and to this day is still considered one of the most iconic ways to use a fuzz pedal.
For more on this, check out our guide: Guitar Effects: The Ultimate Guide
Here's the tab:
This riff is similar to Seven Nation Army as you can also use the '1-finger per fret method' here:
2nd fret = 1st finger
4th fret = 3rd finger
5th fret = 4th finger
Guitar Riffs #5 'Come As You' Are by Nirvana
This is one of the most iconic guitar riffs of the 90s grunge movement. It's famous for three reasons:
It was the second single off of their monster album, 'Nevermind'.
Cobain famously 'double-tracked' his vocals over the whole recording. Double tracking is when you do two takes of a track and layer them together to create a thicker sound.
The guitar in this track is tuned down a whole step. This means that the tuning is DGCFAD instead of EADGBE.
Here's the tab:
Guitar Riffs #6 – 'Sunshine Of Your Love' by Cream
'Sunshine of Your Love' is arguably one of the greatest guitar riffs of the classic rock. Clapton's roaring 'woman tone' along with a catchy syncopated riff makes this one of the best hooks of all time.
Here's the tab:

Guitar Riffs #7 – 'You Really Got Me' by The Kinks
'You Really Got Me' is a fantastic song famously written by Ray Davies and The Kinks.
The riff is based around power chords. Power chords are commonly used in rock music to give the music more depth and weight.
You can learn more about power chords here:
Here's the tab:
Guitar Riffs #8 – 'Day Tripper' by The Beatles
Day Tripper is a classic track from the 'Rubber Soul' album.
It has a strong blues influence and was included in the Beatles set until their retirement in 1966. Here are a few reasons why it's one of the greatest guitar riffs ever:
It's fun to play and is a great introduction to the influence of the blues in popular music.
It's easy to play and stays mainly in the first 4 frets.
Here's the tab:
If you find this riff tricky, tackle it 2-3 notes at a time. The hardest part about this riff is skipping strings, so make sure that you take your time with that and practice it s-l-o-w-l-y to embed the correct muscle memory.
Guitar Riffs #9 – 'Redemption Song' by Bob Marley
'Redemption Song' is one of the coolest Bob Marley tracks. It kicks off the song with a pretty easy guitar riff. Here's the tab:

When playing this riff, take your time. There are lots of repeating sections here so it can be easy to get confused, but take it a bar at a time and you'll be chillin' with Bob in no time!
Guitar Riffs #10 – 'Brown Eyed Girl' by Van Morrison
'Brown Eyed Girl' is Van Morrison's most famous song and with such an brilliant guitar riff at it's heart, it's easy to see why.
Here are a few reasons why it's one of the best guitar riffs of all time:
It's ridiculously catchy and memorable.
It uses 3rds intervals in the main guitar riff, one of the most popular harmonies used in all music.
Here's the tab:
This riff is a little tricky, the hardest part is using two fingers at the same time. To get used to playing this, practice playing each fretted note individually then combine each section one by one until you can play the whole riff.
Learn the 12 EASIEST beginner chords with our famous FREE guide
✓  Stop struggling. Start making music.
✓  Learn 12 beginner-friendly versions of every chord.
✓  This is our most popular guide and it will improve your chord ability quickly.
Guitar Riffs #11 – 'Iron Man' by Black Sabbath
Black Sabbath are considered one of the first bands to pioneer the metal genre.
Before this riff kicks in, Tony Iommi famously bends behind the note to allow his guitar to roar before the main guitar riffs kick in.
Here's the tab:
Tone Tip
Crank the gain on your amp for this one, there's a reason Black Sabbath are one of the heaviest bands of all time. Gimme dat gain!
Guitar Riffs #12 – 'Chasing Cars' by Snow Patrol
'Chasing Cars' is one of the most played songs on British radio over the past 10 years. It gained most of its popularity through the TV show 'Grey's Anatomy' where it was played in the season finale of season 2.
Here's the tab: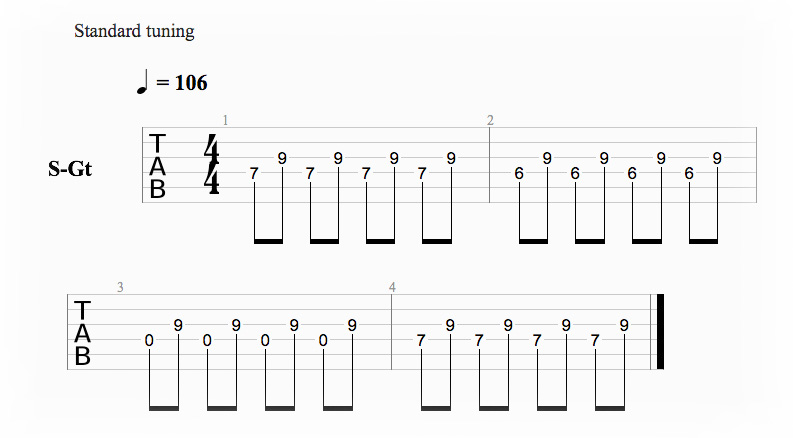 This riff is a bit of a finger twister so you'll need to be patient with yourself stretching between the frets. The most important part of this riff is to let each note ring out as clearly as possible.
Guitar Riffs #13 – 'Heart of Gold' by Neil Young
'Heart of Gold' was a release from Neil Young's album 'Harvest' and is the only single of Young's to reach number 1 in his homeland, Canada.
The guitar riffs are particularly interesting as they combine chords and melody. Here's the tab:
This track mainly uses Em, G, C and D chords which makes it a perfect beginner track to learn.
Guitar Riffs #14 – 'Enter Sandman' by Metallica
Metallica are titans of the metal genre and when you hear the guitar riffs from 'Enter Sandman' you can hear why!
Here's the tab to play one of the most metal guitar riffs of all time:
Technique Tip
This guitar riff uses a lot of palm muting. You can learn more about this cool technique here: Palm Muting: The Essential Guide
Guitar Riffs #15 – 'Back In Black' by AC/DC
'Back In Black' is easily one of the greatest guitar riffs of the 1980s.
It comes off of the 'Back In Black' studio album which is the first album to feature vocalist Brian Johnson. It combines chords, pull-offs and single-note lines.
Here's the tab:
Take care when learning this song as it can be challenging to move between the chords and the lead parts. If you're struggling, try to learn it in distinct phases and gradually blend them together.
Get our best guitar tips & videos
Continue reading on page 2:
Page 1
Page 2