A guitar teacher is your one-way ticket to musical success. Having an excellent teacher will improve your playing and make everything easier for you as a guitarist. In this guide we're going to show you how to find the perfect guitar teacher.
Over 250,000 guitar-learners get our world-class guitar tips & tutorials sent straight to their inbox: Click here to join them
If you want to be a better guitarist click here for our guitar courses
In this free lesson you will learn:
How to find the perfect guitar teacher in 10 easy steps.
5 must-know learning hacks for beginners.
The no1 secret that will help you learn guitar in the easiest way possible.
A great guitar teacher can make a world of difference in our playing.
Some of the most valuable music lessons can come from having someone guide our way.
That's what a great guitar teacher is for.
There is a lot to be said for setting out to learn guitar by yourself – using books and online resources can help you effectively develop your playing over time.
However, this method of learning can present a few problems that may affect us negatively later on in our musical endeavours.
When we learn guitar without a guitar teacher, we can create holes in our foundation of knowledge without realising it.
Books and online resources are fantastic tools, but they often only focus on certain specific aspects of music, and do not cater to the experience of learning music as a whole.
Learning a little bit of everything gives us a good foundation, but it doesn't necessarily pour concrete on it.
A good guitar teacher is like the concrete for your musical knowledge, making sure everything sticks together.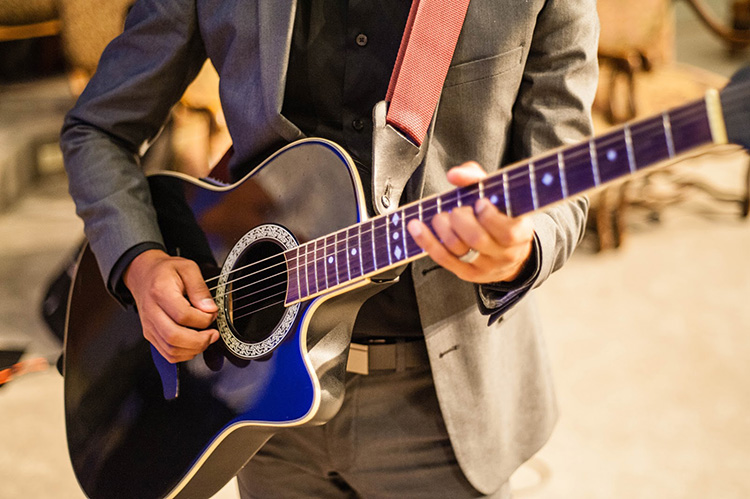 Why Do You Need a Guitar Teacher?
The internet can only give us so much, as vast as it may seem.
One of the biggest selling points of music is that it's something that can be played and experienced with multiple people.
Each musician's experience is completely different than the next – that's one of the most beautiful parts about it.
When we experience music with others, we open ourselves up to their musical approaches in the process.
A guitar teacher is someone who will be able to share their musical experience with you in detail, and use that information to help shape your own.
One of the biggest advantages of learning with a guitar teacher is the conversation.
Being able to speak freely back and forth about your breakthroughs, difficulties and 'lightbulb moments' is one of the most liberating parts of learning with another musician.
Another huge selling point is validation.
When we learn from the internet, we can only learn based off of whatever materials have already been created online.
We don't have anyone showing us a better way of playing, nor showing us when what we're playing is wrong altogether. This can easily lead to bad playing habits.
Having a real person in the room to correct our playing will help set us up for success on our guitar journey.
Learn the 12 EASIEST beginner chords with our famous FREE guide
✓  Stop struggling. Start making music.
✓  Learn 12 beginner-friendly versions of every chord.
✓  This is our most popular guide and it will improve your chord ability quickly.
Our Guitar Courses
Become a better guitarist: Click here to check out our guitar courses
What Makes A Great Guitar Teacher?
This question can be answered a number of different ways by different people, but we're going to give you our definition of a great guitar teacher.
This is a guitarist who takes the time and does not rush you – who empowers you to keep improving on your skills.
This guitarist will highlight your strong points and your improvements before they highlight your weak points and downfalls.
Any teacher with experience knows that putting your student down will never help them improve.
The process of learning to play an instrument can already be difficult enough as it is.
There can be a fine-line between encouragement and discouragement when it comes to teaching music, and any great guitar teacher knows this.
A great guitar teacher will arm you with an array of resources and knowledge to help you constantly improve.
Most guitar teachers conduct weekly lessons with their students (sometimes even monthly).
A great guitar teacher will make sure that you're sent home with plenty of study material to carry you until the next lesson.
Study material doesn't always come in the form of notation or tablature. Often, the most valuable study material can come from a song that helps you learn how to apply the techniques you are learning.
Pro Tip: A top-notch guitar teacher is resourceful and has enough knowledge behind them to help you problem-solve in a variety of ways.
What Should You Expect From Your Guitar Teacher?
Before we set our expectations for our ideal guitar teacher, we need to set some expectations for ourselves. We can do this by asking ourselves a few questions:
What do I enjoy listening to?
What do I think I would enjoy playing?
Who are some of my favourite guitar players?
Who are some of my favourite musicians?
What results am I seeking? (e.g. I want to play the solo from Eruption and I want to learn how to read music)
Am I willing to practice regularly to get the results that I want?
When we answer these questions, we put ourselves in a much more confident position to not only find the right guitar teacher, but set ourselves on a path of improvement!
Think of your guitar teacher like a personal trainer for music (without the skin-tight clothing).
Your guitar teacher should be able to grow with you and create an environment where you can grow your skills without judgment.
They should focus on what needs improvement and help guide you down a productive path, encouraging practice and focus.
They should be efficient, prepared and on-time for your lesson, whether that be in-person or online.
Any great guitar teacher will prioritize your learning over all else, and the material presented to you during your lesson should reflect that.
On top of all of this, your instructor should be ready and able to show you some pretty cool things that you can aspire to learn.
Guitar teachers don't stop learning just because they teach.
One of the coolest things about learning with a guitar teacher is that you get to see a lot of the things that they are learning.
This can help us set goals for ourselves further down the line, and open us up to new ideas we didn't know existed.
What Your Guitar Teacher Expects From You
Your guitar teacher will have their own set of expectations that you should follow during and after your lessons. A few rules of thumb to get you moving are:
Show up on time – Many times guitar teachers have students scheduled back to back. Make sure you're getting all of the time that you're paying for.
Practice before and after your lesson – Even if you're just starting your first lesson, make sure you've practiced what you know. This will give your guitar teacher a better idea of what your skill level looks like. If you're already taking lessons, practicing before and after ensures that we are always prepared to learn the next big skill.
Buy a binder: It's important to keep all of your lesson resources in one place. Not only does this help us cut down the time we spend looking for last week's lesson sheet, it also helps keep us organized overall.
Keep a practice journal: We've said this before in other guides, but it applies here too.
A practice journal will help your guitar teacher see exactly what you've been practicing and for how long. This can help them in designing lesson plans that are suited to your needs and skill level.
Communicate: If you don't understand something that you're learning, make sure to say so so that your teacher can present the information differently. Communication is key during the learning process, so speak up!
The Different Types Of Guitar Lessons
With the internet at our fingertips, many guitarists offer not only in-person lessons, but online lessons as well.
Some aspiring guitarists will prefer to conduct their lessons in-person with a local instructor, while others will prefer learning online from the comfort of their own home.
We're going to look at these two different types of lessons and how they are different from one another.
Online Guitar Lessons
Online Guitar Lessons can be a great way to learn with a guitar teacher from your living room. The added bonus is, you can learn in your pajamas!
One of the great benefits to online guitar lessons is digitized lesson content.
Most often, online guitar teachers will send you a "lesson pack" after you log off.
These lesson packs can include a PDF of everything that you learned during your time that day, as well as tab files and song suggestions to keep you learning until your next one.
Not only are these resources often printable, but it's great to have a digital copy on your computer in case you lose the printed version.
The comfort of online guitar lessons is a huge plus for a lot of us (especially those that don't enjoy leaving the house as much).
The main downfall of online guitar lessons is that we can easily fall victim to a poor internet connection.
Guitar Teacher – Pro Tip!
Contact your internet service provider first to find out if your internet connection is strong enough to maintain the connection.
Download our lead guitar cheat-sheet to make things easier
It can be disorientating for guitarists to understand which scales work with which keys.
With this in mind, we created a cheat-sheet; a key and scale-finder that you can use again and again.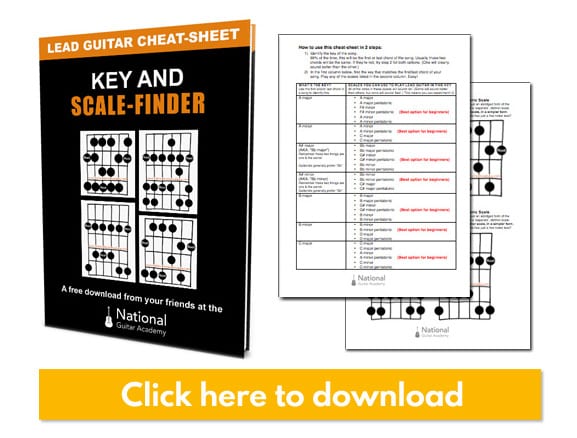 Our Guitar Courses
Become a better guitarist: Click here for our guitar courses
One To One Lessons With A Guitar Teacher
In-Person Guitar Lessons are tried and true and don't succumb to shoddy internet connections. 
Having a guitar teacher in front of you not only keeps the conversation flowing without interruption, but it can be a much easier environment to learn in.
When we conduct our lessons online, we are sometimes still vulnerable to the distractions around us more than we are when we are in a separate space with an instructor.
Undivided attention is a very key factor for your progress on the guitar, and sometimes being in a room with another person is the best route to take.
Pro Tip!
One type of guitar lesson is not any better than the other. Finding your preference and your comfort level is crucial to finding the right type of guitar teacher. Don't let others tell you the best way to learn – you need to find that out for yourself.
How Much Should Guitar Lessons Cost?
The cost of a good guitar teacher can change depending upon a few different factors.
The experience and education of your instructor is one factor that can have a strong hand in setting their prices.
Their target student range is another.
Many guitar teachers have a skill range that they specialize in teaching.
You may find the prices of instructors that specialize in teaching beginner guitarists to be lower than those who specialize in advanced techniques and theory.
This is due to the difference in the material being taught.
Beginner guitar lessons can start out in a very similar manner for most students.
Due to the necessary components for everyone to learn (chords, scales, beginner theory etc), these can be taught in a very general fashion.
Less preparation time for a guitar teacher means that they may often be able to offer their services at a lower price point.
The intermediate and advanced side of guitar lessons involve much more prep time, as well as a more focused approach to the student and their knowledge.
With this in mind, intermediate and advanced guitar teachers will offer their services at a higher price point to compensate for this additional prep time.
You can expect to pay anywhere from $25 to $45 per hour in most cases, depending upon your skill level and the types of lessons being offered by your instructor.
Additional Guitar Education Resources
Just because we are talking about guitar teachers doesn't mean we're not all for using online resources and reading materials. 
We've included a shortlist of some great places that you can find information that will help you on your guitar journey, as well as some tips for learning. Check them out below.
Learning Tips:
Don't limit yourself with the music you listen to. Inspiration can be found everywhere, so listen to everything and figure out what you like!
Head to your local music store and pick up a few books. Many stores have a recommended reading section where you can pick out some great reads.
Never discount the benefits of an instructional DVD. Music stores have tons of these for different styles, and by different guitarists.
Instructional DVDs are great ways to learn from some of our favourite guitarists from home.
Places to Learn Online
National Guitar Academy Website: We love putting lessons together for our online students, and we've got a whole library of knowledge waiting for you in our lesson index!
Teoria: Online resource to help with learning music theory, as well as ear training
Anderton's UK YouTube Channel: A great resource for learning about different types of gear, and the technical side of being a guitarist.
Where do I go from here?
Not quite done learning just yet? We recommend the following:
Watch Joe Satriani talk about his journey starting out on guitar
Check out Phillip McKnight talking about how to teach yourself guitar as well as how to find a great teacher
Inquire at your local guitar shop if they offer private lessons
Go to a local jam and talk with other guitarists
Keep practicing!
Recommended Resources
If you want to keep learning, check out some of these other great lessons from the National Guitar Academy!
What Type of Guitarist Are You?
Take our 60-second quiz & get your results: Take The Quiz
Our guitar courses
How do you want to improve as a guitarist? Click here to check out our guitar courses
Cool Guitar T-shirts
Look cooler! Check out our merch: Click here to see our merch store
Want free guitar tips and video lessons delivered to your inbox?
Join over 250,000 other guitar learners and subscribe to our guitar-tips-by-email service. (It's free.)
We'll send you a series of lessons that will move you to the next level of your guitar journey.
Learn how everything fits together quickly, easily and effectively. We share ninja tips (for instant fun!) but also timeless fundamentals that will deepen your understanding.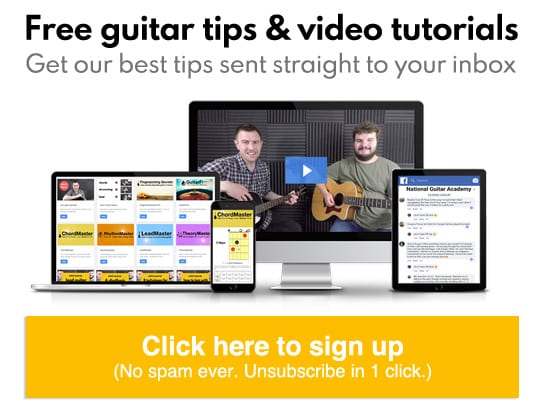 Popular Lessons
How To Learn Guitar: An 11-Step Programme For Beginners
How To Choose The Perfect Beginner Guitar
Guitar Notes Explained: A Guide For Beginners
Our guitar courses
Become a better guitarist: Click here to check out our guitar courses
More Cool Guitar Stuff
Learn about the National Guitar Academy: About Us
Visit our YouTube channel for fun guitar videos.
Join us on Facebook for daily guitar tips.
Listen to our Learn Guitar Podcast for rapid guitar progress.
Check out our free chord lessons.
Get our best guitar tips & videos
Get our best guitar tips & videos