Let's jump into how to play La Bamba on guitar – one of Rock & Roll's most timeless cross-cultural classics!
Over 250,000 guitar-learners get our world-class guitar tips & tutorials sent straight to their inbox: Click here to join them
In this free lesson you will learn…
How to play La Bamba
Tips for rhythm and chords
How to play the lick from the song!
How to keep your rhythm steady
Let's Learn How To Play La Bamba On Guitar!
It's exciting to learn how to play and sing songs in a language other than English.
Once every generation or so, a non-English-language song comes in and captivates everyone so much that even those of us who only ever spoke English just have to learn that song.
Music lets us visit places we might never really see and experience feelings, relationships, and languages we just don't get in our everyday lives.
Today we're going to make our musical worlds a little bit bigger by getting into one of the most universally-familiar tunes in the Spanish language: La Bamba.
Let's jump into learning how to play La Bamba on guitar!
There's much more than meets the eye and ear in this classic song.
Sure, it was a hit by Ritchie Valens and Los Lobos, but it's also a traditional tune with many versions.
We'll take a deep dive into this song, getting a sense of where it came from and how it shows up in its place of origin, as well as how it got to our ears in the 21st Century.
In this lesson, we'll also go over the chords and riffs you'll use.
We'll also give you some lyrics and their translation so you know what you're singing.
In learning how to play La Bamba on guitar, we'll also get a chance to bring some traditional Mexican music home to share!
How To Play La Bamba On Guitar: A Little History
Without getting too scholarly about the origins of the song, we're always interested to know how universal and traditional songs got to obtaining that status.
Here's the earliest known recording of La Bamba, by Alvaro Hernández Ortiz in 1939.
Fun Fact: Ortiz is credited as El Jarocho on the record.
La Bamba is played in the son jarocho style.
Jarocho is a common term used for people and things from Veracruz, a Mexican state east of Mexico City and on the Bay of Campeche in the Gulf of Mexico.
The traditional song was used in a Mexican presidential campaign in the 1940s and also brought to New York by Arthur Murray, a mid-20th-century ballroom dancer whose dance studios are still around in the US.
With all these places that this song popped up in, who wouldn't want to learn how to play La Bamba on guitar?
Ritchie Valens grew up in Los Angeles, California, listening to R&B, jump blues, flamenco, and mariachi music.
He was discovered and signed while in high school and wound up dropping out of school to pursue his career in music.
He adapted the traditional version of La Bamba into a rock-and-roll song in 1958 with some hesitation because of his love for Mexican traditional music.
His band for the recording included the Wrecking Crew's Carol Kaye on acoustic guitar.
The recording became a hit when it was released in 1958.
La Bamba was the B-side of Valens' huge hit, "Donna," and it made Valens a pioneer of the Spanish Rock movement. All of a sudden, everyone wanted to learn how to play La Bamba on guitar!
Here's his version we all know and love.
Pro Tip: If you want to learn how to play La Bamba on guitar the traditional way, check out this cool instrument from Veracruz.
The jarana jarocha has eight nylon strings, and the modern version is tuned G G C C E E A A.
The magic thing about that tuning is that guitar players can use four-string versions of chord shapes. For example, if you play a D shape on a jarana, it'll make a G chord.
The jarana is played rhythmically and percussively.
Along with the arpa jarocha (a wooden harp), the jarana jarocha is used in Veracruz for La Bamba and other traditional music.

Whether you're learning how to play La Bamba on guitar or jaranna, this song grooves on either instrument!
Learn 12 EASY beginner chords with our popular guide
✅  Stop struggling. Start making music.
✅  Learn beginner-friendly versions of every chord.
This is our most popular guide and it will improve your chord ability quickly! 😎
Get your own personalised guitar-learning plan 🎸
Get a custom guitar-learning plan here: Click here for GuitarMetrics™
How To Play La Bamba On Guitar: The Chords
The great thing about learning how to play La Bamba on guitar is that there are only three easy chords.
Ritchie Valens's version of La Bamba is in the key of C, so you'll use these three chords:
C (x32010)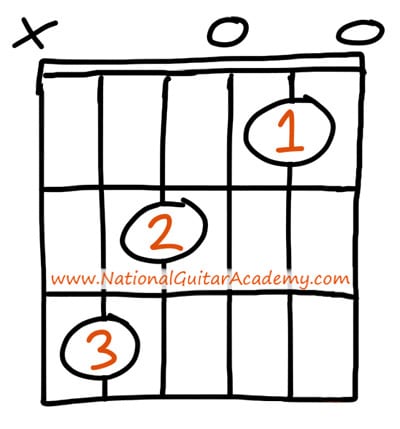 F (xx3211)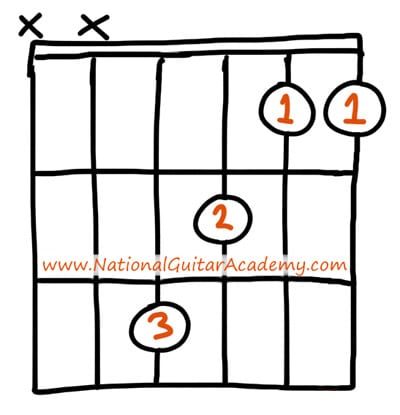 or (xx3210)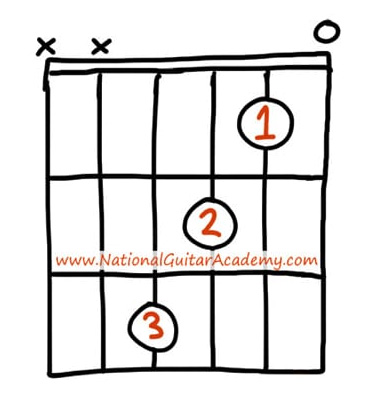 G (320003)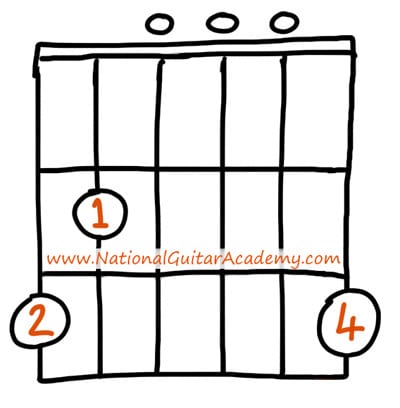 If you don't like the F major chord that involves barring your first finger across the B and E strings, you can use the second shape, F major seventh, and the song will sound just as nice.
Swapping major chords for major seventh chords is a fantastic way to start breaking out of basic chord shapes and into more advanced finger positions.
You will hear a definite similarity between the major and major seventh chords, and that is precisely why you can swap back and forth while you learn how to play La Bamba on guitar!
The chord progression is incredibly simple to learn how to play La Bamba on guitar: two counts of C, two counts of F, and four counts of G.
Pro-Tip: Song arrangements can be as simple or as complicated as you like.
You can decide how to play La Bamba on guitar by using only chords, only pieces of chords, the iconic guitar intro from Ritchie Valens, or everything mixed in.
This is the beautiful part about arrangements, that you can re-interpret a song over and over again while adding your own spice to the mix.
Don't let yourself be constricted by the way everyone else plays this song!
Did you pick up something cool along the way while learning how to play La Bamba on guitar? Throw it into the mix!
How To Play La Bamba On Guitar: The Riff
The original recording of La Bamba has a guitar lead-in before the chords start, but once the chords start, the jarana is mainly in charge of the rhythm.
Follow this tablature to copy Valens's riff. Practice a steady alternating pickstroke so that each note (or set of notes) rings out clearly.
To learn how to play La Bamba on guitar the proper way, this riff below is mandatory.
This tricky little lick requires a bit of movement across the strings, so take your time and practice slowly.
The song (and therefore the riff) is in the key of C major. That means the notes come from the C major scale.
This means the song has no sharp or flat notes!
If you're a newcomer to the wonders of lead guitar and you'd like to invent your own La Bamba-based riff, you can absolutely do it!
We've got everything you need to know about the C major scale and how to play La Bamba on guitar using your own riff in this lesson here.
Pro Tip: Learning scales that interact with the songs you love to play can give you a whole new perspective on how to play that song! Never stop exploring!
How To Play La Bamba On Guitar: The Dance & Rhythm
La Bamba became a hit in the same era as the Twist, the Mashed Potato, the Jerk, and the Funky Chicken.
Learning how to play La Bamba on guitar means you'll probably end up playing a few dances, either in your living room or elsewhere.
La Bamba is a traditional huapango song and partner dance, and although it was first recorded in 1939, there is some evidence that it is a good bit older than that.
The men are doing a form of zapateado, which sounds like and in fact is a form of tap dancing. La Bamba is performed now as part of ballet folklorico, traditional Mexican dance.
A little grace is needed because of a long wide red ribbon, which the participants form into a bow using only their feet. We do not recommend this while learning how to play La Bamba on guitar – one thing at a time!
We do recommend watching the feet of the dancers to get a better feel for the pace and rhythm of the song!
You can see it all happen in this version of La Bamba.
Pro Tip: Try this strumming pattern: down – down – down-up-down-up-down-up-down-up
How To Play La Bamba On Guitar: Other Versions
As we all know from Don McLean's masterpiece, "American Pie," the day the music died was February 3, 1959.
That was the day Valens, as well as Buddy Holly, J.P. Richardson ("The Big Bopper"), and pilot Roger Peterson died in a plane crash while on tour.
Valens's life was the subject of a blockbuster 1987 biopic, La Bamba. The excellent music in La Bamba was mostly performed by Los Lobos.
Listen to David Hidalgo's beautiful vocal rendition with this faithful-to-Valens cover of La Bamba!
The movie sparked a resurgence of the song and made a lot of people want to learn how to play La Bamba on guitar, but the spark had never really gone away.
La Bamba's appeal is so wide that people of all musical persuasions have covered it.
Once you've learned how to play La Bamba on guitar, you'll have also learned (essentially) how to play Weird Al's rendition also.
Download our lead guitar cheat-sheet to make things easier
It can be disorientating for guitarists to understand which scales work with which keys.

With this in mind, we created a cheat-sheet; a key and scale-finder that you can use again and again.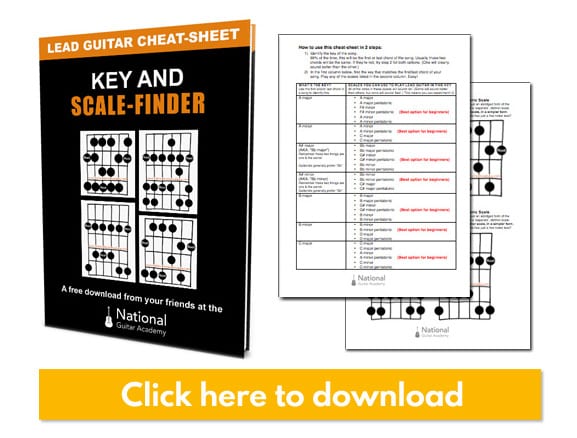 Get your own personalised guitar-learning plan 🎸
Get a custom guitar-learning plan here: Click here for GuitarMetrics™
How To Play La Bamba On Guitar: Putting It All Together
It's time to grab your pieces and stick them all together!
With all the pieces and some historical context, you're well prepared for your own ideas of how to play La Bamba on guitar.
In the Ritchie Valens version, play through the intro, then each line of lyrics is one round of C, F, G.
Check out this chart over at Ultimate Guitar to follow along.
It's important to note that this song is very repetitive in the chords, but it's the rhythm that truly glues the song together.
When learning how to play La Bamba on guitar, it's important to take most note of the rhythm in play in order to mimic the sound of the song properly.
Pro Tip: This song is heavily arrangeable, so get creative while you learn. You can even pepper in the lyrics to 'Twist & Shout' if you feel really brave (they're the same song!)
After the guitar solo and any other instrumental or percussion breaks you've got planned, start over!
The song stops on C. You can see that this song is flexible enough to accommodate any tweaks in arrangement, so let your imagination be your guide while you learn how to play La Bamba on guitar!
Looking To Broaden Your Horizons Some More?
If learning how to play La Bamba on guitar has piqued your interest in the vast universe of music from Spanish-speaking regions, you would enjoy checking out some of our favorite outside sources on the topic.
Mel Bay Songs of Mexico is a good place to start as a small compendium of music to study once you've finished learning how to play La Bamba on guitar.
There are countless compendiums and collections of Spanish music published in music books for you to learn from.
This style of music is a culture all to itself, so we recommend trying to find yourself a flamenco (or spanish guitar) instructor to show you the ins and outs of Spanish music!
Even if you don't stick with it, learning a new style of music is a great way to freshen up your approach to the guitar with new techniques and sounds!
If you feel like going down a real rabbit hole, try Canciones Mexicanas!
Recommended Resources
If you've enjoyed this lesson, we have other places for you to go next! Continue on your path with these lessons:
What Type of Guitarist Are You?
Take our 60-second quiz & get your results: Take The Quiz
Join the world's best online guitar school 🌎
Get your own personalised guitar learning plan (customised just for YOU).
World-class online guitar courses. Learn at your own pace.
Community Campus & Learning Forum -  A friendly community! Connect with our team & students. 😊
Beginner Song library with chordsheets, tabs and tips. (Songs suitable for all levels!)
Regular live streams, seminars and Q&A sessions - Learn from world-class guitar educators. Get all your questions answered!
Click here to learn more about National Guitar Academy membership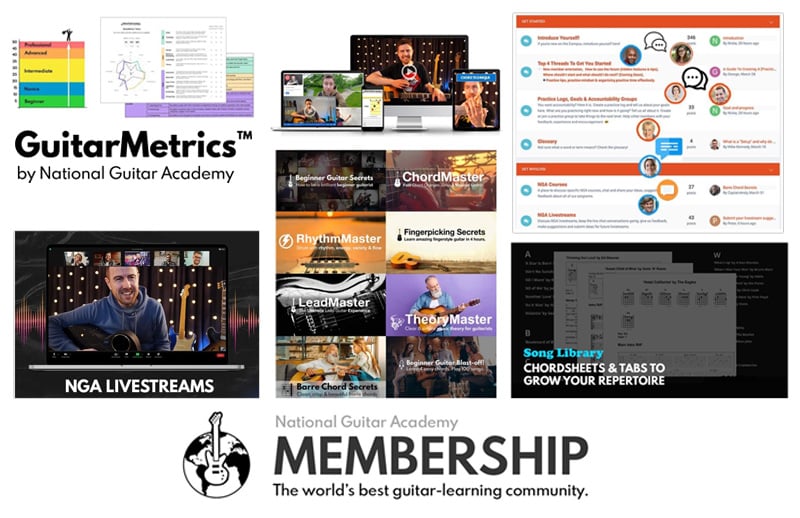 Cool Guitar T-shirts 😎
Look cooler! Check out our merch: Click here to see our merch store
Want free guitar tips and video lessons delivered to your inbox?
Join over 250,000 other guitar learners and subscribe to our guitar-tips-by-email service. (It's free.)
We'll send you a series of lessons that will move you to the next level of your guitar journey.
Learn how everything fits together quickly, easily and effectively. We share ninja tips (for instant fun!) but also timeless fundamentals that will deepen your understanding.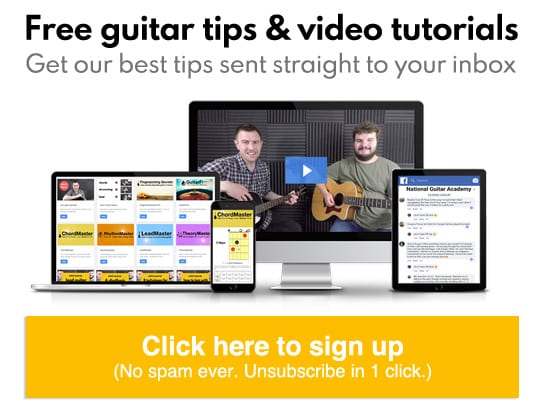 Get our best guitar tips & videos
Get our best guitar tips & videos