Get ready to learn one of the coolest guitars of all with this list of effective lap steel guitar lessons!
Over 250,000 guitar-learners get our world-class guitar tips & tutorials sent straight to their inbox: Click here to join them
In this free lesson you will learn…
What a lap steel guitar is
What types of guitarists use this instrument
Where to find one for a good price
Some notable players of the lap steel guitar
Where to find the best lessons online
Ready For Your First Set Of Lap Steel Guitar Lessons?
We are so happy to have another enthusiast of the lap steel guitar's bright and beautiful sound in our midst!
The lap steel is a truly magical thing.
When a song is lucky enough to have a lap steel in its arrangement, everything just sounds a little bit twangier..
If you've been playing the guitar a little while and you've hit a plateau, or if you just need a little diversion to expand your playing skills, these lap steel guitar lessons are for you.
Your guitar knowledge will help you get started, and with a little information and some friendly resources, you'll be riffing on the lap steel in no time!
Lap Steel Guitar Lessons: What Exactly Is a Lap Steel Guitar, Anyway?
The lap steel guitar is a wonderful accident of history!
The legend is that Honolulu high schooler Joseph Kekuku was messing around with an old guitar and a rusty bolt and liked the sound of the bolt on the strings.
Kekuku was inducted into the Steel Guitar Hall of Fame in 1993 as the inventor of the Hawaiian steel guitar.
Legend or not, the story has legs (much like these lap steel guitar lessons!)
The Hawaiian steel guitar definitely predates the invention of the electric guitar pickup.
In fact, the first electrically amplified guitar was invented by the Ro-Pat-In Company, which later became Rickenbacker. The A-22 model was a lap steel, nicknamed the frying pan guitar because – well, click the link and look at it.
Lap Steel VS Electric Guitar
Due to the fact that the lap steel guitar is played with the instrument laying flat in the player's lap (or on a floor stand with the strings faced upward), it is designed very differently than traditional acoustic and electric guitars.
Most lap steel guitars have 6 strings, but because the strings are not pressed down to a steel fret to change pitch, lap steel guitars are tuned to open chord tunings.
Lap steel guitar players use different gauges of strings depending on the open tuned chord voicing they need.
You can use any electric guitar amplifier for your lap steel, preferably one that produces a clear, clean tone at higher volume levels.
There is certainly no rule that says you can't plug your lap steel directly into a dimed-out Marshall stack!
You don't necessarily need an amp to follow these lap steel guitar lessons, but a little volume wouldn't hurt!
Learn 12 EASY beginner chords with our popular guide
✅  Stop struggling. Start making music.
✅  Learn beginner-friendly versions of every chord.
This is our most popular guide and it will improve your chord ability quickly! 😎
Get your own personalised guitar-learning plan 🎸
Get a custom guitar-learning plan here: Click here for GuitarMetrics™
Lap Steel Guitar Lessons: Playing Posture & Accessories
You're almost ready for your lap steel guitar lessons as soon as you've got your instrument and a chair.
There are a couple of other things to consider at the outset: your playing posture and other necessary accessories.
Lap Steel Guitar Lessons: Posture
As the name suggests, you'll play your lap steel guitar with the instrument either lying across your lap while you are seated or held up with a floor stand. The floor stand will enable you to perform standing up.
Some players equip their lap steel guitars with a strap so that the guitar can be worn and they can move around while performing.
An acoustic version of a lap steel guitar is sometimes referred to as either a resonator guitar, a National guitar, or a Dobro.
Lap Steel Guitar Lessons: Picking Hand Considerations
As far as your picking hand is concerned, the lap steel guitar is played in much the same way you would pick any other guitar.
You can use your fingers or a flatpick, although most players use a thumbpick and two or three finger picks.
Although the lap steel is generally tuned to an open chord, the timbre of the lap steel – that's the general tone of the instrument – is much too bright and present for constant chord strumming.
Any fingerstyle skills you have will serve you well in these lap steel guitar lessons!
Lap Steel Guitar Lessons: Using The Tone Bar
Your lap steel guitar will not sound very steely unless you get yourself a tone bar.
People use all sorts of things as tone bars, from beer bottles to lengths of pipe to lighters, but to get that sound you're chasing after, you'll want a proper tone bar.
A tone bar is held between the first and second fingers of your fretting hand, rounded end touching the strings.
Applying pressure to the tone bar while using your second and third fingers to damp the strings you don't want to hear is a little bit of tricky business and requires some practice.
There are a lot of great lap steel guitar lessons on YouTube showing you how to get used to the tone bar.
Pro-Tip: We all get some of our best lap steel guitar lessons by watching the masters in action. Check out this version of "Sleepwalk" – if it's not already the first song you want to learn on lap steel, it definitely belongs on your list!
Lap Steel Guitar Lessons: Volume Pedal
Apart from the tone bar, the lap steel guitar gets its uniquely expressive sound from constant active control of dynamics, how loudly or quietly you're playing at any given moment.
As a lap steel player, you'll find that both of your hands are very busy all the time!
Most lap steel guitar players use a volume pedal to control the instrument's output to the amplifier.
This allows the players to fade in notes and chords as well as dynamically adjust the lap steel guitar's volume in relation to the rest of the music.
With practice, you'll be able to weave your awesome lap steel parts into song arrangements by using the volume pedal to create more presence or put yourself in the background!
One of our favourite lap steel guitar lessons is this video demonstrating how to get started using this important accessory.
Lap Steel Guitar Lessons: Choosing Your Instrument
Almost every major guitar manufacturer has a lap steel guitar or two in their product line, including Fender, Gibson, Epiphone, Gretsch, and of course Rickenbacker.
If you've already got an amp lying around the house, you're in luck, because a lap steel guitar need not be a huge investment.
The Gretsch Electromatic is a solid entry-level lap steel that sounds nice for $350.
The Epiphone Electar Century is a pretty and comfortable lap steel at $270.
The Vorson SL-100E isn't a household name, but it is a beautiful looking and sounding lap steel guitar that is well worth it at about $320.
Lap Steel Guitar Lessons: Tuning
We've mentioned that the lap steel guitar is tuned to open chords rather than standard guitar tuning.
This makes sense, since what you have to use on the frets is essentially a moveable capo, not individual fingers making chord shapes.
In this respect, lap steel tuning is not entirely unlike slide guitar tuning, where you're also playing straight across the strings.
One lesson that will aid your set of lap steel guitar lessons nicely is this one from your friends at the National Guitar Academy: Slide Guitar Tuning: The Essential Guide.
The earliest Hawaiian lap steel tuning was open A low bass, E–A–E–A–C♯–E. Today, most open tunings for lap steel guitar fall into 3 primary categories:
Blues and Rock – open G/open A, or open D/open E
Open G is tuned D–G–D–G–B–D; open A raises each of those notes a whole tone (2 frets) to E–A–E–A–C♯–E.
Bluegrass and Country Dobro – Altered G tuning, often called "high-G", where the sixth string is tuned up to G instead of down to D, and the fifth string is also tuned up, to B: G–B–D–G–B–D
Western Swing and Old-School Country – C6 tuning. There is no "standard" C6 tuning; a popular one is C–E–G–A–C–E
Lap Steel Guitar Lessons: Resources For The Basics
It's so helpful to have resource videos when you're learning to do things like tune and work with lap steel tunings!
We love KountryCuz's YouTube lap steel guitar lessons on how to work with open G tuning. This guy is amazing to listen to and watch.
Lessons with Troy is a friendly and encouraging series of lap steel guitar lessons that will turn you into an expert in C6 tuning for Western swing and Hawaiian lap steel guitar.
If you're interested in exploring open E tuning, steelguitarlessons has a good tutorial for you.
Onlinelessonvideos has some lap steel guitar lessons for you to explore the open A tuning as an absolute beginner.
Download our lead guitar cheat-sheet to make things easier
It can be disorientating for guitarists to understand which scales work with which keys.

With this in mind, we created a cheat-sheet; a key and scale-finder that you can use again and again.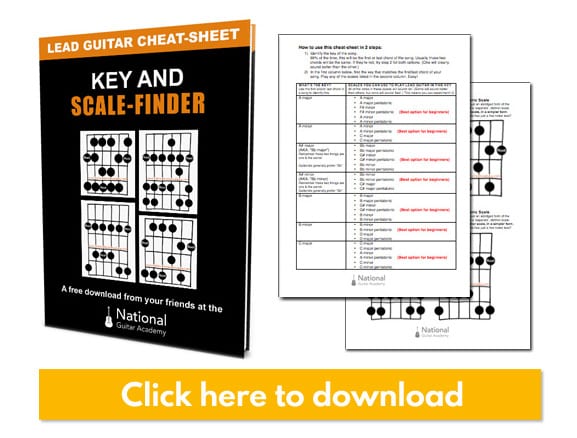 Get your own personalised guitar-learning plan 🎸
Get a custom guitar-learning plan here: Click here for GuitarMetrics™
Lap Steel Guitar Lessons: Technique & Licks
What draws us all to lap steel guitar lessons in the first place is the unique sound, which is not only the tone of the guitar but how it feels to listen to it.
Of course, we want to reproduce some of that magic for ourselves. Here are some lap steel guitar lessons that help us to get our technique where we want it to go.
Lap Steel Guitar Lessons: Sources Of Inspiration
The lap steel guitar is really closely associated with a select few genres of music, but you can find it everywhere and use it in any way you choose.
Here are some traditional and not-so-traditional members of the Lap Steel Pantheon! Enjoy their skill, borrow what you want to use, and see where it leads you!
Freddie Roulette is a blues lap steel genius and a Chicago blues icon who has made his living off of his lap steel licks.
Here's an interview and demo with Robert Randolph on developing your own steel guitar style.
Randolph is a pedal steel player, but he is an amazing musician and a top human, and this is just a great discussion.
If you're looking for a good foundation of lap steel guitar lessons, look no further than watching Robert Randolph play live!
Andrew Winton is using his instrument on his lap in a very non-traditional way. This is an acoustic, but look at what he's doing! It just sounds so cool.
Holy mackerel! It's a Moog lap steel! Leave it to them to fuse the organic homegrown sound of the lap steel with synth technology.
Barbara Mandrell is a country legend that once had her own TV show, and she practically never played lap steel guitar on it – but she's a low key pedal steel genius!
If you want to see that Epiphone Electar Century in action, here's a lap steel cover of "Sultans of Swing" for you all to enjoy.
Finally, it's back to KountryCuz and their amazing lap steel guitar lessons, showing you how to get a pedal steel sound out of a lap steel! We cannot get enough of KountryCuz and their array of amazing lap steel guitar lessons .
Lap Steel Guitar Lessons: Books
For the readers among us, there are plenty of resources to get up and running on the lap steel guitar.
We love books we can turn to again and again to cycle through the information in a new way.
If you'd like a complete set of lap steel guitar lessons in book form, The Hal Leonard Lap Steel Guitar Method is sure to take you through the basics in a commonsense way to get you fully acclimated to your new favorite instrument.
Andy Volk's "Lap Steel Guitar" is less an instructional method than a compendium of all sorts of information related to the lap steel guitar. It's a good read, it's fascinating, and there is plenty of inspiration to be had in this book.
One of our favorite guitar instructors in book form, Fred Sokolow, has a really great and useful recommended volume of lap steel guitar lessons for all players and players-to-be in his Fretboard Roadmaps series.

Check out "Lap Steel Guitar: The Essential Patterns that All Great Steel Players Know and Use."
The Power of Experimentation
There's way more information in the lap steel guitar lessons in this article than you can use in a day.
Take your time with your new instrument and try the new tunings. Maybe you'll find a favorite, or maybe you'll invent your own.
There's no limit to what you can do with your lap steel guitar!
Recommended Resources
If you enjoyed this free guide from the National Guitar Academy, you'll love our other content below:
What Type of Guitarist Are You?
Take our 60-second quiz & get your results: Take The Quiz
Join the world's best online guitar school 🌎
Get your own personalised guitar learning plan (customised just for YOU).
World-class online guitar courses. Learn at your own pace.
Community Campus & Learning Forum -  A friendly community! Connect with our team & students. 😊
Beginner Song library with chordsheets, tabs and tips. (Songs suitable for all levels!)
Regular live streams, seminars and Q&A sessions - Learn from world-class guitar educators. Get all your questions answered!
Click here to learn more about National Guitar Academy membership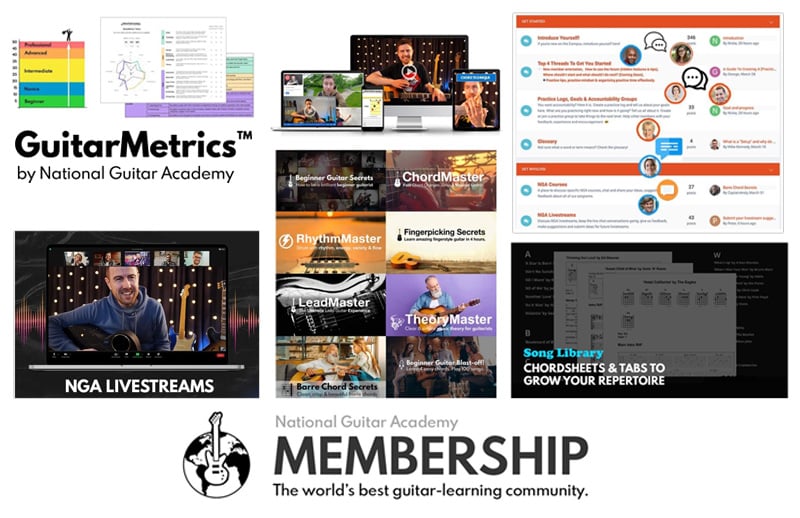 Cool Guitar T-shirts 😎
Look cooler! Check out our merch: Click here to see our merch store
Want free guitar tips and video lessons delivered to your inbox?
Join over 250,000 other guitar learners and subscribe to our guitar-tips-by-email service. (It's free.)
We'll send you a series of lessons that will move you to the next level of your guitar journey.
Learn how everything fits together quickly, easily and effectively. We share ninja tips (for instant fun!) but also timeless fundamentals that will deepen your understanding.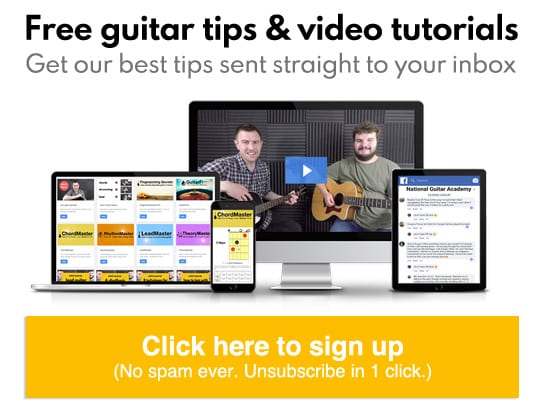 Get our best guitar tips & videos
Get our best guitar tips & videos