Last Christmas Chords In The Key Of C
Part of choosing the key in which to play a song is figuring out which chords you'd like to play and which you'd like to avoid; for example, the B minor
In some cases, you're just trading problems.
We can play the Last Christmas chords in the key of C major instead of D major and we never have to deal with the B minor chord.
Let's take a look at what would happen if we put the Last Christmas chords into C major. To play along with the recording, you can use the C major chords below with your capo on the second fret.
If C major is the I chord, that makes the vi A minor. The ii chord is D minor, and the V chord is G major. There are two-finger versions of most of these.
For C major, whether or not you're a beginner at guitar, the two-finger version we'll use is really gorgeous alone and with the melody.
It's called a C major seventh, and it's two-thirds of the C major chord.
Cmaj7 (x32000)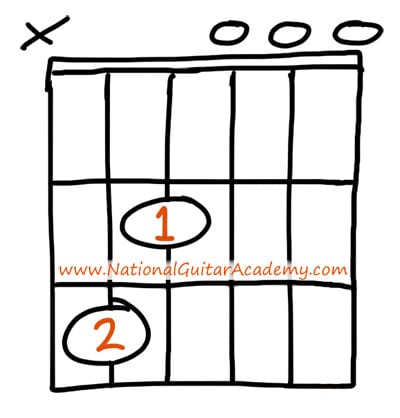 For the full C chord, try putting your ring finger down first on the A string. It will position your other two fingers over the strings they need to find.
C (x32010)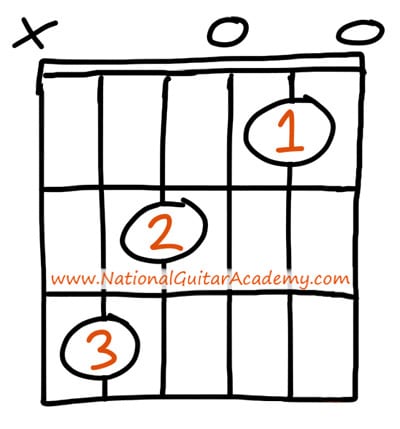 The A minor chord also has a two-finger version, called A minor seventh. It's a slightly mellower-sounding A minor.
Am7 (x02010)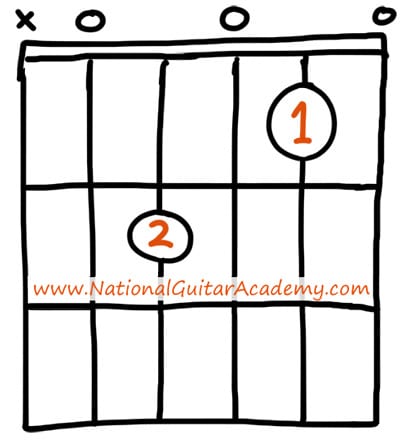 The full A minor chord is below:
Am (x02210)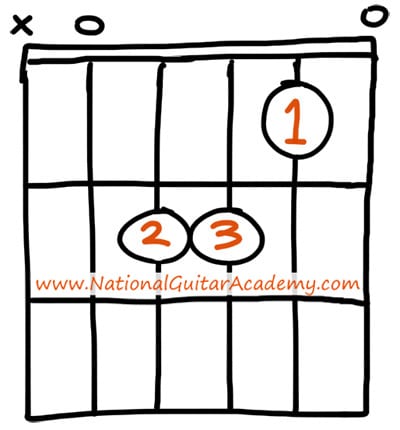 The trickiest bit, if you're playing the Last Christmas chords in the key of C, is the D minor chord.
There isn't really a simpler version of D minor. It's often described as feeling like D has been drinking and needs help into the cab.
But it won't be Last Christmas without it, so here it is!
 Dm (xx0231)
The G chord has a quite nice two-finger version that sounds perfect as part of the Last Christmas chords.
It's called a G6 and is a G major with the high E string left open.
G6 (320000)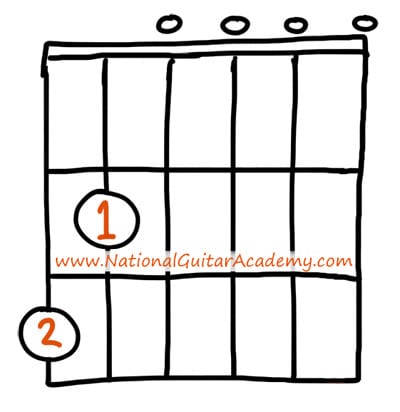 For the full G chord, you just add a finger to the high E string at the third fret.
G (320003)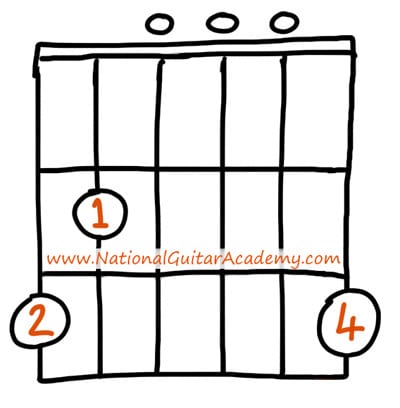 If you try a G7 instead of the G, you'll find that the G7 pulls your ear back to the C major chord a little bit more urgently than the G does.
Give this a try!
G7 (320001)
Download our lead guitar cheat-sheet to make things easier
It can be disorientating for guitarists to understand which scales work with which keys.
With this in mind, we created a cheat-sheet; a key and scale-finder that you can use again and again.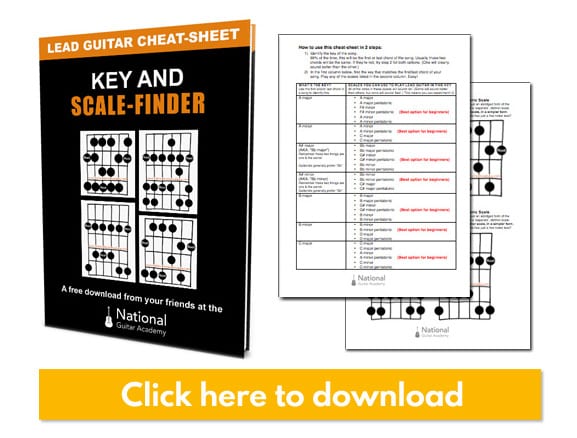 Last Christmas Chords: The Rhythm
The rhythm in the Wham! recording is driven by the keyboards, playing the Last Christmas chords with a steady eighth-note beat.
It's a really good example of how you can use rhythm in your arrangements to support what is happening in the lyrics.
The steady straight eighth-note beat is a way to emulate a very Christmasy sound, the sound of sleigh bells. Pretty sneaky, but very effective!

Other songs that use this tactic include Paul McCartney's "Wonderful Christmastime" and Johnny Mathis's "Sleigh Ride."
It's simple to strum eighth notes on the guitar:
Down-up, down-up, down-up, down-up
If you like, you can make the beat more crisp and even by using all down strums, like this:
Down-down, down-down, down-down, down-down
You can play the Last Christmas chords with a different feel by using a different rhythm. The calypso strum is versatile and works well with this song.
The calypso strum adds a little interest with syncopation. That's where accented strums happen off the beat – on the "and."
Syncopation is easy to spot because it's frequently done with two upward strums in a row. Don't change the rhythm of your strumming hand!
Just let your hand drop down between the two upward strums so you don't lose that time in between.
The calypso strum is most commonly done like this:
Down, down-up, -up, down-up
Pro-Tip: Changing up the rhythm is the easiest way to personalize your arrangement of the Last Christmas chords, or any other song in your repertoire that you feel like freshening up.
Switch between straight and swing rhythm, or experiment with different patterns, to find the one that feels right to you!
Last Christmas Chords: Putting It All Together
Like all great holiday songs, this one is pretty easy to memorize because it's repetitive.
The Last Christmas chords, as we've seen, go in a cycle.
For a complete chord and lyric sheet showing you how the Last Christmas chords line up with the words, click here for the key of D and here for the key of C.
In this song, the chorus comes first. The chorus is followed by a verse. After the next chorus, there's another verse. After the third chorus, there's a shorter verse.
Once you've finished the final verse, repeat the chorus as many times as you like.
The chorus is everyone's favorite part to sing, because even if nobody knows the words to the verses, after a couple rounds, everyone knows the chorus!
Sharing Your Last Christmas Chords With Everyone
The best way to get to know a song inside and out is to play it all the time.
Take "Last Christmas" and any other chords you know and get out there!
Lots of community centers and nursing-rehabilitation facilities would love to have you and your friends there during the holiday season sharing your music.
Be sure to call first and get yourself a gig scheduled!
Recommended Resources
Did you enjoy this guide? We've got plenty more in store for you below!
What Type of Guitarist Are You?
Take our 60-second quiz & get your results: Take The Quiz
Want free guitar tips and video lessons delivered to your inbox?
Join over 100,000 other guitar learners and subscribe to our guitar-tips-by-email service. (It's free.)
We'll send you a series of lessons that will move you to the next level of your guitar journey.
Learn how everything fits together quickly, easily and effectively. We share ninja tips (for instant fun!) but also timeless fundamentals that will deepen your understanding.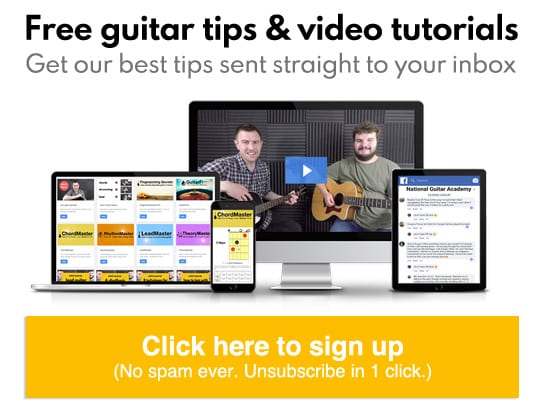 Popular Lessons
How To Learn Guitar: An 11-Step Programme For Beginners
How To Choose The Perfect Beginner Guitar
Guitar Notes Explained: A Guide For Beginners
More Cool Guitar Stuff
Learn about the National Guitar Academy: About Us
Visit our YouTube channel for fun guitar videos.
Join us on Facebook for daily guitar tips.
Listen to our Learn Guitar Podcast for rapid guitar progress.
Check out our free chord lessons.
Continue reading on page 2:
Page 1
Page 2