One string guitar songs are great for developing finger dexterity, technique and repertoire. In this lesson we'll show you 10 of our favourite one string guitar songs.
Over 250,000 guitar-learners get our world-class guitar tips & tutorials sent straight to their inbox: Click here to join them
If you want to be a better guitarist click here for our guitar courses
In this free lesson you will learn:
10 easy one string guitar songs.
5 essential technique tips that will turbo-charge your playing.
The top-secret tip that will allow you to learn songs quickly and easily.
Looking For One String Guitar Songs?
One of the best ways to start learning guitar is to learn one string guitar songs.
Learning these songs will improve your dexterity, technique and most importantly will allow you to have LOADS of fun on the guitar.
Stringed instruments like the guitar are versatile because they can play chords as well as melodies. However, the focus in this guitar lesson is on melodies.
We're going to teach you a whole load of easy riffs and tunes that will get your guitar journey off to a flying start.
Guitar Hack!
In this lesson, we're going to be using tablature to teach all of the one string guitar songs.
Tablature, usually called tab, is simplified notation, with lines representing guitar strings and numbers representing frets.
If you don't know how to read tab, take a look at this lesson: How To Read Guitar Tabs
One String Guitar Songs #1 'Seven Nation Army' by The White Stripes
The first song anyone thinks of when thinking of one string guitar songs is 'Seven Nation Army' by The White Stripes.
It has been appropriated by sports fans all over the world.

Very shortly, you will be playing that amazing bass intro to the song, which is really the structure of the whole song.
You only need one string and one finger to play this amazing song. Follow this tab to find all the notes.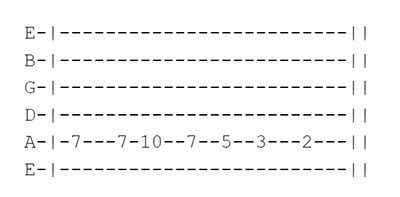 When learning this song, take your time with it. There are a lot of huge gaps between each note of the piece, take your time to fret the notes correctly and you'll be rockin' in no time!
Download our lead guitar cheat-sheet to make things easier
It can be disorientating for guitarists to understand which scales work with which keys.
With this in mind, we created a cheat-sheet; a key and scale-finder that you can use again and again.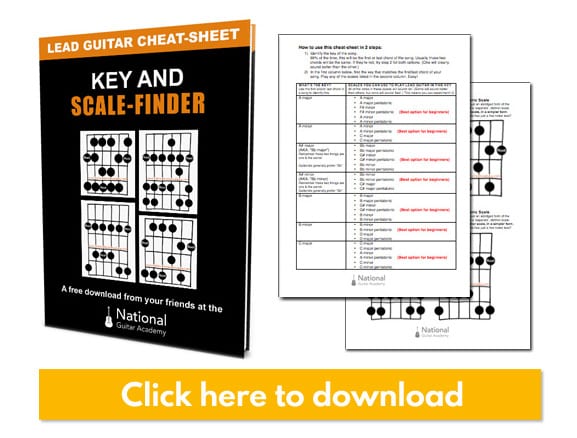 Our Guitar Courses
Become a better guitarist: Click here for our guitar courses
One String Guitar Songs #2 'Running Down a Dream' by Tom Petty
This classic intro riff for Tom Petty's 1993 "Running Down a Dream" goes pretty quickly, but with a little practice, you can get it.
This riff happens in the intro and also throughout the song. Here is the tab.
It's significantly faster than "Seven Nation Army," so don't be discouraged if you can't play it at the proper speed right away.
Begin slowly and once you are used to the notes and rhythm, gradually increase your practice tempo until you are at the same speed as the song.
Pro-tip: Most of us begin picking one note guitar songs entirely with down strokes with our pick.
However, if you want to advance with your picking, it's essential that you learn how to alternate pick.
To learn more about alternate picking, check out this lesson: Alternate Picking: The Ultimate Guide
One String Guitar Songs #3 'Sunshine of Your Love' by Cream
When learning one string guitar songs, it would be rude not to include 'Sunshine of your love' by Cream.

This riff is perfect for beginners as it uses only one string and can be played with just one finger.
This epic riff is played on the D string and actually uses the 'blues scale'.
Don't worry too much about this for now, just enjoy this rocking riff from one of the greatest rock bands of all time.
If you'd like to learn the blues scale, go here: Blues Scale – 4 Things You Need To Know
Here is the tab.
The timing off this riff can be tricky for most beginners, so be careful when attempting this for the first time. Here are a few tips and tricks you can use when learning this riff:
Play the riff slowly and make sure all your notes are correct.
Listen to the recording a lot for the tricky rhythm.
Slow the recording down and play along with it. Once you're comfortable with playing it slowly, speed it up.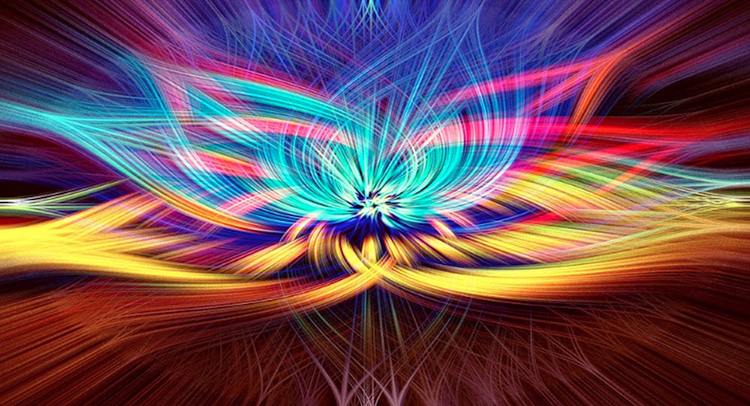 One String Guitar Songs #4 'Smoke On the Water' by Deep Purple
One of the first one string guitar songs everyone has been learning for the last 46 years is this simple and heavy rocker from Deep Purple.
Generation after generation of guitar players have learned this main intro riff and that's why it's made it onto our list of one string guitar songs.
The riff on the recording is played across two strings. However, to make this riff easier, you can just play it on the G string.
If you want an extra challenge you can also play the riff on the G and D strings at the same time.
This is tricky, however, if you persevere you will be able to play one of the great one string guitar songs of all time.
One String Guitar Songs #5 'Thunderstruck' by AC/DC
The next of your one string guitar songs is a bit more lengthy and challenging, but it is completely worth it to have learned this finger-melter by AC/DC.
There are two parts to the intro riff. We're going to focus on the first one. Here is the tab.
Angus Young, king of the rock riff, plays the intro to "Thunderstruck" without using a pick at all, but you can practice this riff with alternate picking, playing 'down up down up' on the string.
Keep your hand motion small to avoid hitting other strings.This is a major dexterity and timing challenge, and if you keep at it, it is guaranteed to make you a better guitarist.
Pro-tip: Difficult riffs make great exercises! Go very slowly to coordinate your fretting hand and your picking hand.
One String Guitar Songs #6 'Mamma Mia' by ABBA
So far, the one string guitar songs you've been exploring have been riffs, part of the song's guitar part.
For ABBA's "Mamma Mia," you'll be playing the melody of the chorus.
"Mamma Mia" was initially released as the opening track on ABBA's self-titled album in 1975.
It became the title track of a jukebox musical featuring ABBA's songs in 1999, which in turn became a hit musical film in 2008.
Ten years later, the sequel, 'Mamma Mia! Here We Go Again', was released in theatres in the US and the UK.
Clearly, the song has something going for it, so check out this tab:
Top Tip! 
Learning one string guitar songs can show you how pitch rises and falls on the guitar. The closer to the sound hole, the higher the pitch, and the closer to the headstock, the lower the pitch.
One String Guitar Songs #7 'Perfect' by Ed Sheeran
The next melody in your one string guitar songs collection is this beautiful ballad by Ed Sheeran.
You'll be playing the lovely chorus from this song.
The recording is in the key of Ab, which is a terrible key for the guitar, so in order to play with the recording, you can put a capo on the first fret and play it on the G string.
What's a capo? You'll need one at some point when you're ready to move beyond one string guitar songs. Check out this lesson to learn more about capos: How To Use A Capo In 3 Easy Steps
Here is the tab, so you can play this song on the G string.
What makes a melody fun to sing and play is simplicity. The main melody of the song is very similar to the one you've just learned. If you fancy a challenge, experiment with the melody you've just learned and see if you can work out the rest of the song.
Learn the 12 EASIEST beginner chords with our famous FREE guide
✓  Stop struggling. Start making music.
✓  Learn 12 beginner-friendly versions of every chord.
✓  This is our most popular guide and it will improve your chord ability quickly.
Our Guitar Courses
Become a better guitarist: Click here to check out our guitar courses
One String Guitar Songs #8 The Office (US) Theme
While the original version of "The Office" got "Handbags and Gladrags" as a theme song, when it was adapted for US television, a new theme song was written by former member of Spirit and "Thunder Island" composer Jay Ferguson.
This theme moves around on the G string quite a bit, making it one of your slightly more challenging one string guitar songs, but it is a nice catchy melody. Here is the tab.
Pro Tip!
When notes happen in quick succession, try to minimize your hand movement by using multiple fingers. This melody is a lot easier to play on the melodica, which is the instrument in the recording, but with plenty of slow repetition, you will be able to play this in no time.
One String Guitar Songs #9 'How Far I'll Go' by Auli'i Cravalho
This is just a great song. Written by Lin-Manuel Miranda, the man who brought you "Avenue Q" and "Hamilton," this number from the movie 'Moana' fits nicely into your collection of one string guitar songs.
This melody goes on the high E string. Here is the tab.
The notes come a little quickly, so try to play the second and fourth frets with your first and third fingers. It will come with practice.
This is your chance to begin piling up one string guitar songs to amaze and delight all of your family members under 12 years of age.
If you are looking for a crowd-pleaser, this song definitely fits the bill!
One String Guitar Songs #10 'Game of Thrones Theme' by Ramin Djawadi
And here's a song from the opposite of a Disney movie, the TV show 'Game of Thrones'.
The theme was composed by Ramin Djawadi, who also scored the movies and TV shows:
A Wrinkle in Time.
Clash of the Titans.
Warcraft.
Prison Break.
Westworld.
As one string guitar songs go, the melody in this song moves quickly along the fretboard. So, it's important to take your time when playing this song.
Fun Theory Tip!
The main melody here is a minor key. This means that it expresses sadness. However, some people describe this melody as 'beautiful' and 'melancholic'.
Some guitarists avoid fretting the guitar with the fourth finger, mostly because the pinky is an indolent and unenthusiastic member of the guitar fretting team.
But you should try involving your fourth finger in playing melodies wherever possible, like reaching for the highest fret in this melody.
It takes some time getting the fourth finger accustomed to doing any work, whether participating in a chord or playing a melody, but in the end, it's better to have four functioning fingers instead of two or three.
Completed All One String Guitar Songs? Where Next?
Some of these one string guitar songs are significantly more lengthy or challenging than others, so be patient with yourself if you don't get some of them right away.
There are always going to be songs you can pick up straight away and there will be others which may take a little longer.
However, if you enjoyed these songs and want to learn more, check out these lessons:
If you are interested in learning more about how melodies work, you will want to know about intervals and scales. You can start here to learn more about these cool concepts:
Recommended resources
What Type of Guitarist Are You?
Take our 60-second quiz & get your results: Take The Quiz
Our guitar courses
How do you want to improve as a guitarist? Click here to check out our guitar courses
Cool Guitar T-shirts
Look cooler! Check out our merch: Click here to see our merch store
Want free guitar tips and video lessons delivered to your inbox?
Join over 250,000 other guitar learners and subscribe to our guitar-tips-by-email service. (It's free.)
We'll send you a series of lessons that will move you to the next level of your guitar journey.
Learn how everything fits together quickly, easily and effectively. We share ninja tips (for instant fun!) but also timeless fundamentals that will deepen your understanding.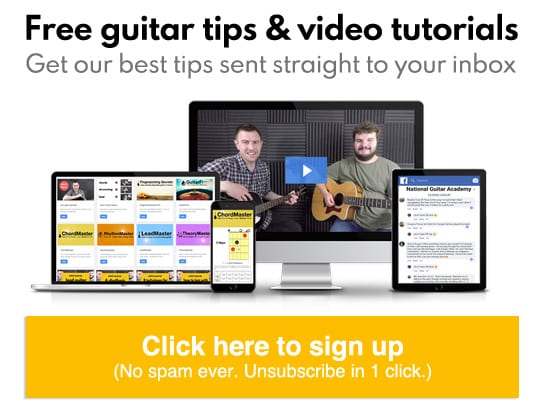 Popular Lessons
How To Learn Guitar: An 11-Step Programme For Beginners
How To Choose The Perfect Beginner Guitar
Guitar Notes Explained: A Guide For Beginners
Our guitar courses
Become a better guitarist: Click here to check out our guitar courses
More Cool Guitar Stuff
Learn about the National Guitar Academy: About Us
Visit our YouTube channel for fun guitar videos.
Join us on Facebook for daily guitar tips.
Listen to our Learn Guitar Podcast for rapid guitar progress.
Check out our free chord lessons.
Get our best guitar tips & videos
Get our best guitar tips & videos