Learning to play guitar online exposes us to a lot of information – let's take a look at some of the best online resources!
In this free lesson you will learn…
The 9 best resources for learning to play guitar online
Why the internet is such a great learning tool
Why YouTube isn't always effective for learning guitar
Why it's important to find your own direction for learning
Over 250,000 guitar-learners get our world-class guitar tips & tutorials sent straight to their inbox: Click here to join them

If you want to be a better guitarist click here for our guitar courses
Want To Learn To Play Guitar Online? Here's How!
There are so many resources for those of us who would like to learn to play guitar online.
Whether you're learning the basics for the first time, searching for or brushing up on a particular skill or song.
If you're interested in learning to play guitar online, you can find out everything from how to select a guitar to how to play a specific song.
You can even play a virtual guitar before you have one of your own using apps on your smartphone.
Things to consider when selecting an online component of your guitar playing are:
How much time do you have to devote to the guitar every day/week/month?
What specific goals are you trying to achieve on the guitar?
If you're a beginner, where are the best places for beginning instruction?
Do you learn better by seeing, hearing, reading, or doing?
We have some of everything below. Here are our 10 best resources for you to learn to play guitar online.
Learn To Play Guitar Online Using A Virtual Guitar!
This is a great resource whether or not you've got a guitar at home.
Whether you want to play with sounds, experiment with chord shapes, or just play around with something cool, these virtual guitar sites are amazing.
Apronus is an acoustic guitar simulator that lets you play and record a virtual guitar.
Adamsguitar gives you to option of a virtual acoustic or electric guitar as well as clean and dirty channels to play with.
Recursivearts has an online guitar simulator, which lets you string chords together to make your own kind of song.
Beyond playing virtual guitars, Fender.com has a free online guitar tuner for you to make use of!
You can customize it for the specific tone you want, which can help you to match pitch more precisely.
Alex DeMartos' website also has a chromatic tuner that lets you select the pitch and then uses your microphone to help you tune it!
Virtual instruments are plenty of fun, but nothing beats the real thing.
Let's get down to some resources to help you learn to play guitar online with your own instrument!
Learn To Play Guitar Online With JustinGuitar
You're going to run across JustinGuitar at some point very shortly after you turn on your computer and start looking for online guitar lessons.
Justinguitar is a comprehensive and longstanding guitar instruction site that is organized into whole courses for different levels of guitar.
This website gives you access to entire guitar courses, so that if you are motivated, you can get yourself up and running as a guitar player with ease.
Another cool feature of Justinguitar is a color-coded index of songs, so if you can gauge your skill level, you have a selection of songs you can just pick up and learn from the video lesson.
Videos are amazing, but they are also only geared toward one way of learning, and it can take some navigating before you find what you're looking for to learn to play guitar online effectively.
Pro-Tip: There are online guitar resources that offer tons of free content as well as courses for a fee.
The free content is often a very good indicator of the quality of the paid content, so check out more than one site.
Learn the 12 EASIEST beginner chords with our famous FREE guide
✓  Stop struggling. Start making music.
✓  Learn 12 beginner-friendly versions of every chord.
✓  This is our most popular guide and it will improve your chord ability quickly.
Our Guitar Courses
Become a better guitarist: Click here to check out our guitar courses
Take Courses With TrueFire
This is a fantastic resource if you want to learn to play guitar online with master-level instructors.
Many of these players may even be ones that you already love to listen to!
Not every guitar master is a great teacher because it's an entirely different skill set, but the TrueFire teachers are also teachers.
Online instructors Robben Ford and Willy Porter regularly conduct guitar workshops in the US, for example.
TrueFire's free content is categorized by level and genre.
They are presented as bite-sized video lessons showing you how to play that lick, practice that scale, or change that chord.
TrueFire specializes in specific styles and specific instructors. They offer online workshops and video lessons as well as one-on-one private instruction.
Learn From The Experts At JamPlay
Jamplay is for you if you'd like to play guitar online with video lessons from the likes of Kaki King, Tony Macalpine, or Steve Stevens.
Like TrueFire, they have amassed some serious names in the guitar world. The interesting thing about Jamplay that makes it different from TrueFire is that with Jamplay, the instructors are specialists.
Ultimately, we all want to develop our own guitar style.
When we are just starting out however, it's usually because there's a guitarist or several guitarists who inspire us, and we love what we hear from those people.
Jamplay is a great resource for learning to play guitar online if you see an instructor on the website and think, "I'd like a little of that person's magic."
Study With Berklee Online
The Berklee College of Music, the school that helped produce greats like Quincy Jones, John Mayer and Esperanza Spalding, offers online courses in guitar. The best part is that you don't need to be seeking a degree in music to take them.
Berklee isn't for everybody, but if you are the fairly studious sort, or if you might be serious about getting a thorough music education in the guitar, they offer a guitar course that you can try out.
Berklee Online is there to provide you with a full music education from the Berklee standpoint right from the beginning. Due to Berklee being a high-tier conservatory in Boston, its guitar curriculum is thorough and will leave you with zero gaps in your guitar knowledge.
Guitar teachers take these guitar courses to deepen their understanding of the instrument, so if that level of music education feels right to you, definitely sign yourself up for a course and learn to play guitar online with Berklee College of Music!
Berklee Online also offers certificate and degree programs.
Pro-Tip: Know yourself as a learner! Whether you learn best by seeing, doing, or hearing, there are online guitar courses and opportunities to play guitar online that are built for your strengths.
Play Guitar Online With Fender Play
Fender Play is the instruction arm of Fender guitars.
Through their fee-based courses, you can learn everything from how to make your first noises on the guitar to how to find and play your favorite song.
Fender Play offers a free trial period of 14 days before charging you, but you can also buy individual lessons.
This website is mainly geared toward beginners, although if you have been away from the guitar for a long time, it's great for brushing up on things you may have forgotten.
Experienced players are not Fender Play's target audience.
The website offers a nice combination of complete lessons and song-based tutorials for learning to play guitar online.
Their song library is said to be continuously growing, so it's worth checking back with them periodically to see what they have on offer!
Learn To Play Guitar Online With The National Guitar Academy
Hey, that's us! As long as you're here, you might as well know more about us.
National Guitar Academy is dedicated to helping you learn to play guitar online effectively, and to helping guitar players of all skill levels improve their playing and guitar artistry.
Although we offer fee-based courses, we also have an awful lot of free content there for you to comb through.
In addition to detailed explanations of each chord, basic and advanced rhythm tutorials, music theory especially for guitar players, and instruction on lead guitar, National Guitar Academy has assistive tutorials by genre, level of playing ability, and style of playing.
One major benefit of National Guitar Academy's online content is that we try to not overload you with information.
We believe that there's an easy explanation for many concepts in music, and we enjoy bringing clear-cut guitar instruction to the table that will help you learn to play guitar online.
Music is a discipline, but that doesn't mean that it shouldn't be fun.
Even when it's hard work, music shouldn't feel like a chore.
National Guitar Academy is here to make it as fun as possible for you to learn to  play guitar online.
Learn From Wherever You Are With Yousician
Yousician is a relatively new app for guitar and piano learners, and it is mainly geared toward the beginner guitarist.
A benefit of Yousician is that when you start, it will ask you to gauge your experience level, and it will try to find the right instructional material for your level.
This helps you learn to play guitar online without the discomfort of material that's either too advanced or too simple.
Yousician also has an engaging mix of lessons and songs to keep you interested in practicing the guitar.
Yousician is primarily app-based.
Designed for mobility, it has the advantage of being wherever you are when you feel like improving on the guitar.
Other sites are accessible on your phone, but the optimization of an app can make a big difference in how long you will sit with it and practice, and the whole point is to get yourself to practice.
Many guitar students have come over to private and in-person lessons after having started on Yousician.
If you are interested in learning to play guitar online and would like to save on lesson tuition while learning the basics, Yousician is a great app for getting you up and running.
The premium features are also worth trying out.
Download our lead guitar cheat-sheet to make things easier
It can be disorientating for guitarists to understand which scales work with which keys.
With this in mind, we created a cheat-sheet; a key and scale-finder that you can use again and again.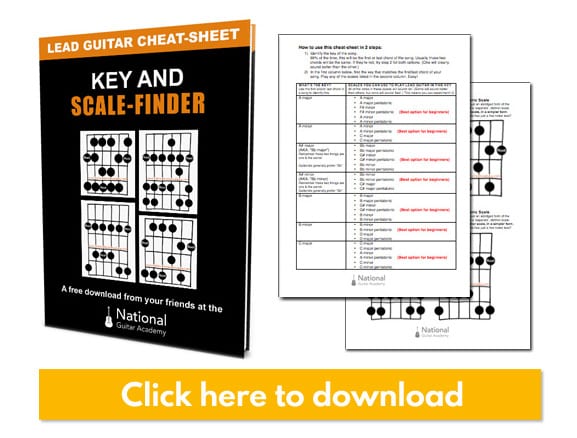 Our Guitar Courses
Become a better guitarist: Click here for our guitar courses
Guitar Tricks
Guitar Tricks is another website devoted to lessons and songs, mostly geared toward the beginner and those returning to the guitar after an extended break.
The most appealing thing about Guitar Tricks is that they have mapped out learning paths for you, so that you can choose the directions your guitar instruction will take.
Guitar Tricks also has a large selection of song tutorials, most of which come in multiple parts.
This is great for learning, but can also be fairly time-consuming to complete the tutorial.
Overall, Guitar Tricks is an excellent site for beginners to sit down and play guitar online, with some great choices for pursuing your personal guitar interests.
YouTube
There are articles and articles about using YouTube to learn how to play guitar online.
Most of the websites and courses listed above have YouTube channels, where you can get plenty of free instruction on almost anything you choose.
The big benefit of YouTube is that so many really great online guitar instructors like Marty Schwartz, Andy Guitar, and Tim Pierce have similar content on their channels.
This gives you the ability to mix and match instructors and approaches to what you are trying to learn.
Another benefit of YouTube is that it is very intuitive to search through, which is not the case for all guitar websites.
Need to know how to play a G chord? You will get more information on the G chord than you thought existed, just on YouTube alone.
This is, however, also a minor pitfall of the platform.
There is so much information out there, and of such mixed quality, that you need to be able to sift through the information you are getting in some way, and this can prove to be very time-consuming.
Just don't ignore YouTube as a resource if you want to learn to play guitar online. It has far too much on it that is good and helpful!
Round Up Your Resources & Learn To Play Guitar Online!
There is absolutely nothing that can replace live guitar lessons.
A lot of the above resources strive toward simulating the student-teacher relationship, and although some of them do a decent job, they don't always provide the same (or similar) experience to having an instructor in front of you.
If you can, find a teacher.
In-person guitar teachers will let you take monthly lessons and supplement you with online resources.
Having said that, not being able to find a teacher should not be a barrier between you and your guitar.
There are so many resources designed to help you learn to play guitar online, no matter your skill level.
There is always something online that will get you playing more, get you playing what you want, and ultimately get you sounding better.
Recommended Resources
If you enjoyed this guide to learning to play guitar online, you're going to love the other free guides we've got for you below!
What Type of Guitarist Are You?
Take our 60-second quiz & get your results: Take The Quiz
Our guitar courses
How do you want to improve as a guitarist? Click here to check out our guitar courses
Cool Guitar T-shirts
Look cooler! Check out our merch: Click here to see our merch store
Want free guitar tips and video lessons delivered to your inbox?
Join over 250,000 other guitar learners and subscribe to our guitar-tips-by-email service. (It's free.)
We'll send you a series of lessons that will move you to the next level of your guitar journey.
Learn how everything fits together quickly, easily and effectively. We share ninja tips (for instant fun!) but also timeless fundamentals that will deepen your understanding.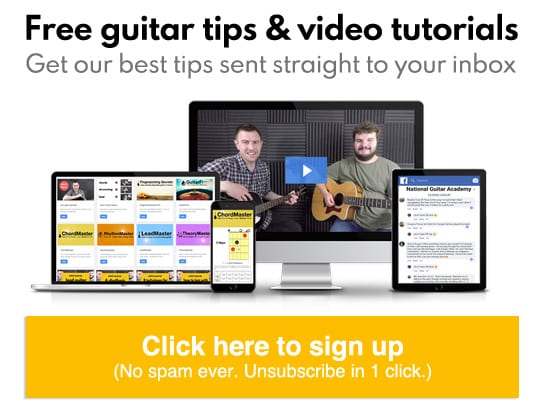 Popular Lessons
How To Learn Guitar: An 11-Step Programme For Beginners
How To Choose The Perfect Beginner Guitar
Guitar Notes Explained: A Guide For Beginners
Our guitar courses
Become a better guitarist: Click here to check out our guitar courses
More Cool Guitar Stuff
Learn about the National Guitar Academy: About Us
Visit our YouTube channel for fun guitar videos.
Join us on Facebook for daily guitar tips.
Listen to our Learn Guitar Podcast for rapid guitar progress.
Check out our free chord lessons.
Get our best guitar tips & videos
Get our best guitar tips & videos