"Suck It And See" by The Arctic Monkeys is a song that can teach us a lot about guitar playing – let's explore the chords!
Over 100,000 guitar-learners get our world-class guitar tips & tutorials sent straight to their inbox: Click here to join them
In this free lesson you will learn…
How to play "Suck It And See" by The Arctic Monkeys
A crash course on barre chords
How to perfect your chord transitions
Why practicing slowly is so effective
Pro tips for better practice
Let's Learn The Suck It And See Chords By The Arctic Monkeys
The Arctic Monkeys are an absolute force to be reckoned with when it comes to songwriting.
Hailing from Sheffield, England and fronted by sassy vocalist Alex Turner, these lads are no joke when it comes to hits.
From tunes like "R U Mine?" and "Do I Wanna Know?" to more obscure titles like "You Probably Couldn't See For The Lights But You Were Staring Straight At Me," this band has a long list of catchy tunes that will stay stuck in your head for weeks on end.
In this lesson, we're going to take a look at how to play one of the Arctic Monkeys' catchiest and most poetic tunes – "Suck It And See."
Don't let the name fool you, the term "suck it and see" is British slang for "try something first to see if you like it" (don't get wise here).
The Suck It And See chords are relatively easy to play, and we're going to take you through all the motions throughout this lesson.
First, let's explore why this is an important song for you to learn as a beginner guitarist.
A Brief History Lesson
"Suck It And See" is the title track from the Arctic Monkeys' fourth studio album, released in 2011.
This album is hailed by many as a musical tour-de-force, signalling the Arctic Monkey's "here to stay" attitude and garnering them some much needed (and some unneeded) press all over.
This album was subject to much censorship due to the title, and had stickers placed over the title on the album cover in many US music stores.
It seemed like the US just wasn't ready for what these UK rock and rollers had to offer, even in 2011 when censorship had become a much more muted topic (compared especially to the 80s and 90s).
As they say, any press is good press, and the controversy over the album title ultimately did nothing but good things for the band in the long run.
The album knocked Lady Gaga's "Born This Way" out of the top spot, and NME simultaneously named their album art as one of the worst in history.
Pretty polarizing press, but it was clearly good for sales – debuting at No. 1 in the United Kingdom and selling over 82,000 units in the first week.
This album is a prime example of how musicians can stir up a name for themselves in interesting ways.
Now, let's get onto the Suck It And See chords and how to play them.
Learn the 12 EASIEST beginner chords with our famous FREE guide
✓  Stop struggling. Start making music.
✓  Learn 12 beginner-friendly versions of every chord.
✓  This is our most popular guide and it will improve your chord ability quickly.
Let's Look At All Of The Suck It And See Chords First
Although this song is pretty easy to strum along to, we're going to run into a few chords that will require some practice.
That's okay though, we're here to make sure you can play all of the Suck It And See chords fluidly before jumping into the progressions.
The thing about learning new chords is that they push our fingers in directions that we would not have considered previously. This just makes for a better time when it comes to growing our skillset on guitar.
The Arctic Monkeys made some pristine choices when selecting the Suck It And See chords to accompany Alex Turner's voice. Let's see the first three below:
E MAJOR
(If you don't understand the above image please read our article "How To Read Guitar Chordboxes In 60 Seconds". It will make everything clear!)
C# MINOR
F# MINOR
Our E major chord is a straightforward grouping of three fingers and three open strings, so take some time to sit on that one first before you launch into the barre chords (we've got a section on those below).
Pro Tip: Note that the C#m and F#m Suck It And See chords are very similar, so once you get used to playing barre chords it will be relatively easy to flip between these chords by adjusting your fingers appropriately. Practice these two chords back to back to help you with barre chord transitions.
We've got one more open chord and two more barre chords for you below, have a look:
B MAJOR
A MAJOR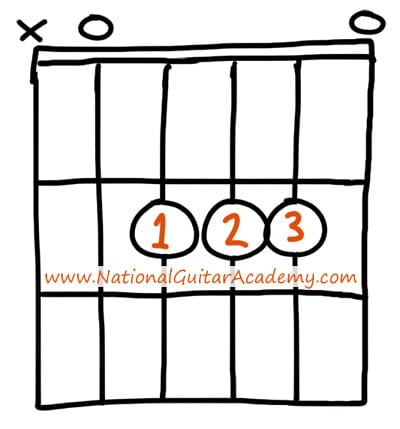 G# MAJOR
Notice the similarity between the G# major chord and the C# minor Suck It And See chords?
Your middle, ring and pinky fingers will make the same shape, just on a different set of strings.
A minor barre chord will use this three-finger shape starting from the A string with the D, G and B strings, where a major barre chord will use the same shape one string set down. Check out the diagrams for the Suck It And See chords above for reference.
This principle can help us switch from major to minor barre chords quite easily.
Take some time to practice the E major and A major chords back-to-back, then move on to our barre chords section where we'll help you tune up that index finger.
A Brief Crash Course On Barre Chords
If we want to play the Suck It And See chords effectively, we want to focus on our index finger and tuning it up for maximum performance.
Our index finger provides a good chunk of the backbone for our overall guitar playing, so it's important to keep it in good shape.
Here's an exercise you can do with your guitar to strengthen your index before attacking the Suck It And See chords:
Start out by playing an A6 chord on your top four strings. This chord is played simply by placing your index finger across your D, G, B and high E strings.
You can use an arpeggio to check the chord and make sure that you're playing the notes clearly. Take some time to sit on this chord to let it sink into your index finger.
Once you're comfortable, move your index finger down one string to the A string and play all five notes together.
Repeat for all six strings, then begin trying to add one more finger at a time from the barre chords below to start getting your fingers around the Suck It And See chords.
The best way to check your chords is by using arpeggios, and we've got a full lesson to show you how.
Click here before you move forward for a serious upgrade lesson for your Suck It And See chords and progression.
C# MINOR
F# MINOR
G# MAJOR
Suck It And See Chords: What Do The Progressions Look Like?
Once we've gotten past the hurdle of barre chords, it's relatively smooth sailing.
The Suck It And See chords are well-spaced, giving us room to strum through them and set ourselves up to transition from one chord to the next.
Let's start by having a look at the chords in the verse. Give each of these chords a count of "1 & 2 & 3 & 4 & 1 & 2 & 3 & 4 &":
E Major // C# Minor // F# Minor // B Major
E Major // C# Minor // F# Minor // B Major // E Major
Take some time with this progression before moving on to the first chorus of Suck It And See chords below.
E MAJOR
C# MINOR
F# MINOR

B MAJOR
The first chorus shows off the vocalist's ability to dance around the band with his voice, but that shouldn't distract us from the Suck It And See chords that are happening here.
They're pretty straightforward, so let's take a closer look.
We've outlined the amount of beats (1 &) per chord in brackets next to each one:
E Major (8) // A Major (4) // B Major (4)
E Major (8) // A Major (4) // B Major (4)
F# Minor (4) // B Major (4) // C# Minor (8)
F# Minor (4) //  A Major (2) // B Major (2) // E Major (8)
The Suck It And See chords are definitely not the easiest amongst our list of song lessons, but they definitely do a great job of helping us work on more intermediate chord voicings.
Let's look at the instrumental break below.
The instrumental section follows the second chorus, and it looks like this with four beats per chord:
C# Minor // B Major // C# Minor // B Major
This section leads straight into the bridge below:
A Major (8) // F# Minor (8) // C# Minor (4)
G# Major (4) // C# Minor (4) // B Major (4)
A Major (8) // F# Minor (8) // A Major (4) // B Major (4) // A Major (8)
For the last chorus, you're going to play back and forth from E Major to A Major all the way up until "be cruel to me," which gives us this final progression:
F# Minor (4) // A Major (2) // B Major (2) // E Major (4)
Now that we've got the Suck It And See chords and progressions out of the way, let's look at the strumming pattern.
Suck It And See Chords: Exploring The Strumming Pattern
If you've made it this far, it's safe to say that you're in the clear.
The strumming pattern is by far the easiest part of navigating the Suck It And See chords.
Here's how it works:
We're going to count in eighth notes (1 & 2 & 3 & 4 &), and follow along to the strumming pattern laid out below:
1     &     2     &     3     &     4     &
D           D     U            D    U     D
The best part of this song is that it only requires this one strumming pattern to play it from front to back. Pretty handy, right?
The rhythm behind this strumming pattern is pretty easy to pick out – give yourself a few more listens through the song and you'll start to hear it more clearly.
Counting the groups of strums helps as well:
One – One-Two – One-Two-Three
Picking out strumming patterns off of a recording is a great way to stretch our ears a little further in terms of ear training, so always be on the lookout for interesting strumming patterns that you can pick up.
Now, let's look finally at how we can take the Suck It And See chords along with the strumming pattern and progressions and put it all together in one cohesive package.
Download our lead guitar cheat-sheet to make things easier
It can be disorientating for guitarists to understand which scales work with which keys.
With this in mind, we created a cheat-sheet; a key and scale-finder that you can use again and again.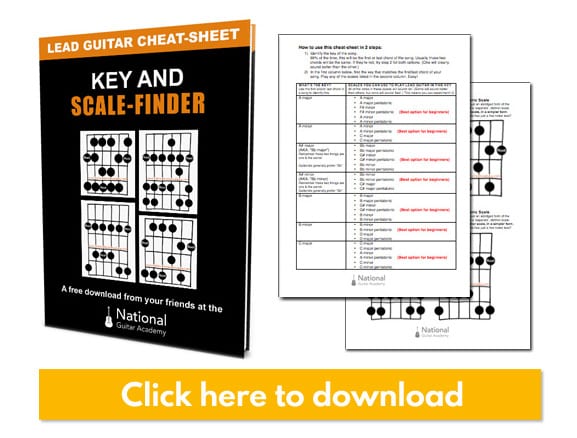 Suck It And See Chords: Putting The Pieces Together
Congratulations! You've mastered every aspect of this song in full.
Now it's time to put it all together and play the song back as one piece.
Let's have a look at the order of sections so we can put these Suck It And See chords to good use:
Verse
Chorus
Verse
Chorus
Instrumental Break
Bridge
Chorus
Pro Tip: If you're still having trouble with the Suck It And See chords and putting them together, try practicing them in pairs!
This helps us to make the transitions between chords less difficult by drilling them repeatedly and helping our hands get familiarized with how to move through them.
Now, let's finally have a look at some other practice notes that can help us tighten up this awesome song.
Suck It And See Chords: Practice Notes
Now that we've reached the end, it's as good a time as any to tighten the screws and take a look at what needs work.
In this final section, we're going to show you some easy ways that you can work on this song to make it feel tighter and more fluid.
Practice with a metronome! This is one of the best and quickest ways to see results with your practice. A metronome helps us keep time and measure our chord transitions so we know what we need to work on the most.
Always reference the song first if you're unsure of a part – your ears are your best frame of reference, and the song will always tell you what you need to hear if you listen for it.
Start slowly – There's no harm in taking things slow, and your hands will actually benefit from it! The more you build up to playing at full speed, the more time your hands have to adjust to new and unique chord shapes.
Work in sections – The more you hash out the details of each section, the easier it will be to string them all together in one piece afterward
Consult Ultimate Guitar to find a chord sheet that explains the lyric placement so you can sing along to the Suck It And See chords
Singing along to the chords can help you understand rhythm in more detail. Never pass up an opportunity to sing along to a song you're learning – you'll learn more about it!
How To Make The Most Out Of A Song Like This
As we've said above, slow practice is the key to properly digesting everything that you've learned from the Suck It And See chords. The slower you practice, the more of an advantage you put yourself at in the future.
Don't be afraid to take your time and learn every facet of any song you want to learn – your ears and hands will thank you over and over again.
Happy practicing, friends! 
Recommended Resources
If you loved this lesson from us, you're definitely going to enjoy the other lessons we've got laid out for you below:
What Type of Guitarist Are You?
Take our 60-second quiz & get your results: Take The Quiz
Want free guitar tips and video lessons delivered to your inbox?
Join over 100,000 other guitar learners and subscribe to our guitar-tips-by-email service. (It's free.)
We'll send you a series of lessons that will move you to the next level of your guitar journey.
Learn how everything fits together quickly, easily and effectively. We share ninja tips (for instant fun!) but also timeless fundamentals that will deepen your understanding.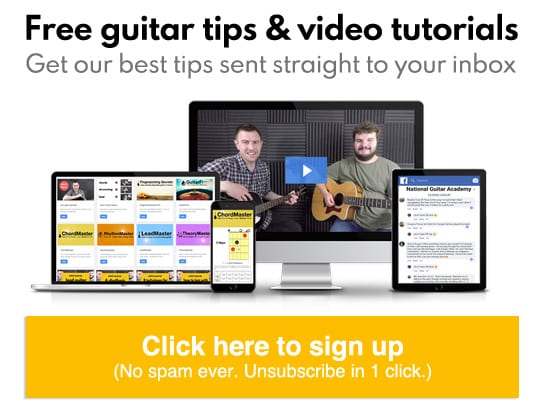 Popular Lessons
How To Learn Guitar: An 11-Step Programme For Beginners
How To Choose The Perfect Beginner Guitar
Guitar Notes Explained: A Guide For Beginners
More Cool Guitar Stuff
Learn about the National Guitar Academy: About Us
Visit our YouTube channel for fun guitar videos.
Join us on Facebook for daily guitar tips.
Listen to our Learn Guitar Podcast for rapid guitar progress.
Check out our free chord lessons.