The Sweet Home Alabama chords are iconic, memorable and easy to play.
Let's explore all the fun ways we can play them (and talk about that classic riff too!).
In this free lesson you will learn:
How to play 'Sweet Home Alabama' by Lynyrd Skynyrd
The Sweet Home Alabama chords 
Two amazing chords: Cadd9 and an easy version of the F chord
How to play THAT riff
Over 250,000 guitar-learners get our world-class guitar tips & tutorials sent straight to their inbox: Click here to join them
Join the world's best online guitar school 🌎
Get your own personalised guitar learning plan (customised just for YOU).
World-class online guitar courses. Learn at your own pace.
Community Campus & Learning Forum -  A friendly community of guitarists! Connect with our team & students. 😊
Beginner Song library with chordsheets, tabs and tips. (Songs suitable for all levels!)
Regular live streams, seminars and Q&A sessions - Learn from world-class guitar educators. Get all your questions answered!
Click here to learn more about National Guitar Academy membership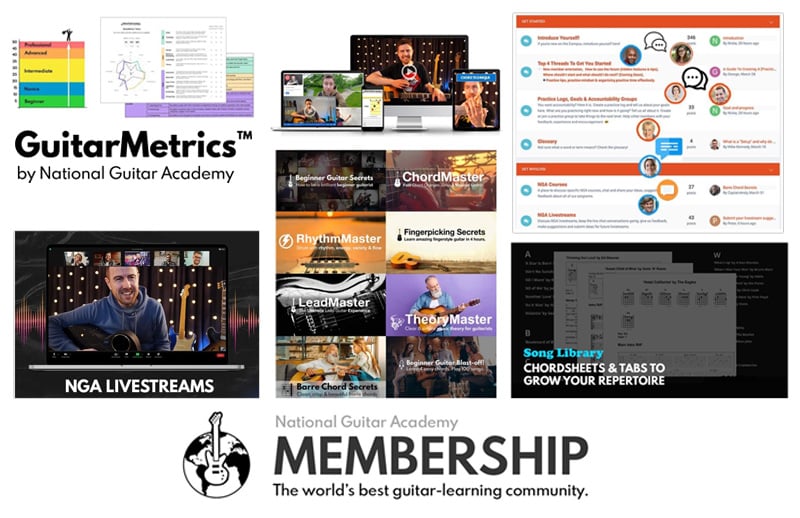 Sweet Home Alabama Chords & Guidance For Lynyrd Skynyrd's Classic Rock Anthem
We're going to be reviewing the chords for this legendary song by the southern rockers.
Teaching you how to play one of the most famous riffs to ever hit the airwaves.
To get you in the mood check out this YouTube video of them performing the song.
(Warning: there are some graphic images of truly epic hair in this video.)
Why is this song so iconic?
It's a relatively simple song but it has a lot happening melodically which makes it very catchy and satisfying.
Due to its simplicity, mastering these Sweet Home Alabama chords won't take you too long.
It's the details of the song that take longer to master, so be patient and learn this classic song from the ground-up with us.
Start with the bare-bones progression of these Sweet Home Alabama chords and then you can learn the accompanying riffs and build up from there, should you wish.
But chords are the best starting place, for sure.
Part of the pleasure of learning a classic song is learning about the band themselves, so let's learn a bit about Lynyrd Skynyrd before we dive into the chords.
A Brief History Of Lynyrd Skynyrd
Formed in 1964, Lynyrd Skynyrd was formed by members Ronnie Van Zant, Gary Rossington, Allen Collins, Larry Junstrom and Bob Burns.
Although the band would see a few rotations of members throughout the years, their music definitely withstood the test of time. 
With memorable songs like Sweet Home Alabama as well as 'Free Bird,' 'Simple Man,' and 'Gimme Back My Bullets,' Lynyrd Skynyrd have proven themselves to be one of the greatest Southern Rock bands of all time.
To this day, if you walk in to any bar in any city with live music and yell "Play Free Bird!" at the band, you'll most likely be immediately tossed out because we've all heard that one a thousand times already (unless they're a cover band).
Lynyrd Skynyrd crafted their sound on open-position chords and solos rooted in the pentatonic scale, giving them a distinct Rock & Roll sound that blended seamlessly with the sound of Country and Blues music. 
This gave them an edge that wasn't seen or heard of so much in the Rock scene at that point. 
The Plane Crash
They were riding high with some major hits under the belt when, sadly, tragedy cut them down in their prime following a plane crash.
Lead vocalist/founding member Ronnie Van Zant, guitarist and vocalist Steve Gaines, backing vocalist Cassie Gaines (Steve's older sister), assistant road manager Dean Kilpatrick, pilot Walter McCreary, and co-pilot William Gray all died as a result of the crash.
They left behind some amazing music, which has brought joy to generations of music lovers.
Get our best guitar tips & videos
Continue reading on page 2:
Page 1
Page 2