There are hundreds of free guitar guides and tutorials on our site. On the page below you'll find links to our most popular stuff.
You may want to bookmark this page for future reference. It's handy!
If you're a total beginner who wants a simple program to follow, check this out: How To Learn Guitar: An 11-Step Program For Beginners.
To see everything that's here on our free website (hundreds of free lessons), check out the guitar lessons index.
You'll find links to our most popular stuff below. Enjoy! 😊
Over 250,000 guitar-learners get our world-class guitar tips & tutorials sent straight to their inbox: Click here to join them
Chord guides & tutorials
Chords are the foundation of guitar playing. Here's our most popular chord guides:
Beginner-level: Read our guide 14 Easy Chords For Beginners to master the basics quickly.
Beginner-level: Check out the easy chords section of the site to learn easy ways to play every chord.
Intermediate-level: Read our guide How To Play Barre Chords.
Advanced-level: Read our free guide: How To Understand The CAGED System.
Rhythm & Strumming guides & tutorials
Bring your chords to life by reading our free guide: How To Strum A Guitar Correctly
Lead Guitar guides & tutorials
If you want to turbocharge your fretboard skills look no further.
One of the most popular guides on the site is How To Play Lead Guitar.
Get up to speed with guitar scales quickly with our free guide: Learn Guitar Scales In 8 Easy Steps.
Theory guides & tutorials
Understanding (even just a little) music theory is the most empowering thing a guitarist can do.
If you're an intermediate guitarist and want to get started with theory check out our free guide: Music Theory For Guitarists
Want to upgrade as a guitarist today? Read our free guide: Guitar Keys: An Essential Guide
What Type of Guitarist Are You?
Take our 60-second quiz & get your results: Take The Quiz
Join the world's best online guitar school 🌎
Get your own personalised guitar learning plan (customised just for YOU).
World-class online guitar courses. Learn at your own pace.
Community Campus & Learning Forum -  A friendly community! Connect with our team & students. 😊
Beginner Song library with chordsheets, tabs and tips. (Songs suitable for all levels!)
Regular live streams, seminars and Q&A sessions - Learn from world-class guitar educators. Get all your questions answered!
Click here to learn more about National Guitar Academy membership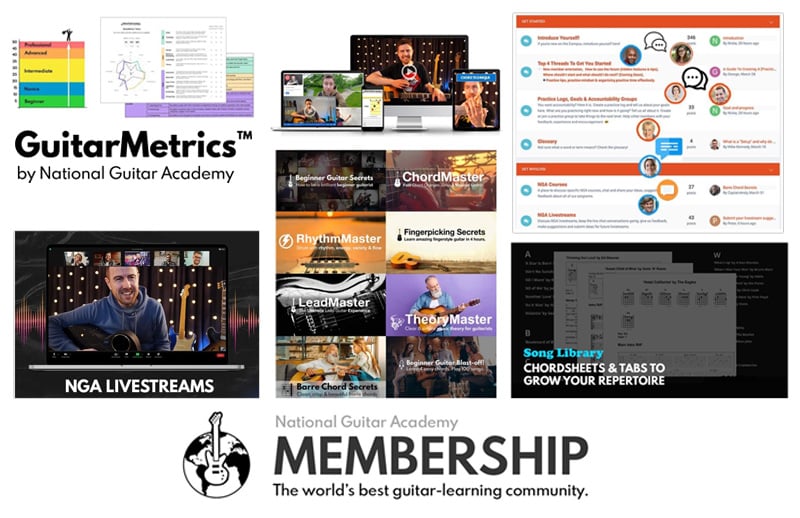 Cool Guitar T-shirts 😎
Look cooler! Check out our merch: Click here to see our merch store
Want free guitar tips and video lessons delivered to your inbox?
Join over 250,000 other guitar learners and subscribe to our guitar-tips-by-email service. (It's free.)
We'll send you a series of lessons that will move you to the next level of your guitar journey.
Learn how everything fits together quickly, easily and effectively. We share ninja tips (for instant fun!) but also timeless fundamentals that will deepen your understanding.
Get our best guitar tips & videos
Get our best guitar tips & videos