Guitar lessons from the National Guitar Academy, organised by subject area. Enjoy!
We divide the Guitar World into 4 areas.
You'll find a long index of guitar lessons across these 4 areas below.
Chord-based Guitar Lessons
A chord guitar lessons
B chord guitar lessons
C chord guitar lessons
D chord guitar lessons
E chord guitar lessons
F chord guitar lessons
G chord guitar lessons
Barre chord guitar lessons
Capo guitar lessons
Beginner-level guitar lessons
Intermediate-level guitar lessons
Guitar lessons for kids
Miscellaneous guitar lessons
Rhythm and Strumming Guitar Lessons
Lead Guitar Lessons
Essential lead guitar lessons
Scales & lead technique guitar lessons
Theory Guitar Lessons
Song Specific Lessons
Miscellaneous Guitar Lessons
What Type of Guitarist Are You?
Take our 60-second quiz & get your results: Take The Quiz
Our guitar courses
How do you want to improve as a guitarist? Click here to check out our guitar courses
Cool Guitar T-shirts
Look cooler! Check out our merch: Click here to see our merch store
Want free guitar tips and video lessons delivered to your inbox?
Join over 250,000 other guitar learners and subscribe to our guitar-tips-by-email service. (It's free.)
We'll send you a series of lessons that will move you to the next level of your guitar journey.
Learn how everything fits together quickly, easily and effectively. We share ninja tips (for instant fun!) but also timeless fundamentals that will deepen your understanding.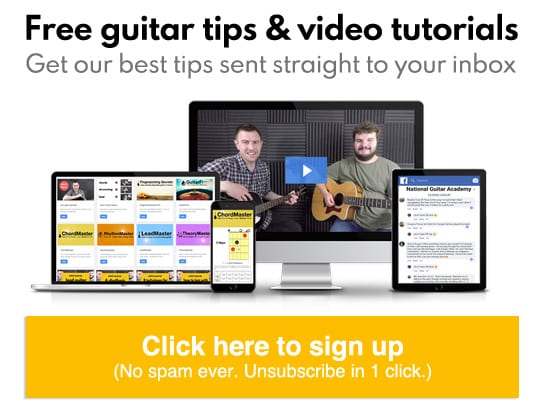 Get our best guitar tips & videos