We've got a top 10 rundown of the best resources for guitar chords and lyrics – let's dive in!
Over 250,000 guitar-learners get our world-class guitar tips & tutorials sent straight to their inbox: Click here to join them
If you want to be a better guitarist click here for our guitar courses
In this free lesson you will learn…
Different types of online resources you can use for learning
The benefits of each
What 'Artist-Specific' websites are & why they're useful
How to find more resources for learning online
How To Find Guitar Chords And Lyrics On The Web And Elsewhere
Maps, maps, maps. As guitar teachers, we spend a good portion of our non-classroom time making maps of songs that include guitar chords and lyrics.
It's a skill completely separate from the act of learning how to play the guitar and yet so intertwined and necessary, because having a song map of guitar chords and lyrics is what enables us to play the music we love!
Finding good, complete, and reliable information can be a challenge, because of the nature of information on the Internet and our inability as a beginning or student-level guitar player to be able to quickly sort through that information.
Instead, we've done it here for you!
There are a couple kinds of resources available online to find guitar chords and lyrics to the songs you want to learn.
There are general guitar chord sites, individual people's sites, and artist-specific sites.
There are also tons of old-school books that give you chord charts by artist, decade, genre, and/or level of guitar experience.
Here's your guide to all of these. We've reviewed the major ones and some minor ones to find you your best resources for learning!
Websites
What's the first thing you do when you want to learn about something? You Google it.
Type in the song title, and the artist's name if the song title is something super common (or if there is a specific artist's arrangement you're interested in), and the word "chords".
Almost invariably, one of the following websites shows up first in your search results.
It's helpful to have more than one general source to go to for chords and lyrics, but this first one is the go-to source.
Guitar Chords And Lyrics I – Ultimate-Guitar.com
Ultimate-guitar.com has, over the last five to ten years, grown into the most extensive and reliable general source for guitar chords and lyrics on the web.
It went through a desperate phase, during which every time you visited the site, it would ask you whether you wanted to sign up for the fee-based service, and if you said no, you had to click, "No, thanks; I'll do it the hard way," or something like that.
Well, they have outgrown that desperate phase and now you can enjoy uninterrupted access to scores of guitar chords and lyrics to songs.
They still ask whether you'd like to pay for tablature vetted by their experts, but it has not proven to be necessary.
The access you get for free is excellent.
There are frequently a few different versions of songs, so check them all to see which one seems the most thorough.
The versions are rated, and the ratings are credible, making the learning process easier on the whole.
They have added suggestions for strumming patterns, and there is some system whereby you can add a suggested strumming pattern.
If you have no idea how to strum the song, follow their suggestions!
A better way is to listen to the recording of the song and try to emulate something rhythmic from that arrangement, but the Ultimate-guitar.com suggestions are a good stepping stone along the way to being able to do that.

We rank ultimate-guitar.com number one in reliable free general guitar chords and lyrics. The song list is extensive, the chord charts are rated, and the access is easy.
Learn the 12 EASIEST beginner chords with our famous FREE guide
✓  Stop struggling. Start making music.
✓  Learn 12 beginner-friendly versions of every chord.
✓  This is our most popular guide and it will improve your chord ability quickly.
Our Guitar Courses
Become a better guitarist: Click here to check out our guitar courses
Guitar Chords And Lyrics II – AZchords.com
Our second-favorite website for general guitar chords and lyrics is AZchords.com.
Like Ultimate-guitar.com, AZchords.com has guitar chords, lyrics as well as bass tabs and uke chords. The library is not quite as extensive as Ultimate-Guitar.com, but it is continuously growing.
Like Ultimate-guitar.com, AZchords.com has a feature for you to hover over the chord and see a chord diagram pop-up.
They do not necessarily depict the particular chord voicing (where the chord sits on the guitar) that is used in the recording, however.
If you are a beginner, you won't have to worry about that.
This site does not have constant prompts for you to sign up for something, which is nice, but the guitar chords and lyrics are sourced from everywhere, so you are just as likely to come across a meticulously mapped out chord chart as you are to see "D, C, idk, repeat."
Guitar Chords And Lyrics III – E-Chords & Chordify
These two websites are a bit different than Ultimate-Guitar.com and AZchords.com in that they seem to require you to sign up in order to view a lot of their content.
For that reason, they don't get quite as high a recommendation as the other two.
E-chords has a nifty guitar tuner built right into the website, so once you're there, you can take care of preparing to play the guitar.
It also has guitar chords and lyrics for artists all over the world, a breadth of material neither Ultimate-guitar.com nor AZchords.com has.
The downside is that to access any of the features, like the ability to transpose (change the key of) a song, you have to sign up, which is always a slippery slope.
Chordify's niche is taking your recording and turning it into chords. Until you sign up for the service, though, what it offers is barely decipherable.
If you're interested, there is a trial version so you can see what they offer first hand.
Online Guitar Teachers
If you choose to dig a little deeper into your search results for guitar chords and lyrics, you'll likely run across some websites built by individuals. These sites tend to have the specific focus of "these are the songs that I love."
There is a remarkable upswing in the quality of guitar chords and lyrics on these websites.
Guitar Chords And Lyrics IV – Marcdashevsky.com
My hero, Marc Dashevsky, collected and housed the guitar chords and lyrics library of Andrew Rogers, who is a guy you should know about if you enjoy music from the 1950s through 1970s.
Unfortunately, Rogers is no longer around to thank for painstakingly mapping out the songs that he loved so we could love them too.
Please immediately go to and bookmark this site and learn everything you can from it.
Guitar Chords And Lyrics V – Gunther Anderson
A tiny amount of poking around Gunther Anderson's website will tell you that he is a man of many interests and talents.
A former guitar student turned me on to this website; he said it had everything he wanted to learn.
Anderson's compilation of songs contains lyrics and chords, but the chords are not set above the lyrics, which has become a standard practice in map-making.
Never mind all that. He also posted the songs he loved so that you could find them for free and learn them and be happy.
Check out Anderson's website here.
Guitar Chords And Lyrics VI – Heartwoodguitar.com
Now, here's a website by a guitar teacher! There are others around, and many of them are very good, but this one has been around and growing for almost 20 years, thanks to Seattle guitar instructor Rob Hampton.
Hampton's guitar chords and lyrics are accurate and easy to follow.
His charts separate a song into parts, so you can tell the verse from the chorus, and he indicates how many measures each chord has. With some songs, he even suggests strumming patterns.
Heartwoodguitar.com has a lot of other features, and it's nice to poke through his website and see what else a guitar teacher thinks it's important for you to learn.
If you cannot find a guitar teacher in your area, the next best thing might be a website run by a teacher like this one.
Pro-Tip: When checking out guitar chords and lyrics, it's a good idea to have a reference recording of the song you're learning with you, as well as your guitar.
You can check the chords you're given against the recording to see whether it sounds accurate and save yourself a lot of time trying to learn from an inaccurate chord chart!
Artist-Specific Websites
There's an entirely different category of websites available for guitar chords and lyrics that you should try to track down for your favorite songs.
They are devoted to the catalogues of specific artists, and the chord charts are written by devoted fans.
Most of these sites are fan websites that have grown over the years to include information about the artist, including tour dates, biographies, and community discussion forums. Here are some good ones.
Guitar Chords And Lyrics VII – Hyperrust.org
Hyperrust, whose name is inspired by Neil Young and Crazy Horse's 1979 mostly live album Rust Never Sleeps, is the site for you if you are looking for guitar chords and lyrics by Neil Young.
Hyperrust.org's chord charts are generally very reliable, and the song list is fairly comprehensive, given that Young has continued to put out album after album for over 50 years.
For songs that need it, there is tablature as well.
Guitar Chords And Lyrics VIII – Thewho.net
Pete Townshend comes up with some of the most satisfying little guitar nuggets known to mankind – from the opening chord of "The Kids Are Alright" to the intro to "Substitute" and the entire arrangement of "I'm A Sensation."
Even if you aren't a huge fan of The Who, do yourself a favor and check out this great site devoted to helping you play their songs.
The chord chart portion of the site has been pretty meticulously developed in order to help you play what you are hearing on the recording.
There are songs that beginners can play, like "Squeeze Box" and "Christmas," and songs for more experienced players to dig into, complete with tab, like "Pinball Wizard" and "Sparks."
Guitar Chords And Lyrics IX – Surfermoon.com
For the best available guitar chords and lyrics to all Beach Boys songs, you'll want to visit Surfermoon.com. This website is dedicated to all things Brian Wilson, one of the greatest composers of the 20th century.
If (like most of us too young to remember when they were as big as the Beatles), you think that the Beach Boys is all "Surfin' U.S.A." and "California Girls," try "Feel Flows" on for size, or "Surf's Up," or "Friends."
Surfermoon.com has all the information you need to explore the Beach Boys' catalogue.
Download our lead guitar cheat-sheet to make things easier
It can be disorientating for guitarists to understand which scales work with which keys.
With this in mind, we created a cheat-sheet; a key and scale-finder that you can use again and again.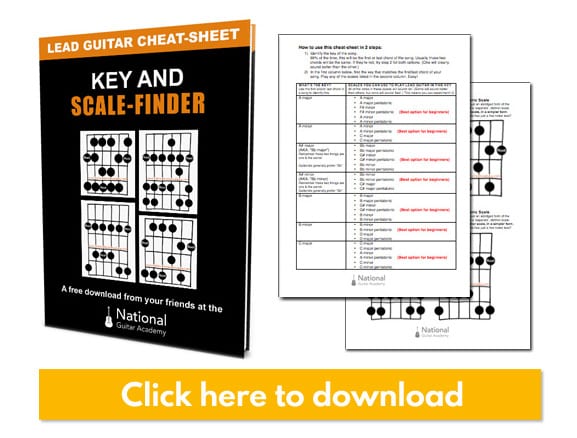 Our Guitar Courses
Become a better guitarist: Click here for our guitar courses
Guitar Chords And Lyrics X – Strangedesign.org
For you jammers out there, here is a lovely and reliable website devoted to information about Phish.
These Phish fans, they are very into getting it right.
There are a couple of different versions of some of the songs, which is a common aspect of guitar chords and lyrics for artists like Phish and the Grateful Dead (rukind.com) as well as Umphrey's McGee (umtabs.com).
If you like the guitar style of Trey Anastasio and the people who obviously influenced his playing, you will like digging into the guitar solo tablature.
There are loads of other artist-specific websites providing guitar chords and lyrics.
Search for your favorite artist, and if the band is famous enough, or the fans devoted enough, there may be a website made for you to learn their songs!
Other Sources For Guitar Chords And Lyrics
Apart from the resources above, ranging from comprehensive to specific, there are plenty of offline resources for guitar chords and lyrics in the form of books.
There are "authentic guitar tab" books for many artists that do a pretty good job of giving you what's on the recording.
There are piano/guitar/vocal books that give you standard notation and a piano arrangement but also the guitar chords.
Through a guitar teacher, you can learn to make your own maps, learn how to hear the chords being played, and become knowledgeable about enough music theory to be able to learn songs from recordings. Play on!
Recommended Resources
If you enjoyed this free guide to resources for guitar chords and lyrics, you'll love the other free content we have for you below!
What Type of Guitarist Are You?
Take our 60-second quiz & get your results: Take The Quiz
Our guitar courses
How do you want to improve as a guitarist? Click here to check out our guitar courses
Cool Guitar T-shirts
Look cooler! Check out our merch: Click here to see our merch store
Want free guitar tips and video lessons delivered to your inbox?
Join over 250,000 other guitar learners and subscribe to our guitar-tips-by-email service. (It's free.)
We'll send you a series of lessons that will move you to the next level of your guitar journey.
Learn how everything fits together quickly, easily and effectively. We share ninja tips (for instant fun!) but also timeless fundamentals that will deepen your understanding.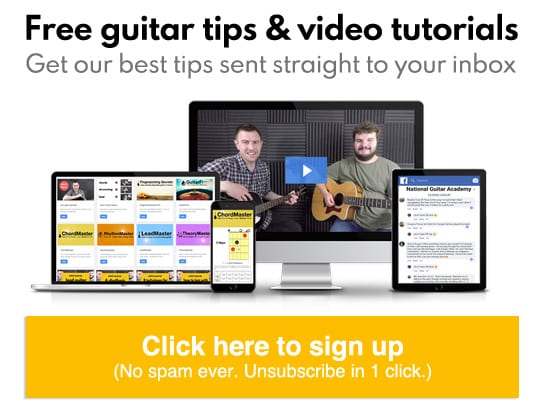 Popular Lessons
How To Learn Guitar: An 11-Step Programme For Beginners
How To Choose The Perfect Beginner Guitar
Guitar Notes Explained: A Guide For Beginners
Our guitar courses
Become a better guitarist: Click here to check out our guitar courses
More Cool Guitar Stuff
Learn about the National Guitar Academy: About Us
Visit our YouTube channel for fun guitar videos.
Join us on Facebook for daily guitar tips.
Listen to our Learn Guitar Podcast for rapid guitar progress.
Check out our free chord lessons.
Get our best guitar tips & videos
Get our best guitar tips & videos