Learning 2 chord songs is one of the best ways to improve your guitar playing. In this lesson we'll show you 8 of our favourite 2 chord songs.
Over 250,000 guitar-learners get our world-class guitar tips & tutorials sent straight to their inbox: Click here to join them
In this free lesson you will learn:
8 Easy 2 chord songs. (We'll help you learn each one!)
3 essential strumming tips for beginners.
The no1 secret that will help you learn chords at lightning speed.
Want to learn the best 2 chord songs?
It's no mystery that practising and playing 2 chord songs helps you get better at guitar.
Learning this improves your timing, chord changes and musicality.
Every one of the 2 chord songs in this list is beginner-friendly and can be arranged to make it as simple or as complicated as you like, let's dive in!
2 Chord Songs – 'You Never Can Tell (C'est la Vie)' by Chuck Berry
"You Never Can Tell" is an early rock and roll song that was featured in the movie "Pulp Fiction." It is also known as "C'est la Vie."
Top tip!
This is one of the easiest 2 chord songs to play and memorize. When you play, note that the chord changes happen at the end of every other lyric line. Keep this in mind and you'll soon develop a good feel for when they are about to happen.
The chords in this version of "You Never Can Tell" are G major and D7. However, if you're struggling with these chords you can use a one-finger G chord and a D major instead of D7.
G major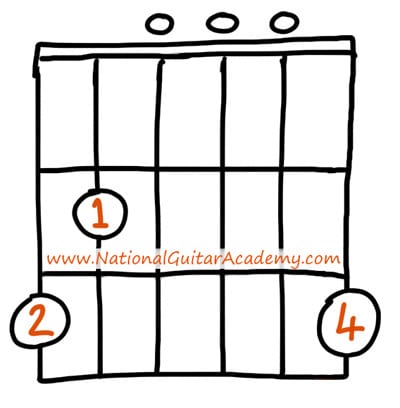 D7
D major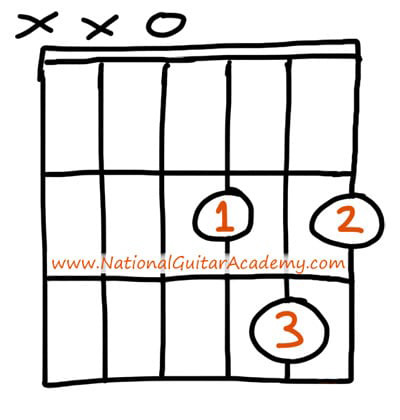 When strumming this song, be consistent with your strumming and strum with a straight down-up rhythm.
Emmylou Harris and Ricky Skaggs covered this song in 1977, and it has been played through the ages by everyone from Ian Anderson to Coldplay.
In this version by Bruce Springsteen, you can see Springsteen teach the song to himself and his band before playing it.
It is one of the most popular and enduring 2 chord songs in rock and roll.
Learn 12 EASY beginner chords with our popular guide
✅  Stop struggling. Start making music.
✅  Learn beginner-friendly versions of every chord.
This is our most popular guide and it will improve your chord ability quickly! 😎
Get your own personalised guitar-learning plan 🎸
Get a custom guitar-learning plan here: Click here for GuitarMetrics™
2 Chord Songs – 'Jambalaya' by Hank Williams
"Jambalaya" is one of many 2 chord songs and other simpler tunes written by Hank Williams, proof that Hank Williams loves beginning guitarists and wants you to be happy.
Just like "You Never Can Tell," this song has two chords that fold into each other.
These chords are C and G7.
If you find the G7 too difficult you can always use a regular G chord. This will work perfectly.
C major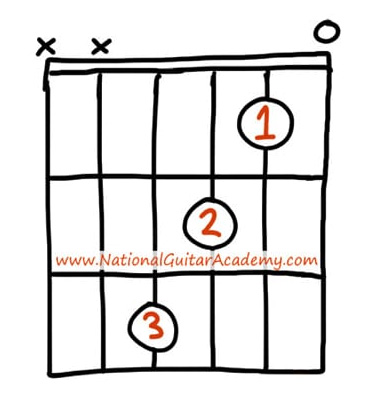 G7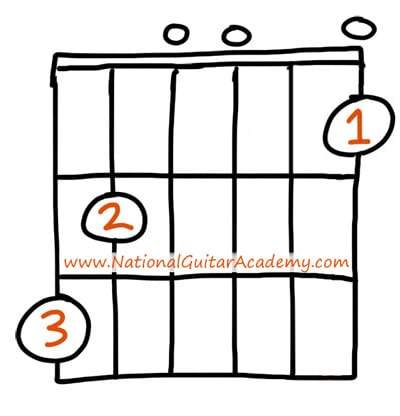 G major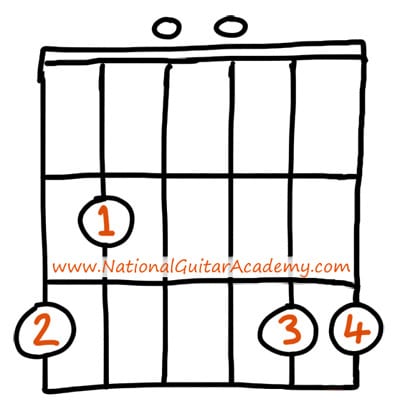 Many different kinds of strumming rhythms work on "Jambalaya," from a simple down strum to a calypso strum, swinging rhythm or straight down-up strumming.
This song has been covered by all sorts of artists, including Jo Stafford, Professor Longhair, the Carpenters, and the Residents, so it's one of the most timelessly popular 2 chord songs ever written.
Here is the original:
Pro-tip: Changing from C major to G7 is easier than it looks. From C major, move your first finger south (toward the floor) one string, and move your other two fingers north (toward the sky) one string. G7 is just a C major chord shape split apart.
2 Chord Songs – 'Tulsa Time' by Danny Flowers
"Tulsa Time" was a 1978 hit by US country artist Don Williams, and it was also popularized by Eric Clapton on his 1978 Backless album and his 1980 live album, "Just One Night".
The chords in this song are A major and E7. Just like "You Never Can Tell," the chord changes happen at the end of the lyrical line, so the pattern is relatively easy to pick up and remember.
A major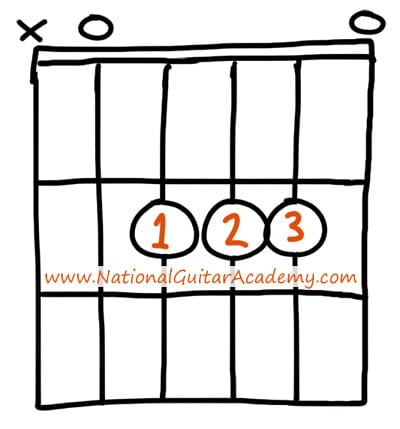 E7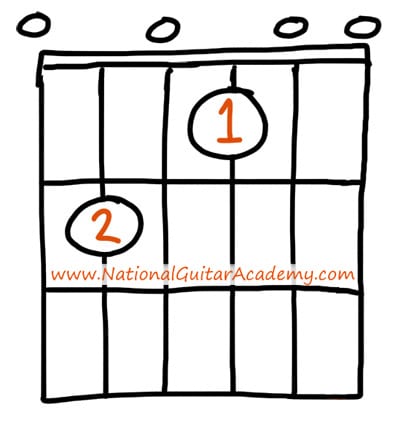 Try "Tulsa Time" with a constant down-up strum.
If it sounds familiar, that may be because it is very similar in chord structure and melody to "Achy Breaky Heart," made famous by Miley Cyrus's father Billy Ray.
Here is Eric Clapton's version of Tulsa Time:
2 Chord Songs – 'Iko Iko and 'Man Smart, Woman Smarter'
Here is a pair of 2 chord songs that share a similar beat as well as the same harmonic structure.
Quick Theory Tip!
'Harmonic structure' is the term used for what chords are involved in a song.
"Iko Iko", sometimes spelled "Aiko Aiko," an "Man Smart, Woman Smarter" both have the same chord progression as "Tulsa Time" and "Achy Breaky Heart."
However, for this song we're playing in the key of D. This means that the chords are D and A7:
D major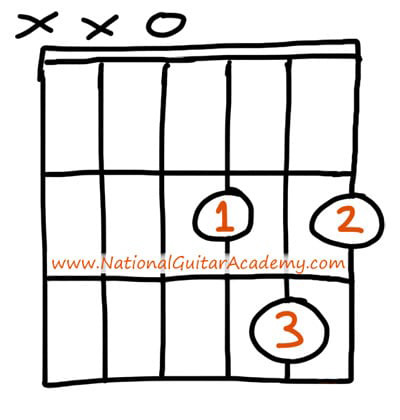 A major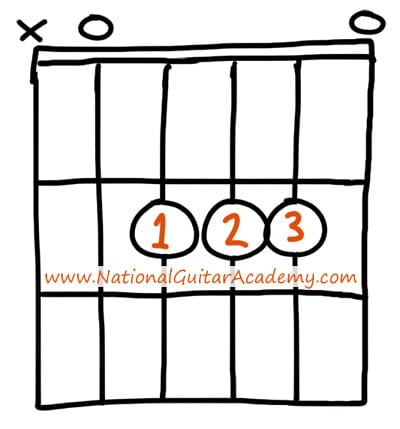 A7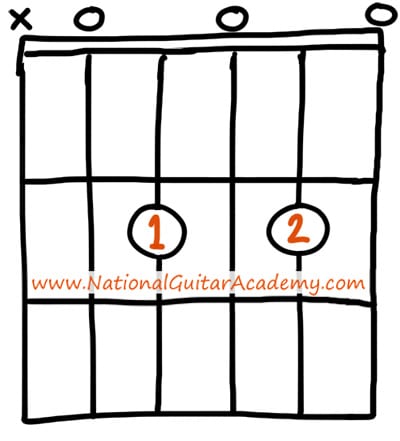 Both songs are frequently played with a Diddley beat, named after Bo Diddley.
The Diddley beat is syncopated, meaning that the accented strums sometimes happen in between the beats.
Advanced beginning and intermediate guitarists can check out this short YouTube tutorial breaking down the Diddley beat:
"Iko Iko" and "Man Smart, Woman Smarter" also share a murky history, with the songwriting credits for each song in dispute.
"Iko Iko" was first popularized by the Dixie Cups in 1965, and although the song was initially written as "Jockamo" by James Crawford in 1953, the Dixie Cups are also listed as songwriters.
Here is Dr. John and an all-star crew performing "Iko Iko" – introduced by a rather famous emcee:
"Man Smart, Woman Smarter" was first recorded and probably written by Norman Span in 1936.
Harry Belafonte and the Grateful Dead both had the song as part of their regular performance sets.
You can really hear the Diddley beat by Robert Palmer's band in this version:
2 Chord Songs – 'Horse with No Name' by America
The amazing thing about "Horse with No Name" is that it doesn't SOUND like the other 2 chord songs.
In fact, with the variation in melody between the verse and chorus, it doesn't sound like a 2 chord song at all.
The song is in E minor, and for every bar the chord changes to a D 6/9 over F#.
This may sound like a complicated but don't worry. The name is harder than the actual chord.
E minor
D 6/9 over F# (200200)
Fun Fact!
The 'D6/9 over F# chord isn't used in music very often. So if you wanted to, you could refer to this as the 'Horse' chord.
"Horse with No Name" also stands apart from the other 2 chord songs with its swinging strum pattern. Try to copy the strum from the live video below.
Pro-tip: Watch your favorite rhythm guitarists playing to learn how they approach strumming. Being able to recreate their rhythms will help you to develop your own toolbox of strumming patterns. Guitarists keep the steady down-up motion going even when they are not hitting the strings, and this is a very important skill to develop!
2 Chord Songs – 'Shady Grove' – Traditional Folk Song
One of the best ways to find 2 chord songs is to listen to traditional folk music.
Traditional folk music is often learnt by ear, because of this the songs only ever have two to three chords as well as easy-to-remember repeated lyrics.
For "Shady Grove," use an E minor chord and a D major chord.
The progression is repeated over eight bars like this:
Em   |   D   |   Em   |   Em   |
Em   |   D   |   D   |   Em
E minor
D major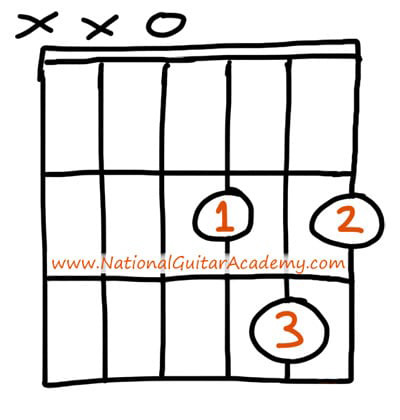 "Shady Grove" has been recorded by Bill Monroe, Taj Mahal, the Kingston Trio, Quicksilver Messenger Service, and Camper Van Beethoven.
Here is a version by Jerry Garcia and David Grisman:
2 Chord Songs – 'Eleanor Rigby' by The Beatles
That's right, even the Beatles wrote some 2 chord songs.
You can use just 2 chords to play "Tomorrow Never Knows," "Paperback Writer," "Don't Let Me Down," and "Eleanor Rigby".
"Eleanor Rigby" uses the E minor and C major chords.
Em
Cmajor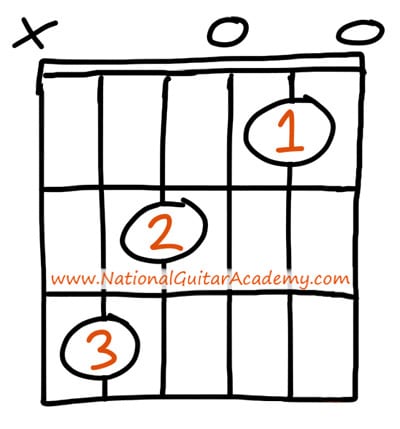 If you are feeling confident with the E minor and C major, you can add these two variants of the E minor chord when you get to "all the lonely people."
Em7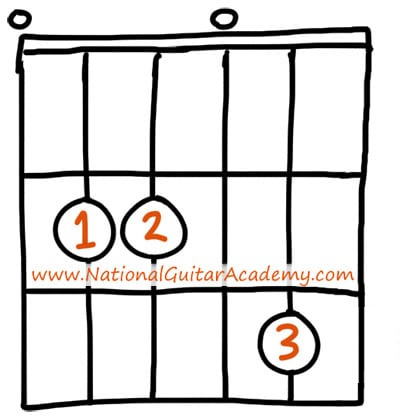 Em6
You can play this song effectively with a straight down strum, four to a measure.
With a little practice, you'll be playing along with the Beatles!
2 Chord Songs – 'I'll Take You There' by Al Bell
This tune, recorded by the Staples Singers in 1972, is one of countless 2 chord songs in the soul genre.
To play "I'll Take You There," you need one measure of the C major chord and one measure of the F major chord.
If F major is not yet a comfortable chord for you, you can easily substitute the Fmaj7 chord, and the song will sound just as good!
C major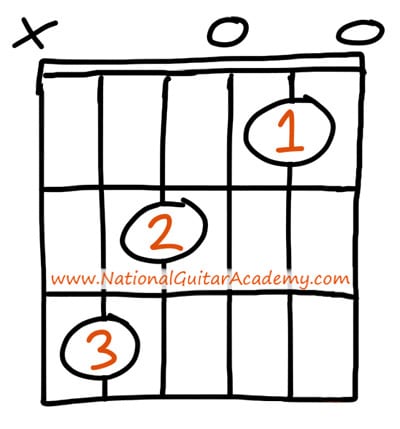 F major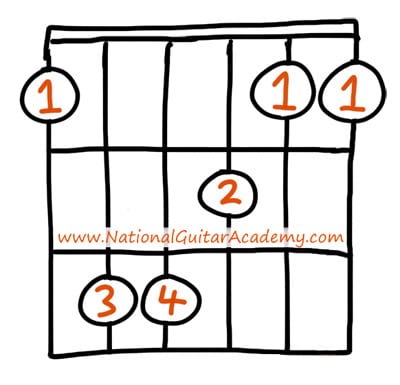 Fmaj7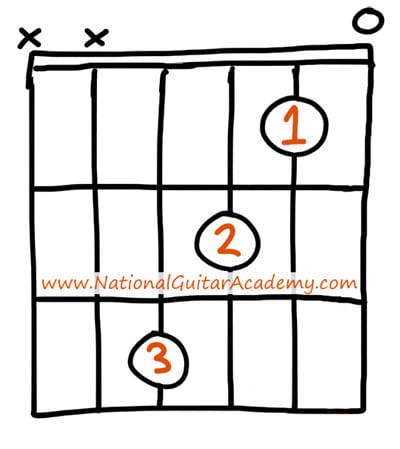 Play "I'll Take You There" along with the Staples Singers in this video:
Moving Past 2 Chord Songs
The 2 chord songs in this article are great for developing your chord changes, rhythm skills and repertoire.
However, if you want to learn some harder songs, check out these lessons:
10 Easy Songs On Guitar
5 Guitar Songs For Beginners
Guitar Tabs For Beginners: 20 Easy Songs That Sound Great
Recommended Resources
How To Strum A Guitar
Capo Chart (Learn EVERY chord instantly!)
Beginner Guitar Chords: 14 Essential Chords
Strumming Patterns: 5 Essential Patterns
What Type of Guitarist Are You?
Take our 60-second quiz & get your results: Take The Quiz
Join the world's best online guitar school 🌎
Get your own personalised guitar learning plan (customised just for YOU).
World-class online guitar courses. Learn at your own pace.
Community Campus & Learning Forum -  A friendly community! Connect with our team & students. 😊
Beginner Song library with chordsheets, tabs and tips. (Songs suitable for all levels!)
Regular live streams, seminars and Q&A sessions - Learn from world-class guitar educators. Get all your questions answered!
Click here to learn more about National Guitar Academy membership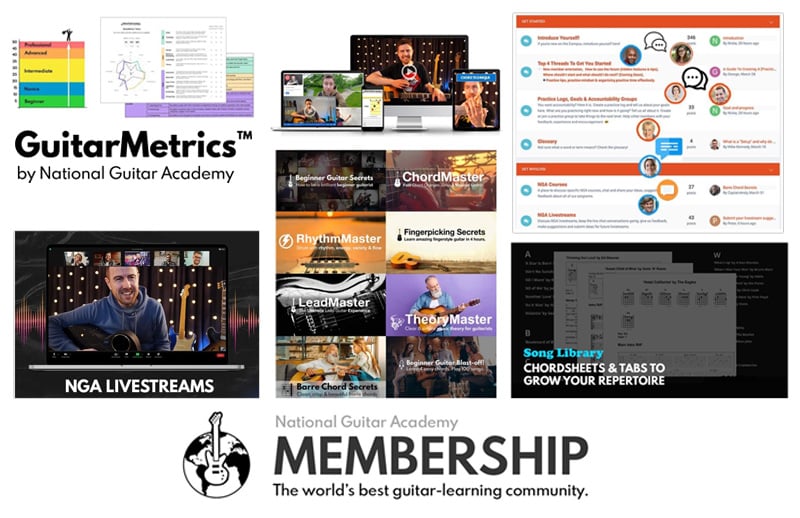 Cool Guitar T-shirts 😎
Look cooler! Check out our merch: Click here to see our merch store
Want free guitar tips and video lessons delivered to your inbox?
Join over 250,000 other guitar learners and subscribe to our guitar-tips-by-email service. (It's free.)
We'll send you a series of lessons that will move you to the next level of your guitar journey.
Learn how everything fits together quickly, easily and effectively. We share ninja tips (for instant fun!) but also timeless fundamentals that will deepen your understanding.
Get our best guitar tips & videos
Get our best guitar tips & videos