Tis the season for family gatherings and singalongs! Let's have a look at some Jingle Bells chords!
Over 250,000 guitar-learners get our world-class guitar tips & tutorials sent straight to their inbox: Click here to join them
Join the world's best online guitar school 🌎
Get your own personalised guitar learning plan (customised just for YOU).
World-class online guitar courses. Learn at your own pace.
Community Campus & Learning Forum -  A friendly community of guitarists! Connect with our team & students. 😊
Beginner Song library with chordsheets, tabs and tips. (Songs suitable for all levels!)
Regular live streams, seminars and Q&A sessions - Learn from world-class guitar educators. Get all your questions answered!
Click here to learn more about National Guitar Academy membership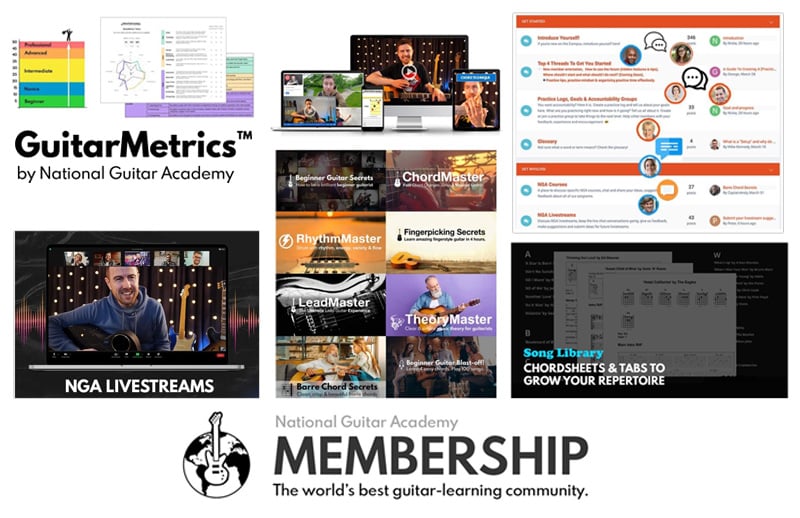 In this free lesson you will learn…
How to play Jingle Bells
Why Christmas songs are so easy to play & memorize
Tips for creating your own arrangements
What a 'Medley' is & how to make one
Winter Is Coming! Time For Some Jingle Bells Chords!
Nobody is really ever ready for Christmas, but for musicians this is the time of year to dust off your holiday repertoire and get it arranged and prepared for the holiday party season.
You are ready to begin preparing your own holiday repertoire to jazz up whatever holiday parties or functions you and your guitar wind up attending.
Of all the music you can play, Christmas songs and other holiday tunes are the best for sharing.
There are an awful lot of people who could use a little warmth and cheer during the holidays, and this music gives you the ability to provide that!
Today's awesome holiday tune is "Jingle Bells." We'll go over the "Jingle Bells" chords so that you can play and sing.
We'll check out some different ways to arrange the song to make it fun and interesting for you and your audience or fellow carolers.
We will also figure out some ways to play the melody to "Jingle Bells" on the guitar in case you are called upon to take a solo!
Picking A Key For Playing Jingle Bells Chords
What makes "Jingle Bells" such a great holiday song is that EVERYONE knows it. Everyone has recorded it for a holiday album at some point. 
Here is a favorite version of ours by Gwen Stefani.
Check out how Stefani went the extra mile and learned the verses nobody knows!
"Jingle Bells" was written by James Lord Pierpont in the 1850s. He was a pastor in a Unitarian church in Savannah, Georgia at around that time, but the church closed due to its abolitionist philosophy.
The song is associated with winter and Thanksgiving as much as the holiday season, and it was popular as a drinking song, the role of the jingle bells being played by the ice clinking in the singers' drink glasses.
To begin learning "Jingle Bells" chords, we're just going to pick the key of G major because the chords are pretty easy to play and it's a decent key for most people to sing in.
Here are the "Jingle Bells" chords you'll need to play it in the key of G.
G (320003)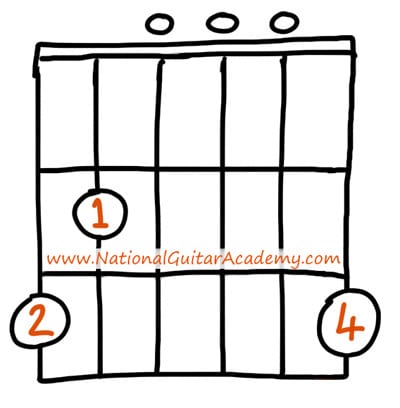 C (x32010)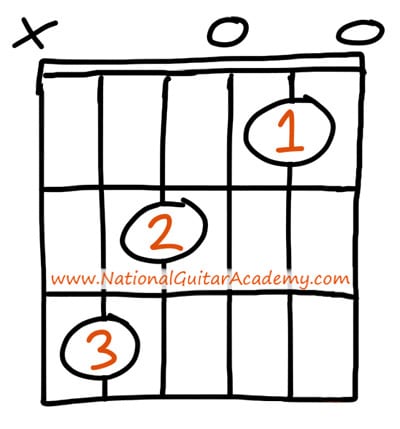 A7 (x02020)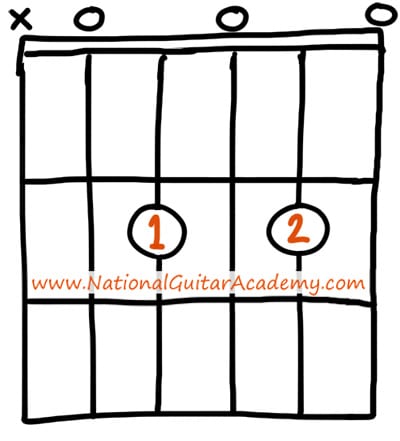 D (xx0232)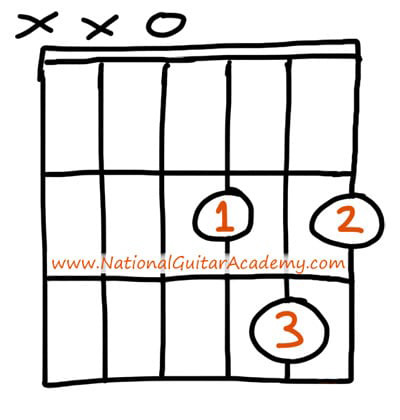 If you are an absolute beginner to the guitar and some of these chords, particularly the G major and C major, are giving you a little trouble, never fear!
We have some easier versions of those chords for you.
Just check out these lessons.
4 Easy Ways to Play the G Chord
Easy Ways to Play the C Guitar Chord
Learn the 12 EASIEST beginner chords with our famous FREE guide
✓  Stop struggling. Start making music.
✓  Learn 12 beginner-friendly versions of every chord.
✓  This is our most popular guide and it will improve your chord ability quickly. 
Get your own personalised guitar-learning plan 🎸
Get a custom guitar-learning plan here: Click here for GuitarMetrics™
Jingle Bells Chords In The Chorus & Verse
Let's figure out the chorus to "Jingle Bells" first. 
It may be that this is the only part of the song you need, although the verse isn't any more difficult to play or sing.
Sometimes, particularly with the littles around, all you want is the main part of the song.
Jingle Bells Chords: The Chorus
The "Jingle Bells" chords for the chorus goes like this:
If you're a true beginner on the guitar, these are great chords to practice together because they appear together in songs all the time.
You can get through these "Jingle Bells" chords by strumming each chord once while you sing the melody!
Each chord symbol in the chord charts stands for a certain amount of time playing that chord.
That amount of time is called a measure, and a measure correlates to a certain number of beats.
In "Jingle Bells," that number is four, so each chord symbol stands for four beats.
That's why there are four Gs above the first line of lyrics, and each G is placed over the lyric you're singing when the new measure starts.
For more support beginning to figure out how to play guitar in time with a steady beat, check out these lessons.
"Jingle Bells" Chords: The Verse
The verse of "Jingle Bells" is the part that begins, "Dashing through the snow". 
The same chords are involved in the verse and the chorus, but they are in slightly different order.
Here are the "Jingle Bells" chords for the verse, along with the lyrics to the first verse, the one that almost everyone knows.
We'll put all of that together, along with the extra verses, so you can make "Jingle Bells" your very own arrangement.
Jingle Bells Chords: The Entire Song
Whether you'd like it short and sweet or an extended dance party version, these "Jingle Bells" chords and lyrics are everything you need to make your personal arrangement.
Here's a chord sheet, together with alternate verses.
To decide on a rhythm for your arrangement, decide how fast you'd like to play and sing "Jingle Bells."
There's a general range of tempo at which people like to perform this song, but there's some room for you to decide, and the comfortable singing tempo that you pick will help you determine what rhythm to use.
Some people play "Jingle Bells" with a swinging, bouncy rhythm, using the guitar to imitate the sound of the bells.
Some people play it with a straighter rhythm, using the guitar to drive the song faster, imitating the speed of the sleigh.
Thinking about which role you'd like the guitar to play – the bells, the sleigh, the horses, the snow, the laughing – can often suggest a rhythm.
Here are some examples.
Michael Bublé's drummer sounds like horses' hooves.
Frank Sinatra just goes ahead and uses sleigh bells. Classic!
Ella Fitzgerald's drummer is using a snowy-sounding ride cymbal, punctuated by the bell tones of the piano's upper register.
Herb Alpert's introduction is a windy chorus, contrasted by the racing sleigh sound of the rhythm section.
Pro-Tip: Can't decide on a rhythm? No sweat!
You can try some of the rhythms presented in this lesson to get you going and inspire you.
Strumming Patterns: 5 Essential Patterns
Jingle Bells Chords: Other Options
Fun "Jingle Bells" fact: Today we learned that the original "Jingle Bells" chords weren't the chords we know and love here in the 21st century! 
The original "Jingle Bells" melody was set to the same chord progression used in Pachelbel's "Canon in D."
This installment of "Today I Learned" has been brought to you by Wikipedia!
So far, we've been talking about Jingle Bells chords in the key of G, because they are fun and easy to play.
Perhaps however, the key of G is not your cup of tea because those chords are not fun for you, or because it is not fun for you to sing "Jingle Bells" in that key.
Here are a couple tips for getting the song into the key that you like:
Transposing Jingle Bells Chords With A Capo
Got a capo? It is the easiest way to get Jingle Bells chords from the key of G to the key you'd like it in.
If the key of G is too low for your liking, try putting the capo on the second or third fret, and keep moving up until you find the key you like to sing in.
If the key of G is too high for your liking, try putting the capo on the fifth or seventh fret.
You'll be singing lower than you're playing, which is a common trick of singer-songwriters like Lyle Lovett and Paul Simon.
By transposing with a capo, you have the benefit of putting the song in a different key without having to learn or play any different chords.
The Jingle Bells chords in the key of G work exactly the same way if you use a capo.
Remember, the capo works as the nut of the guitar, so when you play the G chord shape with the capo, your finger will be on the third fret up from the capo.
For more help with capos, check out this excellent introduction: How to Use a Capo in 3 Easy Steps
Transposing Jingle Bells Chords Without A Capo
There are plenty of ways to arrange these Jingle Bells chords in and out of the key of G. 
Converting the key of G chords we are using into numbers, G is the I chord, A7 is the II chord, C is the IV chord, and D is the V chord.
Turn another of the guitar-friendly letters of the musical alphabet into the number I, arrange the musical alphabet accordingly, and you have another key to play in!
For example, if you choose the key of D, then D is the I chord, E7 the II chord, G the IV chord, and A the V chord.
Substitute those chords in and you have Jingle Bells chords in the key of D!
This is not an exact method of transposition, but it works well enough with the guitar-friendly keys C, A, G, and D.
With E, the other guitar-friendly key, you have to use an F#7 instead of an F7 for reasons best explained by your ears, or this amazing guitar lesson: Music Theory for Beginners: The 10-Step System for Rapid Progress.
Learning The Melody
Now that you've got a great handle on these Jingle Bells chords as well as the arrangement, you can add the melody and take a solo!
Here's the tablature for the melody of the "Jingle Bells" chorus in the key of G major.
If you're interested in taking a solo through the verse, here is some tablature to get you started.
Pro-Tip: When playing for or with other people, it is helpful to extend your version of holiday songs by getting creative in the verses and choruses, making up verses for fun (please use your discretion for all "Batman smells"-related endeavors – read the room, people!).
If you're confident, taking a few solos is also a great way to extend your arrangement for as long as you like.
You can always make up your own arrangements and versions of this song as well!
Rearrange verses and choruses as needed and have fun with it! There's no need to stick to the original anymore than you feel you'd like to. Music is about creativity, after all.
Download our lead guitar cheat-sheet to make things easier
It can be disorientating for guitarists to understand which scales work with which keys.
With this in mind, we created a cheat-sheet; a key and scale-finder that you can use again and again.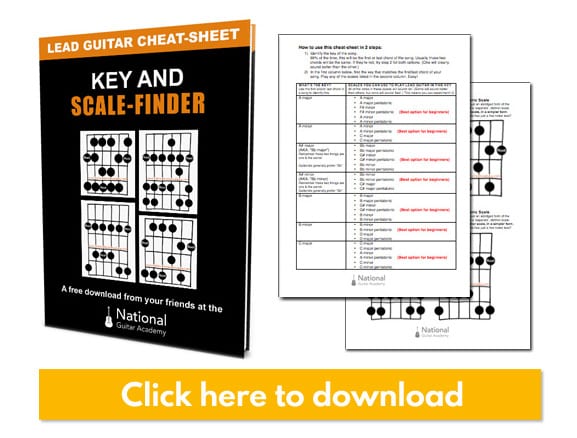 Working Your Jingle Bells Chords Into A Medley
One last "Jingle Bells" tip before we leave you to it: Always Remember the Medley Option!
We've learned the Jingle Bells chords in the key of G.
If you also learn the chords to some other holiday favorites in the key of G, you can easily cobble together a fantastic holiday medley for everyone to sing along.
An example of how that might go would be, "What fun it is to ride and sing a sleighing song tonight, oh! Frosty the Snowman…". You get the idea.
Starved for other song ideas for your medley or holiday set? The following is an incomplete list of songs you can add to your repertoire for the holidays!
Let It Snow! Let It Snow! Let It Snow!
All I Want for Christmas Is You
Rocking Around the Christmas Tree
Grandma Got Run Over By a Reindeer
Getting The Most Out Of Your Jingle Bells Chords
The best way to learn, memorize, and continually improve your skills at playing these Jingle Bells chords is to get out there and play them! 
There's no need to work at memorizing your holiday music – plenty of people bring holiday books to holiday jam sessions, caroling excursions, and party performances.
You'll find that with frequent repetition, your fingers will memorize the Jingle Bells chords before you know it. Get away from the paper as soon as possible!
Check with your local nursing homes, children's programs or day cares, senior centers and residences, and pubs or bars to see whether they'd like to have you over there entertaining people during the holidays.
Practice with a purpose! Many places love to have you volunteering to play for them during their group activity periods.
Recommended Resources
We've got loads of free lesson content for you right here at the National Guitar Academy.
Check out some more lessons below:
What Type of Guitarist Are You?
Take our 60-second quiz & get your results: Take The Quiz
Our guitar courses
Become a better guitarist: Click here for our guitar courses
Get your own personalised guitar-learning plan 🎸
Get a custom guitar-learning plan here: Click here for GuitarMetrics™
Cool Guitar T-shirts 😎
Look cooler! Check out our merch: Click here to see our merch store
Want free guitar tips and video lessons delivered to your inbox?
Join over 250,000 other guitar learners and subscribe to our guitar-tips-by-email service. (It's free.)
We'll send you a series of lessons that will move you to the next level of your guitar journey.
Learn how everything fits together quickly, easily and effectively. We share ninja tips (for instant fun!) but also timeless fundamentals that will deepen your understanding.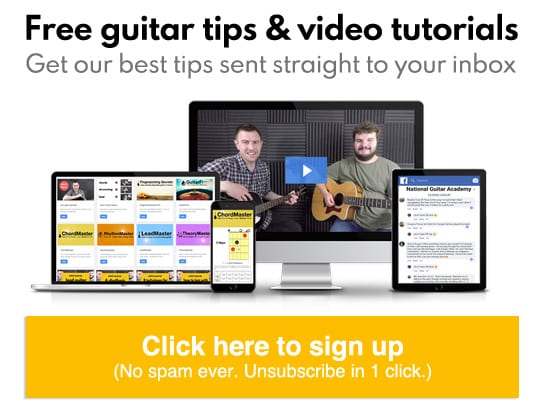 Get our best guitar tips & videos
Get our best guitar tips & videos