The Am guitar chord is one of the most most common guitar chords of all. I always tell my students that this one is non-negotiable, you must master it if you want to play the guitar! 🙂
In this free lesson you will learn:
How to play the Am guitar chord correctly
The best Am guitar chord for beginner guitarists to use
A simple 3-string version of the Am guitar chord
Bonus tricks you can use to make your Am chords sound better
Over 250,000 guitar-learners get our world-class guitar tips & tutorials sent straight to their inbox: Click here to join them
How to play the Am guitar chord correctly
Like all guitar chords, the A minor chord can be played in several different places on the fretboard. You'll be pleased to hear there's a few clear favourites for beginner guitarists – these chords are easy to play and sound great.
Firstly, the correct way to play Am is like this:
Am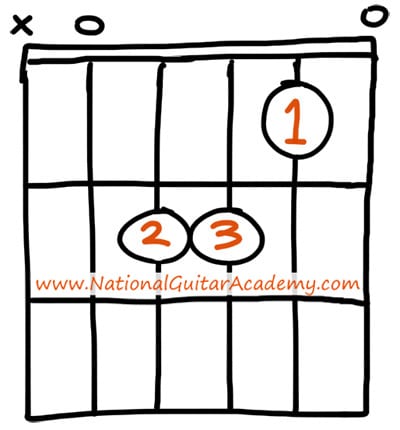 Even though this requires 3 fingers to play (and is therefore more difficult than chords like Em), most people don't have too many problems learning to play the Am guitar chord.
But if you're a total beginner you will find it difficult to 'bunch' your fingers together quick enough to play this A minor chord. In this situation you have two choices:
You can tough it out and repeatedly make the A minor chord shape until you can do it quickly. (This isn't much fun which is why I tell all my students to go for the option 2!)
You can play an easier version of Am until you've developed better accuracy and dexterity in your guitar-playing fingers.
Learn 12 EASY beginner chords with our popular guide
✅  Stop struggling. Start making music.
✅  Learn beginner-friendly versions of every chord.
This is our most popular guide and it will improve your chord ability quickly! 😎
Get your own personalised guitar-learning plan 🎸
Get a custom guitar-learning plan here: Click here for GuitarMetrics™
The Best Am Guitar Chord For Beginners
The best version of Am for beginner guitarists to use is Am7. It looks like this:
Am7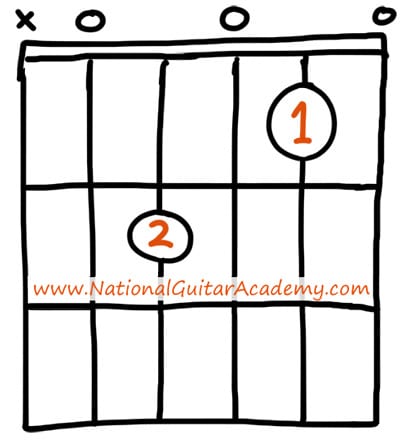 As you can see this requires only two fingers, so it significantly easier to play. Am7 is a lovely open chord that sounds similar enough to A minor that we can substitute it without worrying about a big drop in sound quality.
Give them both a try and listen to the difference. They both sound cool, right?
If you opt to take the harder option of learning the Am guitar chord then more power to you, that's great. The easier option is to play Am7 until your finger dexterity and control has improved to the point where you can play Am.
As you'll read elsewhere on the site, I strongly believe in a 'stepping-stone' approach to learning guitar. The most important element of success in learning the guitar is motivation. The easiest way to stay motivated is to enjoy your practice time. The simplest way to enjoy practice time is to play songs. If you can't shape chords quickly enough to play a song without constant interruption then you're not making music – your banging your head against a wall and it can quickly become frustrating!
Adopt the stepping stone approach and you will be making music from the start. This increases the chances of you practicing regularly and thus improving and continuing along your guitar journey. Trust me, it works! 🙂
The Best Easy Versions Of This Chord
A Super-Simple 3-String Version of the Am Guitar Chord
For children or people with learning difficulties (or very small hands) this 3-string version of the Am guitar chord is a good option:
Am (3-string version)
As you can see this is very straightforward to play. It doesn't sound as good as a standard Am or Am7 of course, but it's passable and does the job…. Just.  The key to making this chord sound its best is to ensure you only strum strings 1,2 and 3. Strings 4,5 and 6 must not be played.
The Am guitar chord is a great one to get under your belt, it crops up often and sounds great. (Check out this video of 'Wild Wood' by Paul Weller – the entire song is built around an Am shape.)
Here are some other cool-sounding Am chords
.



What Type of Guitarist Are You?

Take our 60-second quiz & get your results: Take The Quiz

Join the world's best online guitar school 🌎

Get your own personalised guitar learning plan (customised just for YOU).
World-class online guitar courses. Learn at your own pace.
Community Campus & Learning Forum -  A friendly community! Connect with our team & students. 😊
Beginner Song library with chordsheets, tabs and tips. (Songs suitable for all levels!)
Regular live streams, seminars and Q&A sessions - Learn from world-class guitar educators. Get all your questions answered!

Click here to learn more about National Guitar Academy membership

Cool Guitar T-shirts 😎

Look cooler! Check out our merch: Click here to see our merch store

Want free guitar tips and video lessons delivered to your inbox?

Join over 250,000 other guitar learners and subscribe to our guitar-tips-by-email service. (It's free.)

We'll send you a series of lessons that will move you to the next level of your guitar journey.

Learn how everything fits together quickly, easily and effectively. We share ninja tips (for instant fun!) but also timeless fundamentals that will deepen your understanding.



Get our best guitar tips & videos
Get our best guitar tips & videos