Johnny Cash's 'Ring of Fire' is a classic guitar song – Let's take a closer look at the chords for it!
Over 250,000 guitar-learners get our world-class guitar tips & tutorials sent straight to their inbox: Click here to join them
In this free lesson, you will learn…
3 commonly used chord shapes
How to play this classic song
How to tighten your strumming hand
How to practice chords
Johnny Cash's Ring Of Fire Chords Are Easy To Play
A Country & Folk-Rock King as well as a pioneer for multiple subgenres of Blues-infused Rock music, Johnny Cash left behind an incredible legacy.
To this day, his music still shakes listeners to their core with the aggression and passion-fueled emotion that he poured into his playing.
One of Cash's most famous songs is "Ring of Fire", and we've got a detail-driven lesson prepared for you so you can learn all about it.
Today we're going to look at three chords, as well as some different options for picking patterns.
When you listen to Ring of Fire for the first time, you will notice that there's quite a bit going on instrumentally.
This can make it hard to distinguish the guitar from the rest of the band (making it more difficult to learn).
Pro Tip: We recommend getting into the habit of tapping your foot while you play to keep time.
This gives us a physical reference for our rhythm when we play guitar, making it easier to see where we're at within the song.
This applies especially to rhythm-driven songs like the works of Johnny Cash.
It's important to pay close attention to what's happening in any song that we are learning, so keep those ears peeled!
Now this song is kind of a big deal, so let's talk history for a moment before we dive in to these Ring of Fire chords.
A Brief History Of Ring Of Fire & Its Impact
Johnny Cash released Ring of Fire in 1963 on the album of the same name to much critical acclaim. The song was written by June Carter and Merle Kilgore and popularised by Cash.
One of the biggest smash-hits of his career, Ring of Fire, was recorded in March 1963.
What you may not know is that this song was originally recorded by June Carter Cash's sister Anita, and released on her album Folk Songs Old & New (Mercury Records) the same year.
Ring Of Fire made waves, becoming one of the biggest songs of Johnny Cash's career.
Since then, the Ring of Fire chords have been played by many artists, all delivering their own unique renditions of the song in order to pay tribute to Cash's legacy.
A few notable covers of this song are Alan Jackson's rendition (featuring slide guitar), as well as The Animals' version, which is notably completely different from the original.
Pro Tip: Covers are interesting because they give an artist a chance to interpret someone else's song in their own way. It's important to learn other artists' music in order to improve our own skills, as well as expand on our creativity as musicians.
Learn 12 EASY beginner chords with our popular guide
✅  Stop struggling. Start making music.
✅  Learn beginner-friendly versions of every chord.
This is our most popular guide and it will improve your chord ability quickly! 😎
Get your own personalised guitar-learning plan 🎸
Get a custom guitar-learning plan here: Click here for GuitarMetrics™
Why Is It Important To Learn How To Play These Ring Of Fire Chords?
The Ring of Fire chords are three of the most essential chords that you will find on the guitar:
D – C – G
These chords are simple and easy to play, and they pop up everywhere in music.
With that, it's important to get these chords under your fingers early on in your guitar journey so you can tackle countless other songs with ease.
You will start to notice that many songs use similar chords – Take note of this, and learn each chord well. Learning them early on will only benefit you down the line.
One of the best parts about this song (that we may not initially consider) is that it teaches us how to play with a band that contains more than just drums, guitar, bass and vocals.
The horn section in this song really serves to compliment the Ring of Fire chords being played by Cash himself.
Learning to keep pace with the sounds of bigger bands is a skill that will never not be useful to you.
Pro Tip: You can play along to the sound of the horn section using the Ring of Fire TAB below! This riff is super simple.
Start on your B string at the 3rd fret with your index finger and reach up to the 5th with your ring finger.
From there, step over to the G string at the 5th fret with your middle finger, and then back to the B string at the third fret with your index, completing the first phrase.
For the second phrase of the riff, we can begin by playing the open B string, followed by the first fret.
Move to the second fret on the G string with your middle finger, then back to the open B to finish!
Congratulations – You just lifted a line of music for horns and played it on a completely different instrument. Thanks, awesome!
Now let's dive into these Ring of Fire chords!
Ring Of Fire Chords – Intro
The intro to this song follows a combination of the three chords we mentioned above. 
Check out the progression below:
G     C G         G D G
Pro Tip: You may notice that we spaced these chords out kind of weird. That wasn't a formatting thing, we did that on purpose to help demonstrate how you should space out your chords. Listen to the flow of the song, and you will see what we mean.
These Ring of Fire chords are played either for a full measure or a half measure.
The progression is laid out for you below:
G – 1 bar
C – 2 beats
G – 2 beats and 1 bar
G – 1 measure
D – 2 beats
G – 2 bars
Take some time to memorise the pattern for strumming through this section of the song before you jump into the verse.
Once you understand how this section flows, the rest of the song will make much more sense.
The strumming pattern should look something like this:
Down – Down – Up  Down – Up – Down – Up – Down – Up
Getting into the groove of the song can take some time, so be patient and practice often!
Pro Tip: A metronome can really help us iron out the details of our strumming. If you don't have one handy (or an app), you can type "Metronome" into Google and find one there.
Ring Of Fire Chords – Verse
The verse of this song follows the same strumming pattern as the intro (and chorus), so it should be fairly simple to pick it up after learning the intro.
The verse also follows the exact same chord progression as what you learned in the intro, so technically, you already know how to play this part of the song!
Check it out with the lyrics below:
G         C       G
Love Is A Burning Thing
D     G
And It Makes A Fiery Ring
C    G
Bound By Wild Desire
D       G
I Fell Into A Ring Of Fire
Pro Tip: Due to the fact that you're already ahead of the curve, take this time to really work your strumming hand over these chords and get used to the strumming pattern.
Try experimenting with different rhythms, and don't worry about falling out of time while you hash out the details – That's what practice is for, after all.
Check out the Ring of Fire tabs for each chord below:
Pro Tip: Singing along to a song is an excellent way to help fine-tune our ears.
Listening helps us to understand what's going on in a song, but singing it back affirms it.
Even if you think that you're absolutely tone-deaf, it never hurts to try to sing along with what you're playing.
Our ears need stimulation to register and memorise a song.
Even though playing guitar is enough in itself to help us train our ears, additional practice and training over these Ring of Fire chords is never a bad thing.
You can practice singing with and without your instrument for different results. Give it a shot!
Next, let's check out the Ring of Fire chorus!
Ring Of Fire Chords – Chorus
Using the same strumming pattern that we've already mastered, we're going to switch up the chords using the same three Ring of Fire chords.
The pattern (with lyrics) looks like this:
D             C               G
I Fell Into A Burning Ring Of Fire
D
I Went Down, Down, Down
C           G
And The Flames Went Higher
And It Burns, Burns, Burns
D       G
The Ring Of Fire
D      G
The Ring Of Fire
See how the chords are the same, just in a different order?
This is the beauty of songwriting – we can recycle one chord progression in a variety of ways to create new progressions.
Pro Tip: If you want to punk-out your sound a little bit, your can jam this song using power chords. If you don't yet know what those are, click here for a quick lesson to get up to speed.
Power chords are a great way to create a more 'raw' sounding approach to music, and due to their 'minimalist' nature, they work in basically any genre!
You can swap power chords in for most common-type chords.
Although they hold less colour, power chords are quick and easy to play – especially for beginners who haven't yet tackled full chord shapes.
Give power chords a shot, and see how it changes the sound and dynamic of what you are playing!
Download our lead guitar cheat-sheet to make things easier
It can be disorientating for guitarists to understand which scales work with which keys.

With this in mind, we created a cheat-sheet; a key and scale-finder that you can use again and again.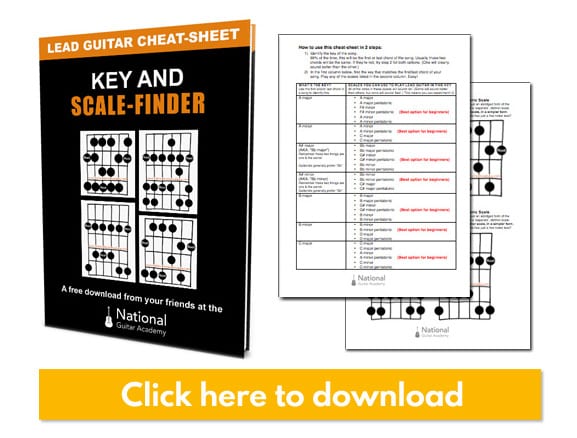 Get your own personalised guitar-learning plan 🎸
Get a custom guitar-learning plan here: Click here for GuitarMetrics™
Ring Of Fire Chords – Picking Patterns
One of the best parts about learning different pieces of music is experimenting with them after we have mastered the basics. This helps us to broaden our knowledge of the song.
It's also just straight-up fun, let's be honest.
If you've successfully reached this section of the lesson, you've probably powered through the content above already – so why don't we have some fun?
A great thing to try is taking a different strumming pattern and applying it to the chords you've learned.
Let's do that with these Ring of Fire chords now, below.
To add some variety to your Ring of Fire chords, start by playing arpeggios.
If you're not sure what we're talking about, click here for a quick lesson on how to perform an arpeggio using the chords you already know.
Arpeggios serve two massively important purposes:
Helping us check our chords to make sure we aren't muting any strings that we shouldn't be
Articulating chords in a way that lets each note shine through with its own character, adding more dynamics to our chords.
We recommend experimenting with arpeggios in a couple of different ways to add different textures to these Ring of Fire chords.
Pick every other string in a back and forth motion (ex – G chord – Pick Strings E, D, A, G, D, B, G, E in order)
Pick each string in order (both ascending and descending)
Johnny Cash Songs To Explore
Before we leave you, we just had to give you a short list of some of our favourite Johnny Cash songs. 
You may find that some of these tunes even use the same chords as the Ring of Fire chords you've already learned!
It's important to practice a variety of songs, and the more we learn from an artist, the more we can understand their approach to music.
Here are some of our top picks from Johnny Cash with links to the songs online:
If you enjoyed the Ring of Fire song, try learning some others!
Click here to see a comprehensive list of all the Johnny Cash songs available to learn on Ultimate Guitar.com, and click here to check out a detailed chart of the Ring of Fire chords you learned today!
Where Do I Go From Here?
Want more out of this Ring of Fire chords lesson? We recommend trying the following:
Experiment with different picking patterns to change the sound of the song
Try out different variations of the chords (ex. Gsus4 instead of G major // Dsus4 instead of D major)
Keep a practice log so you can see your improvement!
Practice strumming along to the song
Practice with a metronome
Recommended Resources
If you enjoyed this free guide to playing Ring of Fire chords, you're going to love some of the other lessons we have in stock!
What Type of Guitarist Are You?
Take our 60-second quiz & get your results: Take The Quiz
Join the world's best online guitar school 🌎
Get your own personalised guitar learning plan (customised just for YOU).
World-class online guitar courses. Learn at your own pace.
Community Campus & Learning Forum -  A friendly community! Connect with our team & students. 😊
Beginner Song library with chordsheets, tabs and tips. (Songs suitable for all levels!)
Regular live streams, seminars and Q&A sessions - Learn from world-class guitar educators. Get all your questions answered!
Click here to learn more about National Guitar Academy membership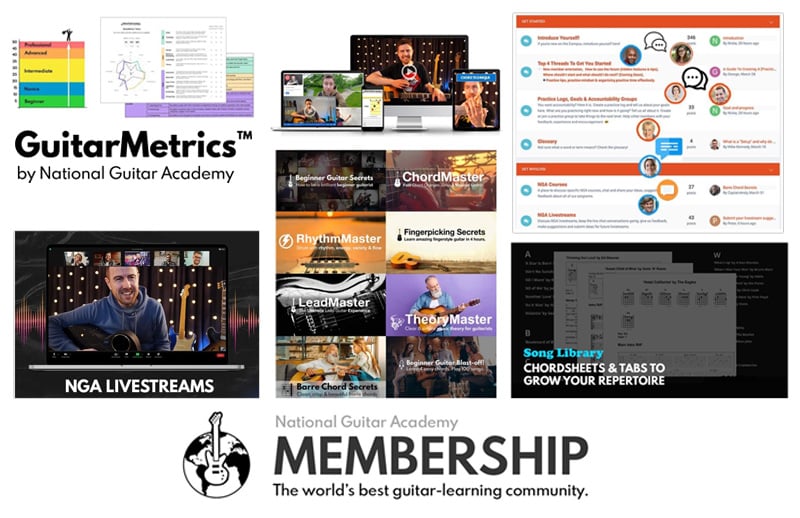 Cool Guitar T-shirts 😎
Look cooler! Check out our merch: Click here to see our merch store
Want free guitar tips and video lessons delivered to your inbox?
Join over 250,000 other guitar learners and subscribe to our guitar-tips-by-email service. (It's free.)
We'll send you a series of lessons that will move you to the next level of your guitar journey.
Learn how everything fits together quickly, easily and effectively. We share ninja tips (for instant fun!) but also timeless fundamentals that will deepen your understanding.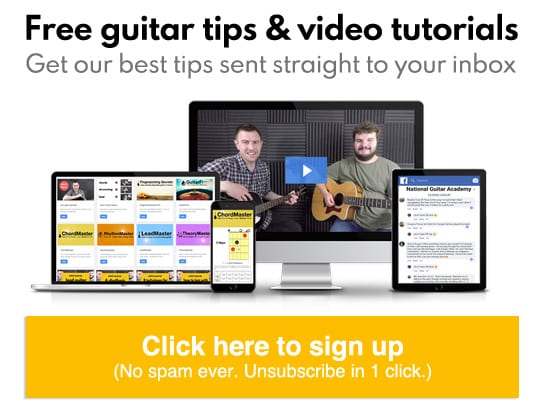 Get our best guitar tips & videos
Get our best guitar tips & videos