Looking for fingerstyle guitar songs that you can sink your teeth into right away? We've got you covered. Let's dive in!
Over 250,000 guitar-learners get our world-class guitar tips & tutorials sent straight to their inbox: Click here to join them
In this free lesson you will learn…
8 fingerstyle guitar songs to help supercharge your playing
The secret to unlocking the orchestral sounds of the acoustic guitar
Proper hand technique
Percussive hand techniques for more groove
Fingerstyle Guitar Songs Are A World All Their Own
We all want to play songs that are interesting to us.
We also want to play songs that help us to get better as guitarists.
One way to broaden your repertoire and skill is to sink your teeth into some fingerstyle guitar songs.
Playing fingerstyle music can make your guitar playing sound more orchestral, as the different parts of the guitar can mimic the sound of different instruments.
There are as many approaches to fingerstyle playing as there are players.
With that in mind, learning fingerstyle guitar songs can also help to develop your own sound.
There are a few ways to approach fingerstyle playing.
We can pick with our bare fingers, use a thumbpick, or individual fingerpicks.
Fingerpicks are designed to loosely simulate finger nails, and will give you a brighter tone than bare fingers and sound good on steel string guitars.
There is also hybrid picking – using a flatpick and your second, third, and fourth fingers to round out the rhythm.
If you want a thorough introduction to fingerstyle playing, as well as some exercises to get you started, check out this lesson.
We're here to take you from beginner level to advanced fingerstyle guitar songs with a variety of different takes on the style.
Put down the pick, tune up, and let's go!
Fingerstyle Guitar Songs: REM – "Everybody Hurts"
If you're experimenting with this style and sound for the first time (or you're just not sure how it works) check out this REM tune:
"Everybody Hurts" was one of six singles from REM's 1993 album Automatic for the People, including "Man On the Moon," their tribute to Andy Kaufman.
This is a beautiful and direct song whose verse is arranged sparsely to leave room for expressive singing.
Check out the verse chords below:
D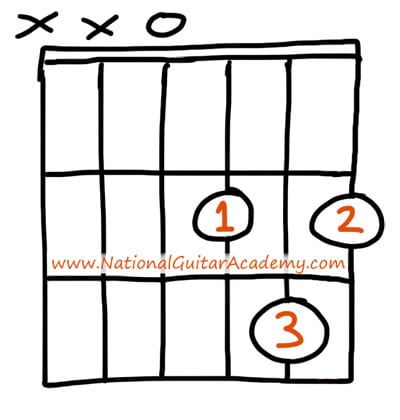 G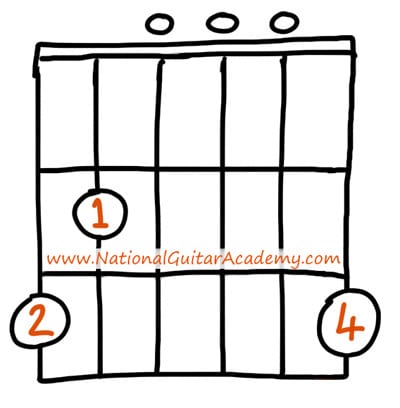 Em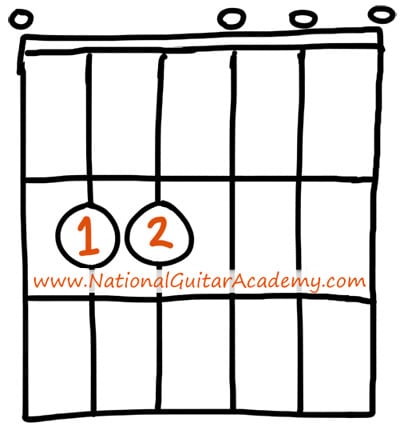 A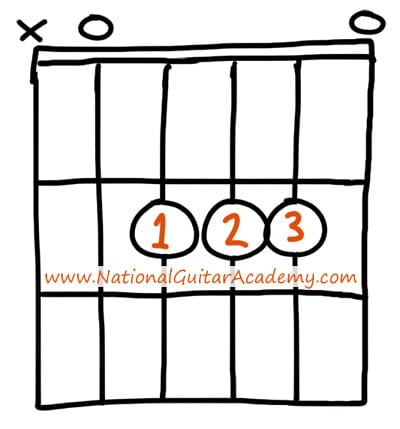 The fingerstyle pattern during the verse is a simple six-count arpeggio.
The tab below shows you where to put your fingers for which chords:
This song is shaped by the bridge, which is strummed.
If you're not yet keen on barre chords, you've got a few options for how you'd like to play it, such as the F#7 pictured below.
F#
Bm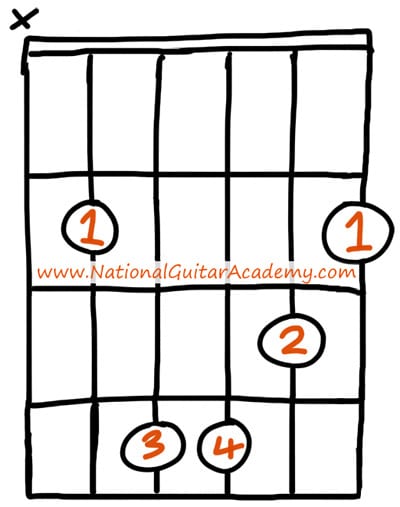 C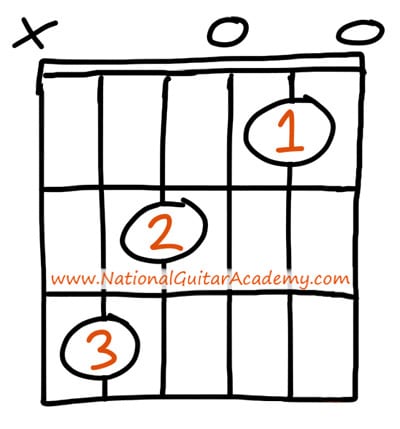 Am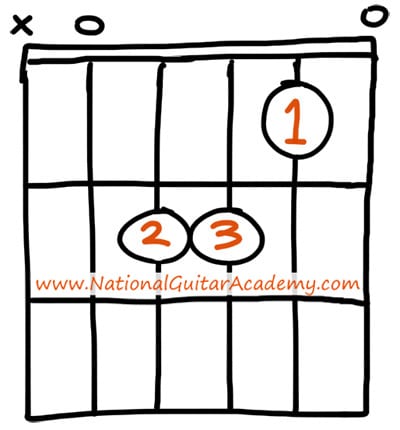 F#7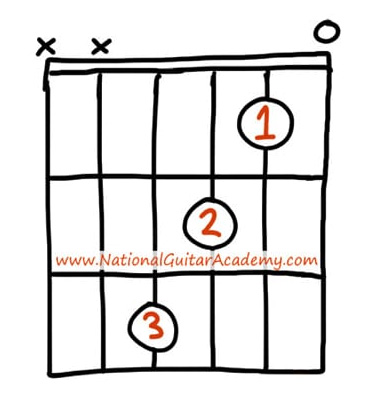 Bm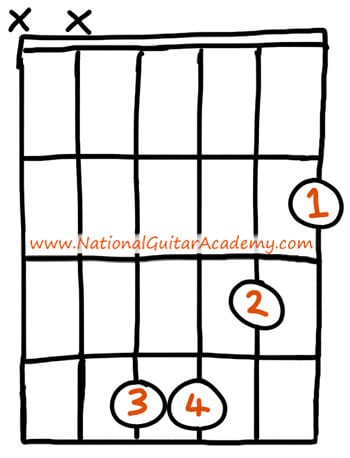 As you progress playing in this style, you will find ways to transition between chords by breaking from the established pattern.

There are plenty of fingerstyle guitar songs to show you how!
Fingerstyle Guitar Songs: Pete Seeger – "Where Have All the Flowers Gone"
Here's a good introduction to syncopated patterns – a technique used in many fingerstyle guitar songs!
This is Peter, Paul and Mary's version of "Where Have All the Flowers Gone, written by Pete Seeger.
This song may sound tame or even a bit 'square' by today's standards, but the man who wrote it (Pete Seeger) fought U.S. government policies that he thought were misguided for a half a century armed with a banjo.
Additionally, he is responsible for about 75 percent of all songs sung around a campfire, so who are you to judge?
The song is in the key of G and is very easy to memorize.
Here are the chords:
G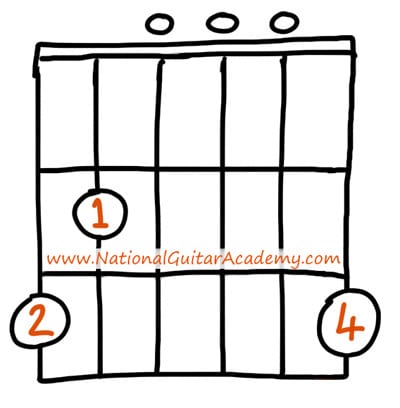 Em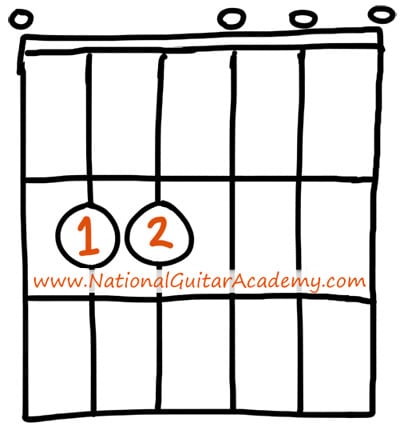 C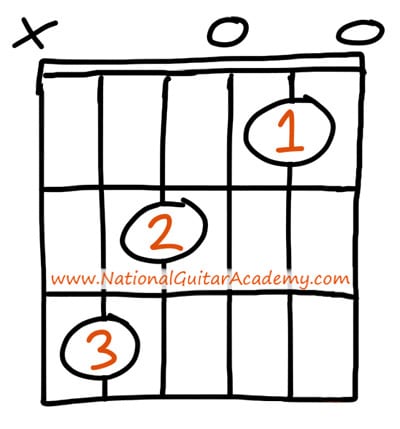 D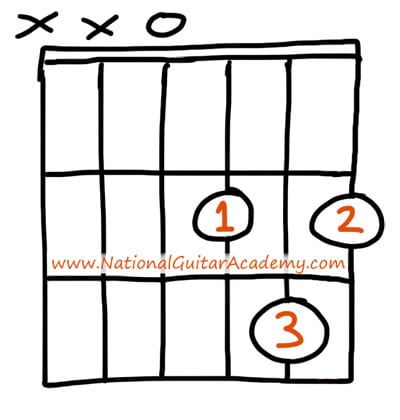 As mentioned above, the picking pattern is syncopated.
This means that important rhythmic things happen in between the beats.
Pro-Tip: Learning fingerstyle guitar songs can be challenging, but the more you can relax your picking hand, the easier everything will be and the better tone you'll get out of your guitar!
Learn 12 EASY beginner chords with our popular guide
✅  Stop struggling. Start making music.
✅  Learn beginner-friendly versions of every chord.
This is our most popular guide and it will improve your chord ability quickly! 😎
Get your own personalised guitar-learning plan 🎸
Get a custom guitar-learning plan here: Click here for GuitarMetrics™
Fingerstyle Guitar Songs: James Taylor – "Fire & Rain"
This song's incredible lacy arrangement is why a lot of people pick up the guitar in the first place.
James Taylor's distinctive techniques run through all of his fingerstyle guitar songs.
"Fire and Rain" is from his 1970 album Sweet Baby James.
The recording of the song is played in A, with the capo on the third fret.
Check out the verse chords below:
A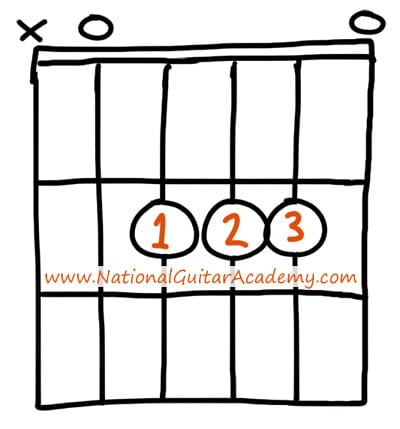 Em7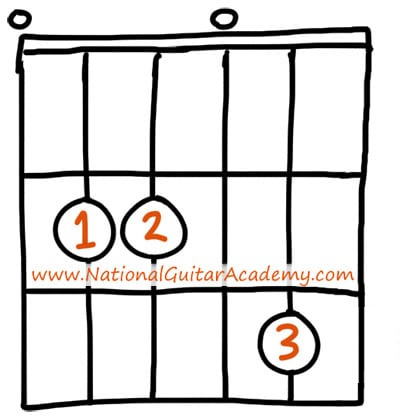 D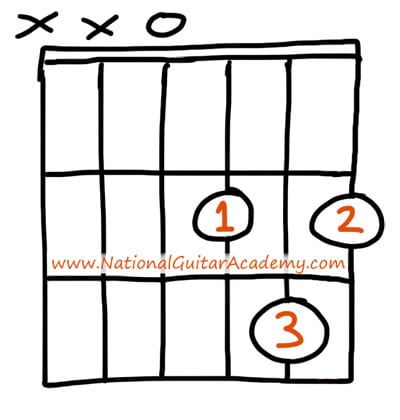 E
Gmaj7 (320002)
The chords in the chorus get a little twisty while you try to add the bass notes, but with a little practice you'll be able to get your pinky to do your bidding!
D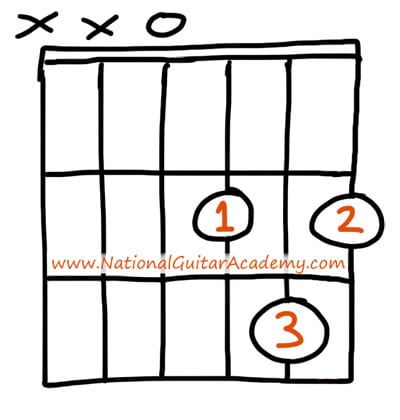 D/C# (x4x232)
D/B
D/E (xx2232)
A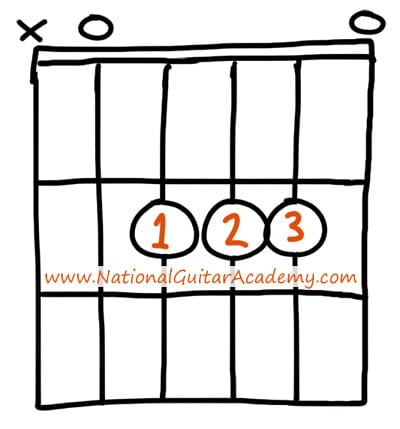 G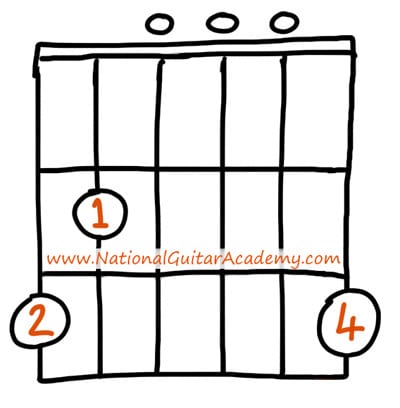 D/F#
Em7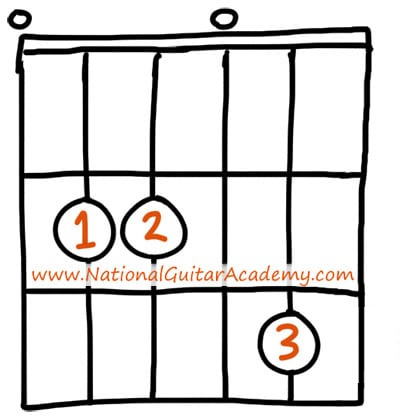 Unlike a lot of more basic fingerstyle guitar songs, "Fire and Rain" does not keep a regular bass line with the thumb.
In fact, it only hits the root of the chord when the chord changes.
This looser arrangement style leaves room for a lot of those suspended chord fills you hear throughout James Taylor's playing.
The chorus chords change pretty quickly, so you might want to just pluck all the strings once per chord.
To get an arrangement that is closer to the original, why not take a little lesson from the man himself?
Fingerstyle Guitar Songs: Bobbie Gentry – "Ode To Billie Joe"
This is a great story song with a funky country blues rhythm by Bobbie Gentry.
What did they throw off the Tallahatchie Bridge, and why is the narrator the only person who is affected by the news of Billie Joe's death?
While you are pondering the unanswerable questions posed by this 1967 hit, check out the chords.
This song has a 16-bar blues structure with seventh chords throughout.
Thankfully, there are only four chords, and three shapes to learn.
D7 (x54530)
Am7 (5x555x)
G7 (3x343x)
C7
One unfortunate characteristic of tablature is that it can tell you exactly what to play, but it cannot always tell you exactly how or when to play it.
Here is the tab pattern: Ode To Billie Joe tab by Bobbie Gentry
What you need to know: For the D7 shape, the ring finger on your fretting hand has to bounce between the A and E strings when your thumb hits it.
In the last line of the verse, the D7 and C7 are strummed once (at least in this arrangement.)
The tablature does not tell you exactly when to hit the strings.
If you listen to the recording, you'll pick it up quickly and this will become one of your favourite fingerstyle guitar songs.
Fingerstyle Guitar Songs: Paul McCartney – "Blackbird"
He's not going to be around forever, you know, so if you haven't seen Paul McCartney performing his songs and the songs of that one band he was in, please hurry.
This song was fueled with political outcry for the period in which it was written. If you're interested in reading more, click here.
Check out the tune below:
Some fingerstyle guitar songs are best learned in pieces, and "Blackbird" has a couple of repeating parts.
If you separate the song into those parts and learn them separately, it will wind up going more smoothly than trying to tackle the whole thing at once.
Here are the chord shapes for "Blackbird singing in the dead of night":
G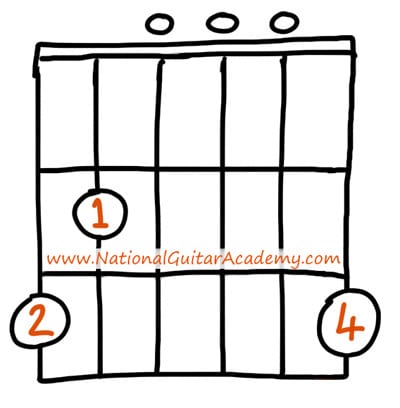 Am7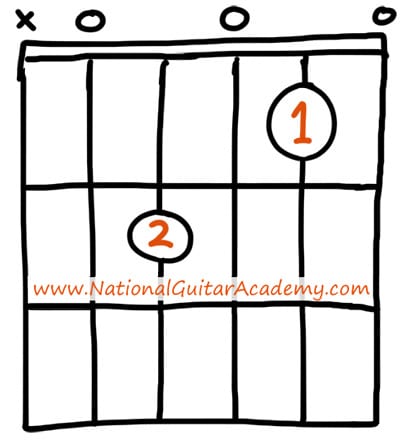 G/B
G* (x 10 x 0 12 0)
At any given point in this song, you are only operating on three strings at a time.
Here are the chord shapes for "Take these broken wings and learn to fly."
C (x3x05x)
C#dim (x7x080)
D (x5x07x)
D#dim (x 9 x 0 10 x)
Em (x7x08x)
Emmaj7 (x6x08x)
The other set of chord shapes for the "Blackbird fly" section is below:
F
C*
F*
C
Bb
A7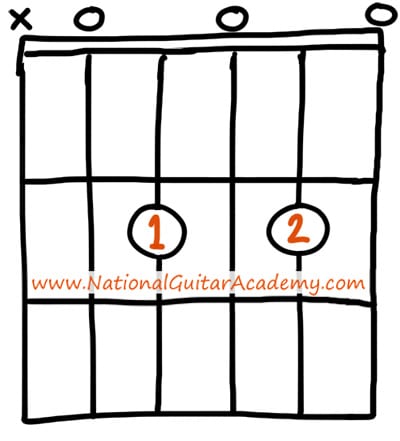 D7
After all of those chord shapes, you'll be glad to know that the picking pattern is the same throughout the entire song. Yay!
Pro-Tip: Take a picking pattern away from the guitar to get it ingrained in your muscle memory.
Tap your fingers slowly in order on your leg, desk, or friend, and gradually build up the tempo until it feels automatic.
This is a great way to strengthen your fingers, even when you don't have a guitar handy!
Percussive Fingerstyle Guitar Songs: Extreme – "More Than Words"
This song is another acoustic classic, and an integral part of your collection of fingerstyle guitar songs.
"More Than Words" was Extreme's fulfilment of the requirement that all metal bands in the early 1990s had: a ballad.
It's fun to play and easy to sing, especially with a friend.
The song is in the key of G, but guitarist Nuno Bettencourt tuned his guitar down a half step for the recording, making it difficult to play along.
If you want to try it, tune your guitar like this:
Eb Ab Db Gb Bb Eb
The sparse and percussive fingerstyle arrangement is easy to pick up.
Here are the chords:
G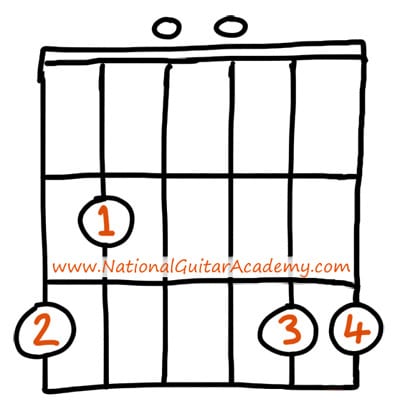 G/B (x20033)
Cadd9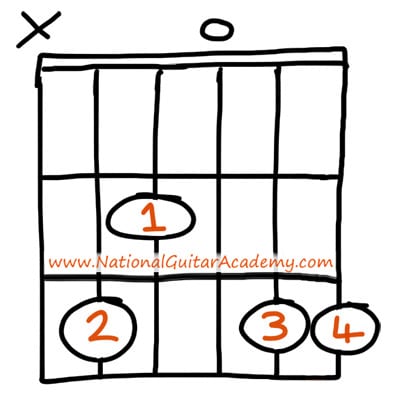 Am7 (002013)
C (032010)
D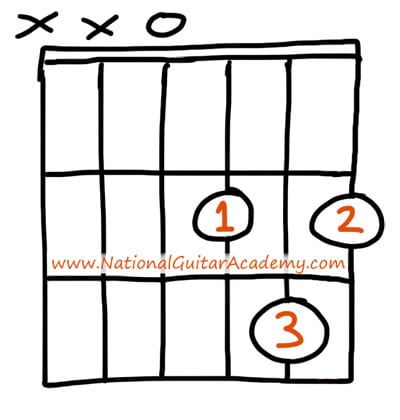 D4
The rhythm of the song is what sets it apart from other fingerstyle guitar songs, because of the muting on the second and fourth beats.

To get that scratchy hit sound, hit the strings with your picking hand fingernails.
Here is the rhythm pattern:
Download our lead guitar cheat-sheet to make things easier
It's hard to understand which scales work with which keys.
So we created a cheat-sheet! A key and scale-finder that you can use again and again.
Get your personalised guitar-learning plan 🎸
Get a custom guitar-learning plan here: Click here for GuitarMetrics™
Fingerstyle Guitar Songs: Jack Johnson – "Better Together"
Another great percussive fingerstyle guitar song is Jack Johnson's "Better Together."
This is the opening track on Jack Johnson's 2005 album, In Between Dreams.
He has played it with different tempos and rhythms over time, but in this version, the descending line of chords and groovy rhythmic arrangement make this a lovely laid-back song to play and sing.
If you are an intermediate player looking for pleasantly challenging fingerstyle guitar songs, this is a great one for developing barre chord skills and moving them down the neck.
The main part of the song goes like this:
True to Jack Johnson's love for Hawaiian culture, the rhythm is played 'ukulele style' with the thumb on the bass, an up-strum with a finger, and the percussive muting of the strings with your fingernail.
With a little practice, you'll be singing this one for your loved ones in no time.
Delta Fingerstyle Blues: Robert Johnson – "Love In Vain"
For some next-level percussive fingerstyle guitar songs, check out the delta fingerstyle blues. Here is Robert Johnson's "Love In Vain."
Robert Johnson influenced everyone who picked up a guitar after him.
He is specifically cited by a whole generation of British blues guitarists, including Eric Clapton, Peter Green, and Brian Jones (not to mention everyone in the United States from Muddy Waters to Buddy Guy and Sonny Landreth.)
If you're playing rock and roll or fingerstyle guitar songs, you're playing Robert Johnson's legacy.
He died at 27, but not before he wrote an entire catalogue of songs that people are still playing, including "Sweet Home Chicago," "Crossroad Blues," "Kind Hearted Woman Blues," "Come On In My Kitchen," and "Drunken Hearted Man."
"Love in Vain" is in the key of G and is a 12-bar blues with some modifications to the basic form, like this:
I I7 I7 I7
IV  IV I-V7  I
II7 V7 I V7
Here are the chords:
G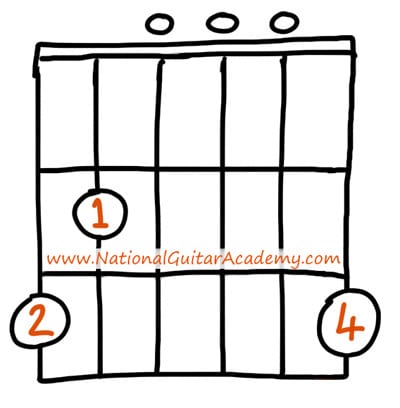 G7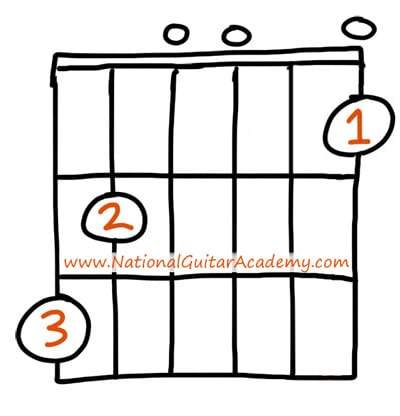 D7
C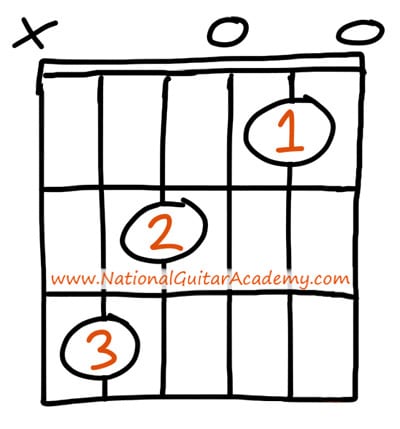 A7 (x02223)
That jazzy little II chord in the last line is a subtle sign of a genius at work! Robert Johnson was a master appropriator, picking up what was going on in all kinds of music around him and incorporating it into his own style.
For the complete tab, click the link here.
Go Virtuoso: Lindsey Buckingham – "Big Love"
Here's why Fleetwood Mac had to hire two guitarists to replace Lindsey Buckingham.
A full-band version of "Big Love" was released as a single off of Fleetwood Mac's 1987 Tango In the Night album, but the definitive version is this acoustic monster jam.
Here's an interview where Buckingham discusses and breaks down the song
The key to "Big Love," as with a lot of advanced fingerstyle guitar songs, is to take it one part at a time (and play it slowly).
There is a pretty solid transcription here to get you started:
This tune is a bit of a science project, but when you've got this arrangement of "Big Love" down, you will be a master of fingerstyle guitar songs!
There Is A Never-Ending Supply Of Fingerstyle Guitar Songs Out There!
No matter your skill level, there are collections of fingerstyle guitar songs everywhere.
We recommend finding a teacher in your area, because they can tailor your lessons to your individual level and musical preferences.
The Internet however, is full of resources for fingerstyle guitar songs, tutorials, tabs, and advice. You will never run out of material!
Recommended Resources
If you enjoyed reading this free guide, you'll love the other resources we have for you below:
What Type of Guitarist Are You?
Take our 60-second quiz & get your results: Take The Quiz
Join the world's best online guitar school 🌎
Get your own personalised guitar learning plan (customised just for YOU).
World-class online guitar courses. Learn at your own pace.
Community Campus & Learning Forum -  A friendly community! Connect with our team & students. 😊
Beginner Song library with chordsheets, tabs and tips. (Songs suitable for all levels!)
Regular live streams, seminars and Q&A sessions - Learn from world-class guitar educators. Get all your questions answered!
Click here to learn more about National Guitar Academy membership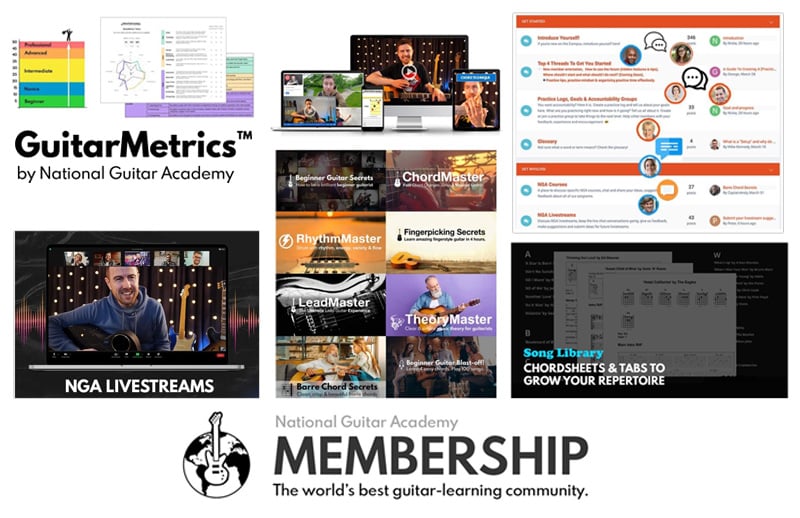 Cool Guitar T-shirts 😎
Look cooler! Check out our merch: Click here to see our merch store
Want free guitar tips and video lessons delivered to your inbox?
Join over 250,000 other guitar learners and subscribe to our guitar-tips-by-email service. (It's free.)
We'll send you a series of lessons that will move you to the next level of your guitar journey.
Learn how everything fits together quickly, easily and effectively. We share ninja tips (for instant fun!) but also timeless fundamentals that will deepen your understanding.
Get our best guitar tips & videos
Get our best guitar tips & videos