Playing Tones & I's catchy Dance Monkey chords on guitar is easier than you think!
Over 250,000 guitar-learners get our world-class guitar tips & tutorials sent straight to their inbox: Click here to join them
In this free lesson you will learn…
How to play this song in three different keys
How to avoid barre chords if you aren't ready
How to approach this song using a capo
How to play the bass break on guitar
Tones & I's Dance Monkey Chords Are Easy To Play On Guitar!
The guitar has been the people's instrument of choice and a source of unparalleled joy since the instruments that preceded it were invented. The guitar is always there for you, no matter what.
Of all the instruments you could have picked up and learned, the guitar is tops for versatility.
You can play tunes, and you can play chords, and you can do both at the same time. Not to mention, it's portable. Everybody wins!
If you've learned anything about playing songs on the guitar however, you've learned that sometimes it's necessary to reconfigure a song that was written on some other instrument in order to play it on the guitar.
We're looking at you, EDM!
Arranging a non-guitar song for the guitar sometimes involves a few extra steps.
The key might be terrible for the guitar. It may be tricky to figure out the chords. It's also sometimes difficult to find a good rhythm to play along with
With a little theory knowledge, or a lesson like this one, you'll be able to spot and overcome those obstacles and play any song you like on the guitar.
By the end of this lesson, you'll have a lovely thumping arrangement of Tones and I's Dance Monkey.
The Dance Monkey chords are easy, there's a great rhythm, and we've even got a little bass section for you to play as well.
Dance Monkey Chords: The Song Background
Dance Monkey is hot off the presses in a large part of the world as of early 2020, currently bouncing around the top 10 in the US and UK, and number 1 in Canada! It has topped the charts in 30 countries.
Not bad for an Aussie! Toni Watson, using the name Tones and I, released Dance Monkey in May 2019, and she and the song have quickly taken over the world's ears.
Watson plays keyboards and the drum pad, and that's what she used to compose this little confection.
Let's give it a listen, and then we'll figure out what to do with it on guitar.
Watson began playing her rig in her hometown of Mount Martha while she was in high school, and traveled to Byron Bay, New South Wales, to begin a busking career.
She met her manager on her first day busking and was soon able to quit her day job.
Busking is quite a job in itself, and Watson wrote Dance Monkey with her career as a performer in mind.
With a worldwide hit on her hands, Watson probably doesn't do much busking right now.
Let's roll up our sleeves and get into these Dance Monkey chords!
Learn 12 EASY beginner chords with our popular guide
✅  Stop struggling. Start making music.
✅  Learn beginner-friendly versions of every chord.
This is our most popular guide and it will improve your chord ability quickly! 😎
Get your own personalised guitar-learning plan 🎸
Get a custom guitar-learning plan here: Click here for GuitarMetrics™
Dance Monkey Chords: The Key
Figuring out the key of a song you want to learn is like opening up a kit to find out whether you're able to follow the assembly instructions.
Sometimes, as it turns out, you just don't quite have all the tools you need to assemble the thing as instructed.
As recorded, the Dance Monkey chords are in the key of F# minor.
F# minor, as well as at least one other chord in this song, lives mainly in the realm of barre chords.
The bad news is that F# minor is not a friendly key for beginners.
The good news is that we can find another way to play the Dance Monkey chords without breaking our fingers!
We're going to change the key of the Dance Monkey chords from F# minor to E minor or A minor.
There's some music math behind this, but either key means that you can play the song without having to stop everything and learn barre chords first.
From a chord-playing perspective, the key of A minor is the simplest, because you can play the entire song without using any barre chords.
From a singing perspective, if F# minor is a good key for you to sing the song, E minor is a good key.
This is because you can easily restore the song to F# minor by using a capo on the second fret.
We'll show you how to do this next, so keep reading!
Pro-Tip: Capos are magical. They bridge the gap that sometimes exists between a good key for playing a song and a good key for singing it.

The Dance Monkey chords are a good example of this. Check out this lesson and capo chart to take a closer look at what capos can do for you.
Dance Monkey Chords: Keys Of F# Minor & E Minor
There are only four Dance Monkey chords you need to learn, and those chords are different depending on which key you choose.
In the recorded key of F# minor, these are the chord shapes:
F#m (244222)
D (xx0232),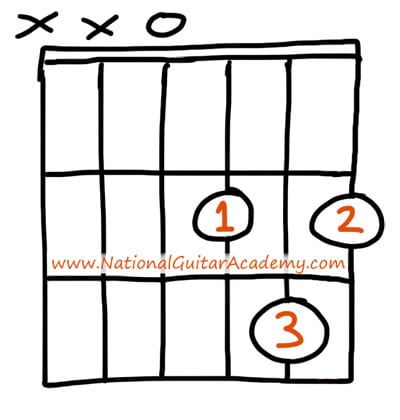 E (022100),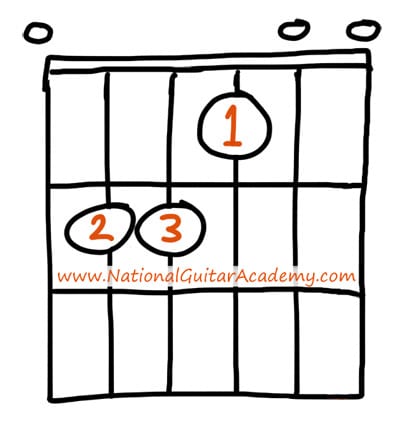 C#m (x46654)
The two major chords, D and E, are pretty basic. The two minor chords, F#m and C#m, are generally played as barre chords.
That means the original recorded key is suitable for guitar players at an intermediate level of experience. In fact, this four-chord progression makes a good barre chord exercise for those of you looking to increase your barre-chord stamina.
The Dance Monkey chords in the key of F# minor happen in a cycle, like this:
F#m  D E C#m
Dance Monkey Chords For Absolute Beginners
Transposing, or changing the key, of the Dance Monkey chords allows you to play the song on the guitar even if you've just started learning.
The key of E minor has a couple of particular benefits.
First, you'll be able to play each chord with a relatively simple shape.
Here are the easiest Dance Monkey chords in the key of E minor.
We've used some simple stepping-stone shapes where possible.
Em (022000)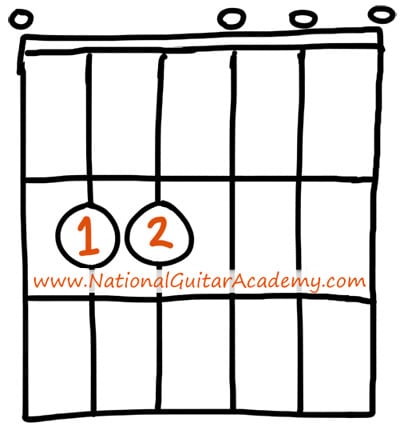 C (x32000)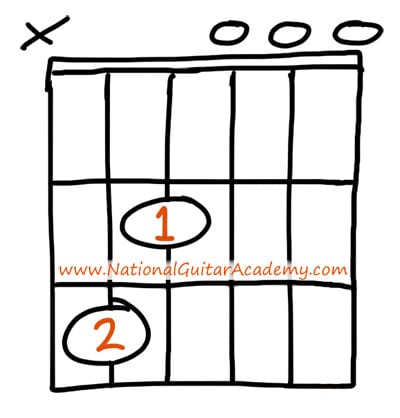 D (xx0230)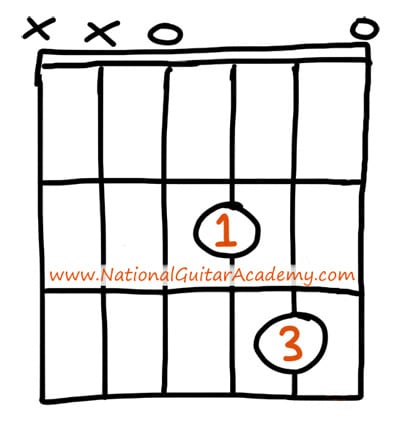 Bm (xxx432)
The second benefit is that F# and E are close to each other in the musical alphabet.
That means if you can sing Dance Monkey in F# minor, you'll be able to sing it in E minor with no trouble!
If you prefer to sing it in F# minor, just put your capo on the second fret.
The progression in E minor is this:
Em  C D  Bm
Dance Monkey Chords For The Rest Of Us
If you've been playing the guitar for a little while and are familiar with most of the open chord shapes, the Dance Monkey chords are a piece of cake!
You can use the chord progression in the key of E minor, and the full open chord shapes are not much different than the stepping-stone shapes.
The E minor is the same. Full C and D chords look like this:
C (x32010)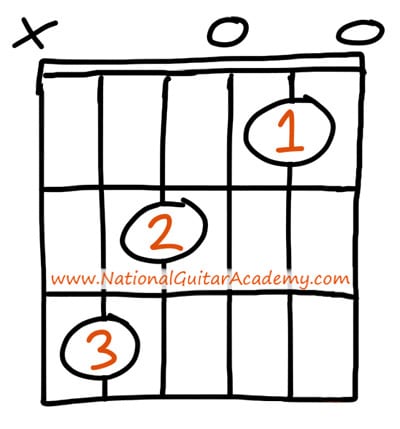 D (xx0232)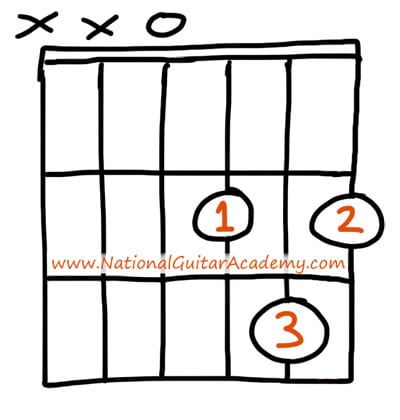 The B minor is a little bit of a different story. You can use the version of B minor above, which is the simplest way to get the full chord on the guitar.
Alternatively, you can try this B minor shape, which itself is a stepping-stone shape to the full B minor barre chord.
Bm (xx4432)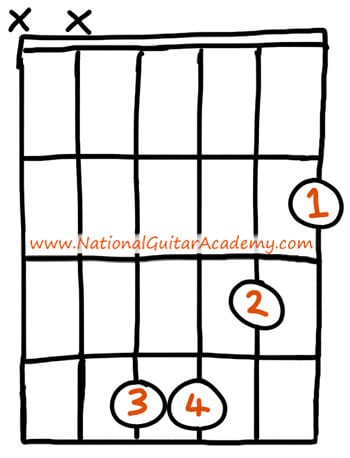 The only difference between this B minor and the barre chord B minor is that to play the barre chord, you'll lay your first finger across to the A string, so you can have the root of the chord at the bottom where it belongs.
Dance Monkey Chords: Key of A Minor
The other alternative to the Dance Monkey chords in the key of F# minor is the key of A minor.
This key also avoids barre chords. It may even be a little friendlier to your fingers than E minor. Try them both out and see which one you like!
The Dance Monkey chords in the key of A minor go in this order:
Am  F G  Em
If you're an absolute beginner on the guitar, we've got stepping-stone chord shapes here too!
Am (x02010)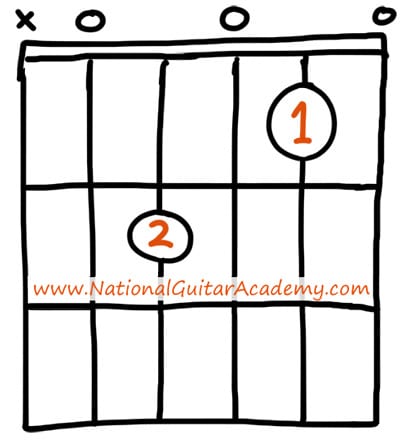 F (xx3210)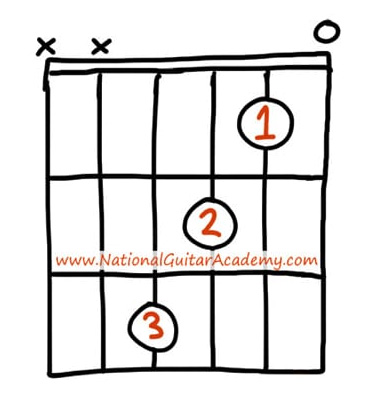 G (320000)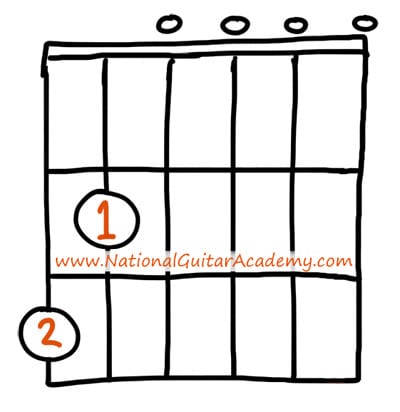 Em (022000)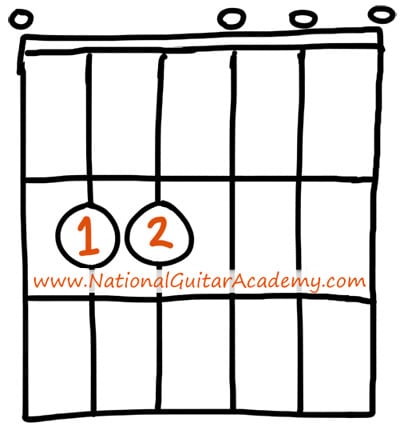 Apart from the F, you can use two-finger shapes for these chords and get yourself a perfectly satisfying and fun arrangement of this song.
Of course, if you've got the open chord shapes under your fingers, you can use them. The tricky chord in this progression is the F.
To get a clean F chord, keep your second and third fingers arched on the G and D strings while your first finger makes a mini-barre across the B and E strings.
Meanwhile, the above version of F is called an F major seventh, and it is as useful as it is beautiful.
Use it until you become more comfortable with the F chord shape below.
Here are the full versions of the Dance Monkey chords in the key of A minor.
Am (x02210)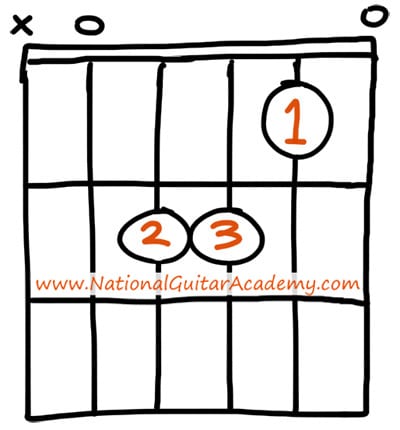 F (xx3211)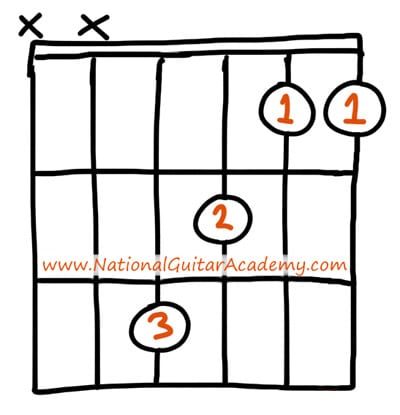 G (320003)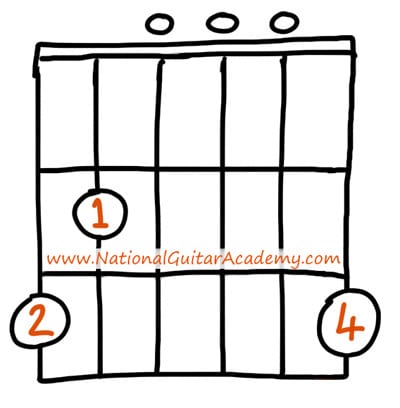 Em (022000)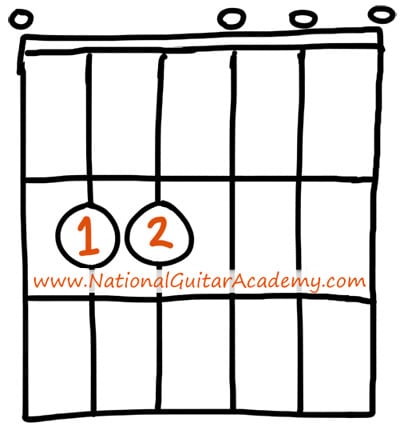 Download our lead guitar cheat-sheet to make things easier
It's hard to understand which scales work with which keys.
So we created a cheat-sheet! A key and scale-finder that you can use again and again.
Get your personalised guitar-learning plan 🎸
Get a custom guitar-learning plan here: Click here for GuitarMetrics™
Dance Monkey Chords: The Rhythm
There are never any hard-and-fast rules about the rhythm you should use when arranging a song for guitar.
The Dance Monkey chords aren't even played on the guitar in the recording, so there's no obvious pattern to copy.
The good news about that is you can choose whether to emulate some rhythm from the recording or to make up your own.
One principle to keep in mind is that the rhythm needs to be steady, adhering to the beat without dropping or adding any time to each measure.
Dance Monkey has a four-count measure, so your rhythm needs to fit into four counts or into a multiple of four.
To keep the rhythm steady but percussive, you can divide each beats into four.
It's called a sixteenth-note strum because the measure is divided into sixteen equal parts (four strums per beat X four beats in a measure = 16)
The simplest way to do this is with a steady down-up strum:
Down-up-down-up, down-up-down-up, down-up-down-up, down-up-down-up
Practice that and accent the bolded strums.
Remember to keep your wrist loose so that you can strum quickly without losing control of the pick!
If you're comfortable with the sixteenth-note strum, you can begin accenting in between the beat to make it more funky.
To emulate the rhythm of the Dance Monkey chords in the recording, you can strum this way:
Down-up-down-up, down-up-down-up, down-up-down-up,down–up-down-up
Dance Monkey Chords: The Bass Break
As wonderful as it is to be able to play a song that cycles around the same four chords the entire time, it's also good to be able to break that up a bit to give the song some shape.
Strumming the Dance Monkey chords with a funky sixteenth-note beat makes a fairly busy sound, so you can provide some contrast by strumming less frequently in some sections of the song.
Try strumming each chord just once during the chorus. It accentuates the vocals without cutting the guitar completely out of the picture.
In the recording, Watson uses a little synth bass break during the chorus as one way to give some shape and direction to the Dance Monkey chords.
Having a break in the middle of the song means that most of the instruments drop out, emphasizing one or two instruments and quieting the song down so that the energy can build back up.
The bass break uses the root of each chord in octaves, meaning the same note only one register higher.
Here's a bass break that's similar to the one in the recording. We've put it in the key of E minor for you and simplified the rhythm, but it will definitely work on the guitar.
Dance Monkey Chords: Putting It All Together
Okay, so we know how to play the Dance Monkey chords in the key of either F# minor, E minor, or A minor.
We have some ideas for the rhythm, and we have a little break to use.
Now is the fun part! You can rearrange this song to suit whatever circumstance you find yourself in.
The only rule here is that the Dance Monkey chords have to go in the same order. You can mix up verses and choruses. You can put in instrumental breaks. You can sing it without any guitar at all!
In order to better help you through the creative process, use this complete chart of the Dance Monkey chords and lyrics.
More Dance Music on Guitar!
If you're fascinated by the concept of playing dance music on the guitar, you will enjoy this video of fingerstyle EDM!
You don't even need electricity to play electronic dance music! Remember, if you can find the chords, you can play the tune.
Recommended Resources
If you've enjoyed this lesson, we have other places for you to go next! Continue on your path with these lessons:
What Type of Guitarist Are You?
Take our 60-second quiz & get your results: Take The Quiz
Join the world's best online guitar school 🌎
Get your own personalised guitar learning plan (customised just for YOU).
World-class online guitar courses. Learn at your own pace.
Community Campus & Learning Forum -  A friendly community! Connect with our team & students. 😊
Beginner Song library with chordsheets, tabs and tips. (Songs suitable for all levels!)
Regular live streams, seminars and Q&A sessions - Learn from world-class guitar educators. Get all your questions answered!
Click here to learn more about National Guitar Academy membership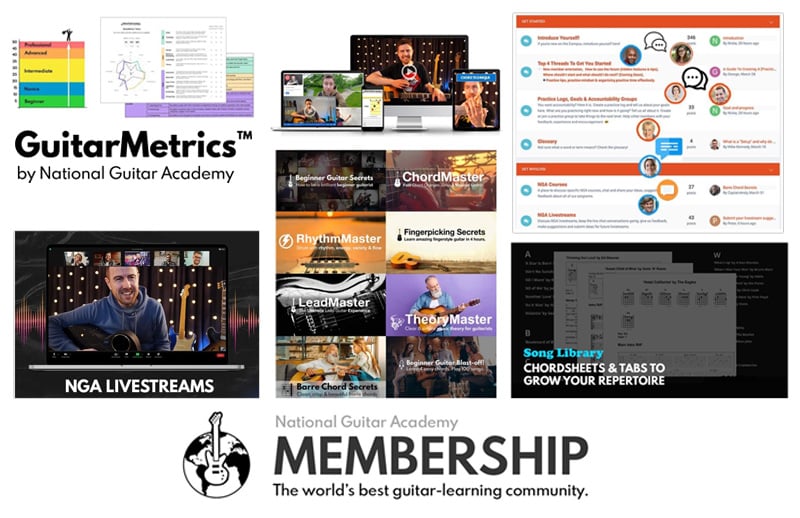 Cool Guitar T-shirts 😎
Look cooler! Check out our merch: Click here to see our merch store
Want free guitar tips and video lessons delivered to your inbox?
Join over 250,000 other guitar learners and subscribe to our guitar-tips-by-email service. (It's free.)
We'll send you a series of lessons that will move you to the next level of your guitar journey.
Learn how everything fits together quickly, easily and effectively. We share ninja tips (for instant fun!) but also timeless fundamentals that will deepen your understanding.
Get our best guitar tips & videos
Get our best guitar tips & videos