Learning how to choose a guitar pick can be an overwhelming process with many options – let us help you narrow them down!
Over 250,000 guitar-learners get our world-class guitar tips & tutorials sent straight to their inbox: Click here to join them
If you want to be a better guitarist click here for our guitar courses
In this free lesson you will learn…
How to choose a guitar pick that's right for you
The difference between thick & thin guitar picks
Why tapered guitar picks are so amazing
Insight from a professional guitar pick manufacturer on how to choose the right pick
Let's Learn How To Choose A Guitar Pick!
The world is full of choices.
Pineapple on pizza?
Black coffee, or coffee with milk?
Red wine or white wine?
Okay maybe that last one was just the Friday talking, but one of the biggest decisions you'll have to make as a guitarist is what type of pick you want to use!
Guitar picks come in an incredible variety of shapes, sizes, thicknesses and colours; and therefore it's going to take some time to comb through all of your options to find what works best for you.
A while back, we got to sit down with Brett Bailey of Bailey Instrumental in Hamilton, Canada to talk about the importance of finding the right guitar pick to play with.
Brett is a vendor and manufacturer of custom boutique-style guitar picks (or 'plectrums'), and is an expert on guitar picks and why it's so important to find the right one for you.
You'll find plenty of Brett's knowledge sprinkled throughout this article, and we encourage you to check out his work!
If you're interested, you can check out our other interview piece with him on guitar pick thickness right here.
Before we get any further, let's talk about what we can expect our picks to (typically) be made from!
How To Choose A Guitar Pick – What Are Guitar Picks Made From?
Guitar picks come in a variety of different shapes, materials and textures.
Many picks that we're used to seeing at our local music shop are either made from plastic or nylon, however some music stores sell acrylic picks also.
Acrylic picks tend to have a harder attack to them, whereas plastic and nylon, thinner as they are, will have a slightly weaker response.
This isn't to say that plastic and nylon don't work for guitarists – many players rely on these types of guitar picks – however there are a variety of options past the music store counter that you should consider when learning how to choose a guitar pick. Keep reading to learn more!
Pro Tip: We strongly recommend taking an afternoon at your local music shop and trying as many guitar picks on the same guitar as possible.
Better yet, grab a bunch of different ones to take home and try out!
When it comes to learning how to choose a guitar pick, experimentation is the most important factor.
Grab yourself a variety of different materials and sizes, and A/B test them to find out what you like the best!
You won't know what you like until you feel it, so give yourself the chance to discover what you like!
Pay attention to the movement of the pick across the strings – does it feel welcoming, or too stiff? Are you able to articulate motion without losing your pick? Give it some thought!
Learn the 12 EASIEST beginner chords with our famous FREE guide
✓  Stop struggling. Start making music.
✓  Learn 12 beginner-friendly versions of every chord.
✓  This is our most popular guide and it will improve your chord ability quickly.
Our Guitar Courses
Become a better guitarist: Click here to check out our guitar courses
How To Choose A Guitar Pick – What's The Deal With Smaller Picks VS Larger Picks?
An often-debated topic of the internet when it comes to how to choose a guitar pick is size.
If you're wondering, yes, size does matter – but only to you!
Once again, learning how to choose a guitar pick is personal. It may not seem like it at first, but you will spend a long time trying out picks to find the one that works the most correctly for your playing style.
For this part of the conversation on how to choose a guitar pick, we'll turn it over to a quick quote from Brett, below:
"The actual size of the plectrum plays a significant impact on tone.
The idea is simple physics, when using a smaller pick, the player will have less transfer of force behind each stroke.
The added mass resulted in plectrums with no give, developing an ease of fluidity and consistency of single note runs for the player.
With smaller picks also comes the relief of tension in the hand, wrist, and forearm when playing, which is always a good thing considering the high reports of carpal tunnel syndrome, tendinitis and other muscular disorders musicians are prone to experience in their lifetime."
So what does that mean?
Essentially, the bigger your pick, the more force you have to put behind it in order to achieve the sound you want.
Smaller pick = Less force required
Larger pick = More force required
Pro Tip: Have you ever tried a Dunlop Jazz III guitar pick?
We recommend giving these a shot, as they are both small and thick, giving players a nice mix of less force needed without compromising their tone.
These picks are renowned for their size and clarity specifically, so we think you should give them a shot! When learning how to choose a guitar pick, we always recommend these.
How To Choose A Guitar Pick – What About Thicker Vs Thinner Picks?
Many players prefer the ease and comfort of a thinner pick for strumming, but when it comes to picking, thickness becomes more important.
The thinner the pick, the more force we require in order to push completely through the string.
Learn how to choose a guitar pick below with Brett Bailey:
"The problem with thinner picks is that even though your hand may have pushed the majority of the pick past the string, the flimsiness of the tip causes the player to exert more movement still before it fully pushes through.
The long story short is that if you have a thicker pick, you will require less movement to make the note sound."
Thinner picks are ideal for beginner guitarists that are still warming up to the force required to exert over their guitar strings, however typically we have found that guitarists gravitate more and more to thicker guitar picks over time.
Guitarists that learn how to choose a guitar pick early on may not ever find themselves in need of a paper-thin guitar pick.
The need for clarity in tone is a huge deal to many players, and doesn't typically become less of a concern over time.
Guitarists are tone-chasers – once we get a sound in our heads, it's hard to get away from it.
What many guitarists don't know is that learning how to choose a guitar pick properly that will help us instead of hinder us would cost us a lot less time in figuring out the tone on our amp.
That's right, we said it.
Guitar tone comes from your pick too, as well as your amp and your guitar itself. Certain elements of your tone also come from your hands!
A word from Brett on how to choose a guitar pick, either thin or thick
"Take 2 picks of the same material, and shape with the only variable being thickness.
You'll notice that the thicker pick is richer in low-mid bloom and body than that of its thinner counterpart having more clarity and openness.
This is where picks with a tapered profile shine.
The tapering allows the ergonomic and tonal benefits of the added mass while still maintaining the the clarity and openness of a thinner pick, coupled with the attack and wear resistance of a stiffer material, and the anti-abrasive properties coupled with bevelling.
This gives the player the feel of both a thin, and thicker pick simultaneously."
How To Choose A Guitar Pick – Are Certain Picks Built For Different Styles Of Playing?
Somewhat, yes!
That's not to say that some picks are only built for one style of music (because they typically aren't), but learning how to choose a guitar pick the right way can give us the best options for different styles of music.
Many guitarists will favour different types of picks for different styles.
For example, one of our writers – Adam – uses 2mm-1mm smooth-tapered acrylic guitar picks for recording in the studio, but uses Dunlop Nylon Gripped 1mm picks when he plays live.
The reason for this is that in the studio, picking can be much more controlled.
This means that thicker picks can be used in the studio without the risk of string breakage in a live context.
Playing live, on the other hand, requires a thinner pick to avoid the risk of string breakage on stage.
As there are amplifiers on the stage as well, Adam doesn't require as thick of a pick to make himself heard in the live mix.
The added grip of the nylon pick means less chance of dropping his pick while sweating on stage (it's not nerves, okay? The lights are bright).
Each style of pick can have a different application – you just have to give it one! Learn how to choose a guitar pick that will benefit your playing!
Pro Tip: Going to a jam session or rehearsal? Bring a stack of picks with you and see how each of them sounds in a live context with other players.
You may find one that gives you more clarity and punch than the others.
Whether it be big or small, make sure it's comfy!
Download our lead guitar cheat-sheet to make things easier
It can be disorientating for guitarists to understand which scales work with which keys.

With this in mind, we created a cheat-sheet; a key and scale-finder that you can use again and again.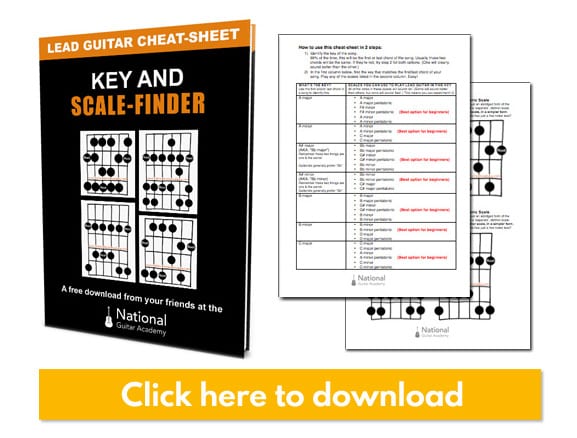 Our Guitar Courses
Become a better guitarist: Click here for our guitar courses
How To Choose A Guitar Pick – Can I Make My Own Guitar Picks?
You sure can! Making your own guitar picks can be fun, but it often results in us buying a "pick puncher" and tearing up old gift cards to make them into picks.
Although this is fun to do and gives you a nice set of backup picks in case of an emergency, these plastic types of picks can break easily and not be very reliable in a live setting.
Hole-punch picks are great for sitting around and strumming, or a little bit or practice, but we always recommend getting yourself a solid and reliable guitar pick for live performance.
Remember that your pick defines a huge part of your playing – when you're learning how to choose a guitar pick, remember that it's going to live between your fingers for hours at a time.

Are you comfortable with the one you have?
Pro Tip: If you're like us and you like fancy things, you can reach out to a local (or international) pick maker to have some guitar picks made for you.
Finding someone like Brett Bailey who creates guitar picks can give you some wonderful insight into what your perfect guitar pick might look like, and help you learn how to choose a guitar pick that is fully-functional for what you need it for.
After sitting down with one of these skilled tradespeople, you may find that you have an all-new appreciation for your guitar picks and how you use them.
Remember, knowledge is power!
How To Choose A Guitar Pick – Why Gripped Picks Can Be Helpful
Do you find your picks slipping out of your fingers often?
Do you struggle to get a grip on your guitar pick?
Are you struggling to learn how to choose a guitar pick that won't run away when you try to use it?
Finding yourself a gripped pick may be the solution for you.
Gripped picks (or 'cat tongue picks' as some call them) are ideal for when you really need to get a grip.
These picks have a fine nylon abrasive on either side that will grip the tips of your fingers and not let go, making them ideal for players who sweat and find themselves unable to hold on to their pick for very long.
Learn how to choose a guitar pick that will stick with you. If sweat and slip is the problem, grips are the solution!
For gripped guitar picks that don't quit on you, we recommend Jim Dunlop Nylon Max Grip.
These picks are gripped incredibly well and they don't let go. This choice is a perfect example of how to choose a guitar pick that will work with you instead of against you!
Figuring Out How To Choose A Guitar Pick Can Take Time
One of the hardest parts of being a guitarist is learning how to choose a guitar pick that will stick with you and benefit your playing, rather than get in the way.
As there are an infinite amount of different picks available on the market, we recommend you try as many as possible until you find the one that fits like a glove.
Guitar pick manufacturers are out there to help you bring your A-game and find the pick that reflects you as a player, so take advantage!
Here are a few summary tips for how to choose a guitar pick:
Smaller picks require less force, larger picks require more
Gripped picks will help those who sweat and have a hard time holding on to their picks
Thickness is subjective, but thicker picks will give you increased string attack.
Tapered guitar picks give us the best of both thin and thick guitar picks due to their design
A massive thank-you to Brett Bailey of Bailey Instrumental for his wonderful insight into this subject matter.
Go follow him on Instagram at @baileyinstrumental and check out his website to place an order for your own custom guitar picks here.
Check out our other free lesson with insight from Brett right here!
Recommended Resources
Here's some more National Guitar Academy lessons you may enjoy:
What Type of Guitarist Are You?
Take our 60-second quiz & get your results: Take The Quiz
Our guitar courses
How do you want to improve as a guitarist? Click here to check out our guitar courses
Cool Guitar T-shirts
Look cooler! Check out our merch: Click here to see our merch store
Want free guitar tips and video lessons delivered to your inbox?
Join over 250,000 other guitar learners and subscribe to our guitar-tips-by-email service. (It's free.)
We'll send you a series of lessons that will move you to the next level of your guitar journey.
Learn how everything fits together quickly, easily and effectively. We share ninja tips (for instant fun!) but also timeless fundamentals that will deepen your understanding.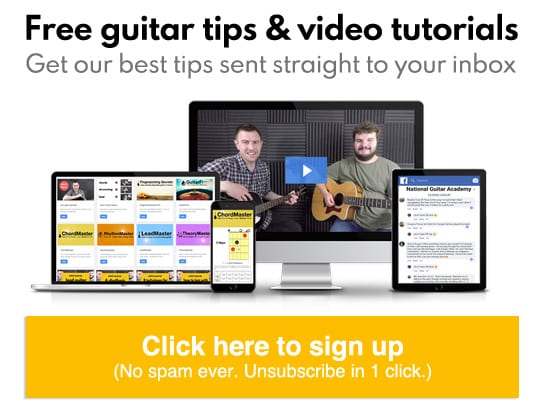 Popular Lessons
How To Learn Guitar: An 11-Step Programme For Beginners
How To Choose The Perfect Beginner Guitar
Guitar Notes Explained: A Guide For Beginners
Our guitar courses
Become a better guitarist: Click here to check out our guitar courses
More Cool Guitar Stuff
Learn about the National Guitar Academy: About Us
Visit our YouTube channel for fun guitar videos.
Join us on Facebook for daily guitar tips.
Listen to our Learn Guitar Podcast for rapid guitar progress.
Check out our free chord lessons.
Get our best guitar tips & videos
Get our best guitar tips & videos