Looking for the best youtube guitar lessons? Then you're in the right place!
In this free guide you will learn:
The 10 highest-quality guitar channels on YouTube
10 essential guitar channels for country, jazz, rock and blues.
How to find the right YouTube guitar channel for you.
Over 200,000 guitar-learners get our world-class guitar tips & tutorials sent straight to their inbox: Click here to join them
Looking for the best YouTube guitar lessons?
YouTube has more videos than you can count of people teaching you everything on the guitar from how to buy one to how to play guitar with your teeth
The downside to this is that it can be difficult to locate what you are looking for.
Not to worry, guitar learners. We have sifted through all the wondrous and strange things the Internet has to offer you and have found the best YouTube guitar lessons for you to try.
What are the best YouTube guitar lessons for beginners?
There are loads of YouTubers out there teaching beginner guitar lessons.
However, one of our favourites is YouTube personality and San Diego guitar teacher, Marty Schwartz
He leads you to a satisfying guitar experience in just 16 minutes, making this one of the best YouTube guitar lessons out there.
This video is not just for beginners.
Experienced guitar players can and should use this video as a guide to teach someone else how to play the guitar and share the joy while deeply learning the fundamentals.
In this video, Marty gives a clear description of what the frets are, how to get a good tone out of the guitar and how to hold a guitar pick.
In general, this video is a good balance between enough information and not too much information. It does not cover tuning, but you can do that here: How To Tune A Guitar
You will have to pause this lesson a few times to work out what you are being shown, but it is fun to watch.
One of the best things about this lesson is that you will be able to play three easy guitar chords and a basic strumming pattern by the end of the lesson.

Best YouTube Guitar Lessons For Learning Songs
None of us picked up a guitar for the first time and dreamed of a lifetime of playing endless exercises.
The most satisfying early guitar experiences are when we learn our first songs.
Leeds guitar teacher Andrew Crowley, known on YouTube as Andy Guitar, has an extensive catalog of song tutorials
For beginning players who know a few chords and can strum with a steady beat, this breakdown of "Shallow" from "A Star Is Born" is one of the best YouTube guitar lessons out there:
The song being taught in this video has some chords that may be unfamiliar to a beginning guitar player, but the video goes through each chord as well as the transitions.
As well as this, Andy covers topics such as rhythm and syncopation.
The variety here makes this one of the best YouTube guitar lessons out there for learning songs.
Learn the 12 EASIEST beginner chords with our famous FREE guide
✓  Stop struggling. Start making music.
✓  Learn 12 beginner-friendly versions of every chord.
✓  This is our most popular guide and it will improve your chord ability quickly.
Ready to take a deep dive?
If you enjoyed this lesson from Andy, then you're going to love this step by step video of the Dire Straits song 'Sultans of Swing' by Shutup and Play.
This is part two of a three-part video. Part one is the demo, and this part focuses on the chords, rhythm, and little fills.
Part three is the breakdown of the solos in the song, so you can take as much or as little out of this series as you like.
This video is also a lesson in playing electric guitar without a pick, and if the higher-level theory discussion eludes you, it will not prevent you from being able to play this song.
Together, the series is one of the best YouTube guitar lessons for really getting into a specific song.
Pro-tip: Whether you prefer using a pick or playing exclusively fingerstyle, take some time to see how the other half lives. You may find more music in your guitar than you thought was there!
Check out this lesson to learn more about fingerpicking: Fingerstyle Guitar Lessons: 5 Easy Ways To Sound Amazing

Best YouTube Guitar Lessons For Guitar Riffs
Whether you picked up a guitar a month ago or 20 years ago, one of the best things you can do for your playing is find a guitar riff in a song that you love and learn it. 
R.J. Ronquillo, a Nashville guitar pro, has some of the best YouTube guitar lessons out there, and he is here for you to make guitar exercises fun with this rundown of five riffs you can use to improve your playing.
This video is for intermediate players and up.
The excellent breakdown of each riff in this video means that if you can string a few notes together on the guitar, you can master these riffs by Slash and Jimmy Page.
Save this video, it is one of the best YouTube guitar lessons that you will find.
Best YouTube Guitar Lessons For Beginner Lead Guitarists
For those of you who want to jump right into playing lead guitar or picking out melodies, there are plenty of online tutorials, like this one: How To Play Lead Guitar
It is not difficult to work out the notes to a melody, especially if you have tablature showing you exactly where to put your fingers.
However, what separates a bad melody from a good melody is phrasing and fluidity.
Center Stage has one of the best YouTube guitar lessons for players at any level to develop fluidity and good phrasing skills in this video:
One thing that makes this one of the best YouTube guitar lessons for beginners is the attention the presenter gives to guitar posture.
Even though posture isn't the sexiest thing about guitar, it's vital to know when learning lead guitar.
The video is presented very methodically and for what it lacks in personality is more than compensated for by the quality of information.
This makes it one of the best YouTube guitar lessons for beginning lead guitarists.
Pro-tip: Warm up when you first sit down with the guitar. It will help get your fingers moving ready for your practice session!
Best YouTube Guitar Lessons – Learning To Improvise
If you want to let go of the shackles of chord charts and tablature and want to start exploring improvisation, this video by Steve Stine is one of the best YouTube guitar lessons on improvising with the pentatonic scale. 
If you are not yet familiar with the pentatonic scale, become an expert in about two minutes with this primer lesson: Pentatonic Scale: An Essential Guide
The video is under 15 minutes long and gives you a solid introduction to improvising.
As well as this, Steve's channel has some of the best YouTube guitar lessons for learning practical theory and beginning to improvise on the guitar.
Best YouTube Guitar Lessons For Exploring The Fretboard
If you're an intermediate guitarist, you've more than likely heard of the CAGED system.
The CAGED system is a fantastic way of branching past the first three frets.
Simply, the CAGED system takes your standard open C, A, G, E and D chords and turns them into chords that can be moved around the whole fretboard.
If you're not too sure what this means, then check out this article: CAGED Guitar System: How To Master Chords
The Art of Guitar has a YouTube channel full of tips and tricks, and it includes this useful introduction to CAGED.
If you are mystified by the CAGED system, this is the video for you.
Mike has broken it down to show you how it works without getting bogged down in too much theory.
This makes it one of the best YouTube guitar lessons you can find on the subject without going too far down the rabbit hole.
Best YouTube Guitar Lessons For Learning A Players Style
Once you're more comfortable with barre chords and lead guitar, you're ready to learn about how other guitarists approach the instrument. 
You do not need to be more than an intermediate guitarist to take advantage of this next video, one of the best YouTube guitar lessons out there for learning another guitarists style.
Carl Brown, guitarist and teacher in Greensboro, NC has a Guitar 365 lesson series on YouTube that points you in several bluesy directions, and you will find that even playing like Hendrix is completely within reach with this lesson series:
This is part one of a two-part video lesson on Jimi Hendrix's "Little Wing," Although 'Little Wing' is barely mentioned in this video, Carl Brown breaks down techniques such as hammer ons, pull offs and chord embellishments.
These are all techniques which form part of Jimi Hendrix's overall playing style and will allow you to sound like Hendrix in no time.
This is not only one of the best YouTube guitar lessons available; it is also one of the most gratifying.
Best YouTube Guitar Lessons For Country Guitar
Want to learn Country Guitar? Vinnie from has the absolute best YouTube guitar lessons out there.
Even if you don't like country guitar his videos are guaranteed to improve your guitar playing.
Here's the video:
Nothing is more satisfying then playing a lick which sounds more difficult than it actually is.
In this video Vinnie from Power-Twang breaks down techniques such as hybrid picking and timing in the style of Brad Paisley.
Best YouTube Guitar Lessons For Jazz Guitar
If you are an intermediate guitarist who wants to explore some more complex harmony, then learning jazz is a great place to start. 
Glen Rose's introductory jazz video is among the best YouTube guitar lessons for jazz. One of the best things about Glen Rose's lessons is that they are accessible for beginners.
What makes this one of the best YouTube guitar lessons out there for jazz is that Glen bridges the gap between how most people learn to play guitar in the first place and how to apply those concepts to jazz.
It's a low key video, but once you've finished it you'll be able to play jazz with just six chords!
Best YouTube Guitar Lessons – Theory And Music Culture
YouTube is fantastic for learning guitar, however there's so much more to music than just learning the guitar.
Music is about learning theory and discovering the popular music culture.
Some of the best YouTube guitar lessons around are on Rick Beato's YouTube channel.
Rick Beato focuses primarily on music theory, but also has plenty of other videos on guitar, music production and guitar culture.
As a YouTuber he is inspiring, encouraging and a pleasure to watch. You can check out some of his videos here:
Further resources
What other articles have we written that would be useful for this person? 
What Type of Guitarist Are You?
Take our 60-second quiz & get your results: Take The Quiz
Want free guitar tips and video lessons delivered to your inbox?
Join over 200,000 other guitar learners and subscribe to our guitar-tips-by-email service. (It's free.)
We'll send you a series of lessons that will move you to the next level of your guitar journey.
Learn how everything fits together quickly, easily and effectively. We share ninja tips (for instant fun!) but also timeless fundamentals that will deepen your understanding.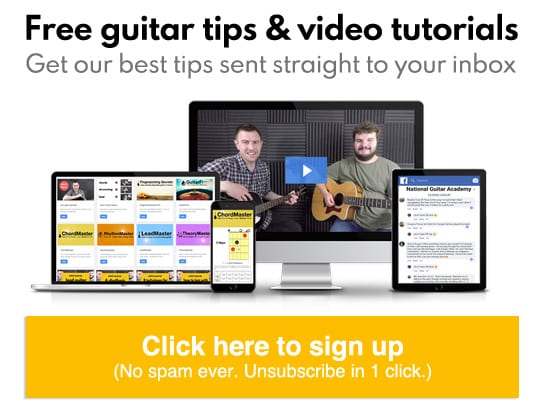 Popular Lessons
How To Learn Guitar: An 11-Step Programme For Beginners
How To Choose The Perfect Beginner Guitar
Guitar Notes Explained: A Guide For Beginners
More Cool Guitar Stuff
Learn about the National Guitar Academy: About Us
Visit our YouTube channel for fun guitar videos.
Join us on Facebook for daily guitar tips.
Listen to our Learn Guitar Podcast for rapid guitar progress.
Check out our free chord lessons.
Get our best guitar tips & videos
Get our best guitar tips & videos