We've pooled all the free online guitar lessons we could find into one guide for you – let's get learning!
In this free lesson you will learn…
The best free online guitar lessons on the internet
How and why you should take influence from several different online instructors
How to find the best free online guitar lessons for yourself in the future
How to practice with these amazing lessons
Why a practice journal is so important
Over 200,000 guitar-learners get our world-class guitar tips & tutorials sent straight to their inbox: Click here to join them
Check Out These Free Online Guitar Lessons To Get You Started
Getting started playing guitar is never easy. Fortunately, the internet has plenty of resources for us to choose from, and many of them are free!
If you are looking for guitar lessons online and you aren't ready to purchase a course, this rundown will help you find exactly what you want.
Even if you don't know what you want, we are here to find you something inspiring and fun to learn.
Our list of free online guitar lessons will help you crack open this majestic instrument and get started on your musical journey today!
Here is how we evaluated the free online guitar lessons in this list:
Is the free content easy to find, or are you being pushed toward the paid content without ever seeing what free online guitar lessons are being offered?
Are the lessons presented in a sensible order that is not difficult to navigate to find what you want for where you are on the guitar?
Do the instructors take the time to explain things, or are they just showing you things to copy? Do they seem to care about whether you are learning what they are teaching?
The lessons below are grouped into categories based on what you might be trying to find out or learn to play. Let's dive in!
Free Online Guitar Lessons For Beginners – Gear Selection
Selecting your first guitar can be overwhelming. Thankfully, there are plenty of lessons to help you find the perfect instrument.
Of course, National Guitar Academy has you covered with free online guitar lessons for the best beginner guitars. Check it out here.
School of Rock has a good guide for confused parents looking for a guitar for their future rock star.
If you are looking for an acoustic guitar and want all the information you could possibly ever need, SecretGuitarTeacher has a fantastic guide here.
The Geography Of The Guitar: Parts & Tuning
It's a good idea to begin learning the guitar by learning the names of things.
Here are the best free online guitar lessons to get you ready to play:
This first one is by Berklee Online, who do a great job of showing us around the electric guitar.
Guitarlessons.com goes over different methods of tuning and string names to prepare you for playing songs.
National Guitar Academy's tuning lesson explains tuning with a tuner and with your ear, along with some guitar care tips. Check out the full lesson here.
Learn the 12 EASIEST beginner chords with our famous FREE guide
✓  Stop struggling. Start making music.
✓  Learn 12 beginner-friendly versions of every chord.
✓  This is our most popular guide and it will improve your chord ability quickly.
Free Online Guitar Lessons – Your First Beginner Lesson
There are many free online guitar lessons designed specifically to be your very first.
You can unpack your guitar, click on one of these links and be on your way immediately!
Guitarcompass incorporates tuning into its first guitar lesson, which gets into notes on the guitar as well as a bit of chords.
Justinguitar has a very detailed multi-part beginner guitar course that focuses on strumming chords.
National Guitar Academy's first guitar lesson covers guitar parts, tuning, and basic chords – everything you need to get up and running quickly. Check out the full lesson here.
Pro-Tip: Free online guitar lessons are convenient, and you can find just about anything you want to learn.
Bear in mind however that music (at its heart) is communication, so there is no substitute for sharing and learning music with others.
The more chords you know, the happier you will be with your ability to play or write music.
Here are the best free online guitar lessons for learning chords at different levels of experience:
Free Online Guitar Lessons – Chords For Beginners
Here are some excellent free online guitar lessons for chords that will get you started with simple shapes that you will use for the rest of your playing life.
Guitarhabits has eight of the most important chords laid out for you to explore.
We at the National Guitar Academy have 14 beginning chords for you, including beginner-friendly versions of more advanced chords to keep you moving.
Finally, Andy Guitar has video demonstrations of basic guitar chords on his YouTube channel.
Chords For Intermediate Players
Intermediate guitar players can begin understanding the guitar's unique relationship to music through the beauty of chords.
We've got the perfect way for you to seamlessly enter the world of intermediate guitar playing with this free online guitar lesson here.
Justinguitar has also got you covered for learning barre chords right here.
Chords For Advanced Players
If you are looking for advanced chord lessons that will push the bounds of your fingers, there are amazing free online guitar lessons made just for you below:
Naturally, National Guitar Academy has plenty of finger-bending lessons in chords for you in our advanced guitar lessons essential guide.
Guitar Masterclass really digs into a soul chord progression to get our fingers warmed up in this lesson.
Guitar Lessons By Jesse has a lovely lesson that breaks down some advanced chord shapes on YouTube.
Got Rhythm?
Rhythm makes or breaks a song, as you've surely heard if you have ever been in a club where the band you're watching is not tight.
You will never be in that band, because we have found plenty of free online guitar lessons to help you develop solid rhythm skills at any level!
Keep reading to see what we've pulled out for you below.
Free Online Guitar Lessons – Rhythm For Beginners
The first step in developing rhythm skills is learning how time is measured out in music and being able to lock into that concept. Here are some excellent free online guitar lessons to get you tapped into your inner timekeeper.
In this lesson, we explain the fundamentals of rhythm in a way you'll be able to easily understand and use right away.
Jamplay has a course that takes an integrative approach to rhythm guitar from the very beginning.
Guitarlessons discusses the importance of rhythm before getting down to practical basics.
Berklee Online also provides us with a fantastic introduction to rhythm with this essential video.
Rhythm Lessons For Intermediate Players
If you can keep a steady beat and change chords without your guitar exploding, you are ready for some of these great free online guitar lessons for rhythm.
Bluegrass guitar enthusiast Tony Polecastro knows what's up with strumming. Here is a great intermediate lesson to get your strumming hand moving.
Rhythm Lessons For Advanced Players
These free online guitar lessons will help you develop more complex strumming styles and explore patterns and rhythms endemic to different genres like funk and jazz.
Scales, Melodies & Lead Guitar Lessons
Most guitarists begin by playing chords or learning some simple riffs by rote. The more we learn about the notes themselves, the more we begin to understand about music.
You can easily deepen your guitar skills by learning what is behind those seemingly random groups of notes with the free lessons below.
Melodies For Beginners
Even understanding the names of the notes in some simple riffs you may have already learned helps you start to map out the notes on the guitar. These free online lessons will get you there.
National Guitar Academy has the fundamentals in two easy-to-understand lessons. For a solid start, check these out:
Berklee has some free online guitar lessons on individual note playing, including this helpful video on reading tablature.
Are you itching to improvise? Guitar On The Spot has a great kickoff point for you here.
Melodies For Intermediate Players
These free online guitar lessons for scales will get you comfortable with the idea of playing or creating melodies on the guitar.
Guitarlessons365 takes you to the land of pentatonic scales with this first melodic lesson.
Guitarhabits has distilled it down to 10 scales for intermediate players here.
If 10 is too many, Guitarorb has the six most common scales right here.
Melodies For Advanced Players
Here are our favorite free online guitar lessons to acquaint you with modes and interconnected scale forms.
Start off with our very own lesson in jazz guitar scales to get your fingers moving and your brain ticking.
From there, dive into minor modes with Youcanlearnguitar here.
Once you've finished these two lessons, Fretjam has a way to make you faster at playing them here.
Pro-Tip: While the instructors giving free online guitar lessons are offering you the benefit of their years of experience and hard work, they sometimes forget to mention one key thing.

The only difference between an amateur and a professional is the amount of dedicated hours put into the craft. The more you practice, the better you will be. Plain and simple.
Download our lead guitar cheat-sheet to make things easier
It can be disorientating for guitarists to understand which scales work with which keys.
With this in mind, we created a cheat-sheet; a key and scale-finder that you can use again and again.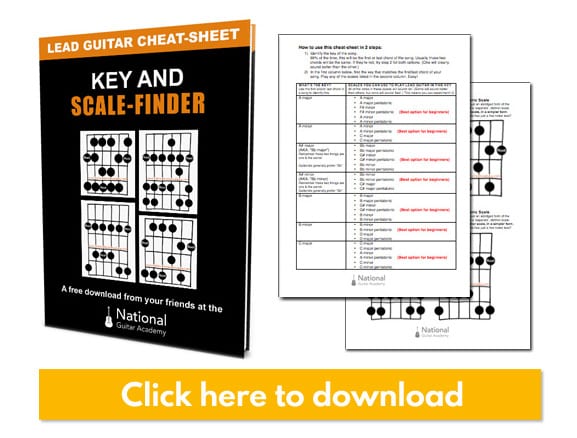 Free Online Guitar Lessons – Beginner Guitar Theory
Theory does not have to be dry and boring, and here are a host of free online guitar lessons, as well as awesome general music theory lessons, that are enjoyable as well as informative.
These free online guitar lessons are manageably-sized pieces of information that will serve you well on the guitar from the beginning.
We'll get you started with the how, why, and where of guitar theory right here.
From there, Guitarcompass has a beginner-friendly theory lesson on moving chord shapes up the neck.
Guitarlessons.com also has a great primer here that includes the importance of theory to ear training.
Finally, Andy Guitar boils the rest of it down for you here.
Intermediate Guitar Theory
These intermediate free online guitar lessons can help you navigate the relationship between chord, scale, and key.
Guitarjamz breaks down the chords into pieces, combining theory with maneuverability in this first lesson.
Jamplay also wants you to know about intervals and scales. Click here for the lesson.
An all-time favorite, we at the National Guitar Academy break down the CAGED chords system for you here.
Advanced Guitar Theory
Here are some excellent instructors' free online guitar lessons just for you advanced players.
Samuraiguitarist presents a video lesson packed with useful information on the practicality of advanced theory here.
Jamplay has some additional practical applications of advanced theory, including how to play through chord changes without driving your guitar into the ditch.
Hubguitar's lesson on chord tensions and coloration is particularly useful for you songwriters who want some new spices to cook with.
Free Online Guitar Lessons – Music Theory For Everyone
There is no rule that says that your appreciation for music is limited to your current technical ability on the guitar or any instrument.
Here are some incredible free online guitar lessons that do not specifically feature the guitar.
Rick Beato is a name that you should get to know well.
His content library on YouTube is massive and incredibly useful to musicians at any level.
12Tone is another fantastic music theory explainer. He goes quickly, but there are pictures to help guide you along the video. Don't forget to pause and take notes!!
If you'd like to spend some quality time with theory, Music Theory For Musicians is a great place to hang out online.
Pro Tip: A lesson journal is a great way to keep track of all of the amazing things you're learning.
It's also a great way to keep your education organized on paper so that you don't forget anything important!
Pick up a cheap journal and keep it in your guitar bag so it's always with you, and take notes!
Branch Out In New Directions With These Free Online Guitar Lessons!
Learning is an uphill battle, no matter what skill level you play at.
With the Internet however, we have a wide-open sea of opportunity to learn in different styles and expand our musical horizons however we please!
With a few free online guitar lessons under your belt, you are ready to do all of the following:
Take a lesson with a live instructor
Go jam with people!
Play at and support your local open mic!
Keep reading, keep practicing and keep learning!
Recommended Resources
Just in case you haven't yet had your fill of free online guitar lessons, we've got four more of our best lessons for you below:
What Type of Guitarist Are You?
Take our 60-second quiz & get your results: Take The Quiz
Want free guitar tips and video lessons delivered to your inbox?
Join over 200,000 other guitar learners and subscribe to our guitar-tips-by-email service. (It's free.)
We'll send you a series of lessons that will move you to the next level of your guitar journey.
Learn how everything fits together quickly, easily and effectively. We share ninja tips (for instant fun!) but also timeless fundamentals that will deepen your understanding.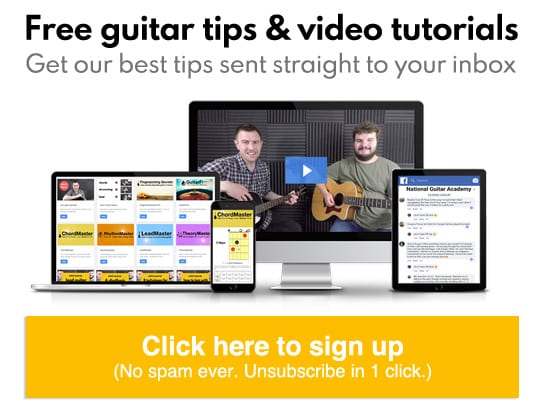 Popular Lessons
How To Learn Guitar: An 11-Step Programme For Beginners
How To Choose The Perfect Beginner Guitar
Guitar Notes Explained: A Guide For Beginners
More Cool Guitar Stuff
Learn about the National Guitar Academy: About Us
Visit our YouTube channel for fun guitar videos.
Join us on Facebook for daily guitar tips.
Listen to our Learn Guitar Podcast for rapid guitar progress.
Check out our free chord lessons.
Get our best guitar tips & videos
Get our best guitar tips & videos