Let's learn some singable popular guitar songs to expand your vocabulary!
In this free lesson you will learn…
10 easy tunes to play along to
How to tackle unfamiliar chords
How to string together different chords through practice
Why these songs are so much fun to play
Over 250,000 guitar-learners get our world-class guitar tips & tutorials sent straight to their inbox: Click here to join them
Ten Popular Guitar Songs In One Place!
Here is a fresh infusion of popular guitar songs for your next jam session, party, performance, or evening alone with your guitar.
Whether you have just begun learning the guitar or you have been playing for a while, you'll find some of these songs simple and satisfying, and others are a little juicier for you to dig in and work on for a while.
These are all popular songs everybody knows, so jump in and get your friends ready to sing along!
Popular Guitar Songs: Tom Petty – "Free Fallin'"
Everybody will definitely know the words to the refrain of this one!
This enormous hit from Tom Petty's 1989 Full Moon Fever was co-written with fellow Traveling Wilbury Jeff Lynne, who also produced the album.
It's got a touch of that Electric Light Orchestra sound, for sure!
The beautiful thing about this song is that it is so simple, it barely qualifies as being a three-chord song! Here are the chords:
D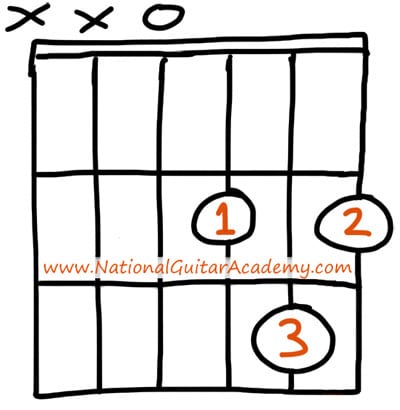 Dsus4
Asus2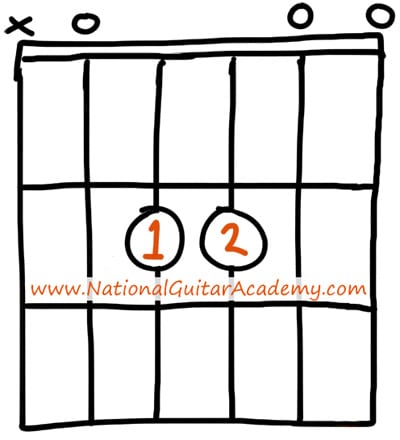 Now, to play this song in the key of F, where Petty has it, put your capo on the third fret and play these three chords. The progression is D – Dsus4 – D – Asus2.
If you'd like some help getting started using a capo, check out this lesson.
The rhythm is a little bit syncopated, and even though at the beginning these chords are only strummed once, it helps to think about how many beats they get.
You can copy the rhythm this way:
D -2-3, Dsus4 -2-3-4-5, Dsus4, D -2, Asus2 -2-3-4-5.
This song is a perpetual favorite among popular guitar songs. It's easy and fun to play and everybody always sings it!
Popular Guitar Songs: Green Day – "Good Riddance"
The next in your list of popular guitar songs is this mellow singalong.
From Green Day's 1997 album Nimrod, "Good Riddance" was described as "the most punk thing we could've done" by Mike Dirnt, because of the relatively contemplative lyrics and resonant message.
This song is in the key of G, and you'll only need four chords to get through it.
G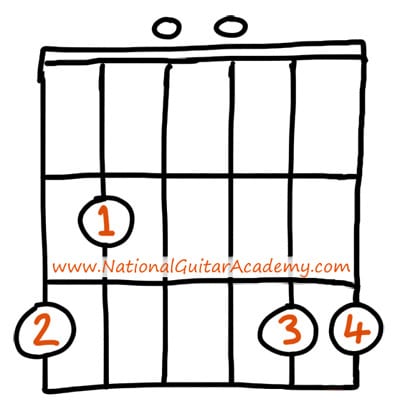 Cadd9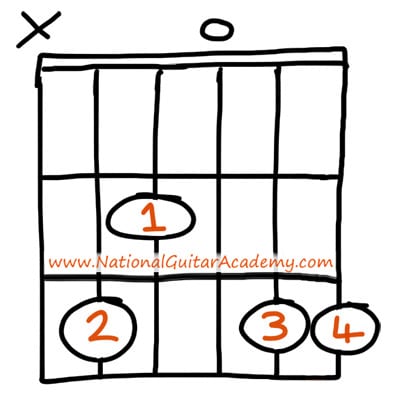 Em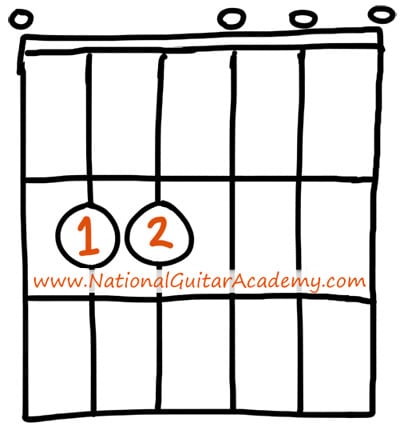 D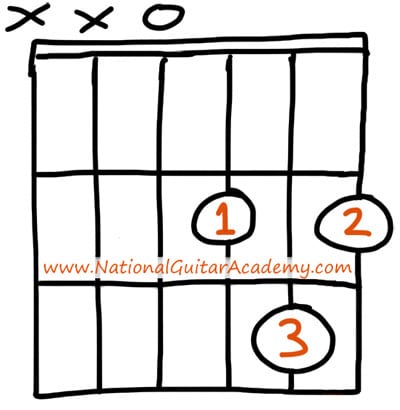 One cool feature of this song is that the note on the B string third fret – that's a D, occurs in Billie Joe Armstrong's voicings of the G, Cadd9, and D chords.
That's sometimes referred to as a drone note, and it enhances the song by having a still note that the other notes move around.
The progression goes like this:
G G Cadd9 D
G G Cadd9 D
Em D C G
Em D C G
Em G Em G
Em D G G
Another reason this is one of the most popular guitar songs around is the picking rhythm that Armstrong is playing throughout the quieter parts of the song.
You can watch him do it in the video, and it goes like this:
This song immediately caught on and stuck around.
In spite of its departure from Green Day's characteristic pop-punk content, everyone still knows the words to one of their most memorable tunes.
Pro-Tip: When playing a picking pattern with a flatpick, it helps a lot to keep your strumming hand moving up and down in time with the beat. This helps you to avoid dropping beats while maintaining the pattern!
Learn 12 EASY beginner chords with our popular guide
✅  Stop struggling. Start making music.
✅  Learn beginner-friendly versions of every chord.
This is our most popular guide and it will improve your chord ability quickly! 😎
Get your own personalised guitar-learning plan 🎸
Get a custom guitar-learning plan here: Click here for GuitarMetrics™
Popular Guitar Songs: Radiohead – "Creep"
If there were ever a breakout single that failed to predict a band's trajectory that followed, it's this one.
When the song was first released in 1992, everybody asked whether Radiohead lifted the chord progression from The Hollies' "Air That I Breathe."
Apparently The Hollies thought so, and to be fair to the Hollies, the yodeling part is pretty unmistakably taken right from their song.
After some legal proceedings, The Hollies' Albert Hammond and Mike Hazlewood were given co-writing credits on the song.
So, whether you want to learn "Creep" or "Air That I Breathe," here are the chords to both!
G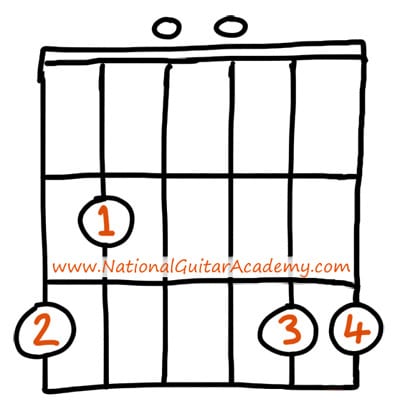 B7
C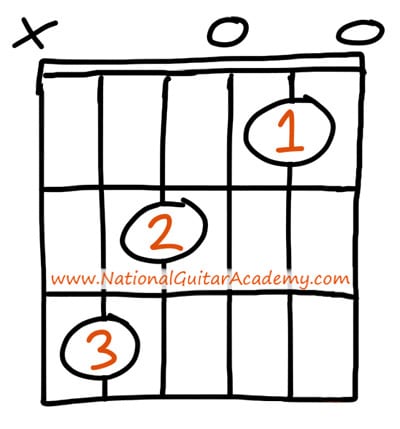 Cm
It's just one measure per chord, over and over through that cycle.
You can use a calypso strum, which goes down, down-up, -up, down-up.
You can also arpeggiate the chords, playing one string at a time.
In the recording, those chords are all played as barre chords, but here, you can use open chords and that simplified but just as effective C minor chord.
If you are interested in learning more about barre chords, check out this lesson on how to play barre chords.
Popular Guitar Songs: James – "Laid"
Here's a little American history lesson: there was a time when you could not walk into a bar without everyone jumping around and singing this song together at some point in the evening.
Usually pretty late.
This is James's biggest hit in the US, and one of his most popular guitar songs. It's fantastically easy to play!
Here are the chords:
C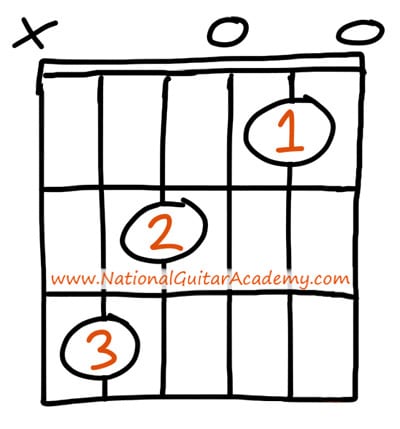 Csus4
G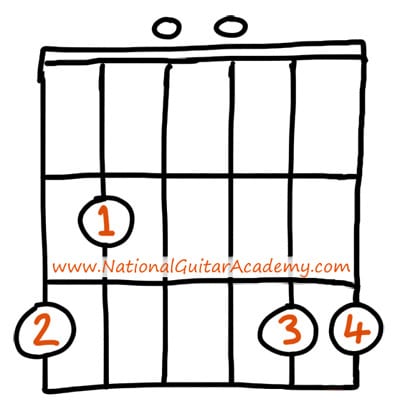 F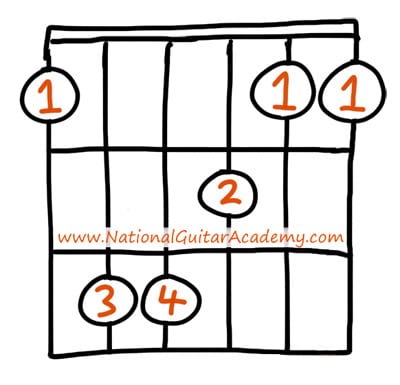 To play that Csus4 chord, make the C chord and then just put your fourth finger on the D string, third fret.
You'll bounce back and forth between C and Csus4 in the song, so practice moving only your pinky and that chord change will become easy.
The progression is this:
C |Csus4 C| G G x3
F G
You can strum this song using a straight down-up pattern. Break it out and listen for the changes in all of your popular guitar songs!
The Beatles – "I've Just Seen A Face"
The Beatles did pretty well at providing us with a lifetime's worth of popular guitar songs.
This one is on the easier side, so everyone can play and sing.
"I've Just Seen a Face" is from the Beatles' 1965 album Help, and it might be their most country song, apart from their cover of "Act Naturally."
It's in the key of A, but they (and you) play it in the key of G with a capo on the second fret, which makes the chords easier to play.
Here are the chords:
G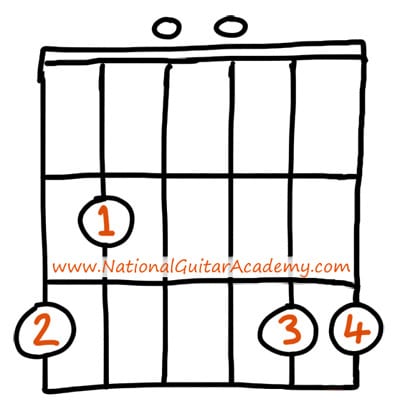 Em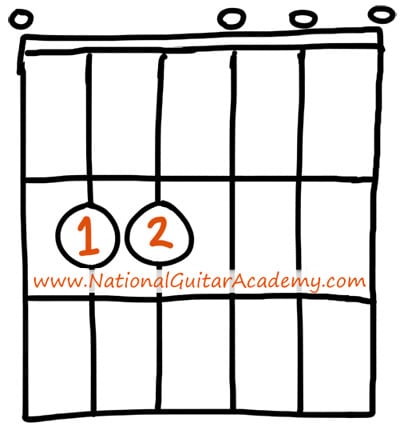 C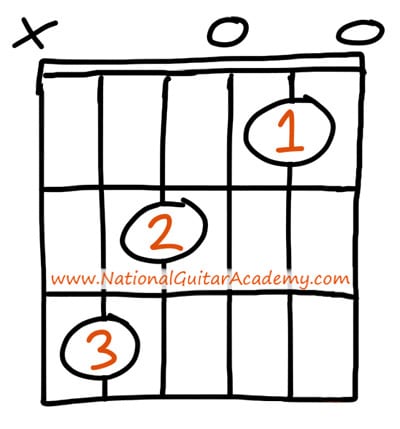 D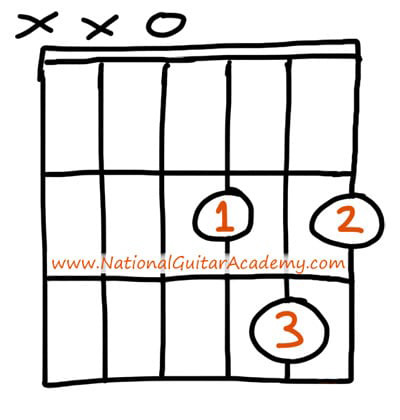 The chord progression for the verse goes like this:
G G G G
Em Em Em Em
C C D G
The chord progression for the "falling" part goes like this:
D D C C
G C G G
"I've Just Seen a Face" is one of the all-time most popular guitar songs, especially for beginners, because it has just about the world's easiest guitar solo.
Here is your tab for the solo:
Get our best guitar tips & videos
Continue reading on page 2:
Page 1
Page 2