Here's 9 easy guitar picking songs you can play right now. Let's dive in!
Over 200,000 guitar-learners get our world-class guitar tips & tutorials sent straight to their inbox: Click here to join them
In this free guide you will find:
9 easy guitar picking songs across a mix of genres
Chords and tabs to make things easy
Lots of bonus guitar picking tips & ideas
So You Want To Learn Some Easy Guitar Picking Songs…
If you are ready to explore some easy guitar picking songs, then you're in the right place!
Picking differs from 'strumming' technique in that 'picking' is done one string at a time. Picking can be done with your fingers, thumbpicks or just a regular old guitar pick.
This list of easy guitar picking songs gives you a simple pathway to finding the type of picking songs that you enjoy playing the most, let's dive in.
Easy Guitar Picking Songs #1 'Mary Jane's Last Dance' by Tom Petty
To get started with easy guitar picking songs, it's important to practice picking one string at a time. One of the best ways to do this is to learn Tom Petty's "Mary Jane's Last Dance."
This 1993 single, with its catchy chanted verses and simple chord progression, integrates picking with strumming and is easy to sing and play at the same time.
Use a pick to play this song, because you'll go back and forth between picking and strumming throughout. Every chord you'll need to play "Mary Jane's Last Dance" is right here.
(If you don't understand the above image please read our article "How To Read Guitar Chordboxes In 60 Seconds". It will make everything clear!)
The verse in the song cycles between Am, G, D, and back to Am. Try a pick-pick-strum pattern once per chord. When you are picking the single string, try not to look down at your picking hand.
For the chorus, you can just strum the chords to break up the rhythm a bit and give it a different feel. This is a great song for teaching your picking hand where the bass strings (E,A and D) are.
As a challenge, try and do this without relying on your eyes, this is a great exercise that will enhance your rhythm and musicality!
Easy Guitar Picking Songs #2 – 'Hurt' by Johnny Cash
One of the best easy guitar picking songs out there is Johnny Cash's version of "Hurt."
The song was written by Trent Reznor for Nine Inch Nails' 1994 album The Downward Spiral, but once Johnny Cash recorded it in 2002, it became his song and the definitive version.
The simple picking figure in the verse brings out the depth of Johnny Cash's performance, so while it is one of the best easy guitar picking songs, it also evokes a lot of emotion.
There are two chord progressions for this song, one for the verse and one for the chorus.
Here are the verse chords…
To work out the rhythm, follow this tab. You can play it with your fingers or with a flatpick.
Use a simple quarter note strum (down strum on the beat) for the chorus. Here are the chords for the chorus.
Fun Theory Fact
The chorus chords all have one note in common – the first string third fret. The idea of keeping one note constant through harmonic changes is sometimes called drone or ostinato.
That's what you get to do here!
Pro-tip: Using a thumbpick? When you strum, secure the thumbpick a bit with your first finger so it doesn't pop off of your thumb.
Learn the 12 EASIEST beginner chords with our famous FREE guide
✓  Stop struggling. Start making music.
✓  Learn 12 beginner-friendly versions of every chord.
✓  This is our most popular guide and it will improve your chord ability quickly.
Easy Guitar Picking Songs #3 – The Coconut Song, Harry Nilsson
One chord, one fingerpicking pattern, one of the greatest easy guitar picking songs ever written: "The Coconut Song" by Harry Nilsson.
The 1970s was not the only decade people went crazy over novelty songs, but between this one, a string of Ray Stevens hits, and a few holdovers from the 1950s and 1960s, there were certainly a lot of them on the pop charts in the United States. This one peaked at #8 in the US and #5 in Canada.
Here's the chord for this cool song:
To play the rhythm figure, the ring finger of your fretting hand has to do one of two things: It either has to barre the fifth and sixth strings, or it has to bounce back and forth between the fifth and sixth strings when the thumb of the picking hand hits the string.
With a little practice, you can do it, and then you have a genuine novelty song in your pile of easy guitar picking songs.
Easy Guitar Picking Songs #4 – Everything Is Free, Gillian Welch
The next in your collection of easy guitar picking songs is the beautiful "Everything Is Free," by Gillian Welch.
"Everything Is Free" is from Welch's 2001 album, Time (the revelator).
The album is full of easy guitar picking songs, so if you are interested in developing your picking skills, or if you just like beautiful music, you should dive into the whole album.
This song uses a four-chord repeating pattern throughout. Gillian Welch plays these chords with the capo on the fifth fret.
Courtney Barnett uses the same chords with a capo on the third fret in her cover, and Father John Misty also uses the same chords in his cover but doesn't use a capo at all.
Here is the picking pattern:
The thumb bouncing back and forth between the A and D strings, or between the E and D strings, is a basic fingerpicking principle that's important to learn if you are going to do travis-style picking.
If you want to play any folk music or fingerstyle blues, start with easy guitar picking songs like these and pay attention to where the thumb goes for each chord.
Easy Guitar Picking Songs #5 – Hallelujah, Jeff Buckley
If we're talking about easy guitar picking songs, sooner or later, we're talking about "Hallelujah" by Leonard Cohen. Here is Jeff Buckley's version.
Although this is clearly one of the greatest pieces of songwriting of all time, the original version by Leonard Cohen never gained much traction, and like Johnny Cash's version of "Hurt," it was Jeff Buckley's version that finally caught on, got used in TV and movies, and reached the charts, mostly after his death in 1997.
The chords for "Hallelujah" are here. Jeff Buckley uses a capo on the sixth fret to accommodate his amazing voice.
Trying to render an exact copy of Jeff Buckley's fingerstyle arrangement of "Hallelujah" takes it just outside the realm of easy guitar picking songs, so to get started on your own arrangement, try this pattern.
This song has six beats in a measure, six notes picked per measure. In some cases, the chords change halfway through the measure, before you have a chance to complete the pattern.
When this happens, just play the first half of the pattern.
Easy Guitar Picking Songs #6 Simple Man, Lynyrd Skynyrd
One of the best easy guitar picking songs setlist is 'Simple Man' by Lynyrd Skynyrd.
"Simple Man" closes out side 1 of Lynyrd Skynyrd's 1973 debut album, Lynyrd Skynyrd, which, as some of us have only very recently discovered, was produced by Al Kooper.
In keeping with the spirit of the title, the song uses just three chords.
The main rhythm figure in the song is a flatpicked arpeggio pattern throughout all three chords.
Here's how it goes.
You can play "Simple Man" by fingerpicking, but it is a great way to get used to flatpicking across the strings and developing consistency.
It is one of the most gratifying easy guitar picking songs to master, so give it a try!
Pro-tip: Try using alternate picking when you play arpeggios with a flatpick. Alternate picking is down up down up picking as opposed to all down picking. It helps with fluidity and timekeeping.
Easy Guitar Picking Songs #7 – 'Pancho and Lefty' by Townes Van Zandt
If you are an advanced beginning guitarist, you can work out a fingerstyle arrangement of Townes Van Zandt's "Pancho and Lefty!"
This songwriting masterpiece was popularized by Emmylou Harris in 1976, and covered by Willie Nelson and Merle Haggard in 1983.
Their version topped the country charts, but it's the original version that belongs in the canon of all-time easy guitar picking songs.
There is one challenging chord in the progression: F. Try the fingering suggested here for the thumb on the sixth string.
If that version of F is not bringing you joy just yet, try the four-string F or an Fmaj7. To play along with Townes, put your capo on the first fret.
The recording shows Townes Van Zandt doing some improvisatory fingerstyle in between the beat, so it is difficult to capture exactly what is happening in this version.
It is not essential to capture exactly what is happening, however if you want to develop your own fingerpicking style, you could try making your own fingerstyle arrangement of "Pancho and Lefty".
To do this, try basing it on this Travis picking pattern:
This is a great story song, and one that not everybody has heard before, so practice that F chord and your Travis picking and get this masterpiece into your pile of easy guitar picking songs!
Easy Guitar Picking Songs #8 'Valerie Loves Me' by Material Issue
Easy guitar picking songs and power pop do not always peacefully coexist, but here is a major exception from Material Issue.
"Valerie Loves Me" is one of three singles from Material Issue's 1991 breakout album, International Pop Overthrow.
The album title became the name of an ongoing annual music festival, in honor of the singer-songwriter, Jim Ellison.
The verse has a four-chord progression, and the chorus is a screaming strummed G chord.
The picking pattern can be played using alternate picking with a flatpick, or it can be fingerpicked.
This easy guitar picking song is infectious and satisfying, so make sure you set a timer and don't lose all day practicing it!
Download our lead guitar cheat-sheet to make things easier
It can be disorientating for guitarists to understand which scales work with which keys.
With this in mind, we created a cheat-sheet; a key and scale-finder that you can use again and again.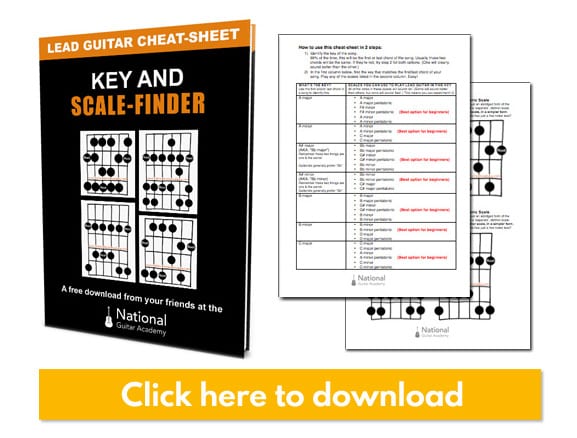 Easy Guitar Picking Songs #9 'Is There Anybody Out There' by Pink Floyd
Your set of easy guitar picking songs should have an instrumental or two in it and this classic from Pink Floyd is a fine additional to our list of easy guitar picking songs.
Although the song arrangement is written in tablature, it's important to familiarize yourself with the chord shapes as this will make learning the song easier.
This song is split into two sections, an A section and a B section. Have a look at the A section.
It happens twice, with minor variations, and then again after the B section, so the song structure is A A B A.
Here is the tab for the B part.
Do not be alarmed at the hammer-on. This is how you learn how to do hammer-ons. Here's how to learn hammer-on technique with this easy classic:
In this piece, you are already on the first fret and hammering onto the third fret.
After you pick the second string, first fret, do not pick it again for the hammer-on.
Instead, forcefully tap the third fret with the third finger of your fretting hand.
Try to hit the wood of the neck through the string.
To learn more about hammer on techniques, check out this video by Jack:
With enough force, you'll be able to make that note sound without picking the string, and just like that, you have another rock star move in your guitar arsenal.
What to Pick Next?
Now that you have a handful of easy guitar picking songs, you can build on the different flatpicking and fingerpicking patterns in a few ways. Here are a few things you can do to enhance your playing:
Try them out on some songs you can already play.
Use them on different chords and write your own song.
Take your easy guitar picking songs to a jam session or an open mic and show them to others.
As well as this, you can also explore a lot of these picking techniques in more detail, here are a few lessons which will help you develop your picking techniques:
Recommended resources
What other articles have we written that would be useful for this person?
Spend a few minutes looking through the lesson index on our website and pick 5-10 articles you will include as internal links. Paste them below here or directly into your above plan.
Guitar Practice – 10 Essential Tips
20 Guitar Exercises That Will Make You A Better Guitarist
What Is The Root Note Of A Chord?
What Type of Guitarist Are You?
Take our 60-second quiz & get your results: Take The Quiz
Want free guitar tips and video lessons delivered to your inbox?
Join over 200,000 other guitar learners and subscribe to our guitar-tips-by-email service. (It's free.)
We'll send you a series of lessons that will move you to the next level of your guitar journey.
Learn how everything fits together quickly, easily and effectively. We share ninja tips (for instant fun!) but also timeless fundamentals that will deepen your understanding.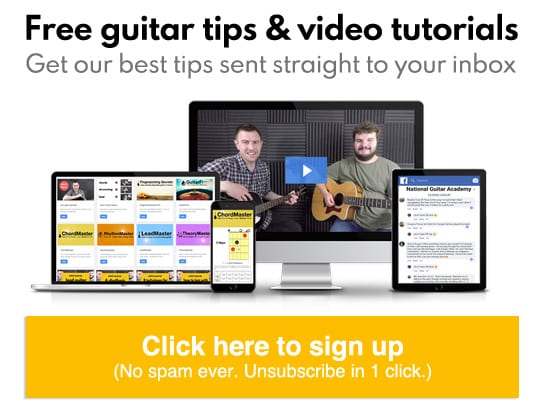 Popular Lessons
How To Learn Guitar: An 11-Step Programme For Beginners
How To Choose The Perfect Beginner Guitar
Guitar Notes Explained: A Guide For Beginners
More Cool Guitar Stuff
Learn about the National Guitar Academy: About Us
Visit our YouTube channel for fun guitar videos.
Join us on Facebook for daily guitar tips.
Listen to our Learn Guitar Podcast for rapid guitar progress.
Check out our free chord lessons.
Get our best guitar tips & videos
Get our best guitar tips & videos