Let's explore the best guitar apps for beginners to help supercharge your guitar journey!
Over 250,000 guitar-learners get our world-class guitar tips & tutorials sent straight to their inbox: Click here to join them
In this free lesson you will learn…
Our top 9 apps for learning guitar
Why it's important to build a toolbox for learning
An app that turns your phone into an amp!
The advantages and disadvantages of using apps for learning
Let's Talk Tech! Here Are The Best Guitar Apps For Beginners!
You start your car with your phone, and you can also use apps to complain about the dinner you ordered.
You can find out how your child is doing in school, and even comparison-shop for window shades – all using apps.
It makes perfect sense that you ought to be able to use the best guitar apps for beginners to help yourself start, maintain, improve, and extend your guitar world.
There's no substitute, obviously for sitting down with the guitar and getting cracking, but there are apps for almost every aspect of playing guitar.
An app can't change your strings, but it can help you tune!
An app can help you develop steady rhythm skills by teaching you basic strumming patterns and keeping time for you.
An app can also tell you exactly, or at least inexactly, how to play your favorite song and show you different songs by your favorite songwriters.
We've taken the bigger (and some minor) apps out for a spin and come back with a list of our top 9 best guitar apps for beginners!
Best Guitar Apps For Beginners: Pano Tuner
Guitars aren't like pianos, where you just call a guy twice or four times a year to come over and tune it for you.
Guitars require constant tuning, and they are sensitive to changes in temperature and humidity.
The wood and metal expand and contract at different rates, and because guitars are so portable they tend to fall out of tune in transit.
If you want to sound good, you have to stay in tune.
This is why the Pano Tuner is on our list of the best guitar apps for beginners.
The main difference between the Pano Tuner and other apps is that some of the other tuning apps only show you the names of the notes for the open guitar strings: E (once, but used twice!), A, D, G, and B.
The Pano Tuner is chromatic, meaning that it can be used to tune any string to any note.
At first, that might seem like more app than you need, however with this app you can tune your guitar with the capo on.
For example, if you have a capo on the third fret, you would want G, C, F, Bb, and D as your target notes instead of E, A, D, G, B and E.
This app can also tune your guitar to any alternate tunings you choose, and that is why it's one of the best guitar apps for beginners.
Learn 12 EASY beginner chords with our popular guide
✅  Stop struggling. Start making music.
✅  Learn beginner-friendly versions of every chord.
This is our most popular guide and it will improve your chord ability quickly! 😎
Get your own personalised guitar-learning plan 🎸
Get a custom guitar-learning plan here: Click here for GuitarMetrics™
Best Guitar Apps For Beginners: Soundbrenner – The Metronome
Much the same as tuning apps, there are countless metronome apps available for your phone or tablet.
Why do you need a metronome app? As with the rest of life, timing is everything with music and guitar playing!
There are basic metronome apps that will click out a steady beat for you, and some of them have lights that flash in case you need the beat visually as well.
Where metronomes become less useful is the point in your guitar playing where you want to play a rhythm against another rhythm as opposed to a simple beat, and that is where the Soundbrenner metronome makes our list for the best guitar apps for beginners.
Why have a metronome app that's more sophisticated than the one you need right now?
This metronome app is one of the best guitar apps for beginners because it can easily take you from strumming simple down-up patterns to holding your own against multiple rhythms.
It's customizable, so you can keep it simple, or you can subdivide the beat to teach yourself how to play different grooves.
You can also set the tempo by tapping, as opposed to by choosing a random number and hoping that it's the right pace for you.
If you're into recording at all, this is an extremely important tool to have!
Last but not least, it's a pretty and intuitive interface, so you're not burning precious guitar playing time figuring out how to use it!
Pro-Tip: The best guitar apps for beginners are only as good as our willingness to use them.
Metronomes are notoriously easy to turn on and then just ignore – Ask us how we know!
Take the time to get accustomed to playing with a metronome by starting at a tempo somewhat slower than you need.
This will give your brain some space to process what's happening on the metronome!
Best Guitar Apps For Beginners: Ultimate-Guitar
We all know that the best songs to teach us beginner guitar chords and rhythms are the songs we already know and love.
This is because we can already imagine what they sound like.
It can take a while to learn enough music theory, and to develop an ear that can identify the notes and chords you hear to be able to play a song by listening to a recording – but you don't need to let that stop you!
When you find the songs you want to learn, Ultimate Guitar is an amazing resource for figuring out how to learn them. This makes our list of the best guitar apps for beginners on accessibility alone.
The Ultimate Guitar app has a free version that you can download, and if you can tolerate the ads for the sake of a free app, it will wind up being one of your best guitar apps for beginners.
The main advantage of Ultimate Guitar over all other apps and websites that give you chord charts for songs is that their library is immense.
Another beautiful feature is that many, though not all, of their songs have a suggested strumming pattern, so you're learning not only where and when the chord changes are but also how to begin strumming the song.
There are multiple versions of most songs on the app, some accurate down to the last detail and some more general and simplified.
This means that even as a beginner, you can start learning your favorite song right away no matter what it is!
Best Guitar Apps For Beginners: YouTube
The guitar is a pretty social instrument.
You learn from other people, and when you play a song together in a class or group lesson, you cover each other's missed chords and strums!
However, for an absolute beginner on the guitar, there is one of our best guitar apps for beginners on this list that stands head and shoulders above the rest for getting yourself started.
It's no doubt already on your phone, and it's YouTube.
Before you start shouting "thanks, Professor Obvious!" at us, consider this:
YouTube houses the free content of every single major guitar teacher in the world.
Short of having a live guitar teacher to explain, demonstrate, and answer your questions, YouTube is one of the best guitar apps for beginners for sheer access to information.
It's also a very low-risk way to check out different online teaching styles and see which teachers or methods really speak to the way that you learn!
Best Guitar Apps For Beginners: Yousician
The best guitar apps for beginners that we've covered so far are great resources for specific things like songs and tuning and finding a guitar course.
For finding a guitar app that actually has an instruction curriculum for you to follow, it's hard to beat Yousician.
Yousician gives you bite-sized lessons and an algorithm by which it delivers some feedback.
If you'd like to begin to learn guitar but hate the idea of wading through a bunch of information before you even get to play, Yousician is for you.
There are two things to consider when using Yousician:
First, although you can get a lot accomplished on the guitar, the lack of instruction on technique and injury prevention is something you need to be aware of and supplement on your own.
The other large drawback to Yousician is that it does not really help you to stop relying on the app to play.
Again, that's not a deal-breaker, but you will want to use some of our other best guitar apps for beginners to supplement what you learn using Yousician.
Pro-Tip: Guitar is so exciting to learn that it is very easy to overdo it, especially once you've got those important calluses built up on your fingers.
With this list of the best guitar apps for beginners, you'll have plenty to sink your teeth into.
Digging into the guitar too hard and for too long can lead to some nasty inflammation, and even repetitive stress injury.
Look around for as much guidance as you can find on injury prevention so that you can play guitar for the rest of your life!
Best Guitar Apps for Beginners: AmpliTube
It's all well and good to follow a popular guitar curriculum and make sure that you develop as a musician in a rational way. After all, that's the key to sounding good!
For all the best guitar apps for beginners out there to help you learn about tone and playing in time, there's one that you're just going to want to play with.
That guitar app is AmpliTube.
All you need is an adapter like the iRig, which is made by the same company, and the app provides you with everything you need to sound awesome.
You don't have to know anything about amps or effects to enjoy playing with AmpliTube.
It's an easy and fun way to learn about how to make different sounds on your guitar.
This is one of the best guitar apps for beginners if you want to learn about setting up your tone using different pedals and amp sims.
Download our lead guitar cheat-sheet to make things easier
It can be disorientating for guitarists to understand which scales work with which keys.

With this in mind, we created a cheat-sheet; a key and scale-finder that you can use again and again.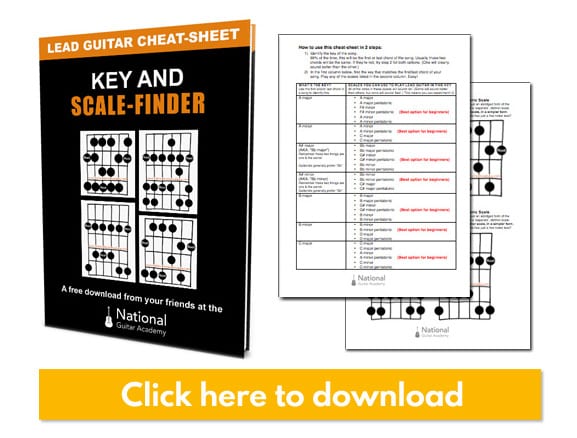 Get your own personalised guitar-learning plan 🎸
Get a custom guitar-learning plan here: Click here for GuitarMetrics™
Best Guitar Apps For Beginners: The Amazing Slow Downer
There are a couple of major aspects of playing the guitar that can't really be demonstrated into existence. One is the ability to learn a song from a recording.
We won't bore you with grandfatherly tales about dropping the needle on a record hundreds of times to learn one single guitar riff.
We'll just quietly beam at how lucky we are to live in an era where The Amazing Slow Downer app exists.
This is an app that does exactly what it says it does: it takes a recording and slows it down to a tempo of your choosing so that you can pick it apart and learn it at your leisure.
There is a paid version, and it includes some cool features like looping, but the free version is one of the best guitar apps for beginners for what it is designed to do!
Best Guitar Apps For Beginners: Getchord
So, you've learned a handful of chords, and you've found a pile of songs that you are itching to play. You're ready to go!
Most songs we want to learn on the guitar are 80 percent easy and 20 percent impossible, because there are always two or three chords that we just don't know yet.
Download Getchord and you'll have any chord you want to learn, with a variety of ways to make it happen!
This is one of the best guitar apps for beginners because it has not only an extensive chord library but also scales, so you can learn to find melodies and even improvise!
Best Guitar Apps For Beginners: iRealPro
Rounding out our top 9 best guitar apps for beginners is one that really puts it all together.
Check out iRealPro if you'd like to collect a group of songs and have the chord chart available,  or if you'd like to play along with a backing band!
This is one of the most exciting apps out there because it has all the tools for you to play any song you want, whether you need to learn a chord, change a key, store a song, or try out different kinds of accompaniment.
It's suitable for all levels, and as a beginner, you'll be able to use this app for a long time without running out of useful features.
Load Up Your Phone & Learn The Guitar Anywhere!
Let's face it: You can't hire a guitar teacher to follow you around town teaching you everything you need to know on the guitar whenever you have a spare minute.
This collection of the best guitar apps for beginners enables you to learn the guitar anywhere you happen to be.
Just don't forget your charger!
Recommended Resources
If you enjoyed this guide from the National Guitar Academy, you're going to love our other content below:
What Type of Guitarist Are You?
Take our 60-second quiz & get your results: Take The Quiz
Join the world's best online guitar school 🌎
Get your own personalised guitar learning plan (customised just for YOU).
World-class online guitar courses. Learn at your own pace.
Community Campus & Learning Forum -  A friendly community! Connect with our team & students. 😊
Beginner Song library with chordsheets, tabs and tips. (Songs suitable for all levels!)
Regular live streams, seminars and Q&A sessions - Learn from world-class guitar educators. Get all your questions answered!
Click here to learn more about National Guitar Academy membership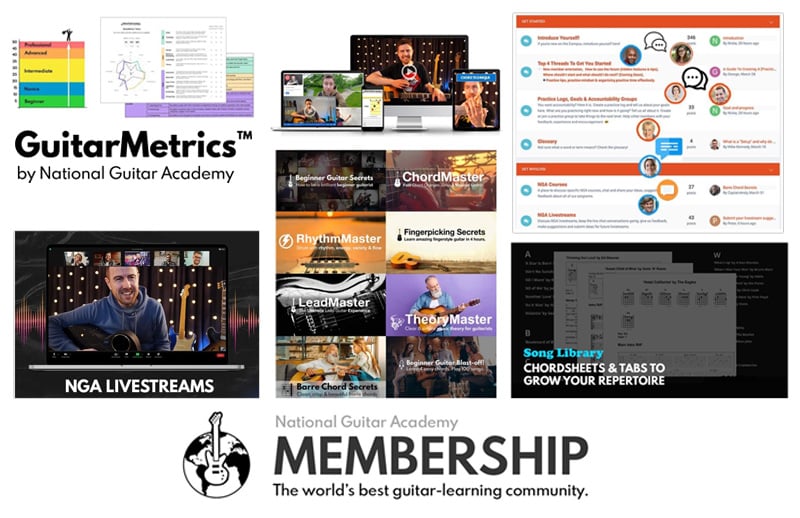 Cool Guitar T-shirts 😎
Look cooler! Check out our merch: Click here to see our merch store
Want free guitar tips and video lessons delivered to your inbox?
Join over 250,000 other guitar learners and subscribe to our guitar-tips-by-email service. (It's free.)
We'll send you a series of lessons that will move you to the next level of your guitar journey.
Learn how everything fits together quickly, easily and effectively. We share ninja tips (for instant fun!) but also timeless fundamentals that will deepen your understanding.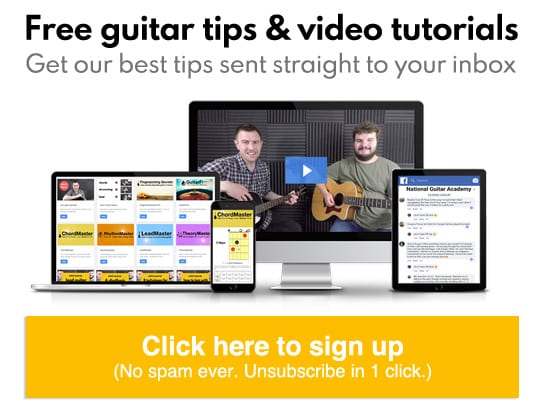 Get our best guitar tips & videos
Get our best guitar tips & videos