Finding the best folk guitar for you can be difficult – we've got a roundup of some of our favourites right here!
Over 250,000 guitar-learners get our world-class guitar tips & tutorials sent straight to their inbox: Click here to join them
Join the world's best online guitar school 🌎
Get your own personalised guitar learning plan (customised just for YOU).
World-class online guitar courses. Learn at your own pace.
Community Campus & Learning Forum -  A friendly community of guitarists! Connect with our team & students. 😊
Beginner Song library with chordsheets, tabs and tips. (Songs suitable for all levels!)
Regular live streams, seminars and Q&A sessions - Learn from world-class guitar educators. Get all your questions answered!
Click here to learn more about National Guitar Academy membership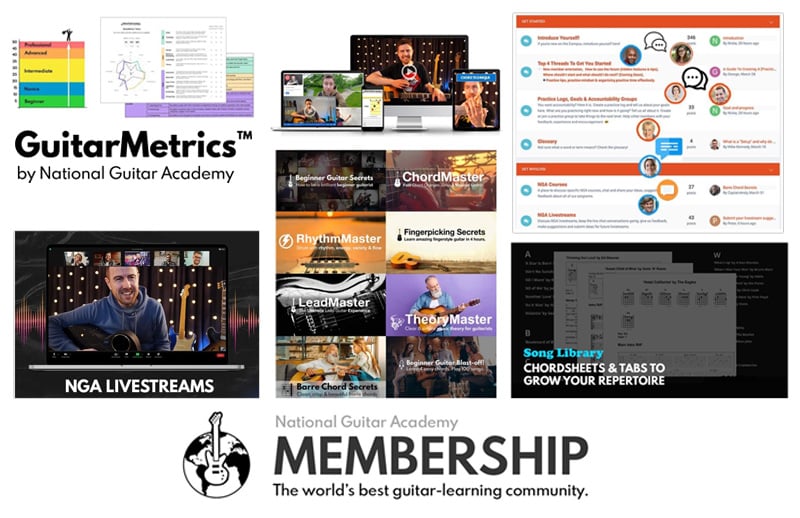 In this free lesson you will learn…
Some of our top picks for acoustic folk guitars
What to look for in a guitar
Understanding price points in guitars
The difference between different tops of guitars
How To Find The Best Folk Guitar For You
So you're looking for a folk guitar! 
We believe you can never have too many guitars around the house, because each one has different magic in it!
Now, guitars are referred to in a lot of different ways, and that can be mighty confusing when you're shopping around for one.
The term "folk guitar" itself is a little bit unclear.
You might be thinking of an acoustic guitar used to play folk music, but people play folk music on many kinds of acoustic guitar.
On the other hand you might be thinking of a folk-sized guitar, which is a certain body shape of guitar that's similar to that of a classical guitar and not quite as big as other acoustic guitars.
The folk guitar in the picture has earned its name because of its body size and shape.
It looks similar to a classical guitar, especially where the strings connect to the tuning machines.
There are other folk-sized guitars that have steel strings, and you'll see the difference in the headstock, which doesn't have holes in it.
The folk-sized guitar is sized and shaped so as to produce a balanced sound. Other guitars like dreadnoughts and jumbo-body guitars tend to have a more booming bass sound.
The best folk guitar for you is going to be the one that sounds and feels the best to you.
Just so that you know what you're looking for and what the people in the shop are talking about, here's a pretty good breakdown of guitar sizes from the lovely people at StrumViews.com.
Size Considerations For The Best Folk Guitar
From the tiny traveler-sized guitar to the grand jumbo, size does make a difference in determining which is the best folk guitar for you.
Very generally speaking, the bigger the guitar body, the bigger the sound you get out of the guitar.
More sound isn't necessarily better sound, however, when you're talking about the best folk guitar.
If you are going to do a lot of fingerpicking, you'll want a more balanced sound between the low  notes and the high notes, which means that the mid-sized body guitars – the orchestra/auditorium range – are designed optimally for you.
If you'll be strumming a lot of big chords and want to fill up the space with sound, the dreadnoughts and larger will help you to do that.
Size matters not only to the quality of sound you'll get out of the guitar but also to how well the guitar fits your body.
If the most full and joyous reverberations of the jumbo guitar capture your heart, you'll learn to deal with how unwieldy that gigantic thing is on your petite frame.
But it won't ever be that comfortable.
If it's the pristine and delicate sounds of the parlor guitar that you're after but you happen to be over six feet tall, you'll figure out how to navigate the tiny fretboard with your large and powerful fingers.
But it will take a lot of adjusting.
The recommendations that follow cover guitars at all sizes and price ranges to help you find the best folk guitar for you right now!
Learn the 12 EASIEST beginner chords with our famous FREE guide
✓  Stop struggling. Start making music.
✓  Learn 12 beginner-friendly versions of every chord.
✓  This is our most popular guide and it will improve your chord ability quickly. 
Get your own personalised guitar-learning plan 🎸
Get a custom guitar-learning plan here: Click here for GuitarMetrics™
Best Folk Guitar For Beginners: Yamaha FG800
Look, none of us know what we're doing when we wander into a guitar store or a website in search of our first folk guitar.
Guitars all sound like… well, guitars. They all seem like large foreign objects we don't quite know how to deal with.

If we're asked a question by the salesperson, we definitely don't have an answer.
Fortunately for us, Yamaha has the answer. Their FG800 folk guitar is just about the best folk guitar for the first-time buyer.
This guitar has a solid spruce top, which is a common tonewood for the top of a guitar. The fretboard is rosewood and the sides and back are nato.
The Yamaha FG800 retails for around $200, which is the absolute least you can reasonably expect to spend on a new guitar that sounds good.
The reason this is one of the best folk guitar choices for you is that Yamaha manages to consistently crank out inexpensive guitars that sound good and last forever.
folk guitar Once you've selected the best folk guitar for you, at some point after getting used to playing it, you'll want to take it in to be set up.
A set-up costs in the neighborhood of $70 and involves any adjustments needed to the neck for the guitar to play smoothly.
The frets may need to be filed; the degree of bowing in the neck may need to be altered. The nut may need to be filed down. These small things, once done, will make you feel like you have a new guitar!
Best Folk Guitar For A Budget: Fender FA-100
Fender is legendary for making all kinds of iconic guitars and also uncountable versions of affordable, basic, low-maintenance acoustic instruments that will last a lifetime.
For such an affordable price, the FA-100 still sounds clear and full, and it's a very giggable guitar.
The Fender FA-100 is a very accessible instrument, and is available just about anywhere.
One feature of the FA-100 is a laminate top. This differentiates it from the solid top of the Yamaha above.
Laminate is essentially plywood, thin pieces of wood pressed together to make the top plate of the guitar as opposed to one solid piece of wood.
Plenty of entry-level guitars have laminate tops, which are sometimes considered inferior to solid tops because a solid top is more responsive and produces a richer tone over time.
There is absolutely nothing wrong with a laminate top guitar however.
One advantage to those of you who live in places with unpredictable weather is that laminate is less susceptible than solid wood to the ravages of heat, cold, and humidity.
Overall, the FA-100 holds up as the best folk guitar for a budget musician looking to start out on their journey.
Best Folk Guitar For Immediate Playability: Takamine GN-10
We've talked about set-ups, the minor medical procedure most guitars off the production line really need in order to become enjoyable to play.
A lot of guitars, particularly mass-produced low-end guitars like the ones we're looking for here, tend to play a little stiffly right out of the box.
This is because maybe the nut holds the strings up a little too high so it really hurts to play chords at first, or the neck isn't quite right and there's a bit of fret buzz.
Little, easily fixable things, but still. You want to open up your guitar and start jamming, not take it right to the guitar hospital.
The chances are very good that you won't have that problem with the Takamine GN-10.
The Takamine GN-10 NEX (NEX is Takamine's proprietary name for their body style) benefits from Takamine's general reputation for manufacturing guitars that are immediately playable and sound lovely as soon as they land on your doorstep.
With a spruce top, mahogany sides, and a rosewood neck, this guitar is surprisingly light and has a snappy but not too bright or tinny tone.
The GN-10 sells for about $250.
Best Folk Guitar For Fingerstyle Blues: Alvarez AP66SHB
Some really interesting things happen once you decide to spend between $300 and $800 on a guitar.
This "mid-range" tier of guitars varies wildly in quality, size, tone, and style. Almost everybody's got a huge selection of guitars in this price range.
You shouldn't see many laminate guitars in this price range, although some are good.
What you're paying for beyond the entry-level price range is higher quality componentry and manufacturing.
It is possible to buy a striking and beautiful-sounding guitar of your very own, like the Alvarez AP66SHB Artist Series guitar.
Here's why this is the best folk guitar for fingerstyle blues, or any fingerstyle approach in general:
It's got a mahogany top, which has a fairly bright tone, so your playing will sound crisp.
Alvarez also just seems to have some magic sauce in its guitars that make them very responsive.
The wood choice also means that the tone is clear but never tinny. Overall, it's just a gorgeous little instrument – and some may find it to be little by comparison to some of the other best folk guitar picks on this list.
This is a great mid-range guitar that is affordable and will give you years of armchair playing but can also handle performance duties.
Pro-Tip: Even if you don't buy your guitar in a brick-and-mortar store, it's very helpful to visit one when you're deciding which is the best folk guitar for you.
You can play a lot of different guitars and talk to the sales staff about the differences. We all learn a lot from the knowledgeable folks in guitar stores!
Best Folk Guitar For Gigging: Guild M-240E
Guild guitars are loud. We do not know how Guild manages to pack so much punch in an acoustic guitar that looks just like every other acoustic guitar, but they do.
Seriously, you'll scare all the people in the coffeehouse with that thing!
Not really, but you will definitely command their attention.
The Guild M-240E Troubadour is a small guitar with a big sound, and it is the best folk guitar you can find for under $500 that you can take to the gig and be heard and enjoyed with ease.
The sound of the Guild does carry, and it is a surprisingly robust and booming guitar for such a little thing. The sound alone makes it worthy of the title of best folk guitar.
What makes it especially gig-worthy is the inclusion of electronics, so that you can plug it right into your amp or the venue's system.
It's small and light, which is definitely another consideration if you are or plan to be a frequent player about town!
Download our lead guitar cheat-sheet to make things easier
It can be disorientating for guitarists to understand which scales work with which keys.
With this in mind, we created a cheat-sheet; a key and scale-finder that you can use again and again.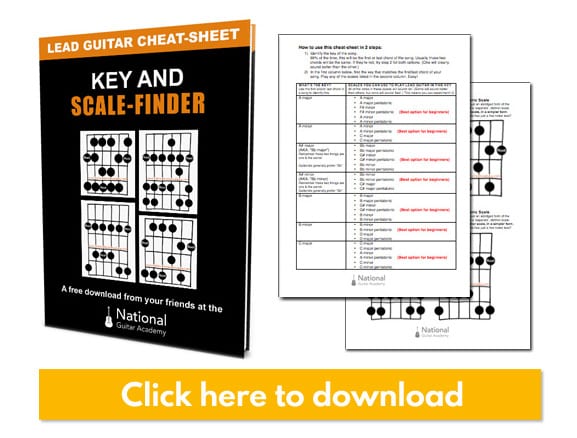 Best Folk Guitar & Gold Standard: Martin 000-15M
To be honest, this whole article could have been filled with Martin guitars. Almost every criterion defining the best folk guitar can be found in a Martin.
That company standardized guitar sizes and set benchmarks for tone and playability quality in the early 1900s.
A lot of things change and seem to decay or worsen over the years, but Martin has locked into the universal truth that a well-built guitar improves over time and play.
The only drawback to that is the price. Martin makes a smattering of low-end guitars, but their main product lines are in the $800 to $2500 range.
Let's say you're ready to really invest in a guitar that will grow old with you – you're ready to meet your life partner, the Martin 000-15M.
This 000 model is a comfortable size for anyone. There is a larger 00 model for about the same price, but whether you're a casual player or a regular performer, this guitar just fits!
The warm and rich tone of the all-over mahogany is amazing right from the start and, of course, will improve over time.
If you only ever buy one guitar, this Martin is hands down the best folk guitar for you.
Best Folk Guitar For Performance: Larrivee P09
This is a parlor guitar with a surprisingly full sound. It's beautiful and smooth, and arguably the best folk guitar you could buy.
The Larrivee P-09 Select Series hardly even feels like a large lump of wood in your hands. It plays right out of the box as though you've owned it for 20 years.
There are, of course, bigger guitars with bigger sound and richer tone, but this is the best parlor-sized guitar out there.
If you ever come into $2500 and you want to use it to make yourself happy, you might consider dropping it all on this guitar.
This is the best folk guitar for you if you want a guitar that willl keep pace and grow with you.
Find The Best Folk Guitar For Yourself!
You cannot go wrong with any of the suggestions above; they're our favorite picks for best folk guitar at different price ranges. 
You'll always find what you love if you try it first, however.
Chat with the online sales guys at your favorite guitar shop's website.
Finding the best folk guitar is a great experience that will only help you to become a better player!
Recommended Resources
If you enjoyed this free guide to finding the best folk guitar for you, you'll love our other content below!
What Type of Guitarist Are You?
Take our 60-second quiz & get your results: Take The Quiz
Our guitar courses
Become a better guitarist: Click here for our guitar courses
Get your own personalised guitar-learning plan 🎸
Get a custom guitar-learning plan here: Click here for GuitarMetrics™
Cool Guitar T-shirts 😎
Look cooler! Check out our merch: Click here to see our merch store
Want free guitar tips and video lessons delivered to your inbox?
Join over 250,000 other guitar learners and subscribe to our guitar-tips-by-email service. (It's free.)
We'll send you a series of lessons that will move you to the next level of your guitar journey.
Learn how everything fits together quickly, easily and effectively. We share ninja tips (for instant fun!) but also timeless fundamentals that will deepen your understanding.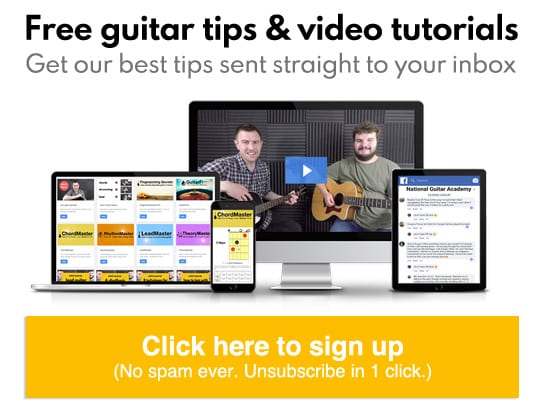 Get our best guitar tips & videos
Get our best guitar tips & videos