What are the differences between classical vs acoustic guitar? We'll cover everything you need to know in this ultimate guide.
In this free lesson you will learn:
10 must-know differences between classical vs acoustic guitar.
3 essential tips that will help you purchase the perfect guitar for YOU.
The 6 most popular genres for classical vs acoustic guitar
Over 100,000 guitar-learners get our world-class guitar tips & tutorials sent straight to their inbox: Click here to join them
Classical Vs Acoustic Guitar – What Are They?
When talking about classical vs acoustic guitar it's often confusing for many guitarists. To make things clear, here are what the two types of guitar look like:
Classical Guitar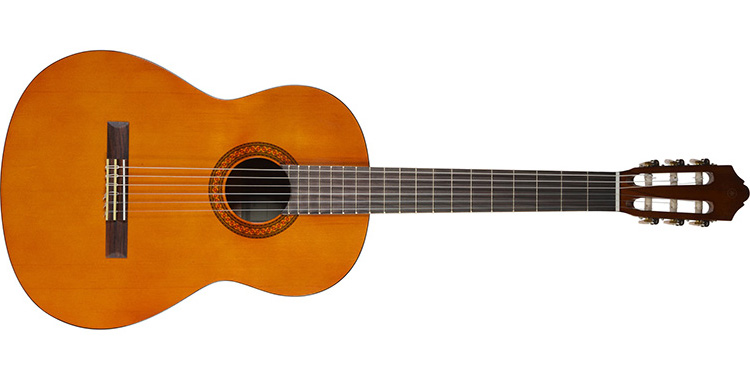 Acoustic Guitar
Now, to the untrained eye both of these guitars look very similar, however, they both have distinct differences and similarities, let's break them down.
Classical Vs Acoustic Guitar – The Similarities
There are a few similarities which can be easily identified, those similarities are:
Both guitars have six strings and are tuned EADGBE.
Both have a soundhole and are completely acoustic.
Both have frets.
Both guitars have tuning pegs.
Both guitars have a round body.
These are standard features of guitar anatomy. However, the differences soon become clear when you point them out.

Classical Vs Acoustic Guitar – What Are The Differences?
When discussing classical vs acoustic guitar, the main differences are:
The size of the neck.
The strings that are used.
The types of bridge.
The type of tuning pegs and the way that the strings are strung.
Let's look at each of these parts in more detail.
Classical Vs Acoustic Guitar – String Type
The main difference that most guitarists will notice immediately is that the material of the strings is completely different on classical vs acoustic guitar.
On a classical guitar, nylon strings are used. Whereas on an acoustic guitar, steel strings are used. Here are some photos for comparison.
Classical Nylon Strings 
Acoustic Guitar Strings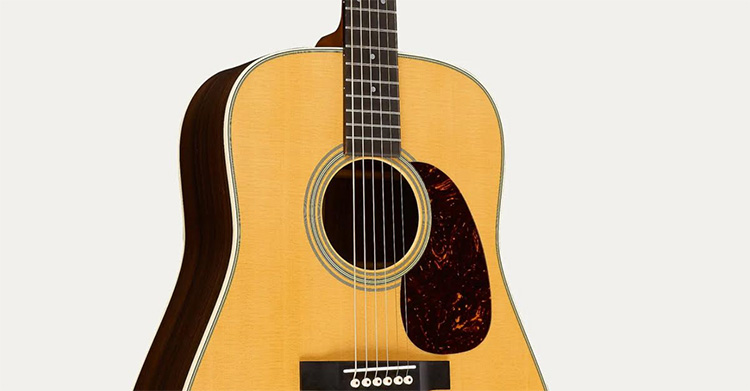 From the images here, hopefully you can tell the difference between the strings.
On the classical guitar, the strings look a lot clearer, this is due to the nylon material used.
However, on acoustic guitar, the strings are made of steel and as a result of this are gold/silver.
If you want to quickly tell the difference between nylon and steel strings feel them. Nylon strings are softer to touch and feel plastic where as steel strings are metallic and have a lot more tension.
Learn the 12 EASIEST beginner chords with our famous FREE guide
✓  Stop struggling. Start making music.
✓  Learn 12 beginner-friendly versions of every chord.
✓  This is our most popular guide and it will improve your chord ability quickly.
Classical Vs Acoustic Guitar – Neck Size
The main difference here is that classical guitars have wider necks with a larger spacing between each string.
On an acoustic guitar, the neck is a lot smaller. Because of this, the gaps between the strings are also smaller. Here are some photos for comparison:
Classical Vs Acoustic Guitar – The Bridge
The bridges on classical vs acoustic guitar are widely different. On a standard classical guitar you have a classic wrap-around bridge that looks like this: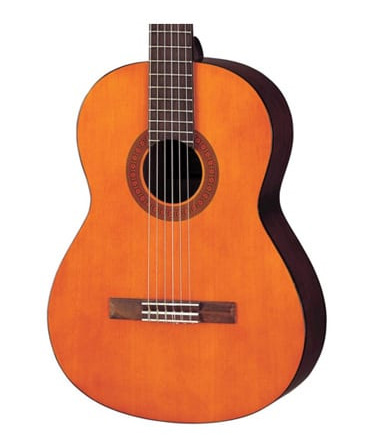 On this type of the guitar, the strings are tied in a knot around the bridge to secure them in place.
On a normal acoustic guitar, the bridge has pegs, this holds the strings securely in place. That looks like this:
Classical Vs Acoustic Guitar – Tuning Pegs
The mechanics of the tuning peg on a classical guitar are extremely different to those on an acoustic guitar.
Usually, on a classical guitar, the tuning peg is made of plastic and metal, whereas on an acoustic guitar the whole tuning peg is made out of metal. Here's a photo for comparison:
Looking for the best beginner guitar? Then check out this cool lesson:
What Is The Best Beginner Guitar?
Classical Vs Acoustic Guitar – What Do They Sound Like?
When discussing the sound of classical vs acoustic guitar, they are predominantly used for different genres and techniques.
As well as this, each guitar has a totally different sound. Let's take a look at what each guitar sounds like and where you're most likely to hear them.
Classical Guitar – What Does It Sound Like?
The classical guitar has a softer feel and touch. This is mainly due to the smaller body and nylon strings.
This makes it perfect for techniques such as fingerstyle guitar and classical playing.
Want to learn classical guitar? Click here: Classical Guitar Lessons

Classical guitar – What genres are classical guitars heard in?
The classical guitar can be heard in all types of genres, however, there are a few specific genres where it is heard frequently.
Let's take a look at them.
Classical
Most commonly, classical guitars are heard in…you guessed it, the classical genre!
Guitarists such as John Williams and Andres Segovia were known as pioneers of the classical genre.
Here's an example of a beautiful piece played by the great John Williams:
Flamenco Guitar
Established in Spain, Flamenco guitar is one of the most flamboyant genres out there.
Paco Peña, Paco De Lucía and Al Di Meola were all virtuosos in their field.
Here's a fantastic example of flamenco guitar in action:
Bossa Nova
Hailing from Brazil, Bossa Nova was a genre of music established in the 50s and 60s.
With its fusion of samba rhythms and jazz harmony, Bossa Nova quickly became popular amongst young audiences in Brazil.
Some of the most famous artists include Antônio Carlos Jobim, João Gilberto and Stan Getz.
You may recognise this tune from Jobim which was famously sung by Frank Sinatra:
Learning guitar is easily one of the best things you can do with your life, it improves your mood, knowledge and much more.
To find out how, check out this article from the Guardian: Learn To Play Guitar | Life And Style
Acoustic Guitar – What Does It Sound Like?
Acoustic guitar has a much brighter tone due to the steel strings.
Acoustic guitars are perfect for strumming and chordal work and have been used on countless records throughout popular music.
However, acoustic guitars tend to appear most often in the following genres:
Folk.
Pop Music.
Country.
Acoustic Guitars In Folk
Acoustic guitars are often used by folk artists such as Bob Dylan, Paul Simon and Joni Mitchell.
Acoustic guitars often provide the perfect textures for vocalists and work brilliantly as a songwriting tool.
Here's a fantastic example of Paul Simon performing 'Sound of Silence' in Hyde Park.
Acoustic Guitars In Pop Music
As acoustic guitars are frequently used by songwriters they often feature regularly in pop music.
Artists such as Ed Sheeran, John Mayer and Shawn Mendes have brought the acoustic guitar to the charts and are keeping it alive in the 21st century.
Here's a great clip of Ed Sheeran rocking out on acoustic:
Acoustic Guitar In Country Music
Acoustic guitars are often a common instrument used by many country guitarists.
In this genre, not only are they used as a songwriting tool they're also used to add texture to a band mix. It's very rare that you won't see a guitar being used in the country genre.
Here's a great example of UK country artists The Shires using an acoustic:
Classical Vs Acoustic Guitar – How Do They Feel?
Classical guitars feel totally different to an acoustic guitar. As the strings are made from Nylon, classical guitars will often feel softer and easier to play for beginners.
However, the caveat of this is that it will take beginners longer to develop calluses on your fingers.
Classical Guitar: Chords And The Fretboard
On a classical guitar, the fretboard is very flat. This often makes it difficult to play chords as it goes against the natural curvature of your hand.
As well as this, the gaps between each string are much wider than a normal acoustic.
The large gaps between the strings can make things easier for guitarists as it means the strings have a greater chance of ringing out more clearly.
However, because there's a larger gap it also means that it's harder for you to play larger chords, barring is notoriously difficult for beginners on a classical guitars.
Have small hands and find barring chords difficult? Then check out both of these lessons to enhance your guitar playing today:
Classical Guitar: Strumming Techniques
On a classical guitar; fingerpicking and flamenco guitar techniques work beautifully.
The soft nature of the nylon strings allow these flamboyant techniques to flourish on the instrument.
Interested in these wonderful techniques? Then go here:
Although it is possible to strum with a pick on a classical guitar, often a lot of the time it doesn't sound that good.
When you strum nylon strings with a pick they tend to sound dull. You will hear strumming in flamenco music but this is often done with the fingernails and not with the pick.
Acoustic Guitar – The Strings
When comparing classical vs acoustic guitar, acoustic guitar strings will feel harder when you press your fingers on them.
This is due to them being made out of steel and not nylon. If you're struggling with how tough steel strings are to play, one thing you can do is use lighter strings.
You can learn more about the best guitar strings here: What Are The Best Acoustic Guitar Strings?
However, although this is subjective to what genre you play, most of the time steel strings do sound better than nylon strings.
Steel strings have way more dynamic range than nylon strings.
For example, you will get defined low frequencies, middle frequencies and higher frequencies out of a steel string whereas on a nylon string there main focus tends to be in the lower register.
As well as this, if you persevere with steel strings it will rapidly improve your dexterity and technique.
Acoustic Guitar – Chords
On an acoustic guitar; the strings are well spaced, as well as this the fretboard has a subtle curve which can make chords a lot easier to play.
Of course, when you first start chords they will be difficult. But hopefully in time, when you play acoustic guitar, you will naturally adjust and get into the swing of things.
Want to learn guitar chords? Then go here: 14 Easy Guitar Chords For Beginners
Acoustic Guitar – Playing Lead Guitar
Believe it or not, it is possible to play lead guitar on an acoustic.
It's not super common but it tends to work beautifully in genres such as blues and gypsy jazz.
Because the strings are brighter, they often cut through the mix more than regular nylon strings.
Here's a great example of Eric Clapton playing some dirty bluesy lead:
Although playing lead on an acoustic is more common than playing lead on a classical guitar, guitarists such as Carlos Santana have been known to use classical guitars in a lead context.
Check out this video of Santana playing 'Maria Maria' for some cool spanish vibes:
Acoustic Guitar – Strumming Techniques
Between classical vs acoustic guitar, acoustic guitar is definitely more versatile when it comes to strumming techniques.
This is because of the acoustic guitars huge dynamic range.
When playing guitar, this means that you can strum the guitar and fingerpick to great effect.
Both of these techniques work beautifully and will allow you to use the full texture of your instrument.
Not sure how to strum? Then check out this lesson: How To Strum A Guitar
What Guitar Should I Get?
This is always a tough question to answer as it always depends on what you want as a guitarist.
However, we always like to suggest 3 options.
How much do you want to spend?
There are tons of guitars out there ranging from $50/£50 to $1000/£1000.
As a beginner, it's worth spending at least $100/£100.
Think of learning the guitar as in investment. The more you spend, the more likely your guitar will last.

There are loads of SUPER cheap options online and 9 times out of 10 these guitars will not last. Do the right thing and invest in your guitar education.
What does the guitar feel like?
When you learn guitar, you need to have a guitar which feels great to play.
Even if you can't play guitar yet, it's worth picking up a classical vs acoustic guitar just to see what they feel like in your hands.
What does the guitar sound like?
This will have a massive effect on what type of guitar you choose.
When choosing a guitar it's important that you 'connect' with that instrument, it needs to sound right. It's pointless getting a classical guitar if you want to play Ed Sheeran songs.
Same thing goes for buying an acoustic guitar if you want to play John Williams. You need to get a guitar that has the right sound and most importantly inspires you.
What next?
Once you've decided on what guitar you want to learn on, it's time for some guitar lessons! Check out these guitar lessons to improve your playing today:
What Type of Guitarist Are You?
Take our 60-second quiz & get your results: Take The Quiz
Want free guitar tips and video lessons delivered to your inbox?
Join over 100,000 other guitar learners and subscribe to our guitar-tips-by-email service. (It's free.)
We'll send you a series of lessons that will move you to the next level of your guitar journey.
Learn how everything fits together quickly, easily and effectively. We share ninja tips (for instant fun!) but also timeless fundamentals that will deepen your understanding.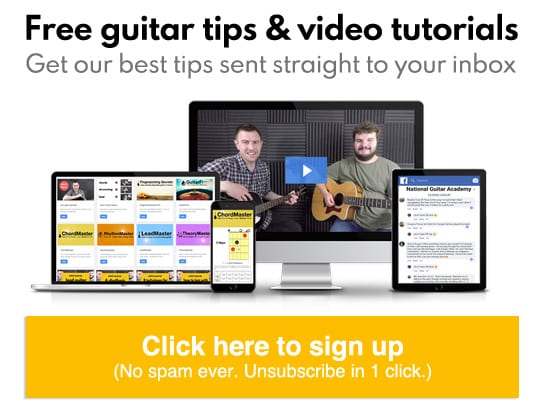 Popular Lessons
How To Learn Guitar: An 11-Step Programme For Beginners
How To Choose The Perfect Beginner Guitar
Guitar Notes Explained: A Guide For Beginners
More Cool Guitar Stuff
Learn about the National Guitar Academy: About Us
Visit our YouTube channel for fun guitar videos.
Join us on Facebook for daily guitar tips.
Listen to our Learn Guitar Podcast for rapid guitar progress.
Check out our free chord lessons.