Finding the perfect starter electric guitar takes time & research – Let's help you narrow down your options!
Over 250,000 guitar-learners get our world-class guitar tips & tutorials sent straight to their inbox: Click here to join them
If you want to be a better guitarist click here for our guitar courses
In this free lesson you will learn…
6 Common guitar body types & the pros & cons of each
An explanation on pickups & what they are
How weight influences the feel of the guitar
How to find the perfect starter electric guitar for you!
Finding The Right Starter Electric Guitar Takes Time & Research
With so many options to choose from nowadays (and so many opinions online), it's harder than ever to find the perfect starter electric guitar.
This instrument is one that should ideally stay with us for years to come, and help us nurture our skill set in the early stages of becoming a guitarist.
In today's lesson, we're going to show you six different popular body types, as well as explain what to look for in the perfect starter electric guitar.
We're also going to talk about pickup configuration so you know exactly what type of sound you want to go for.
The options are seemingly limitless, but we're here to help you narrow your options.
The first thing you should keep in mind is that the Internet is your friend.
Reading up on other user experiences with different guitars can help you make an informed buying decision, regardless of whether you're looking for a pro-level instrument or a starter electric guitar.
The guitar community is quite vocal about what they like and don't like in the selection of guitars on the market, and it's quite easy to find a good amount of information on any guitar just by googling it.
One of the first things we should consider is how the guitar feels to play. Let's discuss below!
The Right Starter Electric Guitar Has To Feel Good – But How Do We Know?
Many guitarists will tell you that you 'just know' when you've found the right guitar, but is that a good enough answer?
We should unpack what helps us 'just know' the right guitar when we play it.
If you're looking for a starter electric guitar, there's a good chance that you haven't had a lot of chance to play with electric guitars yet.
With that in mind, it would make sense that you might not know exactly what to look for starting out.
In order for us to gel with the right guitar, there are a number of factors that we consider unconsciously when deciding that we've found the right guitar.
When you 'just know' that you've found the right starter electric guitar for you, the chances are you have found an instrument that:
Has a good weight distribution from the headstock to the bottom of the body
Sits comfortably on your leg and forms well to your body
Has a neck and fretboard that fit comfortably in your hand, and allow you to move your fingers around with ease
Looks great (let's be honest, it matters)
Sounds absolutely awesome
Guitars are about details. Keep an eye out for as many of them as possible.
Learn the 12 EASIEST beginner chords with our famous FREE guide
✓  Stop struggling. Start making music.
✓  Learn 12 beginner-friendly versions of every chord.
✓  This is our most popular guide and it will improve your chord ability quickly.
Our Guitar Courses
Become a better guitarist: Click here to check out our guitar courses
Try Out Every Guitar Both Standing & Sitting
We mentioned weight distribution above, and that's because it matters a lot.
Ask your local guitar shop clerk for a strap to try their guitars with, and try one on.
This might sound like we're talking about clothing here, but over the course of your guitar journey you will spend some time playing while standing up.
How does your back feel? Are you comfortable?
All of these things matter immensely, and it's important to take weight into consideration when searching for the perfect starter electric guitar.
Pro Tip: When trying out a guitar standing up, first make absolutely sure that the strap is secure on both ends. You don't want to drop that merchandise!
Try not to let the guitar sit too low, as it will cause you to have to hunch over to play.
Good posture is important, so keep the guitar at a reasonable height when you try it out. If your perfect starter electric guitar sits comfortable just above your waistline without causing discomfort, chances are you've found something you like.
Weight distribution isn't the only thing to consider here, however.
Let's talk about sound and amplifiers for a moment below.
Try Different Guitars Through The Same Amplifier
We obviously want to find a starter electric guitar that sounds good, as we're going to be hearing a lot of it along our guitar journey.
It's important to keep in mind that the sound of a guitar changes significantly when played through different amplifiers, and so it's important to try out a series of different guitars through the same amp whenever possible.
Ideally you should take an afternoon and hang out at your local guitar shop. Find a cheap amp that sounds good (the clerk can help you with that, as every shop has a different selection) and try a bunch of guitars through that one amp.
You will be able to hear the differences in the guitar more clearly without taking the amplifier into consideration nearly as much.
Speaking of hearing the differences…
Understanding Pickup Configurations
The pickups are the part of the electric guitar responsible for transmitting the sound from the strings to the amp, and they sit under the strings on the body of the guitar.
Understanding the different types of pickups means we can better understand what types of sounds we like and dislike.
Pickups not only come in a variety of shapes and styles, but combinations as well.
Depending upon the style of music you will end up playing, you can definitely count on developing a preference for one style of pickup over another as time wears on.
Your basic pickup styles are listed below with descriptions of each:
Single Coil
One of the most widely-used styles of pickup, the single-coil pickup is popular in many players' starter electric guitar.
Single coils use a single magnet to grab the sound of your strings, but sadly don't handle distortion as well as other pickups like humbuckers due to their design and inherent humming at higher volumes..
Humbucker
Humbuckers were created to combat the problems presented by the single coil hum (hence the name).
Humbuckers feature two single coil pickups stacked on top of one another, and possess a much beefier tone than single coil pickups.
These pickups are traditionally darker in sound than single coils or P-90s.
P-90
A more boutique-style design of pickup, P-90s are popular in the jazz world.
These pickups have a higher output than a single coil, but less than a humbucker.
This make them a perfect happy medium between the two types of pickups listed above.
For a more detailed breakdown of pickups, click here.
Below, we've broken down six of the most popular guitar body types for you, with a link to an afforable version of that model. Let's look at our options!
Starter Electric Guitar Body Types: Stratocaster
Tried and true, the Stratocaster body design was popularized by Fender guitars and has been repurposed and reinvented over and over through the years.
A double-horned design, this is the starter electric guitar of choice for many budding guitarists due to its lightweight design and easy fret access further up the fretboard.
This guitar is known for its twangy and full sound, and is favoured by everyone from Eric Clapton to Dave Murray of Iron Maiden.
These guitars are the perfect starter electric guitar because of their versatility. The Stratocaster can handle a wide range of different musical styles, which means it's the perfect guitar to learn and experiment with.
For a budget-friendly option that will help get you started, check out the Squier Classic Vibe Stratocaster here.
These guitars are outfitted in vintage fashion to give you an old-school sound at an afforable price point.
These guitars are built well, extremely reliable and will help you learn without dealing with malfunctioning hardware or bad fretting.
Watch Rob Chapman and the Captain review the Classic Vibe Stratocaster here.
Starter Electric Guitar Body Types: Telecaster
Another design popularized by Fender guitars, the Telecaster is what we refer to as a 'single-cut' guitar.
This means that one side of the guitar is rounded to the neck, whereas the other is cut in a horn shape.
This guitar design is typically slightly heavier than the Stratocaster design above, but features a slightly more bass-heavy tone as well.
Telecaster necks are also thicker than Strat-style guitars, making them ideal for players with bigger hands.
The 'Tele-style' design is highly favoured by Country guitarists like Brad Paisley as well as metal musicians like Jim Root from Slipknot.
Squier also offers a Classic Vibe Telecaster that can get you off to a great start without breaking the bank. Check it out here.
These guitars are proof that you don't need to spend thousands of dollars to get a great sounding guitar! With reliable parts, solid wood and a good set of strings, anything is possible.
From Blues to Rock and Pop to Country, the Telecaster can handle a lot of genres quite effectively.
You can find a review of the Classic Vibe Telecaster here.
Starter Electric Guitar Body Types: Offset
This guitar body shape has made a comeback in recent years and is favoured by many new up-and-coming guitarists for its interesting shapes.
An 'offset' design can be many different designs – all 'offset' means is that the two sides of the guitar are offset from one another.
This has lead to many interesting designs by different companies over the years, most notably the Fender Jaguar and the Gibson Firebird.
Offset guitars are often unique in their build and have a character all their own.
Starter Electric Guitar Body Types: Les Paul
A heavier (but arguably sturdier) build of guitar, the Les Paul has been the weapon of choice for many famous guitarists through the years.
Favoured by guitarists like Joe Bonamassa and Slash, this humbucker-heay guitar features a boomier and more dense sound than any of the guitars mentioned above.
The trade off with Les Pauls is the weight. Although still a great starter electric guitar, the Les Paul carries more weight to it than a Strat or a Tele design, and can be a bit much for some players to handle.
If you're not scared off by a few extra pounds on your starter electric guitar, you can find a variety of Les Paul style guitars by different brands at a variety of affordable price points.
Epiphone (a company owned by Gibson Guitars) make great versions of the classic Les Paul style guitar at a great price.
Check out their LP Standard model here in our favourite colour – Blueberry Burst!
Download our lead guitar cheat-sheet to make things easier
It can be disorientating for guitarists to understand which scales work with which keys.
With this in mind, we created a cheat-sheet; a key and scale-finder that you can use again and again.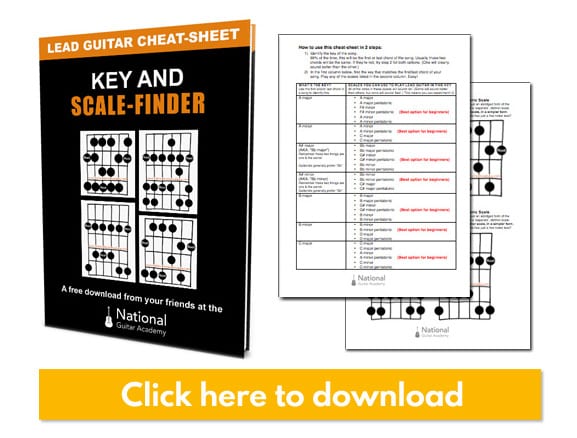 Our Guitar Courses
Become a better guitarist: Click here for our guitar courses
Starter Electric Guitar Body Types: SG
If you've ever listened to AC/DC, you've heard the sound of the Gibson SG at full blast, played by none other than Angus Young.
This devilishly shaped starter electric guitar is great for those who really want to rock and roll.
The SG is a versatile style guitar with plenty of character, and its smaller body means less weight to content with when we are playing standing up. Win-win!
These guitars come standard with humbucker pickups.
Epiphone make a fantastic SG shape guitar that you can find here at a decent price.
Writer's Pick: If you don't favour the Gibson/Epiphone design of SG, you can find the Ibanez AX120 for a very decent price on Amazon with a case included! These are workhorse style guitars that don't quit.

I personally own a heavily-modified baritone version of this guitar that I have gigged with on countless occasions. These guitars are super reliable!
Starter Electric Guitar Body Types: Ibanez Super Strat
A variation on the Strat-style guitar, these guitars have been popularized by the likes of super-shredder Steve Vai.
Where the typical Strat-style guitar has three single-coil pickups, many Super-Strat designs feature humbuckers for additional output.
These guitars are perfectly suited to the guitarist who wants to learn to shred up a storm, and typically feature a thinner neck profile than most guitars mentioned above.
As an added bonus, many Ibanez guitars feature a two-way bridge called a Floyd Rose.
The bonus is that we can do way more tricks with our whammy bar, but at the expense of having to get used to a rather complicated tuning system involving locking our tuners.
This can be a bit much for an entry-level musician, but if you're savvy and learn quickly you may have a lot of fun with one of these.
The Ibanez JEM series is a great place to start at an affordable price point. Click here to check one out!
Where Do I Go From Here?
If you're craving more info on where to look for the perfect starter electric guitar, look no further! We've got some great video links below, as well as some awesome final advice.
Talk to other musicians online about their experiences with the instrument you're interested in. Want to buy a Fender Jazzmaster but you're not sure? Find someone who plays one and ask them what they think of it!
Go to a local guitar jam and check out what everyone is playing. Ask them about their guitars – Guitarists love to talk about their gear.
Watch this video on the best starter electric guitars
Watch this video from Sam Ash Music about buying your first electric guitar
Recommended Resources
If you loved this guide to the perfect starter electric guitar, you're definitely going to enjoy these other articles from the National Guitar Academy below:
What Type of Guitarist Are You?
Take our 60-second quiz & get your results: Take The Quiz
Our guitar courses
How do you want to improve as a guitarist? Click here to check out our guitar courses
Cool Guitar T-shirts
Look cooler! Check out our merch: Click here to see our merch store
Want free guitar tips and video lessons delivered to your inbox?
Join over 250,000 other guitar learners and subscribe to our guitar-tips-by-email service. (It's free.)
We'll send you a series of lessons that will move you to the next level of your guitar journey.
Learn how everything fits together quickly, easily and effectively. We share ninja tips (for instant fun!) but also timeless fundamentals that will deepen your understanding.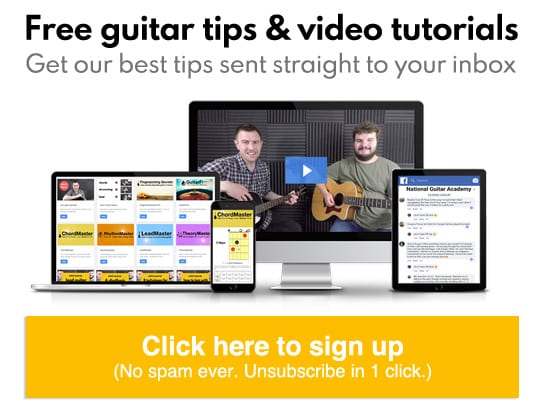 Popular Lessons
How To Learn Guitar: An 11-Step Programme For Beginners
How To Choose The Perfect Beginner Guitar
Guitar Notes Explained: A Guide For Beginners
Our guitar courses
Become a better guitarist: Click here to check out our guitar courses
More Cool Guitar Stuff
Learn about the National Guitar Academy: About Us
Visit our YouTube channel for fun guitar videos.
Join us on Facebook for daily guitar tips.
Listen to our Learn Guitar Podcast for rapid guitar progress.
Check out our free chord lessons.
Get our best guitar tips & videos
Get our best guitar tips & videos