Guitar video lessons help us learn quicker, and we've got a countdown of our 9 favourite lessons right here
In this free lesson you will learn…
9 of our favourite guitar video lessons from the National Guitar Academy video library
Why video is such a great platform for learning
How to make the most out of these lessons
Additional tips for each lesson
Our favourite guitar instructors on YouTube!
Over 250,000 guitar-learners get our world-class guitar tips & tutorials sent straight to their inbox: Click here to join them
Guitar Video Lessons Are More Popular Than Ever
It's becoming so much easier these days to learn the guitar from the comfort of our favorite couch.
With the rise of YouTube in the last ten years, high-quality guitar video lessons are everywhere.
When we started the National Guitar Academy, our goal was to bring as much guitar content to you as possible, and video is one of the best mediums to teach through.
We've picked out 9 of our favorite lessons that we've recorded over the past few years for this guide.
We've also hand picked some of our other favorite YouTube guitarists to bring you even more guitar education.
First, let's look at why guitar video lessons are such a preferred learning platform.
Why Are Guitar Video Lessons So Popular?
Video is a great medium for learning guitar because it allows the student to see what the teacher is teaching clearly.
Video gives us the opportunity to capture the exact way someone is playing something in a way that we can rewind and study as needed.
This is great because learning any instrument requires tons of repeated practice.
In the absence of a guitar instructor, videos can make fantastic resources for studying pretty well any aspect of the guitar.

Thankfully, the internet is chock-full of guitar video lessons, and many of them live on YouTube (including all of ours).
Apart from guitar lessons specifically, a lot of musicians post conversational videos where they talk about their experiences.
These can be equally as beneficial to guitarists of any skill level, so we've included a few of those as well throughout this guide.
We're going to start with a breakdown of our nine favorite lessons that we've taught on YouTube. After that, we're going to jump into some of our favorite YouTube teachers.
Grab your guitar, a pen and paper and get ready to take notes – Let's go!
NGA Guitar Video Lessons: 3 Fun Blues Guitar Tricks (For Blending Chords & Lead)
Click here for the video.
Blues is a genre of music that's packed with tasty licks that we can learn.
It's also a great genre to teach us how to mix lead guitar with chords.
Our host Mike Kennedy starts out by playing the E Blues scale in the open position.
One of the key take-away messages of this video is that you don't have to play a full six-string chord in order to work a chord into your playing.
Often when we mix playing chords with lead guitar, we can break those chords into just the essential notes to make it easier to switch between the two.
This lesson takes place over three chords:
E – A – B
These three chords are essential for learning to play Blues in E, and they are simple and easy to pick up!
Pro Tip: In this guitar video lesson, Mike goes into detail about playing in the open position, as well as at the 5th and 12th frets. Using all three of these positions gives us plenty of room to pick out the right notes when soloing over these three chords.
Learn 12 EASY beginner chords with our popular guide
✅  Stop struggling. Start making music.
✅  Learn beginner-friendly versions of every chord.
This is our most popular guide and it will improve your chord ability quickly! 😎
Get your own personalised guitar-learning plan 🎸
Get a custom guitar-learning plan here: Click here for GuitarMetrics™
NGA Guitar Video Lessons: 3 Barre Chord Tips That Get Results
Click here for the video.
In this guitar video lesson, Mike breaks down three key tips that will help us play barre chords much easier.
Typically you will find that one of these tips will work better for you than the others, but that just means there's something in there for everyone!
Mike discusses the importance of your thumb when playing barre chords to give your hand some extra strength.
As well, we cover turning our index finger outward and using the bony-side rather than the soft part.
These three tips work great for the beginner guitarist who is trying to tackle barre chords, but finding it difficult to master.

Remember that barre chords take time, and they are a hurdle that every guitarist goes through when they begin learning.
NGA Guitar Video Lessons: To Use Volume Swells To Create Cool 'Fading' Sounds On Electric Guitar
Click here for the video.
One of the coolest techniques on guitar (involving zero pedals) is the volume swell; and our host Jack Taylor breaks it down for us in one of our favorite guitar video lessons on our channel.
The volume swell can add a really unique layer to our technique, and it's easy to use in a variety of different music settings.
As we see in the video, we can perform volume swells by rolling our volume knob slowly from 0-10 after hitting a string or a chord.
This can take some practice, but you can make it easy by cupping your fingers around the volume knob as you strum.
Volume swells add a haunting violin-like component to our guitar sound, and Jack packs this whole lesson down into just over 3 minutes.
Much like the technique, this guitar lesson video is quick and easy to learn with.
NGA Guitar Video Lessons: Flat Guitar Chord (3 Easy Versions!)
Click here for the video.
One of the best parts of the guitar is that chords can be played in different ways and in different variations.
When we are first learning guitar chords, it can be difficult to wrap our hands around all of them
In one of our most popular guitar video lessons, Mike discusses the B flat chord and how we can play portions of the chord instead of the whole chord at once.
This video is a great lesson in learning how to split up chords in order to make them easier to learn.
The main focus of this lesson is how each version of the B flat chord sounds a little different, but the notes remain the same in each shape.
Pro Tip: Each version of this chord is a stepping stone toward playing the full version of B flat major, so make sure to use them that way!
To make it easy, we've made sure to include chord boxes displayed right inside the video so you don't have to start Googling guitar chords while you watch.
NGA Guitar Video Lessons: Guitar Tabs For Beginners: 'Beat It' by Michael Jackson
Click here for the video.
This classic Michael Jackson guitar riff is easy to pick up and sounds awesome at any skill level. Jack breaks it down for us in detail in another one of our quick-and-easy guitar video lessons.
Written by Eddie Van Halen, Beat It is a nine-note pattern that is easy to master.
This riff is great for beginner guitarists, as we only need to use the low E, A, D and G strings to play it.
Beat It can be played entirely in the open position and once you've gotten it under your hands, it's very easy to groove along to.
As with any guitar riff, make sure to take your time and be patient.
The advantage of guitar video lessons is that we can rewind to review the things that we don't initially understand, so keep that mouse at the ready and you'll be playing Beat It in no time!
NGA Guitar Video Lessons: F Guitar Chords For Beginners
Click here for the video.
Ah yes, the dreaded F chord.
Every beginner guitarist's worst nightmare, and the thing every professional guitarist hates reflecting on.That's exactly why we broke it down into a quick 6-minute lesson for you to learn from.
Much like the B flat chord video and other guitar video lessons like it, Mike focuses on breaking the chord down into smaller versions that use fewer strings.
Breaking down three and four-string versions of the F chord helps us master it in pieces, rather than attacking the entire chord all at once.
This technique is super helpful when trying to master any new chord, but especially barre chords.
Another benefit to learning barre chords in this style is it helps our ears become more familiar with the notes that we're playing.
Don't hesitate to play the notes of the chord one-by-one to get it under your fingers and into your eardrums.
Rewind and play back the lessons as needed, that's what these guitar video lessons are there for.
NGA Guitar Video Lessons: How To Use A Capo
Click here for the video.
The capo is one of the most treasured gadgets in a guitarist's toolkit.A capo can help us switch keys with ease, and sound out familiar chord shapes in new positions.
This is one of our guitar video lessons that's jam-packed with examples to play from different songs including 'Here Comes the Sun' by the Beatles (3:00) and 'Get Lucky' by Pharrell and Daft Punk (4:55).
In our third example, Mike shows us an Ed Sheeran song using the capo at the fourth fret and only two chords (7:00).
The final example from this video is 'Norwegian Wood' by The Beatles (capo 2nd fret) and is aimed at the guitarist who has started to explore hammer-ons while playing chords. (8:15)
Capo's are not only great fun to play with, but they can help guitarists of any skill level explore their ideas in different keys without switching their hand positions. This makes the capo a fantastic learning and songwriting tool.
Pro Tip: Using YouTube's 'Like' and 'Favourite' functions can help you keep track of the guitar video lessons that help you the most.
Download our lead guitar cheat-sheet to make things easier
It can be disorientating for guitarists to understand which scales work with which keys.

With this in mind, we created a cheat-sheet; a key and scale-finder that you can use again and again.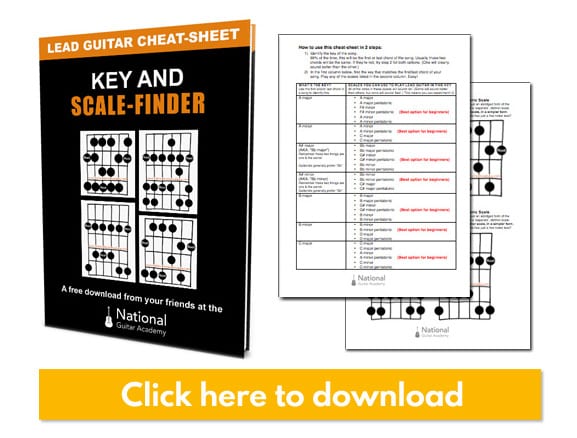 Get your own personalised guitar-learning plan 🎸
Get a custom guitar-learning plan here: Click here for GuitarMetrics™
NGA Guitar Video Lessons: How to Pickslide
Click here for the video.
Turn on your amplifier and crank those distortion pedals – this is one of the most rock and roll guitar video lessons on the National Guitar Academy YouTube channel.
Hosted by Jack Taylor, we learn the essential hand position and pick position for executing an effective pick slide.
By using the side of our guitar pick and digging in deep against the strings, we're able to scrape our way down the strings toward the fretboard and make some killer noise in the process.
Pick sliding is fantastic for the guitarist who wants to add a bit more edge to their rock guitar style.
This technique works well at the beginning of any Rock, Metal or Punk tune, as well as right before a guitar solo.
Pro Tip: Make sure to keep the distortion turned up loud and only slide down your lower strings to really nail this technique.
NGA Guitar Video Lessons: Guitar Tabs For Beginners: 'Sunshine Of Your Love' by Cream
Click here for the video.
Eric Clapton made history not only with his blues-infused guitar playing and songwriting, but with his ability to inspire other guitarists.
In this song-based guitar video lesson, Jack pays tribute by teaching us the essentials of Cream's smash-hit 'Sunshine of Your Love'.
This classic guitar tune can be played in a variety of different positions.
As with many of our guitar video lessons,Jack keeps it simple and straightforward by teaching this riff in the 5th position on the low E and A strings.
'Sunshine of Your Love' is a great beginner guitar song to learn with, and it is made simpler to learn through the use of guitar video lessons.
When you don't have an instructor sitting in front of you, this format of learning is a great way to help you push forward in your guitar education.
Remember that video footage can only take you so far – it's consistent and effective practice that help us move forward as guitarists.
Recommended Guitar Video Lessons from Around the Web
With so many great guitar video lessons around the internet, we couldn't just focus on ourselves.
We've compiled a Top Five list of some of our favorite online guitar teachers so you can maximize your knowledge around the web. Check it out below!
Guitarist and vocalist for the band Dorje, as well as the owner of Chapman Guitars, Rob Chapman is also a fantastic supplier of online guitar video lessons.
With a focus on Rock, Metal, Blues, music theory and technique, Chapman delivers fantastic content to help steer our playing in the right direction.
Marty Schwartz has helped many guitarists over the years advanced their playing.
Through his simplified approach to teaching )and stylistic hat choices), Marty knows how to design guitar video lessons that get players excited to pick up their guitar.
With a broad range of content from guitar video lessons to informative and conversational music discussions, SamuraiGuitarist's Youtube channel has something for every type of guitarist.
Hit the link in the title to check out his Sensei Series of guitar video lessons.
An excellent resource of creative guitar video lessons and discussion-based guitar content, Paul Davids does a great job of keeping us excited and inspired to learn.
Where do I go from here?
Want to keep learning guitar offline? We recommend:
Visit your local music store and pick up some guitar books to study
Practice outdoors to get some fresh air while you play
Take a break from practicing – Your hands need to rest every once in a while
Stretch your arms, fingers and hands to prevent straining the next time you practice
Get off the internet and go to an open mic or a public jam session!
Recommended Resources
If you loved these video recommendations, we've included five more below from the National Guitar Academy as well as some of our favourite music YouTubers!
What Type of Guitarist Are You?
Take our 60-second quiz & get your results: Take The Quiz
Join the world's best online guitar school 🌎
Get your own personalised guitar learning plan (customised just for YOU).
World-class online guitar courses. Learn at your own pace.
Community Campus & Learning Forum -  A friendly community! Connect with our team & students. 😊
Beginner Song library with chordsheets, tabs and tips. (Songs suitable for all levels!)
Regular live streams, seminars and Q&A sessions - Learn from world-class guitar educators. Get all your questions answered!
Click here to learn more about National Guitar Academy membership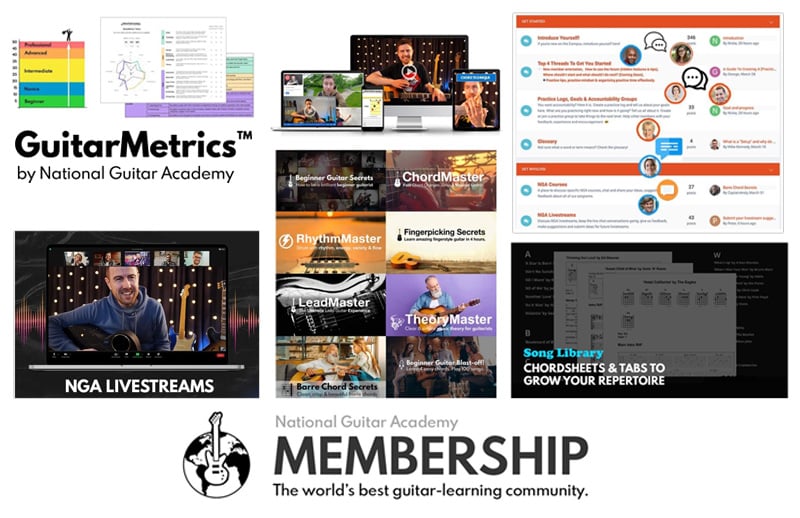 Cool Guitar T-shirts 😎
Look cooler! Check out our merch: Click here to see our merch store
Want free guitar tips and video lessons delivered to your inbox?
Join over 250,000 other guitar learners and subscribe to our guitar-tips-by-email service. (It's free.)
We'll send you a series of lessons that will move you to the next level of your guitar journey.
Learn how everything fits together quickly, easily and effectively. We share ninja tips (for instant fun!) but also timeless fundamentals that will deepen your understanding.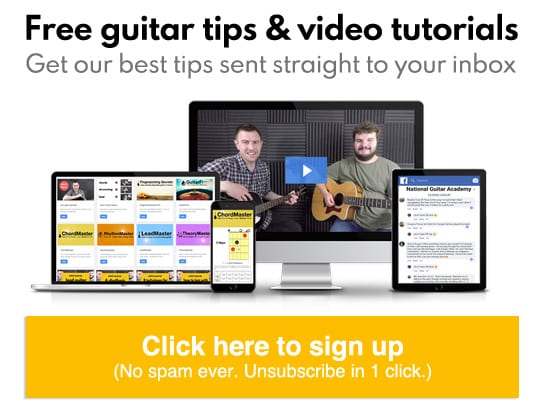 Get our best guitar tips & videos
Get our best guitar tips & videos