Building a songbook is important for every musician – let's start with nine cool songs to learn on guitar!
Over 100,000 guitar-learners get our world-class guitar tips & tutorials sent straight to their inbox: Click here to join them
In this free lesson you will learn…
Nine songs to learn at any skill level
What each song teaches us
How to start building a chord vocabulary
How to explore beginner & intermediate chord shapes
Get Ready For Some Cool Songs To Learn On Guitar!
Top 40 hits come and go, but there are certain songs that every guitar player enjoys playing or wants to learn.
These songs are timeless; and regardless of when they were written, who wrote or performed them, or what style of music it is; they will always bear a lesson for us to learn.
Being able to play cool songs on the guitar (especially ones that other people know) helps us spread the joy of music wherever we go.
We've got a sampling of cool songs to learn on guitar, no matter what your current experience or skill level is.
You'll be familiar with all of these fun and fascinating tunes; they sound good and are either easy to play or excellent for practicing. Let's dive in!
Cool Songs To Learn On Guitar I – The Cars – "My Best Friend's Girl"
We're going to pour one out for songwriter Ric Ocasek with this one:
This song features not only some cool guitar work that you can include in your arrangement at any level; it also has something that makes every song so much better than it already is: hand claps!
"My Best Friend's Girl" was The Cars' second single on their self-titled debut album in 1978. "Just What I Needed."
This song was initially recorded in the key of E, but the recording was sped up to be in the key of F. There is no reason to play this song in the key of F!
For beginning guitarists, you can play the song in the key of D so it has three easy chords – D major, G major, and A major.
To sing along with Ric and The Cars, put your capo on the third fret.
Check out Ultimate-Guitar.com's easy chord chart for this song here.
If you would like some support in playing chords, check out this great beginning lesson, full of things we wish people had told us when we were just starting to learn.
If you have been at the guitar for a while and you are itching to emulate the actual guitar parts of this song, you can play it in the key of E as the band did.
These types of songs are great because we can settle for playing the chords in order to play along, or we can get technical and start playing musical lines from the song itself.
This is a big part of why this song makes our list of cool songs to learn on guitar.
The guitar part is so much fun to play; it's a combination of power chords and country licks! Here is a tablature version of "My Best Friend's Girl" to show you those tasty little parts.
Learn the 12 EASIEST beginner chords with our famous FREE guide
✓  Stop struggling. Start making music.
✓  Learn 12 beginner-friendly versions of every chord.
✓  This is our most popular guide and it will improve your chord ability quickly.
Cool Songs To Learn On Guitar II – Oasis – "Champagne Supernova"
Here's one of Oasis's cool songs to learn on guitar.
This song was the final track on Oasis's 1996 album What's the Story, Morning Glory?
Paul Weller of The Jam and Style Council sang backing vocals and played a little guitar on this one! It's a powerful ballad with great psychedelic lyrics.
You can play this song in the key of A with just four chords, except for the bridge.
Here is Ultimate-Guitar.com's easiest set of chords for you to play "Champagne Supernova."
If you're interested in a more advanced and nuanced version, check out this version of "Champagne Supernova" in chord chart form.
For more support on strumming through this song or any other cool songs to learn on guitar from this list, check out this lesson on how to play in time.
Pro-Tip: When first learning a song on the guitar, especially from a chord chart, it is such a great idea to sing through the song first.
Strum the chords as they appear, before trying to get a rhythm going on the guitar.
This basic exercise will help you to hear how the chords interact with the melody, and it's a good way to get through the entire song without a lot of stopping.
Cool Songs To Learn On Guitar III – Roger Miller – "King Of The Road"
This classic country sing-along is easy to groove along to. Have a listen below:
Roger Miller wrote "King of the Road" in 1964, inspired by seeing a roadside sign that said, "Trailer for Sale or Rent."
That roadside sign led to this song being played continuously everywhere for the last 55 years and counting, including by Glen Campbell, Alvin & the Chipmunks, REM, and all of my beginning guitar students.
Songs truly can come from anywhere, so keep your eyes open! You never know where inspiration will strike!
Roger Miller plays and sings it in the key of Bb, a terrible key for guitar.
You can easily play it in the key of A using chords that you already know.
Here is the chord chart that shows you how to play "King of the Road."
If you'd like to sing along with Roger, put your capo on the first fret.
For help with capos, check out this introductory lesson: How to Use a Capo in 3 Easy Steps.
Cool Songs To Learn On Guitar IV – Cream – "Crossroads"
Here's one of our favourites from this list of cool songs to learn on guitar:
"Cross Road Blues" was written by Robert Johnson in 1936, and it has become a part of the "deal with the devil" legend that fills in the gaps between what is known about Johnson's life.
The song was repopularized by Elmore James in the 1950s, which leads us to Clapton and Cream's iconic rock and roll version, titled "Crossroads," in 1966.
"Cross Road Blues"/"Crossroads" is a 12-bar blues song.
The 12-bar blues is a specific chord progression that lasts 12 measures. It's a vitally useful thing to know.

If you would like to delve a little deeper into the blues, here's a good lesson to get you started: Blues Guitar for Beginners.
What makes the arrangement of "Crossroads" such a compelling and fun addition to your collection of cool songs to learn on guitar is this riff you hear over and over.
It's part of a whole guitar part that runs through the entire song.
Here is the tab for the guitar part, in the key of A, just like the recording of the song.
Clapton is a guitarist who loves to play "in the box," using easily reachable notes on two adjacent strings to improvise. If you are into learning how to solo over the blues, you can get a start on it by seeing how far you can get through the tab of his "Crossroads" guitar solo.
Cool Songs To Learn On Guitar V – John Mellencamp – "Jack & Diane"
This little ditty is just so much fun to play, and totally worth the effort to learn!
On top of that, there are more hand claps – are you sold yet?
If not, listen below:

The thing that is so much fun about this song is that it only uses three chords, but there are different ways of playing the three chords throughout the song.
That means that not only beginners, but also advancing guitarists as well can add this to their catalog of cool songs to learn on guitar.
Here is the basic three-chord version of the song, a chord chart of "Jack and Diane."
If you'd like some help coming up with interesting ways to strum this great tune, start with this lesson on essential strumming patterns.
For a pretty authentic version of what goes on with the different chord voicings throughout the song, check out this tab of "Jack and Diane."
Whichever version of this song you choose to put in your set of cool songs to learn on guitar, make sure you line up some friends to sing with you.
There's that amazing singalong in the middle of the song!
Pro-Tip: If you're starting to play chords in different voicings (different places around the neck of the guitar), it can really help to begin to know a little bit about music theory.
Music theory teaches us the names of the notes in every chord and where they are on the guitar.
Check out this lesson to get started: Guitar Theory: The 4-Step System for Rapid Progress.
Cool Songs To Learn On Guitar VI – The Who – "Won't Get Fooled Again"
This amazing and fun song has everything you want for your collection of cool songs to learn on guitar. Have a listen!
Townshend seems to think in rock operas, and "Won't Get Fooled Again" was initially composed for Lifehouse, an initially-abandoned sci-fi rock opera.
Instead, it wound up on their non-operatic, but face-meltingly excellent 1971 album Who's Next.
"Won't Get Fooled Again" is a wonderfully satisfying piece of guitar work, once you get past that epic synthesizer introduction. It plays just as well on an acoustic as an electric guitar.
This song is in the key of A, and apart from some fast chord-changing rhythms you'll want to copy from the recording, it's pretty easy to play.
Check out the chord chart for "Won't Get Fooled Again."
Most of this song is A major, D major, G major, and E major. There is a B major chord hiding in the bridge that you should look out for.
If you would like some help with a B chord to get you through this song, here is a little chord lesson for you: B Guitar Chord – Tips for This Tough Chord.
Download our lead guitar cheat-sheet to make things easier
It can be disorientating for guitarists to understand which scales work with which keys.
With this in mind, we created a cheat-sheet; a key and scale-finder that you can use again and again.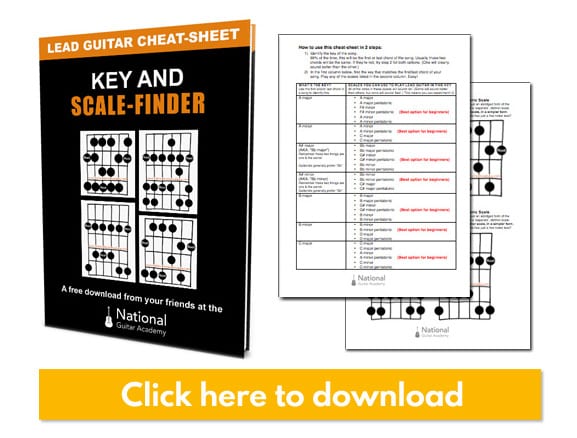 Cool Songs To Learn On Guitar VII – James Taylor – "Fire & Rain"
James Taylor wrote and arranged plenty of cool songs to learn on guitar.
Here's one of his big hits:
Live video of James Taylor is like a guitar lesson all in itself. He plays so cleanly and fluidly, and it's easy to see what he's doing whenever the camera is trained on his guitar.
He wrote "Fire and Rain" in three parts: dealing with the loss of a friend, his own battles with addiction, and the difficulty he had with his former band, The Flying Machine.
This song needs a capo and a little patience! Check out the tab here for "Fire and Rain."
Hey, but why take Ultimate-Guitar.com's word for it? Why not try some cool songs to learn on guitar from the man himself? Here's Taylor's very own lesson for you on "Fire and Rain."
Cool Songs To Learn On Guitar VIII – Guns N' Roses – "Sweet Child O' Mine"
Sooner or later, all lists of cool songs to learn on guitar turn to this lovely little piece of songwriting to help us level-up our playing.
Here's a nice arrangement for you to learn the entire song on acoustic guitar.
The intro as recorded reaches quite high up the neck, so if you are learning on acoustic, check out this version here.
If you're learning on electric or you are in love with the idea of playing the intro as written, here is a separate tab sheet for the intro of "Sweet Child o' Mine."
Cool Songs To Learn On Guitar IX – Neil Young – "Needle & The Damage Done"
This song is beautiful, sad, and undeniably one of the most satisfying to play on this list of cool songs to learn on guitar.
"Needle & the Damage Done" appeared on Young's 1972 album Harvest, but the version on that album was recorded in 1971 at Royce Hall.
He also played it at Massey Hall, in a 1971 performance that was released as an album, Live at Massey Hall in 2007.
The song has a very Neil Young rhythm, accenting off of the beat, which makes it fun to play in spite of its grim subject matter.
Watch the video to see how he deals with the up-strum. Then check out guitar master Jesse Gress's tablature for "Needle and the Damage Done."
Finding More Songs To Help Us Learn
There you have it – a basic canon of cool songs to learn on guitar!
There are plenty more where that came from. The more cool songs you learn, the bigger your chord and riff vocabulary, the more songs you can learn.
Where does it all stop? It doesn't!
Find a few guitar friends for a song exchange, find an open mic to share your new songs, and find a teacher to help you with the sticky spots. Have fun!
Recommended Resources
If you're not through your daily learning for guitar, we've got some more free content in store for you below to help keep you practicing:
What Type of Guitarist Are You?
Take our 60-second quiz & get your results: Take The Quiz
Want free guitar tips and video lessons delivered to your inbox?
Join over 100,000 other guitar learners and subscribe to our guitar-tips-by-email service. (It's free.)
We'll send you a series of lessons that will move you to the next level of your guitar journey.
Learn how everything fits together quickly, easily and effectively. We share ninja tips (for instant fun!) but also timeless fundamentals that will deepen your understanding.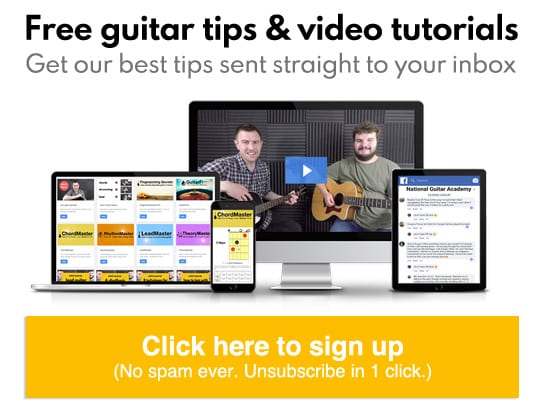 Popular Lessons
How To Learn Guitar: An 11-Step Programme For Beginners
How To Choose The Perfect Beginner Guitar
Guitar Notes Explained: A Guide For Beginners
More Cool Guitar Stuff
Learn about the National Guitar Academy: About Us
Visit our YouTube channel for fun guitar videos.
Join us on Facebook for daily guitar tips.
Listen to our Learn Guitar Podcast for rapid guitar progress.
Check out our free chord lessons.