Learning Classical music the right way takes a good amount of songs. Let's explore some classical music guitar tabs!
Over 250,000 guitar-learners get our world-class guitar tips & tutorials sent straight to their inbox: Click here to join them
Join the world's best online guitar school 🌎
Get your own personalised guitar learning plan (customised just for YOU).
World-class online guitar courses. Learn at your own pace.
Community Campus & Learning Forum -  A friendly community of guitarists! Connect with our team & students. 😊
Beginner Song library with chordsheets, tabs and tips. (Songs suitable for all levels!)
Regular live streams, seminars and Q&A sessions - Learn from world-class guitar educators. Get all your questions answered!
Click here to learn more about National Guitar Academy membership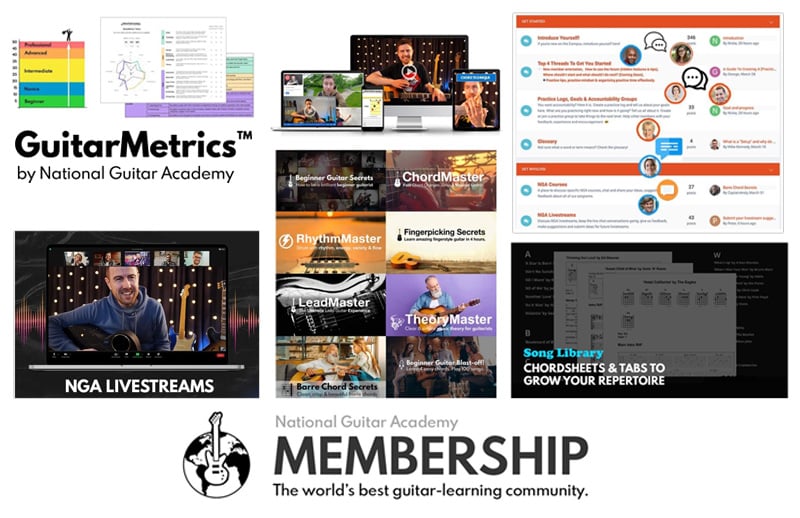 In this free lesson you will learn…
10 Classical songs
Tips for how to play them
Why these songs are important to your musical vocabulary
Guitarists who have adapted classical music into their repertoire
Welcome To Your First 10 Classical Music Guitar Tabs!
No matter what kind of music we generally listen to or gravitate toward playing, we can always learn something from the classical genre.
It's through classical music that many guitarists learn a valuable lesson: that the connection between proper guitar technique and the ability to play expressively is real and important.
Classical music also informs the structure in rhythm and harmony of everything we do in any other kind of music, whether it's EDM or R&B.
You also don't have to scratch very far beneath the surface of classical music to find pieces that sound very cool and are interesting and fun to play.
Here are our top 10 classical music guitar tabs for your enjoyment. These tunes illustrate the mutual influences that classical, folk, pop, and rock music have on each other.
Some of them are so essential and famous that everyone who plays the guitar knows how to play them, so we'd be doing you a disservice by omitting them here.
Others are here to open doors into styles of music that you may not have come across before. The familiar is important, but so is the transformative!
Take each one of these classical music guitar tabs out for a spin.
They all have something to teach you, and they are all gratifying and fun to play.
Classical Music Guitar Tabs I: JS Bach – "Bourrée"
You know this one, even if you don't know this one.
Here's Andres Segovia playing Bach's "Bourrée" on the classical guitar; and another version by Jethro Tull from their 1969 album Stand Up.
Bourrée in E minor was composed somewhere around 1710 as part of the Lute Suite in E minor, BWV 996. People have been playing it ever since.
Bach must be the real godfather of rock & roll, because he's been influencing musicians for three centuries now.
Apart from Jethro Tull's version, the Bourrée has inspired guitar players like Leo Kottke to cover it, and it has served as part of the inspiration for McCartney's "Blackbird."
If you are relatively new to classical guitar, you could stop off at this lesson for some pointers before you begin: Learn Classical Guitar in 7 Easy Steps
Here is one basic version of "Bourrée" from ultimate-guitar.com.
This piece goes in sections, as do many of these classical music guitar tabs.
With that in mind, you can take one section at a time to piece together the song, rather than trying to learn the whole thing in one go.
Download our lead guitar cheat-sheet to make things easier
It can be disorientating for guitarists to understand which scales work with which keys.
With this in mind, we created a cheat-sheet; a key and scale-finder that you can use again and again.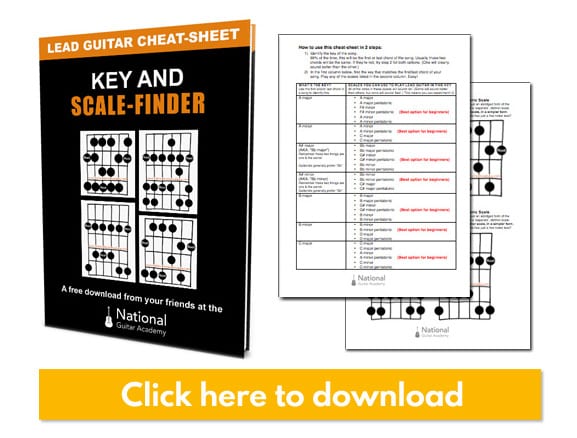 Classical Music Guitar Tabs 2: Bach – "Jesu, Joy of Man's Desiring"
Jesu, Joy of Man's Desiring, is another of your mandatory Bach classical music guitar tabs.
The melody is familiar because people have literally not stopped playing it since it was written.
Here's guitar legend Steve Morse talking about this piece and then treating us to his lovely version.
He's not lying about how beautiful it is.
Bach wrote the cantata containing this melody in 1723.
It was arranged by Dame Myra Hess for piano in 1926, and it was a hit on the radio by Apollo 100, under the title "Joy," in 1972.
It's not all the time that the same piece of music is played in church, in bars, on the radio, and in living rooms, but that's what's been happening with this song for almost 300 years.
Check out the Ultimate-Guitar.com tablature for Jesu, Joy of Man's Desiring.
It looks very long, but if you look for the places where the tab begins to look familiar, you'll see that it repeats in places.
This is such a great piece to have in your back pocket.
It's a good warmup, it's a nice way to play a new guitar, and it's one of those easy classical guitar songs that makes everyone happy to hear.
Pro-Tip: Fast is last! It's particularly true with fingerstyle and classical guitar music tabs that there's a fair amount of mechanical work you have to do right at the beginning.
First, get your fingers moving in the right order.
From there, get them moving with the proper rhythm at a very slow tempo.
Practicing in this way will help you progress to getting control over your music, which is necessary no matter how fast you want to play it.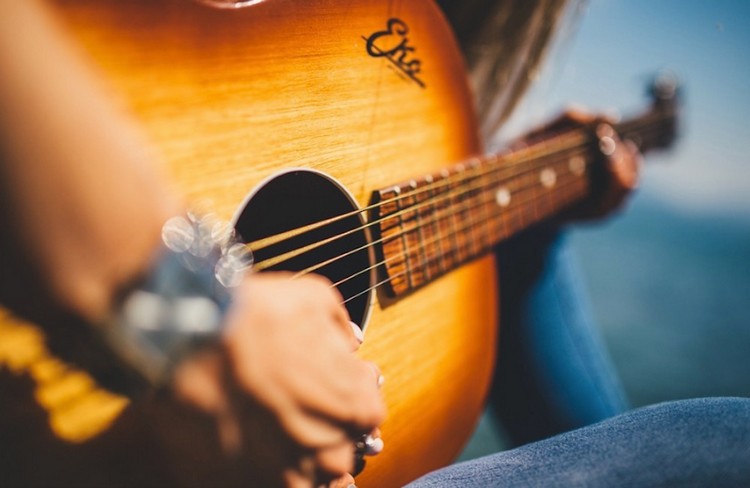 Classical Music Guitar Tabs 3: Jose Feliciano – "Light My Fire"
This amazing arrangement of the Doors' classic "Light My Fire" is among the most popular classical music guitar tabs for people who can play a couple of barre chords.
One great thing about Feliciano's version of "Light My Fire" is that he really makes the song sound like it was written for classical guitar.
The song is played with a jazzy groove, multiple strings plucked at once.
Feliciano used Spanish and Flamenco classical guitar styles, and his recording is what brought him international acclaim in 1968 when it was released.
Here is Ultimate-Guitar.com's tab for "Light My Fire."
One thing tablature usually doesn't tell you, unless accompanied by standard notation, is what rhythm you're supposed to be using.
It helps a lot to use the tablature as a guide to what to play and use the recording to figure out when to play.
This is a lovely and useful addition to your set of classical music guitar tabs because it showcases the versatility of the classical guitar.
Classical Music Guitar Tabs 4: Ernesto Lecuona – "Malagueña"
Any collection of classical music guitar tabs should include this piece from the Spanish guitar canon.
This version of "Malagueña" is played by Andrés Segovia, a man who lived and breathed a whole century's worth of Spanish classical guitar music.
Ernesto Lecuona composed "Malagueña" as part of Suite Andalucia in 1933.
It has become a general performance staple for all sorts of people and groups, including Stan Kenton, Roy Clark, the Madison Scouts Drum & Bugle Corps, and Carlos Montoya, who adapted it for classical guitar.
Now, you can add this piece to your own collection of classical music guitar tabs!
Here is Ultimate-Guitar.com's tab for Malagueña.
Classical Music Guitar Tabs 5: Ferdinando Carulli – "Andantino In G"
In any search for the best classical music guitar tabs, you won't get very far before you run into something by Ferdinando Carulli.
Carulli was a very busy composer. He wrote hundreds of pieces for the guitar, some of which were deemed too difficult for the average guitarist, so his publisher refused to release them!
Imagine.
This "Andantino in G," performed here by Jason Werkema, is a beautiful study in classical melody.
Compare "Andantino in G" to "Bourree."
In "Bourree," you've got two lines of notes that frequently move in opposite directions, which is called contrary motion.
"Andantino in G" has two lines of notes that frequently move in the same direction, which is called parallel motion.
You can use this tab for "Andantino in G". One thing to note about classical music guitar tabs is that a lot of pieces are commonly named after their tempo and meter.
Pro Tip: There are countless works called "Andantino," or "Allegro," or "Minuet," so if you're looking up some classical music guitar tabs, you need to have more information than just the title of the piece.
Try to equip yourself for your search with the composer's name, some sort of identifying number, or the key of the piece you're looking for to help narrow your search.
Classical Music Guitar Tabs 6: Vivaldi – "Four Seasons/Spring"
One of the most famous suites of all time, Vivaldi's Four Seasons is a great addition to your list of classical music guitar tabs.
Here's the first movement of the first concerto "Spring," played beautifully by Kelly Valleau.
Four Seasons is Vivaldi's concept album, meant to evoke the sounds and moods of each season.
You don't have to go very far to hear something from this suite, because it's used in weddings, commercials, TV shows, and movies quite frequently.
You can learn "Spring" from this tab.
Pro-Tip: It's not an easy thing to get crystal clear tone out of your guitar.
We all struggle with muffled notes.
One thing that can help you consistently produce tone is making absolutely sure that you use the very top of your fretting hand fingers on the strings. Check out this great technique lesson!
Classical Music Guitar Tabs 7: Paco De Lucia – "Entre Dos Aguas"
Paco de Lucia is a classical guitar master and an expert at Spanish and Flamenco styles.
"Entre dos Aguas" is a great "reach" piece among your classical music guitar tabs.
Here he is, showing us how it's done.
"Entre dos Aguas" is at its core, an improvisation.
It's not always easy to tell from listening, but there are a lot of classical pieces that have improvisatory elements that were eventually written down and codified for us to learn note-for-note.
There are quite a few classical music guitar tabs for "Entre dos Aguas," but this one seems to be the most straightforward arrangement that is available online.
Each section of "Entre dos Aguas" is a lesson in technique, style, and genre.
For example, the first section, with a main melody theme, combines some relatively mellow scale passages with the ripping cadenza, which is that incredibly fast waterfall of notes you hear.
Practice slowly and take one section at a time.
Chunking the music up in this way is not only the most efficient practice method for learning a difficult piece; it's also a way to develop deep comprehension of everything that's happening in the music!
Classical Music Guitar Tabs 8: Fernando Sor – "Easter Hymn"
Fernando Sor is another composer whose vast collection of classical music guitar tabs have developed the skills of every player for centuries.
For someone who is used as a model in guitar instruction, Sor had two interesting habits that did not quite catch on in the classical world.
He rarely used his ring finger to play. Also, he did not use his fingernails for plucking the strings.
His "Easter Hymn" is a pretty study in G major.
The version above contains notation that you can follow while you listen!
Here's a nice piece of static tablature for Sor's "Easter Hymn."
Learn the 12 EASIEST beginner chords with our famous FREE guide
✓  Stop struggling. Start making music.
✓  Learn 12 beginner-friendly versions of every chord.
✓  This is our most popular guide and it will improve your chord ability quickly. 
Get your own personalised guitar-learning plan 🎸
Get a custom guitar-learning plan here: Click here for GuitarMetrics™
Classical Music Guitar Tabs 9: Matteo Carcassi – "Study In A Minor"
Like lots of kids, Matteo Carcassi had to take piano lessons before his parents would buy him a guitar.
Like lots of kids, Carcassi really took to the guitar once he finally got one.
Unlike lots of kids, however, Carcassi went on to become a virtuoso, moved from Florence to Germany, and became a concert guitarist and teacher.
His "Study in A minor" is designed to get your picking fingers working evenly and steadily, and it's one of the finest classical music guitar tabs for exercising the picking hand.
Watch Dean Zimmerman sit down and get right to business on this study!
Use this tab to slowly pick through "Study in A Minor" and eventually you'll work it up to speed. Don't sacrifice precision!
This piece sounds better when played slow and even than it does fast and choppy.
Classical Music Guitar Tabs 10: Mason Williams – "Classical Gas"
Rounding out today's pile of classical music guitar tabs is a song everyone should learn – Classical Gas!
Mason Williams, the genius behind "Classical Gas," was mainly a comedy writer for The Smothers Brothers Comedy Hour and Glen Campbell's TV show, as well as Saturday Night Live.
We can all agree, he made the world better in numerous ways.
Here is Tommy Emmanuel with a ripping version of "Classical Gas."
If it's been a while (or never) since you've heard Mason Williams' original "Classical Gas," here it is in all its majesty!
You won't find all the notes Tommy Emmanuel used in this tablature, but it is complete enough for a satisfying version of the song.
Emmanuel embellished "Classical Gas" by putting the same melody in other places on the guitar. You can do the same! Practice your scales!
Where Do I Go From Here?
There are plenty of open resources for classical music guitar tabs on the web for you to find the music you love to learn.
Check out classicalguitarshed.com, for example.
Classical music helps you learn the precision you can use in all of your playing, so enjoy your tabs, keep calm, and practice on!
Recommended Resources
If you enjoyed reading this lesson, check out our other free content below!
What Type of Guitarist Are You?
Take our 60-second quiz & get your results: Take The Quiz
Our guitar courses
Become a better guitarist: Click here for our guitar courses
Get your own personalised guitar-learning plan 🎸
Get a custom guitar-learning plan here: Click here for GuitarMetrics™
Cool Guitar T-shirts 😎
Look cooler! Check out our merch: Click here to see our merch store
Want free guitar tips and video lessons delivered to your inbox?
Join over 250,000 other guitar learners and subscribe to our guitar-tips-by-email service. (It's free.)
We'll send you a series of lessons that will move you to the next level of your guitar journey.
Learn how everything fits together quickly, easily and effectively. We share ninja tips (for instant fun!) but also timeless fundamentals that will deepen your understanding.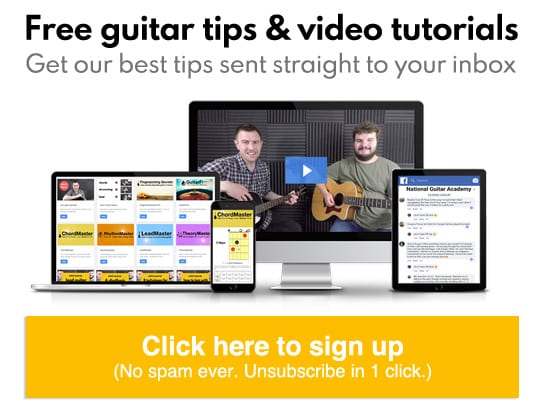 Get our best guitar tips & videos
Get our best guitar tips & videos