This song is a classic, known and played by many guitarists. Let's dive into how to play Pink Floyd's Wish You Were Here chords!
Over 250,000 guitar-learners get our world-class guitar tips & tutorials sent straight to their inbox: Click here to join them
In this free lesson you will learn…
How to play this amazing song
What sixteenth notes are & how to play them.
Tips for practicing the rhythm & lead of this song
Why it's important to record yourself playing!
Level Up Your Playing With Pink Floyd's Wish You Were Here Chords!
It's an exciting day in your music career, folks! Today you're going to master one of the greatest guitar songs in rock history.
Pink Floyd's "Wish You Were Here" is a constantly-requested song, a hit at guitar jams and singalongs, and one of the best performance pieces around.
On top of being a true classic, it's a great lesson in reading tab, playing lead, connecting chords, and mixing up strumming patterns with licks.
These Wish You Were Here chords sound sophisticated but are easy to play, and you're about to learn how and why!
In this lesson, we're going to cover a bit about Pink Floyd, the band that brought us this song. You'll also learn what makes this song an important part of rock history.
We'll cover both guitar parts of the introduction so you can play the Wish You Were Here chords by yourself or with a partner.
You'll learn the structure of the song so that you can easily remember it.
You won't need any paper to play and sing, but it doesn't hurt to take notes that you can reference later.
Wish You Were Here Chords: The Background
You might already be pretty familiar with Pink Floyd's well-documented history, and the departure of Syd Barrett that caused the band's transformation.
Formed in 1965, Pink Floyd initially comprised Syd Barrett, Nick Mason, Roger Waters, and Richard Wright.
The initial lineup's 1967 album "Piper At the Gates of Dawn" established them as one of Britain's premier rock bands.
Barrett came up with the name "Pink Floyd" by using the names of two blues musicians: Pink Anderson and Floyd Council.
Pink Floyd earned their reputation as a psychedelic band however, owing to Barrett's captivating and playful songwriting style.
Dave Gilmour joined Pink Floyd in 1967, and the next year, Barrett left the band. He continued a solo musical career for a short time before leaving the industry altogether in 1972.
Pink Floyd's 1977 album, Wish You Were Here, contains a reflection on the darker aspects of the music business and Barrett's departure.
Waters has said that the title track of Wish You Were Here is about himself, but Gilmour has recounted differently.
Waters and Gilmour wrote the song together, one of their greatest collaborations. Gilmour supplied the haunting guitar intro and outro and also sang lead.
Waters wrote the lyrics, some of the most heartfelt of his incredible career.
The song contains just three parts: the instrumental introduction, a double verse, and a chorus that does not repeat.
Let's take a listen. We'll use this recording of Wish You Were Here as a guide to the rhythm as well.
We'll take each part in turn so that you can really get to know all the components of this beautiful composition.
Learn 12 EASY beginner chords with our popular guide
✅  Stop struggling. Start making music.
✅  Learn beginner-friendly versions of every chord.
This is our most popular guide and it will improve your chord ability quickly! 😎
Get your own personalised guitar-learning plan 🎸
Get a custom guitar-learning plan here: Click here for GuitarMetrics™
Wish You Were Here Chords: The 12-String Intro
Gilmour played the introductory Wish You Were Here chords on a 12-string guitar. It's important to know this, because it's the only way to get the intro to sound like the recording.
If you play it on a six-string, you can approximate the sound, but you won't hear the chiming of the extra high tones.
The intro is based on a series of chords that all share two notes, creating a drone at the top of the Wish You Were Here chords that makes it easier to change chords.
Here are the chords you'll need for the intro:
Em7 (022033)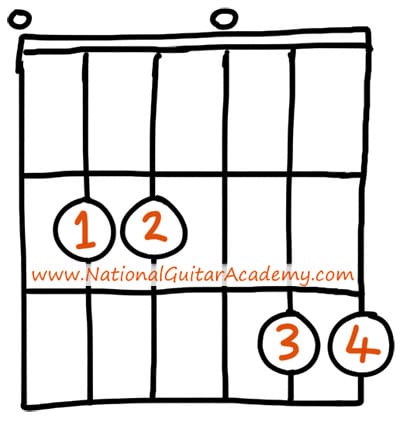 G (320033)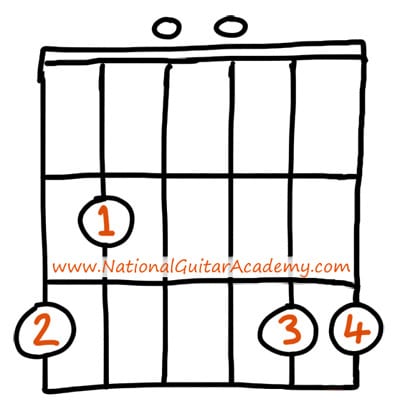 A7sus4 (x02233)
Park your third and fourth fingers on the B and E strings, so your first and second fingers are doing all the work!
The intro is played twice through. There are little riffs transitioning between the chords.
To get a handle on the intro, you'll first want to play only the riffs. Use the recording as your guide to timing. You can add the chords after you've gotten a handle on the intro.
The tablature below contains the notes you'll pick in between strumming the chords.
Practice by holding the chord shapes and using the first and second fingers of your fretting hand to play the individual notes.
Pro Tip: Use arpeggios to make sure you're playing the right notes and not muting any unnecessary strings! For more on arpeggios, click here.
Wish You Were Here Chords: Intro Lead Guitar
The second time through the Wish You Were Here introduction, a lead guitar part is added.
The introduction also happens, without the lead, in the middle of the song and at the end, as an outro.
Fun fact: Jazz violin virtuoso Stéphane Grappelli was hired to play a lead part during the outro!
He came in and recorded, although fellow virtuoso Yehudi Menuhin was also asked, but he declined.
Although Grappelli's work is nearly edited out of the mix, you can hear a little violin in there if you listen closely!
In the intro, Gilmour plays a simple lead on a six-string.
Here's a complete chart of the lead tab.
Pro-Tip: Practice with yourself!
Once you've got the 12-string intro part figured out, lay down a recording of yourself playing it four times in a row, or use a looping pedal to record it.
You will then have your own backing track over which to practice the lead! If you don't have recording software, use your phone! Any audio recording app will do just fine.
Wish You Were Here Chords: The Vocal Part
After you go through the intro twice, it's finally time to start singing!
The Wish You Were Here chords in the verse and chorus are interesting because they almost cycle.
It's a simple progression, but it also seems like a nod to the not-quite-orderly harmonic style Barrett used to use.
This tune is in the key of G major.
The chords swirl around before landing on the G chord, but only stay there briefly before taking off again. It's a beautiful effect you can use in your own songwriting!
Here are the Wish You Were Here chords you'll need:
C (x32010)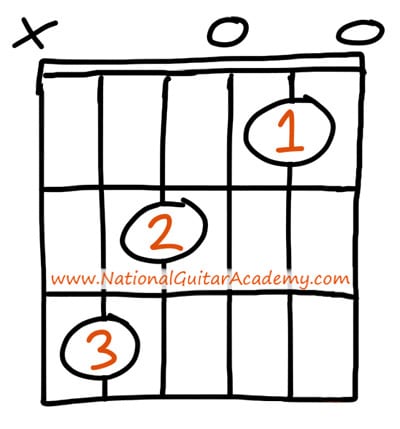 D (xx0232)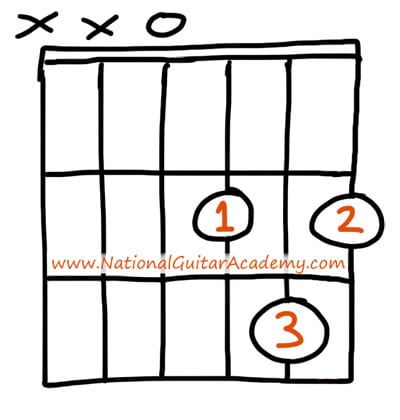 Am (x02210)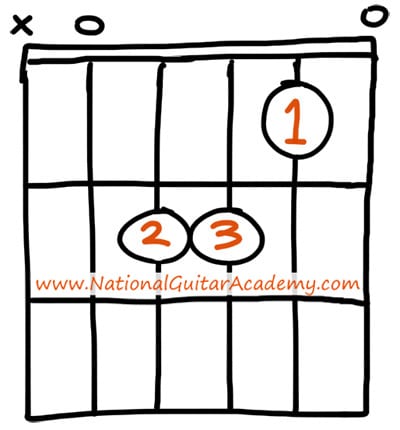 G (320003)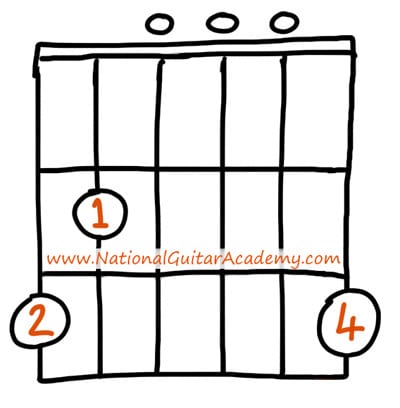 The progression of Wish You Were Here chords you'll need for the vocal part of the song is below:
C  D Am  G
D  C Am  G
Go through this section twice: The first time begins, "So, so you think you can tell…". The second time begins, "Did they get you to trade…".
After the second time, the introduction repeats as an interlude, this time with a pedal steel solo, sounding a little reminiscent of George Harrison, if you ask us.
Following the instrumental interlude, there's the chorus. It feels like a chorus, anyway, although it does not repeat.
The chorus, which begins, "How I wish, how I wish you were here," follows the same chord progression as the verse, once through.
Wish You Were Here Chords: The Outro
Following the chorus, you'll play the intro again, this time as an outro.
The arrangement of the outro is pretty interesting. The first time through, it's mainly the 12-string part as in the intro. There are keyboards added as well.
The second time through the intro, Gilmour adds some scat singing. Scat is wordless vocalization.
Scat was popularized and made into an art form by Ella Fitzgerald. Take a master class in scat singing with her version of "Blue Skies."
There are tape effects that enter into the outro at the end of the second time through.
It's an incredible way to end, because it sounds like the song is being swept away or eroded by a windstorm taking over the song.
Difficult to emulate, especially live, but it definitely sends a message!
Pro-Tip: The intro to Pink Floyd's Wish You Were Here chords is an outstanding lesson in how to begin playing lead and rhythm guitar at the same time.
Play the chords enough to keep the time, and use the chord position to find the lead fills you want.
Playing both parts of this song together takes time and practice, so don't be afraid to sit on this tune for a while in order to learn everything!
Having solid rhythm skills is an essential prerequisite to developing as a lead player, so check out this lesson: Rhythm Guitar Lessons.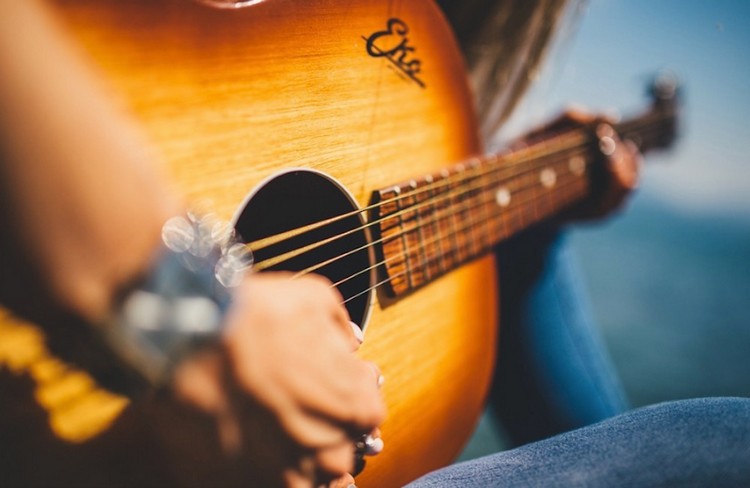 Wish You Were Here Chords: The Rhythm
Even for those of us who have developed a solid sense of rhythm on the guitar, playing a song like Wish You Were Here can be tricky.
There's a secret to interspersing lead riffs among the Wish You Were Here chords, and once you get the hang of it, it'll feel much more comfortable.
Listen to the intro at the beginning of the song while reading the tab. Count out the beat while you do this.
Notice that each little riff begins either on beat three, the "and" of three, or beat four. Each riff ends on beat one.
That means that the strumming in between begins on beat two and ends just before you have to start the next riff.
Use that time to fill in with strumming. Remember to tap your foot to help you keep the beat while practicing!
The strumming during the vocal part, verse and chorus, is pretty sparse, but the basis for the strumming is sixteenth notes.
This means that each beat is divided into four, traditionally counted "one ee and a" instead of being divided into two, "one and."
This is a very effective way to keep a slow song moving. The beat doesn't go any faster, but the rhythm is busier, so you can play slowly without making the Wish You Were Here chords sound like a dirge.
To start a sixteenth-note strum, you'll begin counting "one ee and a two ee and a…" and strumming at the same time:
Down-up-down-up, down-up-down-up, down-up-down-up, down-up-down-up
You don't have to hold the same pattern throughout the song, but it helps to follow a pattern to start with..
For the Wish You Were Here chords, try something like this:
Down – – -, down-up – up, down – – -, down-up-down-up
Download our lead guitar cheat-sheet to make things easier
It's hard to understand which scales work with which keys.
So we created a cheat-sheet! A key and scale-finder that you can use again and again.
Get your personalised guitar-learning plan 🎸
Get a custom guitar-learning plan here: Click here for GuitarMetrics™
Wish You Were Here Chords: The Song Structure
Now that you've got all the pieces of the Wish You Were Here chords and intro, you can start weaving them into your own arrangement.
With a lot of classic rock songs, people like to hear cover versions that closely emulate the recorded version.
When you play gigs, the familiarity of the arrangement makes people happy and makes them more likely to sing along.
With that in mind, let's recap the structure of Wish You Were Here as recorded on the album.
Intro
Intro with lead
Verse
Verse
Intro with different lead
Chorus
Intro
Intro with scat singing
Luckily for us, the song ends nicely on the G chord, so you do not need to invent an ending to replace the windy tape noise!
As promised, we've found a complete chord chart of the Wish You Were Here chords for you.
Wish You Were Here Chords: Get Creative!
Classic songs like Wish You Were Here are covered all the time by artists large and small.
A faithful version of the song is a great tribute, but you can learn a lot from the different individual takes of Wish You Were Here.
Take Your Wish You Were Here Chords To Your Next Jam!
Fortunately, once you've learned the Wish You Were Here chords and intro and devised your own arrangement, it's very easy to show other people how to play it!
Make sure you put it on the list for your next guitar party or jam session, because everyone will love to sing along.
Want to know more about Pink Floyd and the mysteries behind their music? Check out this article from Rolling Stone.
Recommended Resources
If you've enjoyed this lesson, we have other places for you to go next! Continue on your path with these lessons:
What Type of Guitarist Are You?
Take our 60-second quiz & get your results: Take The Quiz
Join the world's best online guitar school 🌎
Get your own personalised guitar learning plan (customised just for YOU).
World-class online guitar courses. Learn at your own pace.
Community Campus & Learning Forum -  A friendly community! Connect with our team & students. 😊
Beginner Song library with chordsheets, tabs and tips. (Songs suitable for all levels!)
Regular live streams, seminars and Q&A sessions - Learn from world-class guitar educators. Get all your questions answered!
Click here to learn more about National Guitar Academy membership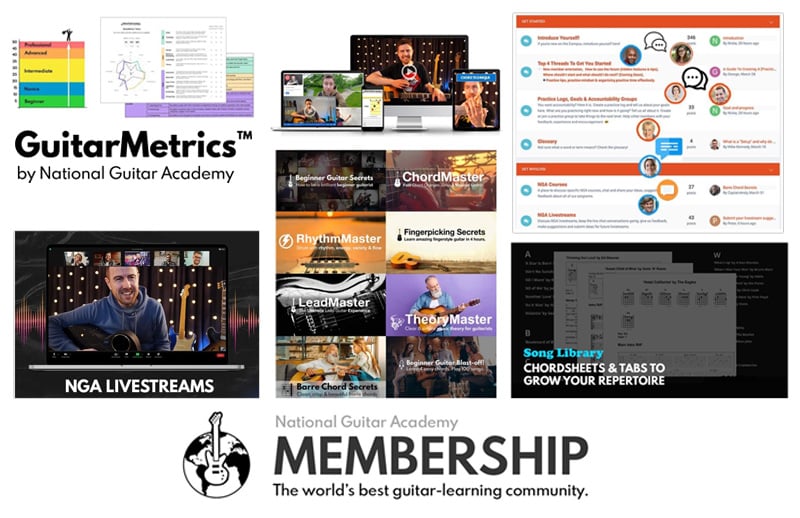 Cool Guitar T-shirts 😎
Look cooler! Check out our merch: Click here to see our merch store
Want free guitar tips and video lessons delivered to your inbox?
Join over 250,000 other guitar learners and subscribe to our guitar-tips-by-email service. (It's free.)
We'll send you a series of lessons that will move you to the next level of your guitar journey.
Learn how everything fits together quickly, easily and effectively. We share ninja tips (for instant fun!) but also timeless fundamentals that will deepen your understanding.
Get our best guitar tips & videos
Get our best guitar tips & videos