3 Chord Guitar Songs For Beginners – 'Ring Of Fire'
Johnny Cash is no stranger to playing the Blues, and some of his songs follow the typical Blues structure of I – IV – V.
Ring Of Fire places us in the key of G major using the chords G, C and D for the entirety of the song.
Pretty easy, right?
The main point to bear in mind with this song is to pay attention to where the chord changes occur.
Check out the chord diagrams below for reference:
G MAJOR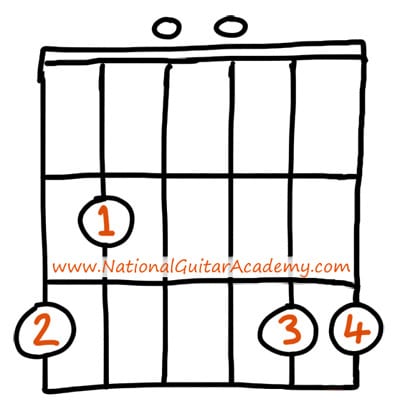 C MAJOR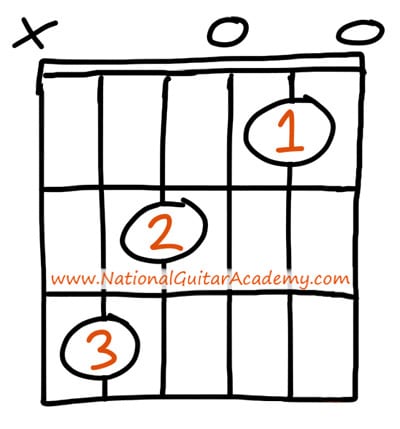 D MAJOR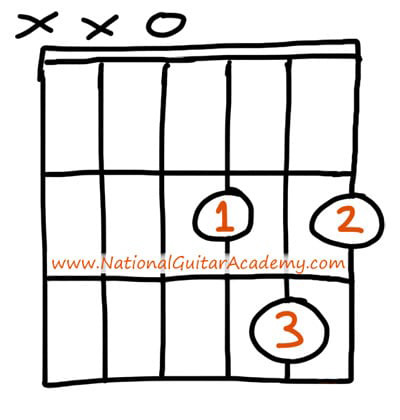 Pro Tip: Both Ring Of Fire by Johnny Cash and Hound Dog by Elvis Presley follow the exact same chord progression in two different keys!
Once you've learned one, you've technically learned both!
Listen carefully to hear the similarities!
G MAJOR (PARTIAL)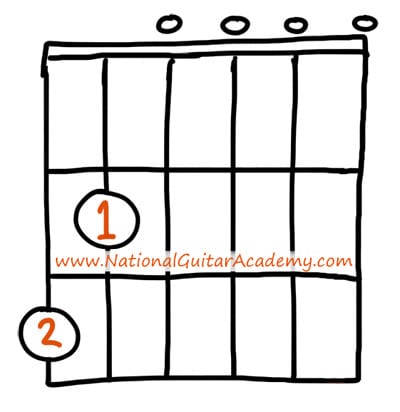 C MAJOR (PARTIAL)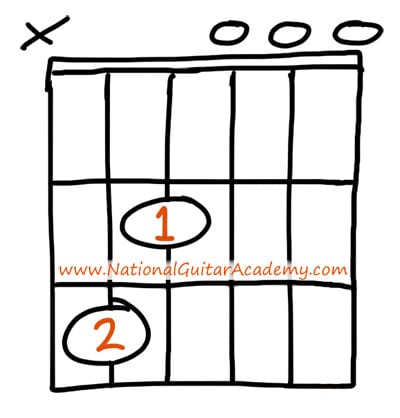 D MAJOR (PARTIAL)
3 Chord Guitar Songs For Beginners – 'Release'
Pearl Jam's classic Release is a fantastic piece of music that is easy to play and even easier to remember!
We selected this song because it uses the exact same chords as Ring of Fire.
This shows us how two distinctly different songs can use the same melodic foundation to create something that is nothing like something else.
Release is a slow ballad that takes its time to build. For a while you'll find yourself resting on one chord, but you'll be moving soon enough.
Pearl Jam are an excellent example of a band that makes use of minimalism and simplicity to get their message across. Needless to say, it worked!
G MAJOR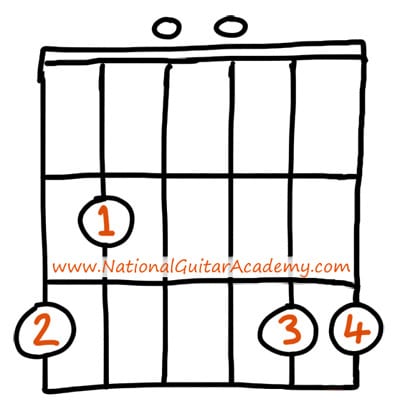 C MAJOR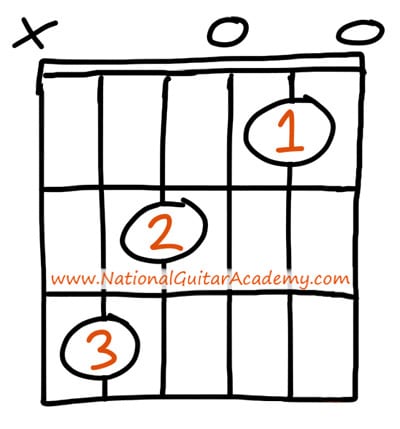 D MAJOR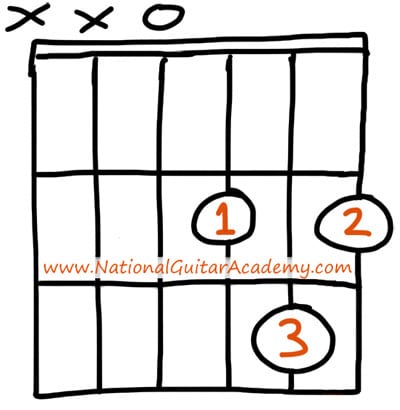 Download our lead guitar cheat-sheet to make things easier
It can be disorientating for guitarists to understand which scales work with which keys.
With this in mind, we created a cheat-sheet; a key and scale-finder that you can use again and again.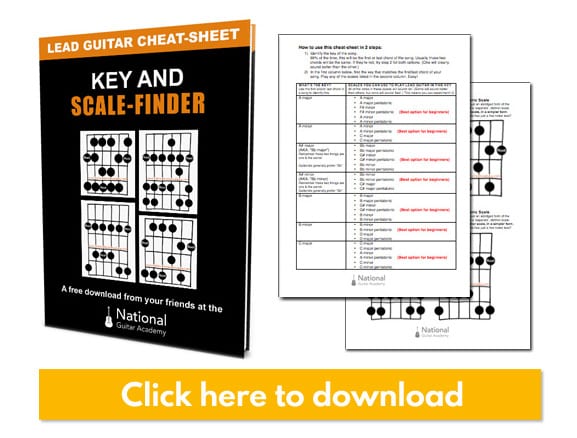 3 Chord Guitar Songs For Beginners – 'All The Small Things'
Blink 182 wrote hit after hit, securing their spot in the Punk Rock world as a staple of catchy and edgy songwriting.
All The Small Things was a tune that hit late-90s teen rockers in the heart strings, and quickly became a well-learned song by guitarists everywhere.
This song uses power chords, and is unique because we use a C power chord on the A string before descending to the F and G power chords on the E string.
Check out your chord shapes below:
C POWER CHORD

F POWER CHORD

G POWER CHORD
3 Chord Guitar Songs For Beginners – 'For What It's Worth'
There is never a bad time to learn this song.
Buffalo Springfield's For What It's Worth is a tune with an important message of awareness, made effective by its use of minimalism.
These guys knew what they were doing when they wrote this political outcry, and their message was received loud and clear, securing its place in the history books.
Using the chords A, D and E, we can play this song with ease. Check out your chords below:
A MAJOR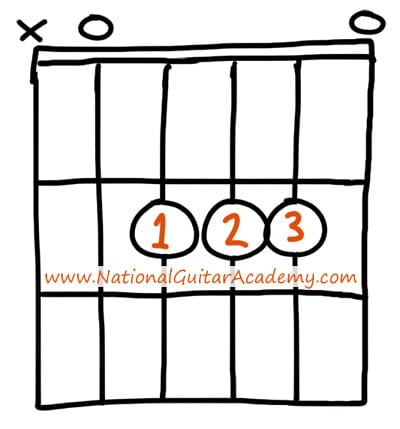 D MAJOR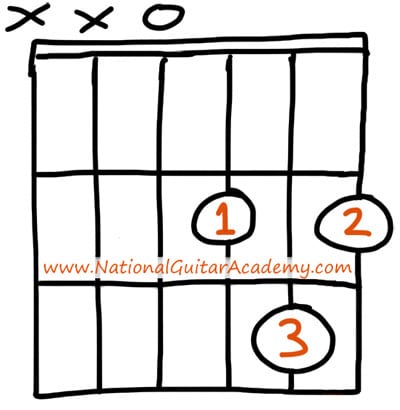 E MAJOR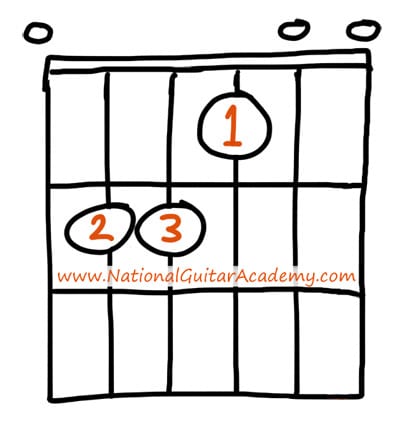 3 Chord Guitar Songs For Beginners – 'Back In The USA'
The Blues legend Chuck Berry's classic song Back In The USA set America's ears on fire when it was released, and became a staple of guitar culture from the minute it came out.
This Blues tune uses the chords D#, G# and A# to get your feet tapping.
This song is what we refer to as a Blues Shuffle, and when you get a feel for how to play it you'll understand why!
We shuffle back and forth between the three chords in the progression with a bouncy swing to our rhythm.
You can play this song with power chords to make it easier.
Have a look at your chord shapes:
D# POWER CHORD
G# POWER CHORD
A# POWER CHORD
3 Chord Guitar Songs For Beginners – 'Cool'
Gwen Stefani has created countless catchy and infectious songs over her years, and Cool is one of the best she's ever written.
This song certainly lives up to its name, as it's one of those 3 chord guitar songs for beginners that will keep you coming back to jam on time and time again.
If you haven't taken in Gwen's discography, you should. Her songwriting skills are incredible, and her band No Doubt achieved insane levels of success during their time together.
Using the chords D, G and A, we can play this song effortlessly. Keep your strumming hand wide open with long strums to play along.
Check out your chords below:
D MAJOR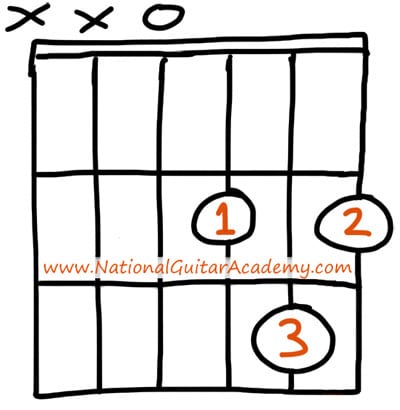 G MAJOR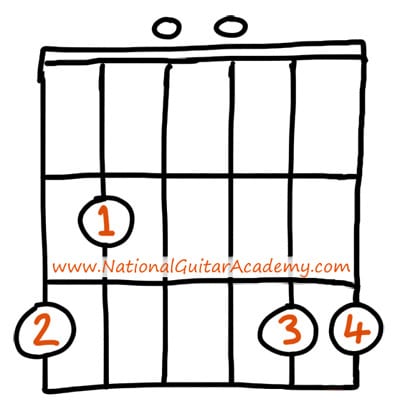 A MAJOR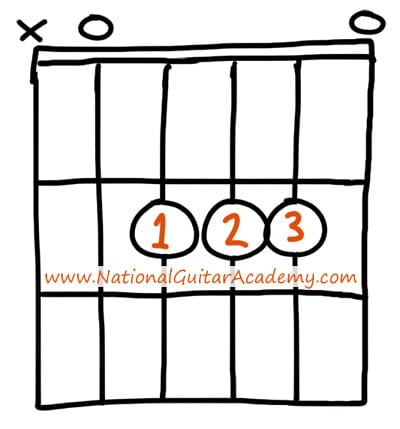 Where Do I Go From Here?
Practice makes perfect!
The best way to practice these 3 chord guitar songs for beginners is to play along to the song and hear your way through it.
Listen to the chord changes and strum along!
Recommended Resources
If you enjoyed this free guide to 3 chord guitar songs for beginners, you'll love our list of free resources below!
What Type of Guitarist Are You?
Take our 60-second quiz & get your results: Take The Quiz
Want free guitar tips and video lessons delivered to your inbox?
Join over 100,000 other guitar learners and subscribe to our guitar-tips-by-email service. (It's free.)
We'll send you a series of lessons that will move you to the next level of your guitar journey.
Learn how everything fits together quickly, easily and effectively. We share ninja tips (for instant fun!) but also timeless fundamentals that will deepen your understanding.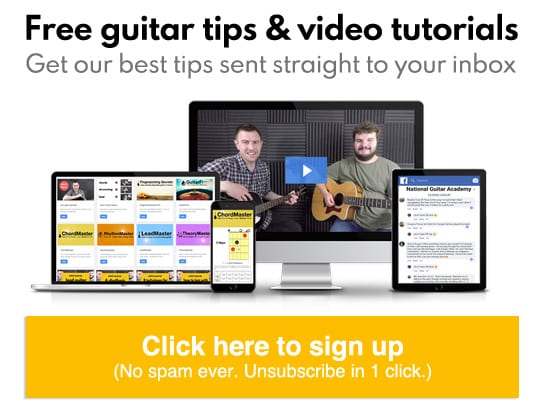 Popular Lessons
How To Learn Guitar: An 11-Step Programme For Beginners
How To Choose The Perfect Beginner Guitar
Guitar Notes Explained: A Guide For Beginners
More Cool Guitar Stuff
Learn about the National Guitar Academy: About Us
Visit our YouTube channel for fun guitar videos.
Join us on Facebook for daily guitar tips.
Listen to our Learn Guitar Podcast for rapid guitar progress.
Check out our free chord lessons.
Continue reading on page 2:
Page 1
Page 2