The A5 Chord in Different Styles
In order to get a better idea of what these songs could sound like in context, let's look at the A5 in two different genres.
We're going to use the same three "5-style" chords so you can really hear the difference. Check out the tabs and play along!
ROCK
The first example will be a rock riff that starts with A5 on the fifth fret, moves to G5 on the third fret, and ends on E5 in the open position.
All three of these chords use the "5-style" chord, so you can simply shift your hand down the fretboard and maintain the same finger position throughout. p
You can strum these chords up and down, or you can pound away at them with downstrokes. Get creative with it!
If you have an amp, distortion is highly encouraged (just try not to wake the neighbours).
FOLK/AMBIENT
Just like the example above, we'll be using the same three chords – A5, G5 and E5.
This time though, instead of playing with distortion we'll be picking the E and A strings back and forth.
This will help to create a completely different atmosphere with a lighter, more welcoming vibe.
Take note of how each of these approaches make you feel, as that helps you determine what you like most about your instrument and how to evoke different emotions through your music.
How to Practice the A5 Chord
Learning how to practice effectively makes a big difference to your guitar playing. It can also help you achieve your goals faster and keep you on the right track and focussed.
Here are a few things you can do to help your practice routine with the A5 chord:
Stretch first! This applies to practice of any kind, but stretching before practice can help us avoid excess tension in our wrists and forearms.
Keep it loose – the only thing that should be tense are your guitar strings!
Play arpeggios! When we first start out on guitar, making the stretch from the 5th fret to the 7th to grab that A5 power chord can seem huge.
Getting our fingers into a comfortable and secure position takes time and practice. Arpeggios help us to "spell out" chords so that we can hear each note ring out against the next.
They also help us hear what strings we may be accidentally muting, so that we can better position our hands!
Learn at your own pace. It doesn't matter if you're a hobby guitarist or a professional – we play music for ourselves first, and it should always be enjoyable.
Practice the individual fingerings of each note in the chord separately, then together. This will help your fingers get used to knowing where they are supposed to be, and helps them work better together!
Homework: Listening
As always, listening is one of the most key components of music education for any instrument. 
Finding songs that demonstrate what we are learning about helps us to hear the learning material in context.
We've put together a few great songs for you to listen to that make great use of power chords.
Check them out and if you like it, learn it!
Where Do I Go From Here?
If you want to keep improving your rapidly-growing guitar skills, we highly recommend all of the following: 
Pick up a copy of Guitar Chords for Beginners by Gareth Evans
Check out our library of free guitar lessons to keep sharpening your skills
Get inspired with some new music! Today's inspiration recommendation is Mark Lettieri (see if you can find the '5-style' chords that he's using!)
Pair the A5 chord up with other chords that you already know, and see how they play together
Jam with a friend!

Recommended Resources
If you're looking to continue learning about different chords, check out some more of our free resources below and keep playing!
What Type of Guitarist Are You?
Take our 60-second quiz & get your results: Take The Quiz
Our guitar courses
How do you want to improve as a guitarist? Click here to check out our guitar courses
Cool Guitar T-shirts
Look cooler! Check out our merch: Click here to see our merch store
Want free guitar tips and video lessons delivered to your inbox?
Join over 250,000 other guitar learners and subscribe to our guitar-tips-by-email service. (It's free.)
We'll send you a series of lessons that will move you to the next level of your guitar journey.
Learn how everything fits together quickly, easily and effectively. We share ninja tips (for instant fun!) but also timeless fundamentals that will deepen your understanding.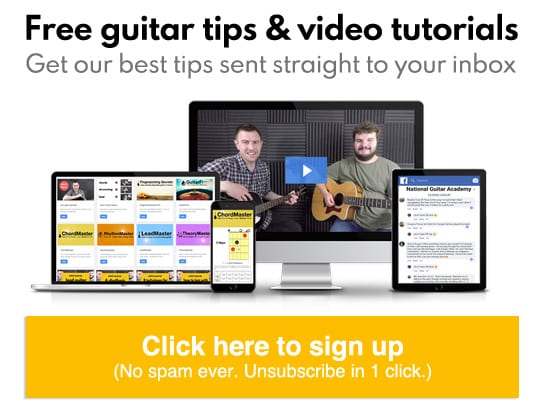 Popular Lessons
How To Learn Guitar: An 11-Step Programme For Beginners
How To Choose The Perfect Beginner Guitar
Guitar Notes Explained: A Guide For Beginners
Our guitar courses
Become a better guitarist: Click here to check out our guitar courses
More Cool Guitar Stuff
Learn about the National Guitar Academy: About Us
Visit our YouTube channel for fun guitar videos.
Join us on Facebook for daily guitar tips.
Listen to our Learn Guitar Podcast for rapid guitar progress.
Check out our free chord lessons.
Get our best guitar tips & videos
Continue reading on page 2:
Page 1
Page 2