1. Don't Angle Your Wrist
Your wrist shouldn't look like a swan's neck, your wrist should be parallel with the strings.
Like this: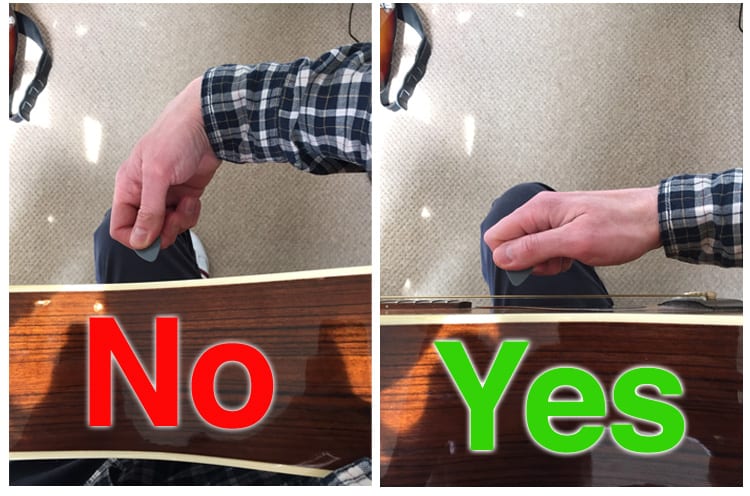 2. Strum From Your Elbow Not Your Wrist
Don't use your wrist to strum. The power, fluidity and FLOW comes from your elbow.
Here's what your strumming arm should look like from your perspective: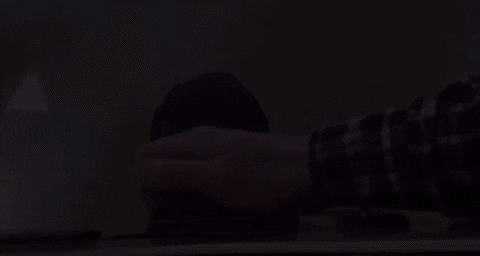 3. Don't Let Your Arm Drift Forwards From The Guitar
You need to push down and up. Your aim should be to strum 'through' the strings.
Remember, the strumming motion is 'down and up', so don't let your arm drift outwards.
Imagine you are paddling a boat. The oars need to go in and through the water, not skim along or miss the water.
Essential Strumming Patterns
When you learn how to strum, it's important that you get used to both types of strumming patterns.
These are:
And:
Understanding how to strum is vital if you want to enhance your musicality.
Beginner Guitar Lessons – Strumming Secrets
Click play on this audio clip to learn how to use down and up strokes in your strumming.
To learn more about strumming technique, go here:How To Strum A Guitar
How Often Should I Practice?
Try and practice for 5-10 minutes a day. That's all you need when you first start. It's much better for you progress if you practice little and often.
Learning to play guitar can often be daunting as there is SO much you can learn. However, if you practice regularly we guarantee that you will become amazing at guitar!
For more practice tips, go here:Guitar Practice – 10 Essential Tips
5) Beginner Guitar Lessons – Learn To Play Easy Songs
Once you've learned a couple of chords and how to strum a guitar. You now have tools in place to learn guitar songs!
Learning songs is one of THE best things you can do on guitar.
We're going to show you 3 epic songs which will take your guitar playing to the next level.
1. 'Songbird' by Oasis
The first song we're going to learn is 'Songbird' by Oasis. This song is awesome for beginners because:
It uses two chords.
The strumming pattern will enhance your musicality.
The chord progression is the same all way through.
Here's the original:
Here are the chords:
In this video, Andy shows you the basics of how to play this killer song by Oasis:
2. 'The Joker' by Steve Miller Band
This is song is a classic. Here are a few reasons why you must learn this song:
It only uses 3 guitar chords.
The strumming pattern is really easy and will enhance your technique.
It's a crowd pleaser. If you want to win the crowd over, you should learn this song.
Let's give it a listen:
What are the chords?
The chords for this song are :
In this video, I take you through how to play this song:
To learn more easy songs, go here: 10 Easy Songs On Guitar
3. 'Stand By Me' by Ben E. King
This is a 1960s classic from a super songwriter Ben E. King, it's one of our favourites.
Here's the original:
Here are 3 reasons why you should learn this song if you're a beginner guitarist:
The strumming pattern is fun and easy to play.
It only uses four chords.
The chord progression is the same all the way through.
This song is slightly harder than the previous two, as it uses 4 chords. However, once you can manage each chord change, you'll be rocking in no time.
What are the chords?
The chords in this song are
To learn more beginner guitar chords, go here: 14 Easy Beginner Guitar Chords
Let's play the song!
To learn how to play this song, watch this video:
Didn't like these songs? Maybe you'll find something you like in this article by Rolling Stone that will inspire you: 500 Greatest Songs Of All Time
What Type of Guitarist Are You?
Take our 60-second quiz & get your results: Take The Quiz
Join the world's best online guitar school 🌎
Get your own personalised guitar learning plan (customised just for YOU).
World-class online guitar courses. Learn at your own pace.
Community Campus & Learning Forum -  A friendly community! Connect with our team & students. 😊
Beginner Song library with chordsheets, tabs and tips. (Songs suitable for all levels!)
Regular live streams, seminars and Q&A sessions - Learn from world-class guitar educators. Get all your questions answered!
Click here to learn more about National Guitar Academy membership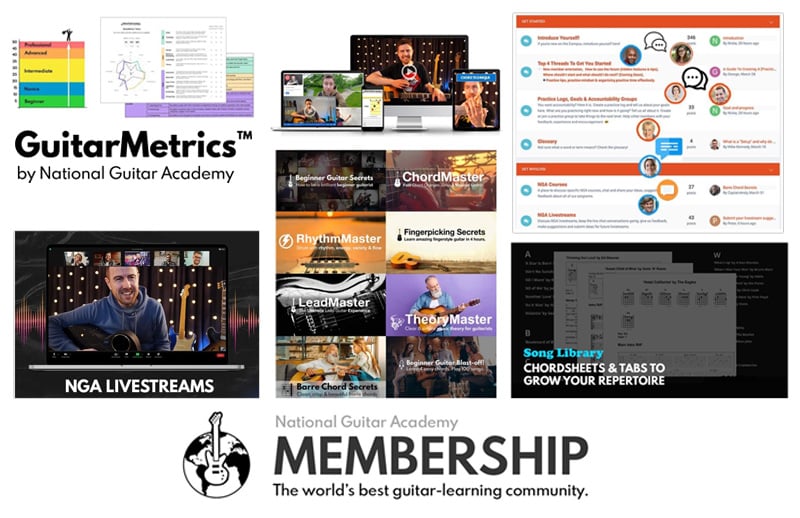 Cool Guitar T-shirts 😎
Look cooler! Check out our merch: Click here to see our merch store
Want free guitar tips and video lessons delivered to your inbox?
Join over 250,000 other guitar learners and subscribe to our guitar-tips-by-email service. (It's free.)

We'll send you a series of lessons that will move you to the next level of your guitar journey.

Learn how everything fits together quickly, easily and effectively. We share ninja tips (for instant fun!) but also timeless fundamentals that will deepen your understanding.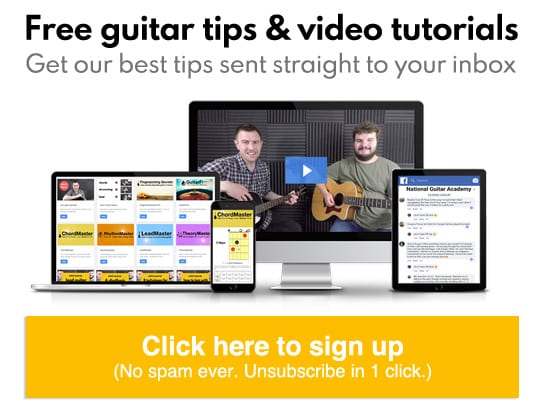 Get our best guitar tips & videos
Continue reading on page 2:
Page 1
Page 2