Easy Country Guitar Songs #6 'The King Is Gone (So Are You)' by George Jones
There are so many easy country guitar songs by George Jones, and so many incredible hits, but this one is the most fun.
"The King Is Gone (So Are You)" exemplifies George's "don't care" persona, although his biggest hit was "He Stopped Loving Her Today," a beautiful and moving song about loss.
This one, by contrast, references an old cartoon in the process of noticing that someone has left.
The song is in the People's Key – the key of G.
G chord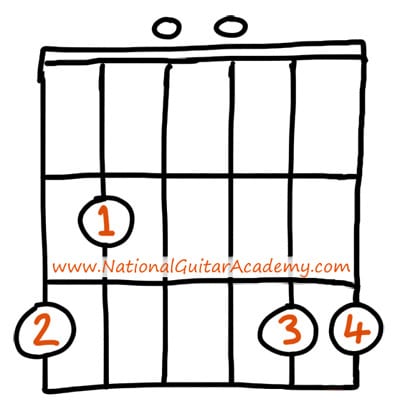 C chord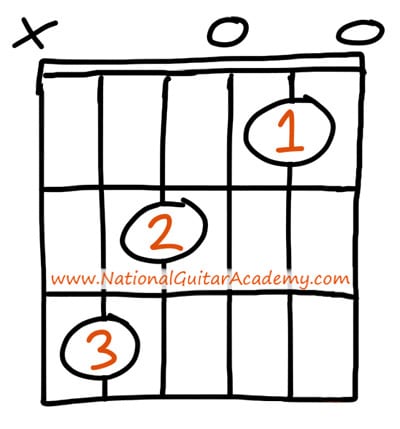 D chord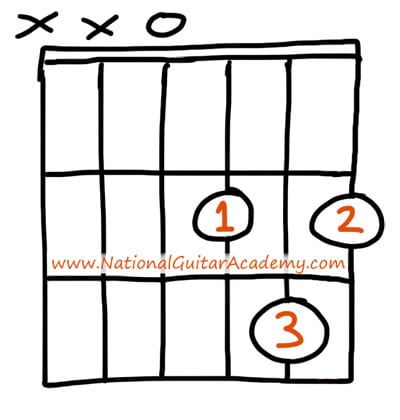 The song is so easy to play, in fact, if you're up for a challenge you can even incorporate a simple guitar lick in the verse on your way from the D to the C chord.
Try this at home adding this lick between your D and C chords.
The slanted lines direct you to slide from fret 5 to fret 7, and then from fret 7 to fret 5.
If you'd like some help getting started reading tablature for your easy country guitar songs, check out this lesson:
Easy Country Guitar Songs #7 'Folsom Prison Blues' by Johnny Cash
You were probably wondering when we would get to Johnny Cash in this exploration of easy country guitar songs. Here he is!
He did not invent outlaw country, but his concerts at Folsom Prison and San Quentin Prison resulted in number one albums.
Folsom Prison Blues is in the key of E and starts with a distinctive intro riff based on the B7 chord.
E chord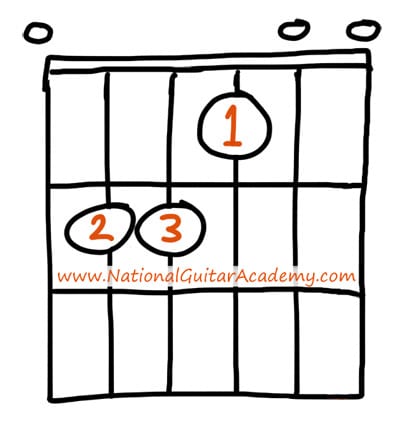 A chord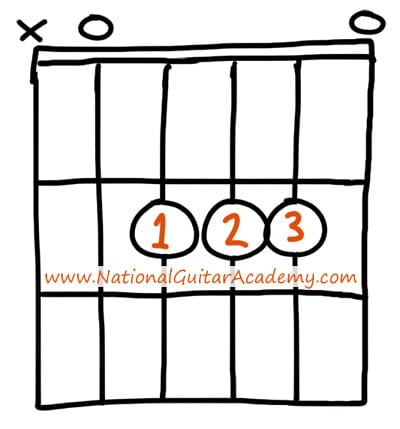 B7 chord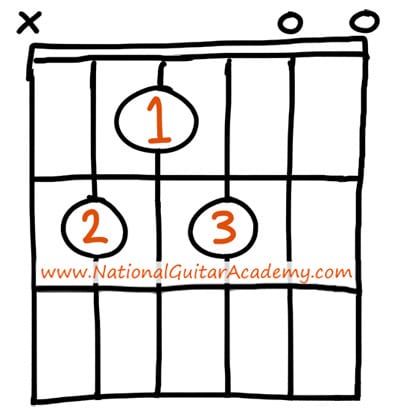 For the last note in the intro riff, bend the sixth string any amount before landing on the E chord to kick off the song.
Download our lead guitar cheat-sheet to make things easier
It can be disorientating for guitarists to understand which scales work with which keys.
With this in mind, we created a cheat-sheet; a key and scale-finder that you can use again and again.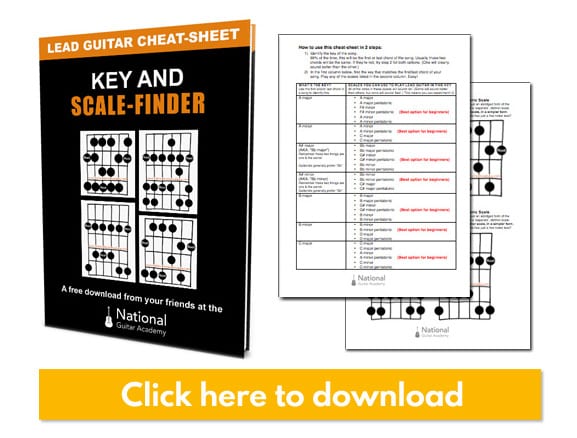 Easy Country Guitar Songs #8 'Something to Love' by Jason Isbell
Here's a lovely song to play for your loved ones by Jason Isbell:
"Something to Love" was written for Jason's daughter. It has an easy melody to sing and is about the feeling of belonging in a family.
You can play "Something to Love" in the key of C, using these chords. As you can see in the video, Jason is using a capo on the fifth fret. Here are the chords:
C chord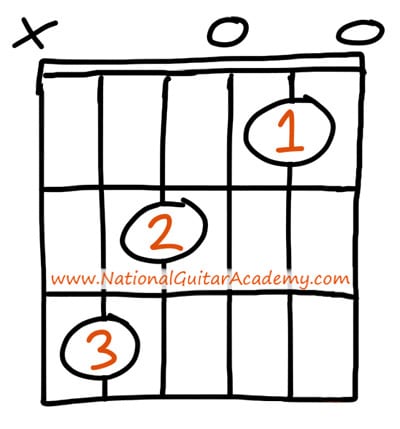 Fmaj7 chord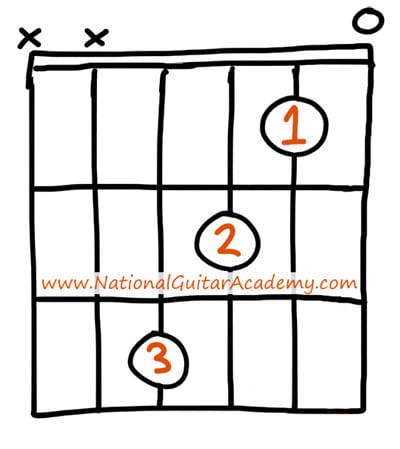 G chord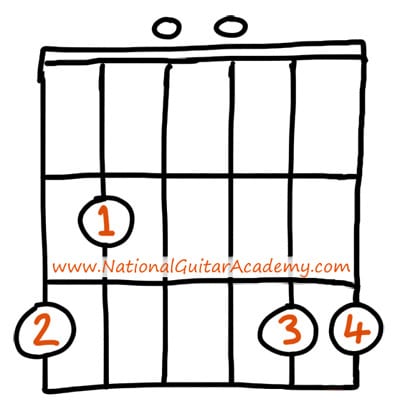 Am chord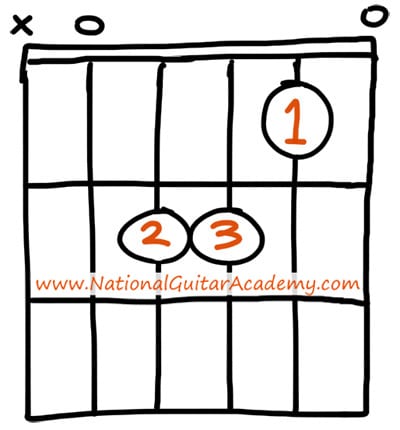 If you listen and watch Jason's strumming, you can pick up the rhythm for this song. If you'd like to do that little shift you hear when he is playing the C chord, just lift up your middle finger from the D string every so often.
That turns the C chord into a Csus2 and it is a common way to kill time on a chord in easy country guitar songs.
Easy Country Guitar Songs #9 'The Git Up' by Blanco Brown
Square dancing, the "swing your partner" dance craze upon which the United States was founded, has evolved into other forms, such as the Funky Chicken, the Harlem Shake, and now, the Git Up, country rapper Blanco Brown's debut single.
This is by far the easiest of your easy country guitar songs, and as of August 2019, it is sitting at the top of the U.S. country charts.
The song has just two chords, leaving you plenty of room to issue dance instructions to your friends. These chords are E and A.
E chord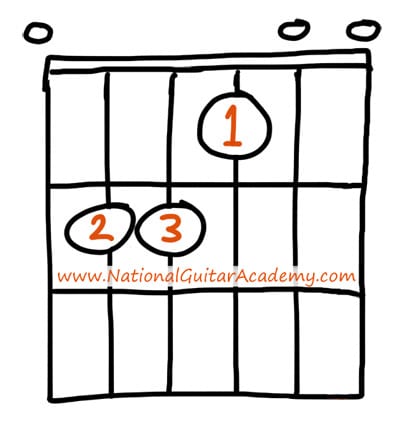 A chord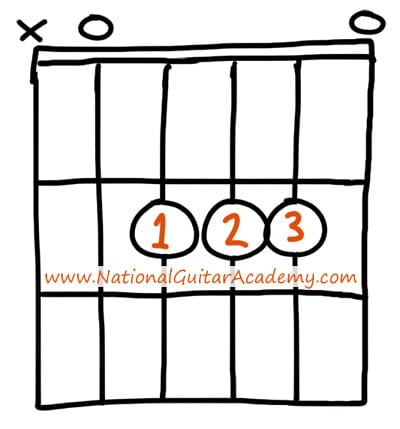 As with most dance crazes, "The Git Up" will not stay at the top of the charts forever, so make sure you add this to your repertoire of easy country guitar songs soon!
Easy Country Guitar Songs #10 'Blue Moon of Kentucky' by Elvis Presley
The final selection in your list of easy country guitar songs is Elvis's rendition of "Blue Moon of Kentucky."
Bill Monroe wrote "Blue Moon of Kentucky" in 1946 and recorded it with the Bluegrass Boys, including Lester Flatt and Earl Scruggs. It was initially a mellow bluegrass waltz.
When Elvis got to it in 1954 to record as a B-side to "That's Alright, Mama," he sang it uptempo and changed the meter from three to four.
At the time, it was declared a pop song, but now it is a bluegrass staple and the state song of the Commonwealth of Kentucky.
Elvis's version of "Blue Moon of Kentucky" is in the key of G, and you can play it using these chords.
G chord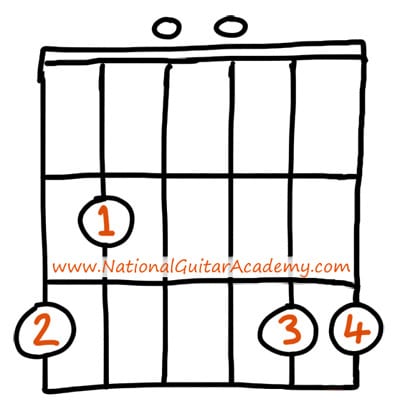 C chord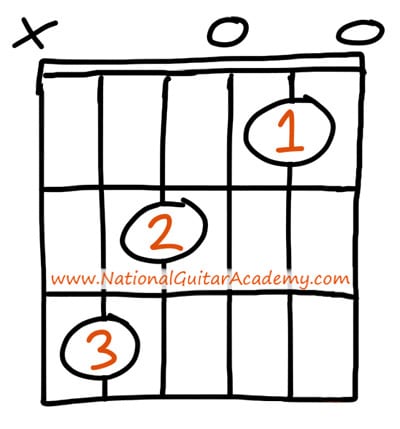 D chord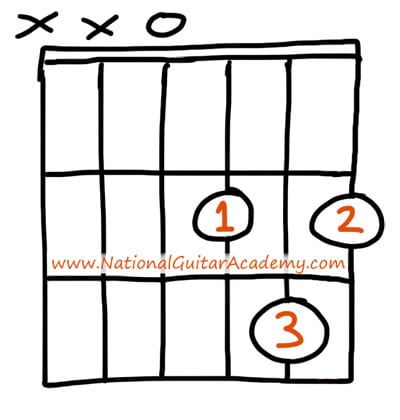 Use alternating bass strumming to play this song. It's the official strumming pattern of bluegrass music.
If you try this song as a waltz, with three beats per measure like Bill Monroe or Alan Jackson instead of four, you'll pick the root on the first beat of the first measure and pick the alternating note on the third beat of the measure.
More Easy Country Guitar Songs!
The list of all-time easy country guitar songs could go on all month, but here are some old and new classics to keep you going:
"El Paso," Marty Robbins
"On the Road Again," Willie Nelson
"Friends in Low Places," Garth Brooks
"My Baby Loves Me," Martina McBride
"I Will Always Love You," Dolly Parton
"He Didn't Have to Be," Brad Paisley
"Remember When," Alan Jackson
"Tennessee Flat Top Box," Rosanne Cash
"I Fall to Pieces," Patsy Cline
"Your Cheatin' Heart," Hank Williams
What Type of Guitarist Are You?
Take our 60-second quiz & get your results: Take The Quiz
Want free guitar tips and video lessons delivered to your inbox?
Join over 100,000 other guitar learners and subscribe to our guitar-tips-by-email service. (It's free.)
We'll send you a series of lessons that will move you to the next level of your guitar journey.
Learn how everything fits together quickly, easily and effectively. We share ninja tips (for instant fun!) but also timeless fundamentals that will deepen your understanding.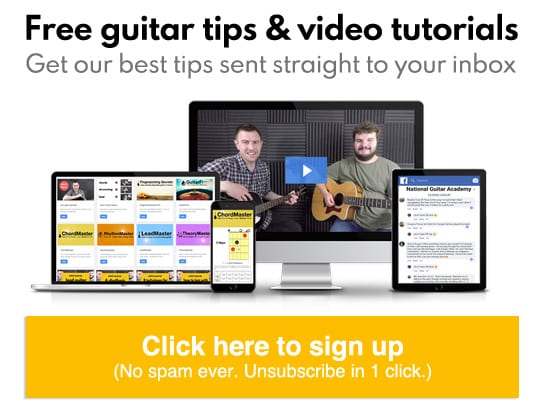 Popular Lessons
How To Learn Guitar: An 11-Step Programme For Beginners
How To Choose The Perfect Beginner Guitar
Guitar Notes Explained: A Guide For Beginners
More Cool Guitar Stuff
Learn about the National Guitar Academy: About Us
Visit our YouTube channel for fun guitar videos.
Join us on Facebook for daily guitar tips.
Listen to our Learn Guitar Podcast for rapid guitar progress.
Check out our free chord lessons.
Continue reading on page 2:
Page 1
Page 2