Learning guitar solos is a rite of passage for guitarists – Let's get you started with our top 60 guitar solo tabs!
In this free lesson you will learn…
60 guitar solos ranging from beginner to intermediate & advanced
Recommended lessons to help you tackle this list
The importance of stretching to stay limber
Why constant practice is so important
Over 250,000 guitar-learners get our world-class guitar tips & tutorials sent straight to their inbox: Click here to join them
An Introduction To Guitar Solo Tabs
Let's face it, since the invention of the very first model, the guitar has been a cool instrument.
Once the electric guitar came around in 1937 and we discovered the magic of guitar solos however, the cool factor jumped through the roof.
Everyone dreams of learning how to write a guitar solo when they first pick up the guitar.
Sometimes the best way to learn how to write our own musical lines can start with learning other people's musical lines first.
Lucky for you, we've curated a list of our top 60 guitar solo tabs right here for you to learn how to shred with.
Before we begin, let's start with a little bit of housekeeping to get you ready for this onslaught of guitar riffage.
Guitar Solo Tabs: What We Need To Know Before We Begin
If you're on this page and you're wondering what types of techniques you should have in your toolbox before attacking this list of guitar solo tabs, we've got you covered.
We've put together a list of some of our other lessons for you to reference throughout this list to help you stay on task with the right chops.
Pro Tip: You don't need to go through all of these articles before starting on our list of the best guitar solo tabs.
It helps to have some extra information on hand throughout, so feel free to scroll back here as needed.
If you're already a confident shredder, you can skip on down to the list below and start finding a song to jam to!
Helpful resources:
Take the time to practice your scales and technique to maximize your guitar power.
A solid foundation of knowledge on the fretboard helps us navigate tough guitar solo tabs.
These essential guides above are great guides for preparing your hands (and mind) for taking the next steps in your guitar journey.
Remember: Patience, time and dedication are the three keys to progress as a musician on any instrument.
Pro Tip: As you improve over time as a musician (and you will always improve) you should make a point of coming back to this list for new inspiration.
Many guitar solo tabs are challenging, and they force us to level-up our playing
One of the best parts about music is that it is an infinite and constant challenge; and there are guitar solos from all different genres in this list.
Go ahead and bookmark this lesson before we move on.
Download our lead guitar cheat-sheet to make things easier
It can be disorientating for guitarists to understand which scales work with which keys.

With this in mind, we created a cheat-sheet; a key and scale-finder that you can use again and again.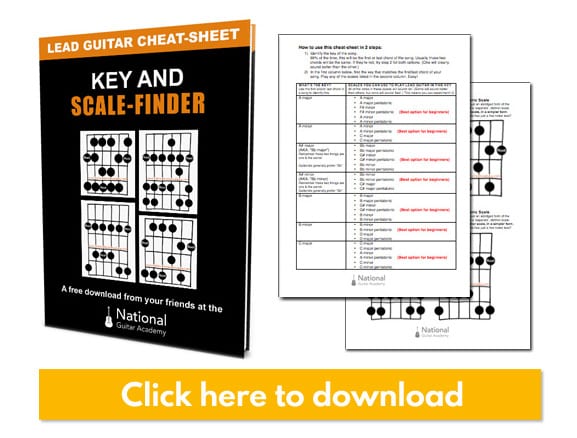 Get your own personalised guitar-learning plan 🎸
Get a custom guitar-learning plan here: Click here for GuitarMetrics™
Why Is It Important To Learn Solos In Different Genres?
One of the most damaging things that we can do as musicians is limit ourselves in terms of what genres we play.
In this list of guitar solo tabs, we've made sure to include some of the best solos from a variety of different genres.
You may even find a few guitar solo tabs that are meant for other instruments like horns.
The reason for this is that music should be enjoyed as a whole.
There are a wide variety of genres in the world that we can express ourselves with, and by learning something from each we are able to improve on our musicality.
This type of exposure to different genres helps us stay creative as artists, whether we're an absolute beginner or a pro-grade guitarist.
You will definitely find a vast array of classic songs in this list, but we've thrown in some unique ones to give you something fresh to play with as well.
Pro Tip: Taking some time to listen to these songs and figure out what you like hearing.
No matter what level of musical skill we play at, there's always time and space to be exposed to something new.
New sounds serve as inspiration, and we should never close ourselves off from the opportunity to be amazed by music.
You will definitely develop a preference for certain sounds throughout this list of guitar solo tabs, so go with what you love and have fun!
Guitar Solo Tabs: What You Should Focus On
Every great guitar solo was born out of a good sense of technique, no matter the song or artist.
Even the wildest and most raw guitar solo tabs on this list are written from solos that were played a specific type of way for a specific reason.
Make a point of listening to the solo you are trying to play repeatedly.
The best musicians in the world will all tell you that listening is the key to improving as a musician.
We've done our best to curate the best guitar solo tabs for each recommended solo, but your ear will always know best.
We cannot stress enough how important patience is when learning a new piece of music.
These guitar solo tabs require you to read along with the solo itself, so don't hesitate to take plenty of time on each piece.
Pro Tip: The best way to make progress is to master small sections of a piece of music at a time. Many session guitar players will use this strategy to quickly master longer pieces of music.
By playing four bars of a larger piece of music at a time, we allow our brain to pour concrete over the information that it has collected before moving on. This is a key component of mastery.
On that note, let's talk about slowing down during all this fast-paced guitar playing we're going to do.
Guitar Solo Tabs: The Importance Of Taking It Slow
The fastest guitar players in the world all share one thing in common:
They all practice slowly.
This might seem like the opposite of what you should be doing if you want to play fast, but practicing slowly helps our brain to process what it's learning.
Slow practice routines allow us to closely examine what it is that we are learning. It also lets us connect this new piece of music with other musical knowledge we already have.
For example, you might find one of these guitar solo tabs to be written in a key that you're already familiar with.
When we take the time to examine what we are playing, we learn more effectively and connect the dots more easily. Our brain has time to breathe, and so do our muscles.
Resting is important too! Taking frequent breaks to allow our muscles time to chill out can help us improve that much quicker.
Think of guitar practice and improvement like working out – You aren't going to go straight for the 100lb dumbbells if you can't lift 50.
Give your skills the time, patience and attention that they deserve, and keep a practice journal so you can log your progress through each one of the guitar solo tabs that you learn.
There's nothing more satisfying than visualizing our progress!
Don't Forget To Stretch!
Lead guitar looks like a lot of tiny movements from the outside – and it is.
The truth is that these tiny movements can lead to painful strains on our hands, wrists and forearms if we don't look after them.
If we manage to strain our arms or hands in the process of learning these guitar solo tabs, it will lead to time away from the instrument and prolonged rest.
Other common tasks like writing and typing can also begin to feel uncomfortable when this happens.
Before sitting down for a long practice session in front of these guitar solo tabs, make sure you stretch your fingers, hands, wrists, arms and shoulders.
Check out this video on the best stretching routines for guitarists and musicians here.
Pro Tip: We also can't recommend enough that you try Yoga.
Yes, we're absolutely serious.
Yoga is an amazing tool for stimulating blood-flow throughout the body, and centering the mind toward improved focus.
Yoga involves both intensive and non-intensive stretching, which is ideal for guitarists at any level and any degree of flexibility.
Center your mind and put a little Namaste in your day with our friend AdrienneYoga over on YouTube.
She's got a great 11-minute hand, finger and wrist routine that you can jump straight into here!
Beginner Guitar Solo Tabs
These 20 beginner guitar solo tabs will help you build your chops up quickly and effectively. 
Writer's picks can be found with a ** next to them.
Intermediate Guitar Solo Tabs
Now that you're well on your way to ultra-tight guitar chops, these guitar solo tabs will challenge your fingers to keep learning and improving!
Learn 12 EASY beginner chords with our popular guide
✅  Stop struggling. Start making music.
✅  Learn beginner-friendly versions of every chord.
This is our most popular guide and it will improve your chord ability quickly! 😎
Get your own personalised guitar-learning plan 🎸
Get a custom guitar-learning plan here: Click here for GuitarMetrics™
Advanced Guitar Solo Tabs
Alright, you've made it this far! At this point, you've developed some tight guitar chops and you're looking for something over-the-top and challenging.
These guitar solo tabs will require time and dedication to master, but they're well worth the effort!
Dream Theatre – The Dance Of Eternity (This whole song is basically a full band solo all at once) **
BONUS:
Still not done? Good. We've got two more Writer's Picks before you sign off:
Andy Timmons – Electric Gypsy **
Where Do I Go From Here?
If you're wondering how you can further tighten up your playing on these guitar solo tabs, we recommend:
Practice with a metronome and pace yourself
Practice slowly and never rush
Listen to the solo you're practicing repeatedly and listen for the fine details
Try playing the solo at different speeds
Try out a copy of Guitar Pro so you can make use of the Speed Trainer function!
Recommended Resources
If you loved this comprehensive list of 60 guitar solo tabs, you'll love some of the other free content we've put together for you!
What Type of Guitarist Are You?
Take our 60-second quiz & get your results: Take The Quiz
Join the world's best online guitar school 🌎
Get your own personalised guitar learning plan (customised just for YOU).
World-class online guitar courses. Learn at your own pace.
Community Campus & Learning Forum -  A friendly community! Connect with our team & students. 😊
Beginner Song library with chordsheets, tabs and tips. (Songs suitable for all levels!)
Regular live streams, seminars and Q&A sessions - Learn from world-class guitar educators. Get all your questions answered!
Click here to learn more about National Guitar Academy membership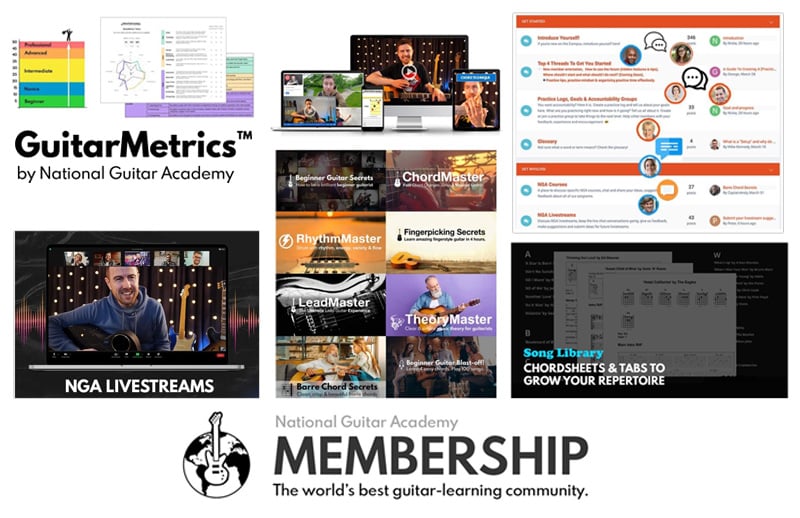 Cool Guitar T-shirts 😎
Look cooler! Check out our merch: Click here to see our merch store
Want free guitar tips and video lessons delivered to your inbox?
Join over 250,000 other guitar learners and subscribe to our guitar-tips-by-email service. (It's free.)
We'll send you a series of lessons that will move you to the next level of your guitar journey.
Learn how everything fits together quickly, easily and effectively. We share ninja tips (for instant fun!) but also timeless fundamentals that will deepen your understanding.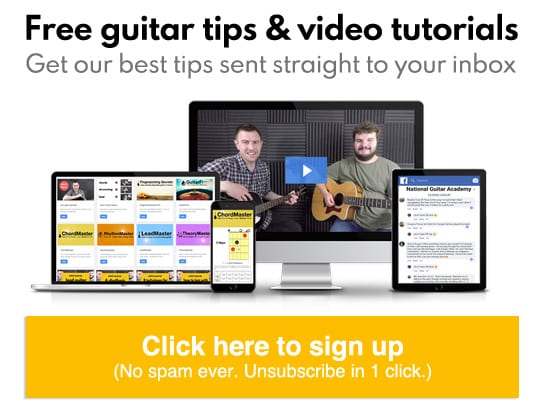 Get our best guitar tips & videos
Get our best guitar tips & videos