A ninja tip for beginners!
This is one of my best tips for beginners and it will make an instant impact:
You must put new strings on your guitar and they should be "extra light gauge" strings.
These strings are thinner than normal strings, which means they are gentler on your fingers and it's easier to make chords and to press down on the strings.
Putting these strings on your guitar makes things EASIER and makes you SOUND BETTER. It's an absolute no-brainer.
'How do I re-string my guitar?'
Your local guitar shop with re-string the guitar for you. It will cost around $15 / £10.
If you buy your guitar from a guitar shop they will usually restring it for you for free.
As a general rule, the strings that music shops put on their guitars tend to be thicker as this makes the instrument's volume louder and more full-bodied which makes it sound better in a busy shop environment.
That's great for them to sell more guitars, but not ideal for your soft beginner fingertips trying to learn to play on thick and unyielding strings!
'How Do I Know If I Need To Change My Strings?'
Guitar strings should be bright and shiny. If you inherited the guitar from somewhere, the strings will almost definitely be dull and old. They may have turned a browny/orange colour and they'll sound terrible. The guitar string names may not change, but the tone of the strings definitely does!
Change your strings and you'll sound better and make life easier. Win win.
You will be amazed at the difference new strings make to the sound of your guitar. You will instantly sound 10% better and that will make you want to play more.
Do it! 🙂
'How Often Should I Change My Guitar Strings?'
As a beginner, you should change your strings every 2-3 months.
It's not a major procedure, it's a quick and simple piece of essential maintenance that needs to happen on an ongoing basis.
It's like taking out the trash, putting fuel in your car or going to the supermarket. It's just one of those things that has to be done regularly.
(I change my strings every week. As a touring musician I used to change them every day.)
I'm telling you this because most beginner guitarists play on nasty dull strings and then wonder why they sound bad.
Change your strings dude! 🙂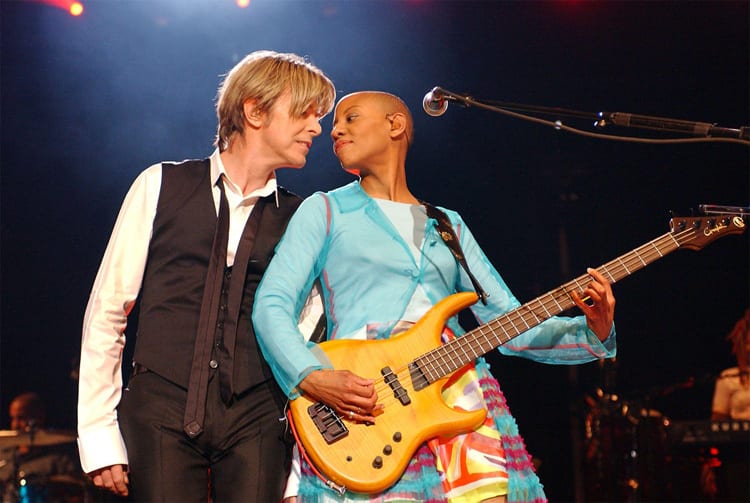 The secret to learning chords quickly…
Once you have the guitar string names memorised you should move on to learning chords.
The easiest and fastest path to learn chords is to follow Mike's 'stepping-stone' method.
There is an easy version of every chord. Start off with the easy version!
Learning guitar is all about momentum and reducing barriers to progress.
Using easy stepping-stone chords is a cornerstone of our teaching philosophy which is proven to work. Ignore this point at your peril! 🙂
Example stepping-stone chords
Let's look at some real examples: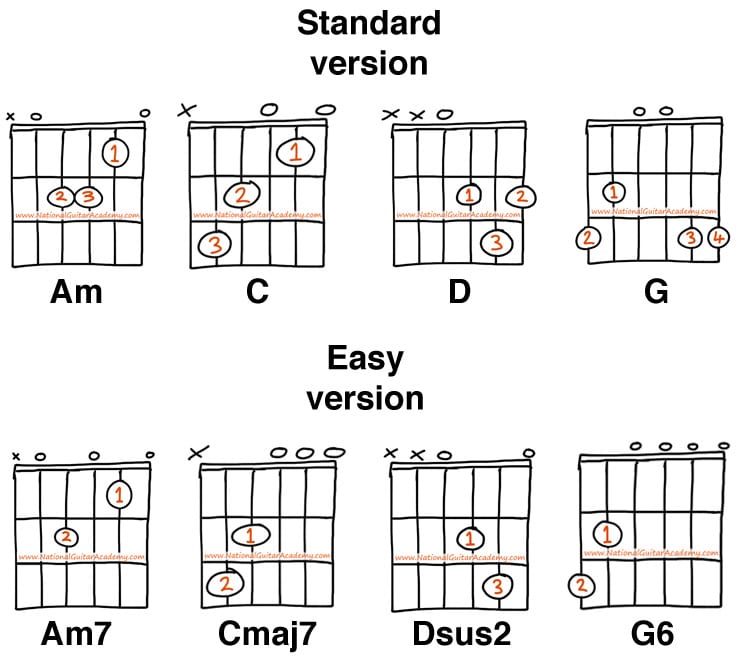 If you don't understand these diagrams read this: How To Read Chordboxes In 60 Seconds.
Learn the 12 EASIEST beginner chords with our famous FREE guide
✓  Stop struggling. Start making music.
✓  Learn 12 beginner-friendly versions of every chord.
✓  This is our most popular guide and it will improve your chord ability quickly.
Our Guitar Courses
Become a better guitarist: Click here to check out our guitar courses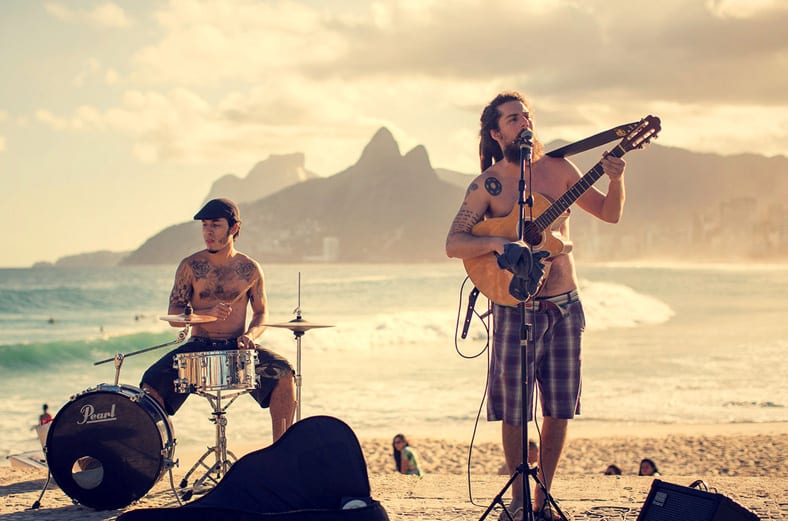 Learn how to strum
We've covered the guitar string names and looked at chords. Now we'll look at how to add rhythm.
From the guitar player's perspective, this is what good strumming looks like:
Notice that the wrist is running parallel to the guitar.
Also, note how the pick is being held.
This is probably the most influential pillar in all guitar playing. In many ways it is guitar playing because all all rhythm is here, in your strumming. Once you've learned the guitar string names and have some chords memorised, you should focus everything on improving your strumming.
To learn how to strum with rhythm and musicality read this: How To Strum A Guitar: The Ultimate Guide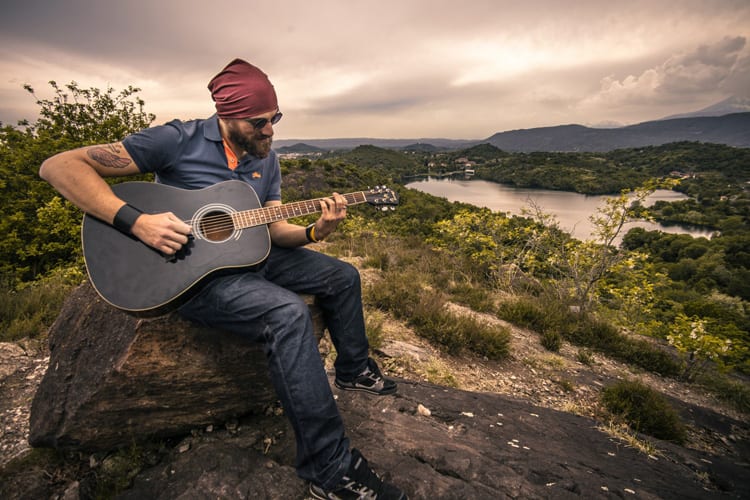 What Type of Guitarist Are You?
Take our 60-second quiz & get your results: Take The Quiz
Our guitar courses
How do you want to improve as a guitarist? Click here to check out our guitar courses
Cool Guitar T-shirts
Look cooler! Check out our merch: Click here to see our merch store
Want free guitar tips and video lessons delivered to your inbox?
Join over 250,000 other guitar learners and subscribe to our guitar-tips-by-email service. (It's free.)
We'll send you a series of lessons that will move you to the next level of your guitar journey.
Learn how everything fits together quickly, easily and effectively. We share ninja tips (for instant fun!) but also timeless fundamentals that will deepen your understanding.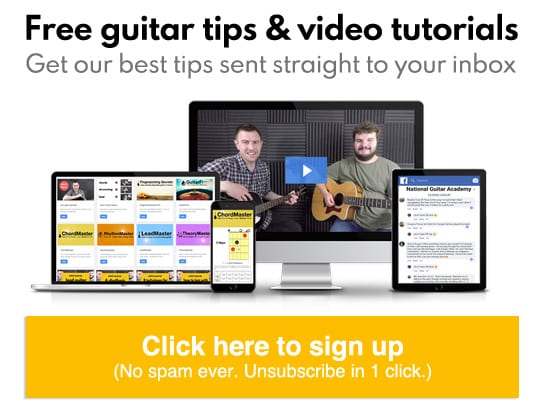 Popular Lessons
How To Learn Guitar: An 11-Step Programme For Beginners
How To Choose The Perfect Beginner Guitar
Guitar Notes Explained: A Guide For Beginners
Our guitar courses
Become a better guitarist: Click here to check out our guitar courses
More Cool Guitar Stuff
Learn about the National Guitar Academy: About Us
Visit our YouTube channel for fun guitar videos.
Join us on Facebook for daily guitar tips.
Listen to our Learn Guitar Podcast for rapid guitar progress.
Check out our free chord lessons.
Get our best guitar tips & videos
Continue reading on page 2:
Page 1
Page 2