Best Classical Guitar For Beginners: Cordoba Cadete
There are loads of benefits to playing a smaller classical guitar. Obviously, you can take it anywhere.
Smaller classical guitars are much more comfortable for regular-to-smaller-sized humans to hold and play.
The necks on smaller classical guitars are also a bit smaller, so they are also easier to reach. That's important specifically if you are not strictly playing classical music on the classical guitar.
The best classical guitar for beginners – the parlor-sized guitar – is a particular favorite among teachers and performers who have to lug a lot of gear wherever they go.
With that in mind, we give you the Cordoba Cadete.
Now, Cordoba does make guitars in Spain, and they make some high-end guitars in California, but as you may have guessed, the bulk of their inventory is made in China.
Let that not detract from the fact that these guitars are solid and sound good for the price. The Cadete retails for just under $300, a step up from the Mini II.
The top of the Cordoba Cadete is Canadian cedar, and the sides are made of mahogany.
It looks and sounds pretty.
This 3/4-sized guitar will go wherever you do, and if you are willing to spend a little bit more money, you'll get a little more out of the best classical guitar for beginners in this size range.
Pro-Tip: If you are wondering why on earth some guitars sound just fine and cost $150, and some sound just fine and cost $1500, you are not alone!
The difference frequently comes down to craftsmanship, custom manufacture as opposed to assembly-line manufacture, and the quality of the components like inlays and tuning machines.
Download our lead guitar cheat-sheet to make things easier
It can be disorientating for guitarists to understand which scales work with which keys.
With this in mind, we created a cheat-sheet; a key and scale-finder that you can use again and again.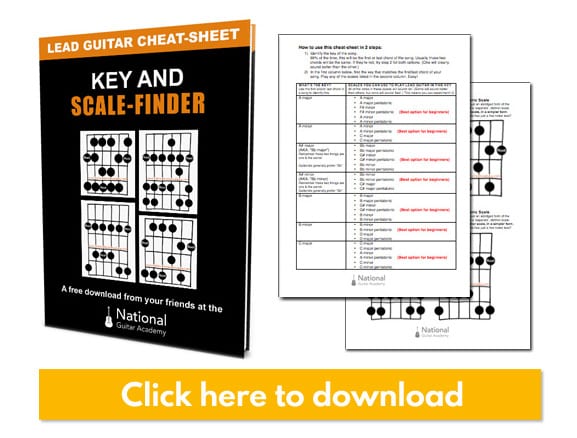 Our Guitar Courses
Become a better guitarist: Click here for our guitar courses
Best Classical Guitar for Beginners: Yamaha CGX-102
It's really amazing how much guitar you can get for under $300. 
Lots of manufacturers have figured out ways to provide you with one or two desired features without making the guitar unaffordable.
One such feature of a classical guitar, depending on the context, is the ability to plug it into an amp.
It's necessary to do that for classical guitar gigs where there is the remotest possibility that anyone will be talking, because it is very easy to drown out a classical guitar.
Yamaha's CGX-102 has some non-intrusive electronics at the side of the guitar, enabling you to plug into an amp and be heard!
Although one virtue of this instrument is that you do not need any other equipment in order to play it, that's not to say you'd never want to have it amplified!
The controls for the pickup volume are on the side of the guitar. The top is spruce and the sides are nato.
This guitar, even with the pickup and electronics, is still under $300.
This makes it kind of a nice bargain if you're looking for an easily amplifiable guitar.
Guitars with pickups are designed to be played either plugged in or unplugged, so either way, this guitar will sound nice.
Best Classical Guitar For Beginners: Takamine GC1CE
Another difference between classical guitars and steel-string acoustic guitars is the number of frets you have before you reach the body of the guitar.
With steel-string acoustic guitars, there are 14 frets before you reach the body of the guitar.
With classical guitars, you have 12 frets, or one octave, before you reach the body of the guitar. That's one reason you don't see double dots on the side of the classical guitar neck.
In fact, you usually don't see any dots on the side of the classical guitar neck.
For those of you wondering how you're going to play those screaming leads, here is the Takamine GC1CE, the best classical guitar for beginners who would like to play way up the neck.
As you can see, this model of guitar, and most of the Takamine line of classical guitars, has a cutaway.
That is not what makes it the best classical guitar for beginners, because as beginners, we tend to stay between frets zero and four until we get our bearings.
However, that cutaway does make the Takamine GC1CE a versatile choice if you're committed to the nylon-string sound but not committed solely to the classical style of playing.
This guitar also has built-in electronics in case you'd like to plug in and let the people hear what you've been up to!
Some Examples Of Classical Guitar For You!
There's just something about the sound of a classical guitar, but it can be difficult to separate "classical" the sound from "classical" the guitar.
Here's a smattering of different things people have been doing on the classical guitar over the course of the last century and as recently as last week!
Andrew York is a real live Grammy-winning classical composer on the guitar. Here's his beautiful "Hall of Forgotten Rooms."
If you're still not over Game of Thrones, check out Lukasz Kapuscinski's amazing arrangement of "Rains of Castamere" on the classical guitar.
One of the best classical guitar duos is Rodrigo y Gabriela! Here's one of their recent songs, "Clandestino."
Alfonso Ponticelli plays flamenco and gypsy jazz on his classical guitar. Here's "All of Me" with a bonus jazz hammer dulcimer solo!
Check out two big names in classical guitar, Al DiMeola and Paco de Lucia, playing "Mediterranean Sundance" together.
For More Information On The Best Classical Guitar For Beginners
If you'd like more help selecting your classical guitar, you can check out Jason Davenport's friendly video on the topic.
It's easy to get analysis paralysis when picking your first musical instruments, but remember, the best classical guitar for beginners is the one you have!
Recommended Resources
Did you enjoy this free guide? We've got plenty more where that came from! Check out more of our lessons below:
What Type of Guitarist Are You?
Take our 60-second quiz & get your results: Take The Quiz
Our guitar courses
How do you want to improve as a guitarist? Click here to check out our guitar courses
Cool Guitar T-shirts
Look cooler! Check out our merch: Click here to see our merch store
Want free guitar tips and video lessons delivered to your inbox?
Join over 250,000 other guitar learners and subscribe to our guitar-tips-by-email service. (It's free.)
We'll send you a series of lessons that will move you to the next level of your guitar journey.
Learn how everything fits together quickly, easily and effectively. We share ninja tips (for instant fun!) but also timeless fundamentals that will deepen your understanding.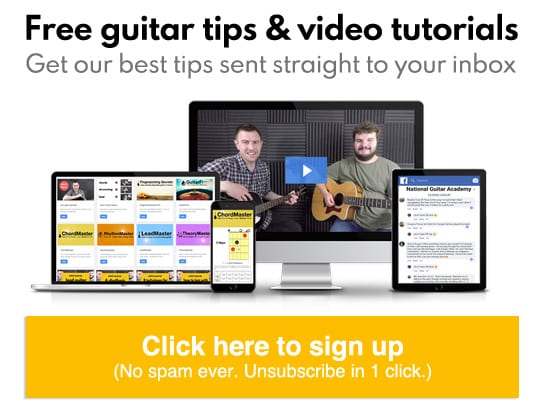 Popular Lessons
How To Learn Guitar: An 11-Step Programme For Beginners
How To Choose The Perfect Beginner Guitar
Guitar Notes Explained: A Guide For Beginners
Our guitar courses
Become a better guitarist: Click here to check out our guitar courses
More Cool Guitar Stuff
Learn about the National Guitar Academy: About Us
Visit our YouTube channel for fun guitar videos.
Join us on Facebook for daily guitar tips.
Listen to our Learn Guitar Podcast for rapid guitar progress.
Check out our free chord lessons.
Get our best guitar tips & videos
Continue reading on page 2:
Page 1
Page 2