Guitar lessons are priced in a variety of different ways – let's explore how much do guitar lessons cost & what they offer you.
Over 250,000 guitar-learners get our world-class guitar tips & tutorials sent straight to their inbox: Click here to join them
If you want to be a better guitarist click here for our guitar courses
In this free lesson you will learn…
An explanation of various guitar lesson price points
The different offerings of online & in-person guitar lessons
An explanation of the advantages of online guitar courses
What to look for in a guitar teacher
How Much Do Guitar Lessons Cost? Let's Find Out.
Education is a commitment, but it's one that many of us welcome when it comes to music.
There are so many different ways to pursue a musical education from the beginner level upward, but it's important to find a method that meets your appointed budget.
But how much do guitar lessons cost? The answer can vary depending upon a variety of factors.
In this lesson, we're going to answer this question in detail and show you some of the top things you should look out for when budgeting for your guitar lessons.
Answering the question of "how much do guitar lessons cost?" requires us to ask a few more questions first, including:
Do you prefer online lessons or in-person lessons?
Would you rather take a course or have a personal teacher?
How many hours per month are you willing to commit to a personal teacher for private lessons?
What is your current skill level on the guitar?
Are you willing to commit to pre-scheduled lessons or would you prefer to schedule on a weekly basis?
Of course, guitar instructors and guitar instruction courses are all different from one another, so we need these questions in order to help us accurately narrow down what educational pathway is best for us.
So, let's elaborate a bit further.
How Much Do Guitar Lessons Cost? – In-Person VS Online Lessons
Every beginner guitarist will have a different preference and comfort level for how they learn, and it's important to establish what yours is.
Let's look at the advantages of both online and in-person lessons with a private instructor.
In-Person Lessons
Many music teachers teach out of a school or institution where they have a stream of students come in at specific times each day.
An in-person instructor is highly beneficial for the sole reason of having a person in the room with you. Dedicated, focused time is important for effective learning.
Although online lessons are still wonderful for most people, being in the same room with a teacher means getting the most responsive type of guitar lesson.
Online Lessons
Although technology isn't for all of us, it is definitely for some of us.
Being able to learn from the comfort of your home in front of a computer means you will be more at-ease in your own space.
It also means that you have to contend with your internet connection. This can be easy for some, but more difficult for others.
The answer to "how much do guitar lessons cost?" may sometimes be cheaper in price in this case, because many online guitar teachers teach from their home studios.
Most teachers will send their students home with written material for practice, which should be kept printed and in a binder for easy access.
Now, let's answer the question of "how much do guitar lessons cost?" from a number of different price points.
Learn the 12 EASIEST beginner chords with our famous FREE guide
✓  Stop struggling. Start making music.
✓  Learn 12 beginner-friendly versions of every chord.
✓  This is our most popular guide and it will improve your chord ability quickly.
Our Guitar Courses
Become a better guitarist: Click here to check out our guitar courses
Analyzing Different Price Points
We can't expect all instructors to charge the same amount, but we can generalize some expectations for these instructors based on some price points.
All of the price points on this list are listed in USD to keep it easy.
How much do guitar lessons cost? Sorted by price level:
$10/Half Hour or $20/Hour:
This is often a beginner rate for teachers who are just beginning their journey, but beginner guitarists will still find a lot of insight at this level to start them off. Teachers charging this rate will be teaching out of one of many standardized teaching books, which students may be required to purchase as well.
What to expect: Great beginner insight, standardized teaching methods.
$15/Half Hour or $30/Hour:
Although the question of "how much do guitar lessons cost" can be a bit subjective, there are certain things we can expect at every price point.
Many lessons at this level are still fairly standardized in their nature and process, but you can expect lessons from teachers who have a good amount of prior experience with educating.
Teachers at this price point will have a fairly firm grasp on all knowledge required to set you on the right path.
$20/Half Hour or $40/Hour:
At this price point, you can get some amazing beginner and intermediate guitar lessons.
Most teachers charging this rate will still be teaching out of standardized teaching books, but some will sprinkle their own custom exercises and resources into the works as well.
You can expect a detailed and attentive approach to the ins and outs of guitar lessons at this level.
$25/Half Hour or $50/Hour:
At this level, it can be expected that you'll be receiving lessons from a seasoned professional who is keen on educating beginner and intermediate guitarists in an extremely detailed way.
If the answer to your question of "how much do guitar lessons cost" is a rate of $50/hr or higher, it's fair to have some pretty reasonable expectations about the education that you'll be receiving.
To be clear though, your progress always depends on how often (and how effectively) you practice the material being taught to you. Remember to show up with your homework completed!
$30/Half Hour or $60/Hour & Higher:
If you're seeking out a teacher that charges at this level or higher, you can be guaranteed that you're getting the highest quality of guitar lessons possible for your money.
Many guitar teachers who charge at this price point have their own curriculum built for their students, and they usually only teach intermediate lessons and higher as a result.
If you get this rate as your answer to "how much do guitar lessons cost?" then you can be guaranteed that you'll be getting top-tier quality lessons and a specialized level of education.
Be prepared to show up on time and have all your homework done!
How Much Do Guitar Lessons Cost? – The Value In Time-Blocks
Time blocks for guitar teachers usually run for either an hour or a half-hour, depending on the student's needs. Let's explore the benefits of each.
Everyone's needs are different. You may be a bit more keen for independent study than others and only require a half-hour lesson for a teacher to simply point you in the right direction.
You may also want to save some money by being resourceful, and that's totally okay!
Half-hour time slots are great for a weekly pointers list from your instructor, but less effective if you want time to review materials and exercises in detail.
For students looking for a bit more guidance and detail in their guitar lessons, full hour slots are recommended. Whether in person or online, this length of time will give you a chance to catch up with your instructor and debrief everything that you've worked on that week in more detail.
With lessons of this length, your instructor will have plenty of time to push your skill set forward in a variety of effective ways.
Pro Tip: It's important to converse with a potential guitar instructor before hiring them. Get a feel for what they teach and how, as well as what their experience has been like thus far as a teacher.
So how much do guitar lessons cost for these time blocks? That will ultimately depend upon the instructor as well as the skill level you are playing at presently.
Individual Lessons VS Packages
In an effort to drive business and provide convenience for their students, many instructors will offer a slight discount to anyone who books multiple lessons with them at once.
Why is this advantageous? Because it often costs less!
The downside however is that life happens, and sometimes our schedules get quite hectic. If you find yourself in need of a rescheduling, some instructors will charge a rescheduling fee within a certain frame of time prior to the lesson.
This can add up if you're the busy type, and thus booking a group of lessons in advance is certainly not the right move for everyone.
So how much do guitar lessons cost in this case? It depends upon your availability.
If you've got a packed schedule, make sure to schedule only when you know you can book the time off.
Not only does this benefit your instructor and make their life and business easier, but it also gives you the peace of mind of knowing that that time is carved out for guitar and nothing else.
Of course, we love when the answer to our question of "how much do guitar lessons cost?" is a cheaper and lower number, but this type of commitment just isn't for everyone.
Make sure to consult your schedule before booking a block of lessons with your instructor!
Download our lead guitar cheat-sheet to make things easier
It can be disorientating for guitarists to understand which scales work with which keys.
With this in mind, we created a cheat-sheet; a key and scale-finder that you can use again and again.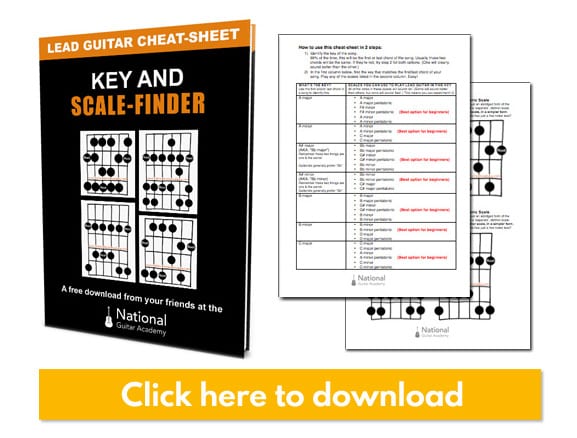 Our Guitar Courses
Become a better guitarist: Click here for our guitar courses
How Much Do Guitar Lessons Cost? – Online Courses
One-on-one lessons aren't for everyone. Some of us just need a stack of content that will point us in the right direction.
For those types of people, online guitar courses are ideal.
Not only do the majority of these courses provide video-based lesson material, but they typically also come with a variety of downloadable PDF material, making it easy for you to recall the lessons you learned in the video segments.
"But what's the advantage over having a private instructor?"
When answering the question of "how much do guitar lessons cost?" in regards to courses, the price is much lower in the long run.
But what does the math look like for that?
For the cost of 3-5 private lessons, you can get yourself lifetime access to some amazing courses online.
If you're the type that's okay with not having weekly check-ins with a personal instructor, you'll be more than fine taking a guitar course online.
But how much do guitar lessons cost for courses, specifically?
You can expect to pay anywhere from $20 all the way up to $100 for most single courses, typically.
Some guitar instructors will offer course bundles at a sale price from time to time as well, so make sure to look out for sales!
P.S. Want to stay up to date to find out when our course registration windows open?
Click here to sign up for our mailing list.
FAQ: How much do guitar lessons cost with National Guitar Academy?
Answer: Although we don't offer one-on-one lessons, we open course registration windows throughout the year. Keep in touch on the mailing list to find out when & how much!
How Much Do Guitar Lessons Cost? – Determining What's Right For You
As we've discussed, there are a lot of variables that go into finding you the best platform for learning guitar.
There are a few guide points we can use to point ourselves in the right direction, however.
If you're going with a private teacher, don't be afraid to book a single lesson to test the waters and see how the learning curve feels to you. You won't always find the right one right away, and that's okay!
Don't be afraid to ask your potential teacher "how much do guitar lessons cost?" as an up-front question so you can best accommodate your personal budget.
Make use of trial periods with guitar courses. Many courses offer you a 30 day trial period to make sure you're happy with your course. Make sure to block out some time to try it as soon as you buy it!
Make use of reviews online! Many online guitar teachers post their reviews for other potential students to see. Do they have 5 stars? If so, there's probably a good reason.
Talk to other guitar students in Facebook groups online and see who they recommend, either online or in your area! Remember: satisfied customers have no problem telling you about their positive experiences. Likewise, dissatisfied customers will do the same.
These are just a few points to get you on the right track to answering the question of "how much do guitar lessons cost?"
It's up to you to do your research and find the platform of learning you enjoy the best.
How Much Do Guitar Lessons Cost? – Finding The Right Teacher
Whether you're taking your lessons online, in person or through a course, one thing's for sure:
The teacher has to be the right fit for you.
Sometimes, certain teachers just don't jive with certain students' learning styles – and there's nothing wrong with that.
It's important to keep up the search, however!
Once you find a teacher that is the right fit and style for you, you'll find yourself learning guitar at an accelerated pace.
So, how much do guitar lessons cost?
Ultimately, it's up to you and your needs – but roughly anywhere from $20-60 an hour. 
So, Where To Begin Looking For Guitar Lessons?
How much do guitar lessons cost on our website?
Absolutely nothing! All of the content we post here is free!
You can start right here with us if you're interested in learning here at the National Guitar Academy online.
If you're interested in learning with a private instructor, have a look on Google to see who offers in-person and online lessons in your area!
The answer to the question of "how much do guitar lessons cost?" will also be relative in many ways to the area you live in. 
Recommended Resources
If you enjoyed this lesson answering the question of "how much do guitar lessons cost?" then you'll love our other lessons below:
What Type of Guitarist Are You?
Take our 60-second quiz & get your results: Take The Quiz
Our guitar courses
How do you want to improve as a guitarist? Click here to check out our guitar courses
Cool Guitar T-shirts
Look cooler! Check out our merch: Click here to see our merch store
Want free guitar tips and video lessons delivered to your inbox?
Join over 250,000 other guitar learners and subscribe to our guitar-tips-by-email service. (It's free.)
We'll send you a series of lessons that will move you to the next level of your guitar journey.
Learn how everything fits together quickly, easily and effectively. We share ninja tips (for instant fun!) but also timeless fundamentals that will deepen your understanding.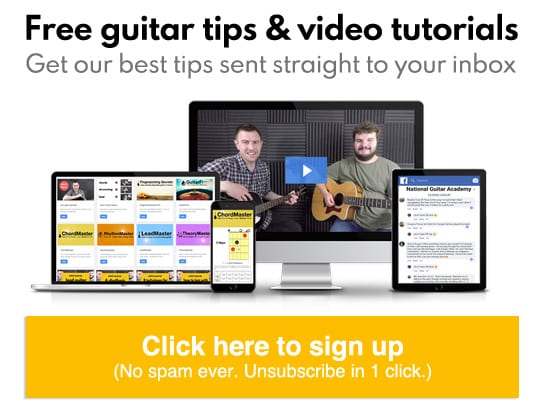 Popular Lessons
How To Learn Guitar: An 11-Step Programme For Beginners
How To Choose The Perfect Beginner Guitar
Guitar Notes Explained: A Guide For Beginners
Our guitar courses
Become a better guitarist: Click here to check out our guitar courses
More Cool Guitar Stuff
Learn about the National Guitar Academy: About Us
Visit our YouTube channel for fun guitar videos.
Join us on Facebook for daily guitar tips.
Listen to our Learn Guitar Podcast for rapid guitar progress.
Check out our free chord lessons.
Get our best guitar tips & videos
Get our best guitar tips & videos